2018 Jeep Grand Cherokee Trackhawk priced up: Monster 707hp SUV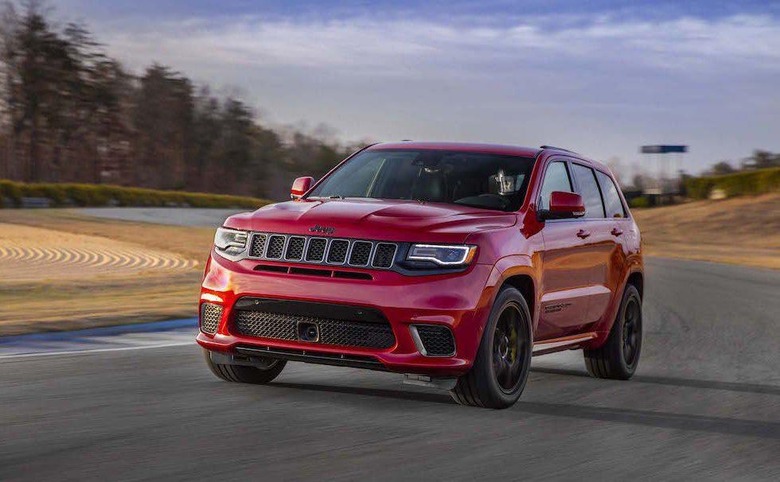 How much is the most powerful and fastest SUV in the world? If you guessed six-digits and with a Bentley, Porsche, or similarly exotic badge on the nose, you'd be wrong. Turns out, it's your nearest Jeep dealer that you need to visit, with the automaker confirming pricing for the 2018 Jeep Grand Cherokee Trackhawk, its ridiculously potent SUV.
Now, we've already got used to Fiat Chrysler Group's tendency to put vast and powerful engines into regular cars. After all, this is the company which brought us the Dodge Challenger Demon, a drag car that also happens to be street legal. Still, 707 horsepower in a sports utility vehicle is still pretty unexpected.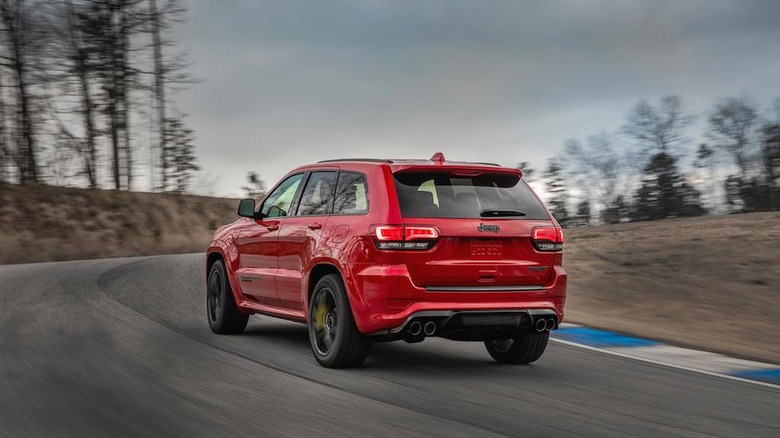 It makes the Grand Cherokee Trackhawk the fastest SUV ever, with a 3.5 second run from 0-60 mph. It'll do the quarter-mile in 11.6 seconds, and then go hurtling on to a top speed of 180 mph. Since you'll probably want to stop at some point, Jeep says the Brembo brakes are not only the largest ever fitted to the front of one of its vehicles, but are capable of bringing the SUV from 60 mph to a standstill in 114 feet.
The speed comes courtesy of FCA's supercharged 6.2-liter V8, borrowed from the Hellcat and here tuned for 645 lb-ft. of torque. It's paired with an eight-speed automatic transmission that has been upgraded to deal with all that torque, and Jeep's Quadra-Trac all-wheel drive system with an electronic limited-slip rear differential and a single-speed active transfer case.
Less common for an SUV, meanwhile, are features like Launch Control to maximize your 0-60 performance, and a Track setting for the drive mode system. Outside, there are standard 20 x 10-inch titanium finish wheels with new Pirelli 295/45ZR20 Scorpion Verde all-season tires. Pirelli P Zero three-season tires, rated for higher speeds, are options.
Helping distinguish the Trackhawk from other Grand Cherokee models is the lowered ride height, one inch down compared to its non-SRT siblings, and the sculpted hood punctuated by dual heat extractors. The front fog lamps are replaced with cooling modules, there's a gloss black rear valance with a quartet of 4-inch black chrome exhaust tips, and plenty of "Supercharged" and "Trackhawk" badging.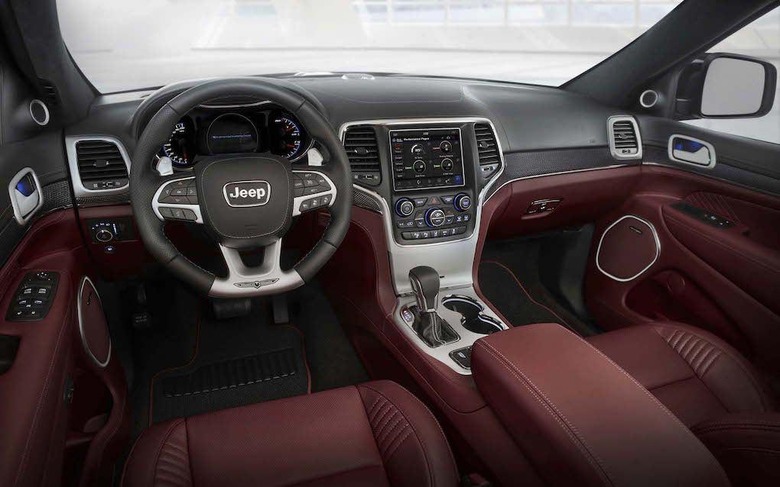 Inside, FCA's Uconnect 4 infotainment system gets an 8.4-inch display and new, Trackhawk-specific performance metrics for timing laps and more. Paddle shifters are included as standard, as are metal trim accents. Options include a dual-pane panoramic sunroof, 19-speaker Harmon Kardon audio center, and upgraded leather trim.
How much will all this set you back? Surprisingly, Jeep is saying the sticker price for the 2018 Grand Cherokee Trackhawk is just $85,900, plus $1,095 destination. Of course, actually finding the SUV for that price will be easier said than done: as we've seen in the past, dealerships are likely to slap on a considerable markup to milk as much profit from the Trackhawk as possible.