2018 Jaguar E-PACE Review: Mistaken Identity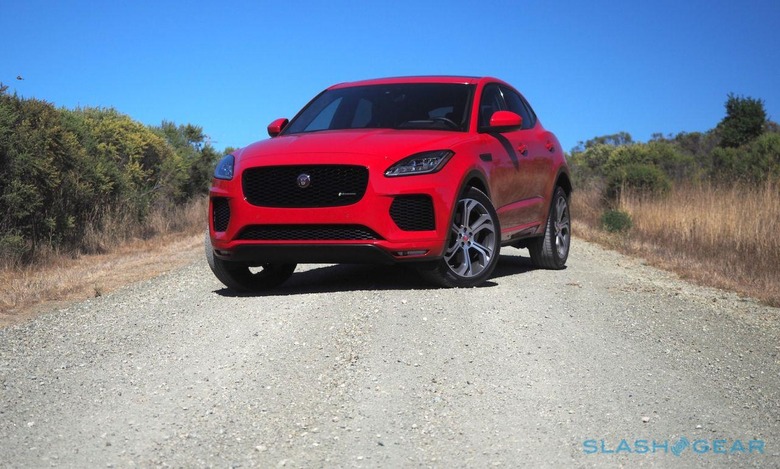 EDITORS' RATING: 7/10
"No, you're thinking of the I-PACE, this is the normal one. No, you do need to put gas into it, it's not electric. No, I don't know why they named them like that, either." Like trotting out the 0-60 time of a supercar, or the tow rating for a truck, you get used to explaining the 2018 Jaguar E-PACE's oddest feature – its name – at gas stations or in parking lots.
I can understand the confusion, though. The I-PACE is the all-electric SUV that Jaguar launched this year. This E-PACE, despite what the badge might imply, is resolutely gas-only, not to mention being smaller and roughly half the price.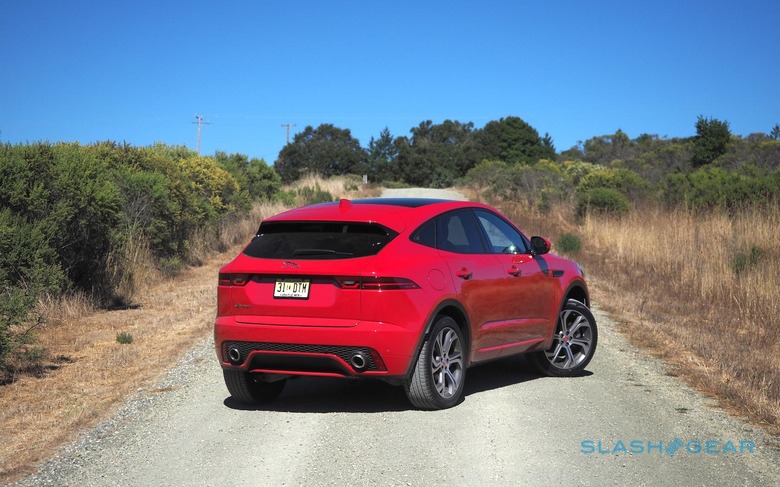 It's Jaguar's entry-level crossover, in a segment that has already served the automaker well. The F-PACE, its first SUV, is now the brand's best-selling vehicle. Dropping a smaller version with a more affordable price tag was an obvious move.
Outwardly, though, you'd be forgiven for thinking the E-PACE was a pumped-up F-TYPE coupe, not a sibling to the bigger SUV. Styling cues like the headlamps, oversized grille, and glasshouse side-profile all echo the sports car, even if the performance of the crossover lags significantly behind.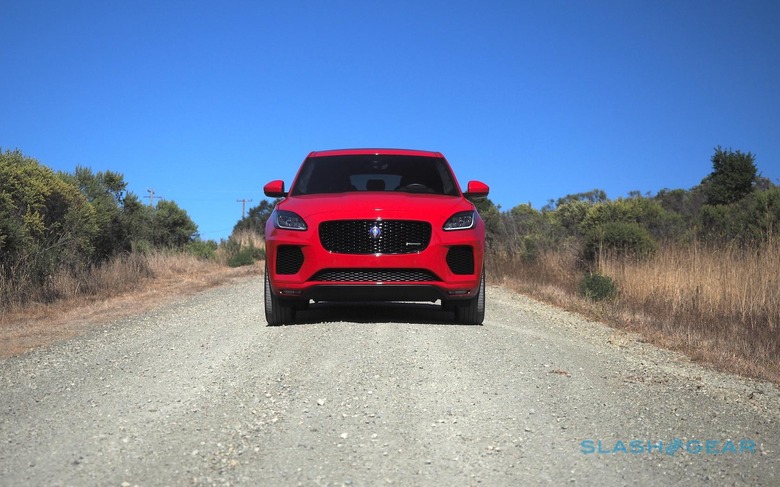 I prefer the rear three-quarter view, personally, where the meaty haunches and narrow window are offset nicely by the slashes of the taillamps. At the front, there's an odd softness to where the grille and headlamps converge. The R-Dynamic body kit on this particular Caldera Red E-PACE is pleasant, but not as much as the 20-inch wheels. Base model cars make do with mere 17-inch rims, and even the E-PACE R-Dynamic trim only gets 18-inchers as standard.
Regardless of shoes, the E-PACE gets a 2.0-liter turbocharged 4-cylinder gas engine and a 9-speed automatic transmission. From 2020, Jaguar Land Rover says, all of its new model lines will have an electrified option, but for now it's fossil fuel alone providing the crossover's 246 horsepower and 269 lb-ft of torque. 0-60 arrives in 6.7 seconds, while top speed is 143 mph.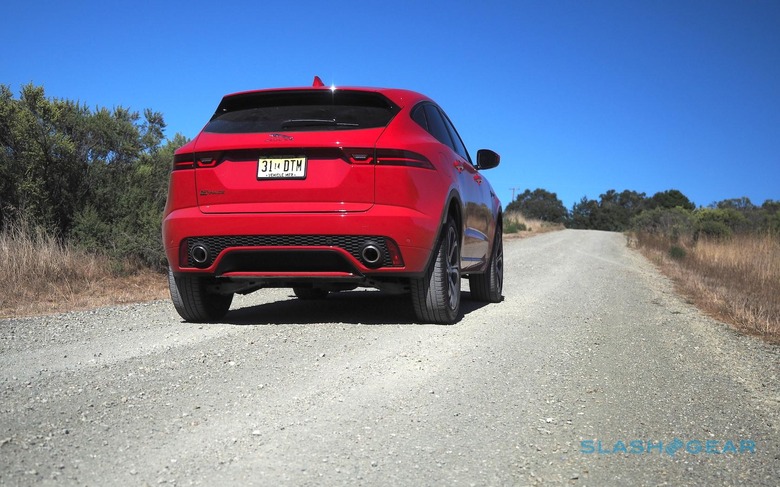 Opt for the R-Design, meanwhile, and Jaguar tunes 296 horsepower from the engine. 0-60 mph drops to 6.1 seconds, and top speed climbs a little, to 146 mph. Either way, the exhaust sounds a little less refined than you might expect from a car with the leaping cat on the grille.
With 246 horsepower under this particular hood, and a curb weight just over 4,000 pounds, I confess I wasn't expecting a particularly spritely car. In fact, with standard all-wheel drive the E-PACE puts its power down well, bolting eagerly from traffic lights and stop signs. As I've found with several of the automaker's cars, switching the transmission to Sport mode can leave it oddly frenetic; better, then, to adjust the JaguarDrive Control drive mode to Dynamic and hedge your bets somewhere in-between.
Although AWD is standard, the better system is not. Jaguar offers two setups, with the Active Driveline system delivering true torque vectoring that actively pushes power front and rear, along with left and right, rather than relying on dabbing the brakes. It's standard on the R-Dynamic trim.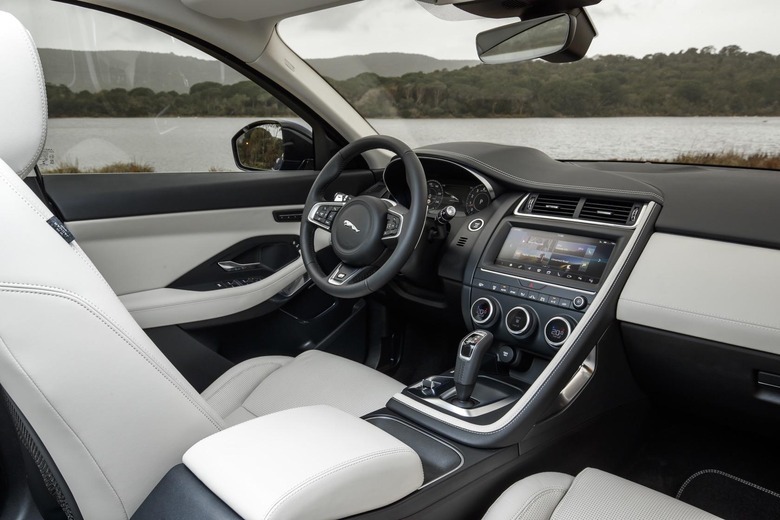 Inside, I have to say I prefer the aesthetics of the E-PACE's dashboard over that of the F-PACE. Where the large SUV's center console is oddly spartan, the smaller crossover's circular HVAC dials and widescreen infotainment touchscreen are far more visually rewarding. Jaguar offers fully-digital instrumentation, though not as standard. The 10-inch Touch Pro infotainment system is responsive, but it lacks Apple CarPlay and Android Auto as standard; you'll pay $300 for Jaguar's Smartphone Package to add them.
With a sticker price kicking off at $39,595 including the $995 destination fee, I wish Jaguar was a little more consistent with its interior trim, too. The meaty R-Dynamic steering wheel feels great, and the perforated Windsor leather seats are comfortable and supportive. Unfortunately they're both not-inexpensive options, whereas some of the dashboard plastics, including the cheap-feeling paddle shifters, don't live up to their example. You don't even get paddles on the standard wheel, in fact.
Perhaps you can forgive that on a $40k car, but as tested this 2018 E-PACE First Edition is $54,545 including destination. Spec out a comparable E-PACE SE P250 AWD and you're looking at about the same number. That's a whole lot of money for the entry-level engine, and before you've got to extras like the $1k Adaptive Dynamics.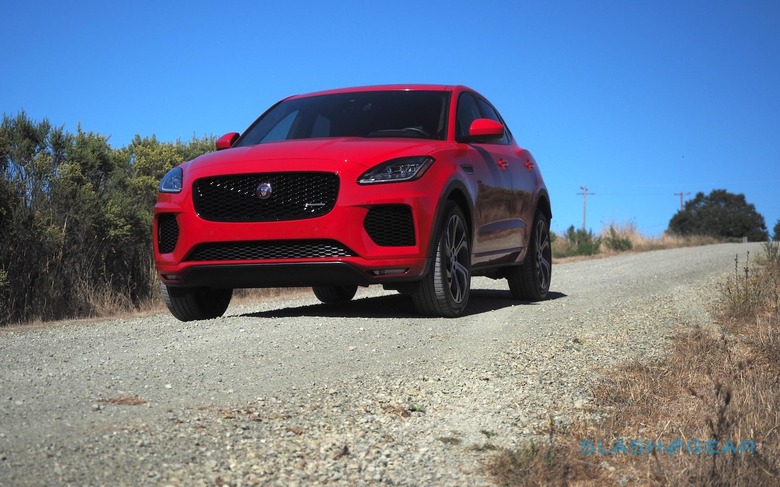 Is it worth it? Certainly it's one of the more handsome luxury crossovers on the road right now, seductively curvaceous in a way that the angular Volvo XC40 and the BMW X2 can't compete with. The E-PACE is surprisingly perky from behind the wheel, too: more, certainly, than its numbers might suggest on paper. Your challenge is to bring that in appeal without setting your wallet or purse alight in the process. Then all you have to do is get ready to answer the same "oh, is that electric?" question, over and over again.