2018 Honda Accord Hybrid economy is unexpectedly mixed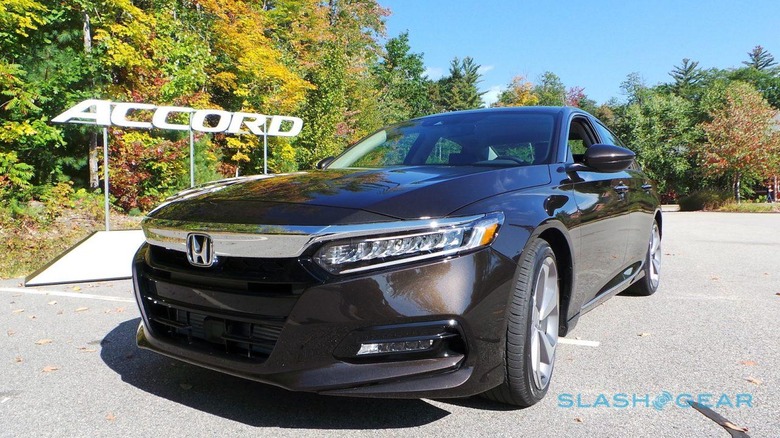 Honda's hotly-anticipated new green sedan, the 2018 Accord Hybrid, has received its EPA economy ratings, and they make for mixed reading. The car is the latest of a number of hybrids that Honda is launching, but also one of the first to use its new, two-motor powertrain system.
The third generation of Honda's hybrid technology, it pairs a 2.0-liter gas engine with two electric drive motors. Those motors further distinguish themselves by not using heavy, rare-earth metals, another tick on the 2018 Accord's green credentials. It also has a smaller battery pack system.
The upshot is that Honda can squeeze the lithium-ion batteries under the rear seats. In doing so, it preserves more trunk space, so that the 2018 Accord Hybrid actually matches the regular, gas-only car's 17 cubic feet. It still allows for the rear seat backs to fold flat, too.
What hybrid buyers really wanted to know, however, was just how green the new Accord Hybrid might be, and that's what the US Environmental Protection Agency has confirmed. It's rated the car at 47 mpg combined, 47 mpg on the highway, and 47 mpg in the city. That, the EPA suggests, means an average $3,000 saving in fuel costs over five years, compared to the average new vehicle.
Unfortunately, it's not enough to put the 2018 Accord Hybrid at the top of its segment. While it bests rivals like Ford's Fusion Hybrid, which manages 42 mpg combined, it nonetheless falls short of Toyota's 2018 Camry Hybrid LE. That manages 52 mpg combined, 53 mpg on the highway, and 51 mpg in the city.
Perhaps most frustrating for Honda, though, is the fact that the 2018 Accord Hybrid doesn't actually out-perform its predecessor on the EPA figures. The 2017 Accord Hybrid, which used the second-generation of Honda's hybrid powertrain, was rated at 48 mpg combined, 47 mpg on the highway, and 49 mpg in the city.
Still, Honda isn't just counting on one EV to keep things interesting. The company is also readying its new 2019 Insight Hybrid, replacing the Civic Hybrid with a more upscale version. That will use a similar drivetrain to the Accord Hybrid, only with a 1.5-liter engine; Honda is predicting an EPA combined economy figure in excess of 50 mpg as a result.
If you don't mind plugging in, meanwhile, there's also the 2018 Honda Clarity Plug-In Hybrid. That has a 42 mpg combined rating by the EPA when on regular gas, less than the Accord Hybrid, but when on both gas and electric power it can do 110 MPGe. On a full charge, the car is capable of driving around 48 miles based on electric power alone.
MORE EPA