2018 Honda Accord Prototype First Drive: All-New 2.0 Turbo Packs A Surprise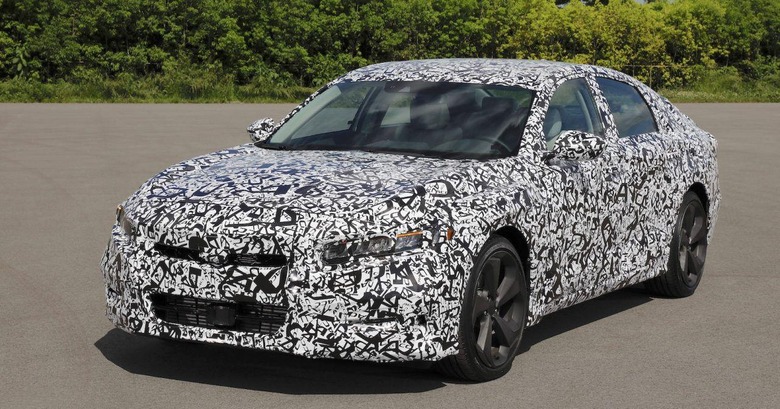 That's right folks, Honda's turbocharging the all-new model year 2018 with a new 2.0-liter direct injection turbo-four. In a recent event held at Honda's R&D facility in Tochigi Prefecture, Japan, I got a taste not only of the new engine but also the similarly-fresh 10-speed automatic transmission the automaker has been working on. The fun didn't stop there: wrapped up inside a Civic test mule was the Accord's other engine option, a 1.5-liter turbo-four CVT, waiting for me to take it on a couple of laps at the proving grounds.
"One thing's for sure, camouflage tape doesn't last long at speeds above 125 mph," we joked the first time we saw a Honda engineer run over to patch up the gap on the test car. It's not often that you're offered the opportunity to sample an early prototype from this stage in the development process. It's even rarer to get permission to throw it around as you please on the track.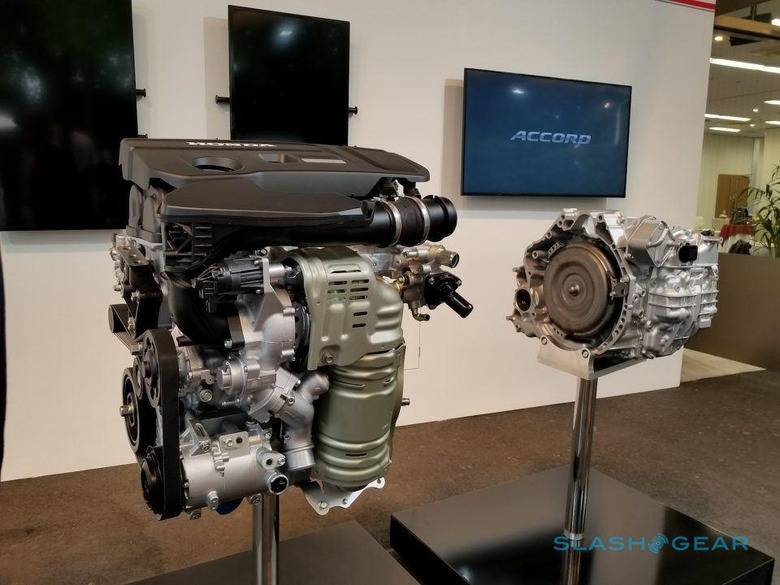 Heading toward the pit exit, my ride-along engineer (aka my official chaperone) told me to "drive as you like and at whatever speed you need to test." Who am I to decline such an offer? With the question "how many times have I wanted to blast out of a pit lane like a rocket?" fresh in my mind, the answer – too many to count, and rarely delivered on – came without delay.
So I floored the gas pedal. There's a strong "whoosh", a mixture of exhaust note and air getting sucked in, and my head sure felt the turbocharger delivering, propelling what's still a rather large midsize sedan. Damn, the 2018 Accord can move, even if the engine is quiet and eager to please, peaking at 129 mph.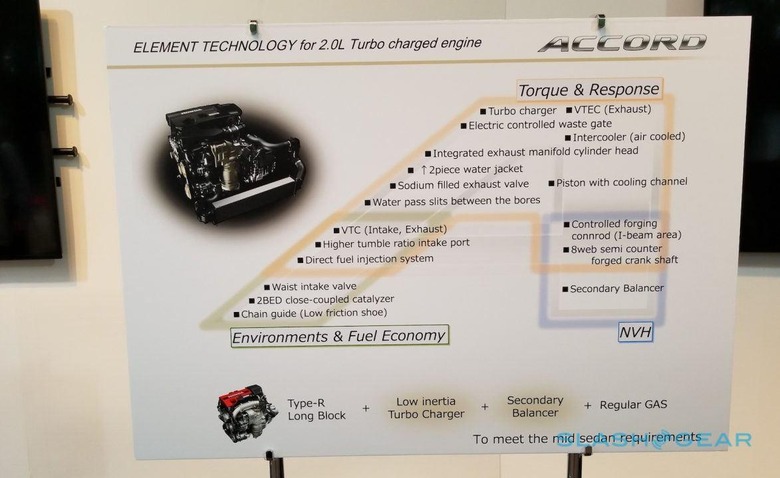 Impressed so far and this was only comfort mode, I couldn't wait to switch it over to Sport mode for lap two. Glancing down at the speedometer reading well over 100 mph – which is where you start to get a slight drop in acceleration – I stomped on the brakes as though some jerk had just cut me off. After dropping way down to 35 mph, I attempted to speed up again as fast as possible; this, though, is where a turbo engine mated with a 10-speed runs into an annoyance.
While the engine may be ready to speed up, it's still waiting for the gears to drop from the higher overdrive ratios. It's down to how Honda programmed the transmission to maximize the 2018 Accord's EPA fuel economy numbers, and it means savvy drivers will want to click the gear shifters in order to manually drop a few gears when they're merging onto the freeway or runing a yellow light. If things aren't quite so urgent, you can give the engine and transmission a second or so before slamming on the gas pedal, in order for them to sync up.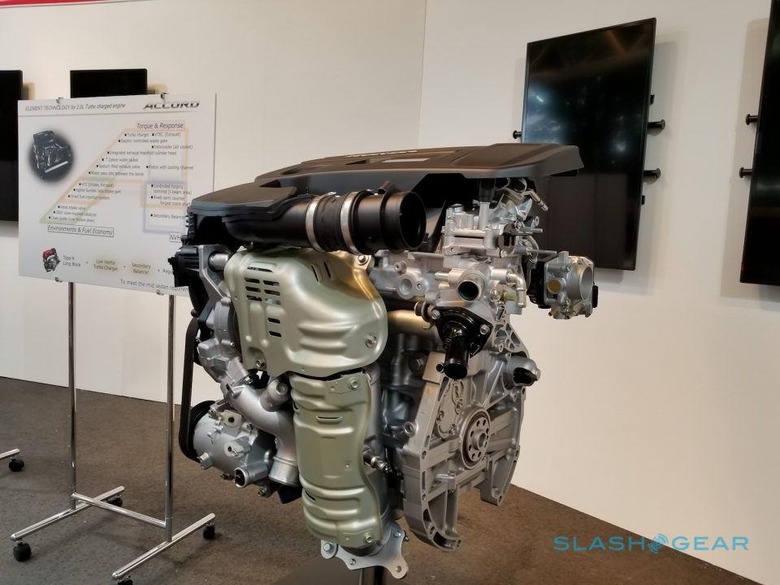 The good news: gears are held longer and the throttle mapping in Sport mode has been programmed differently. Hit the button and you immediately get the sense that the Accord just perked up, ready and alert. Repeating my same slow-down-and-then-floor-it test, the automatic was much quicker to find the right gear; then the turbo kicked in, and suddenly you're off. There's definitely enough horsepower and torque to quickly move the new Accord.
The 2018 Honda Accord won't go on sale until later this year, so there's still time for the engineers to make minor tweaks. As such, there's little info regarding final horsepower and torque. Still, Honda has confirmed that the new 2.0-liter is a derivative of the Civic Type-R's badass engine, while engineers also told me that, unlike the premium fuel requirement of the Type-R, the Accord will be fine with regular gas. Since the Type-R offers 306 horsepower and 295 lb.-ft of torque, I'd dare say that the Accord will settle on around 50 hp less and a drop of roughly 40 lb.-ft of torque.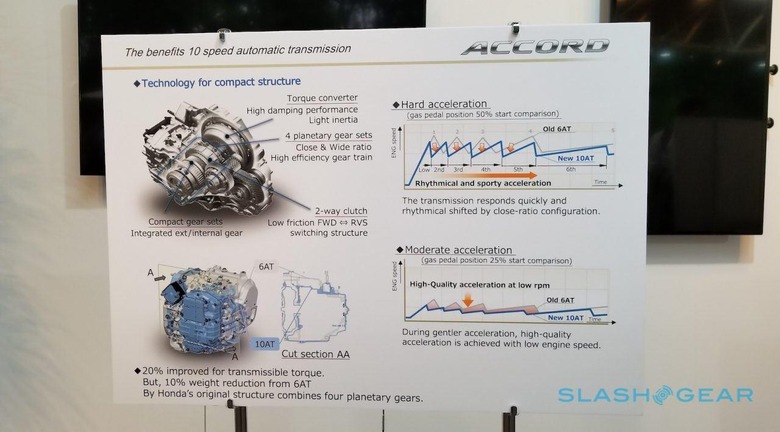 I doubt that'll be too disappointing on the road. Torque arrives very early in the band, at around 1600 rpm, and from there on the delivery is pleasingly flat courtesy of a low-inertia turbocharger that demands little time to spool up. As I mentioned, you really don't feel the drop unto you're at around 100 mph, at which point you're not far off from the electronic speed limiter.
Did the new engine meet my expectations? Yes, and with interest. It seems Honda's decision to benchmark against models from what would typically be considered a segment above, such as the Mercedes E-Class and C-Class, and the Lexus ES, has paid off. Even just driving in circles on the proving ground track, the handling feels well composed and lane-changes even at higher speeds felt stable. Anything deeper will demand further testing, as will the 2018 Accord Hybrid which wasn't available for us to drive.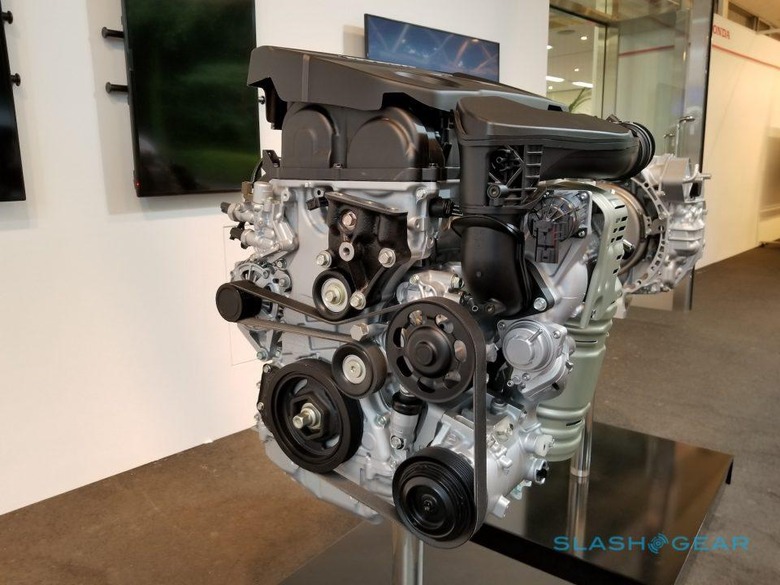 I still find it very odd that Honda's offering the Accord with a 6-speed manual transmission. Then again, I don't have their market research, so who am I to argue with their offering decision. The 10-speed automatic transmission is butter smooth as it shuttles through the gears, so I can only imagine extreme stick-shift purists opting for the manual. Again, testing that will have to wait too, but already I'm impressed by what Honda has put together. The new Accord's engine may not be a V6, but there's no compromise in performance for fuel economy.