2018 Honda Accord first drive: No more bland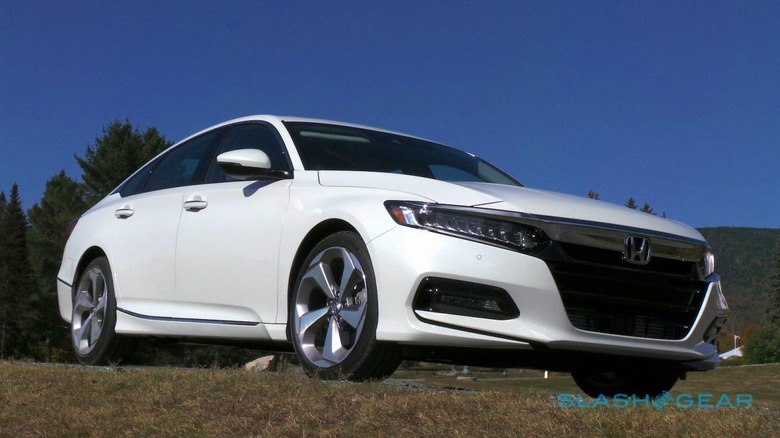 I know what you're thinking: "It's a Honda Accord. Skip to the mileage estimates and whether or not there's room for a car seat in the back, and then we're done here, Mr. Automotive Writer Guy."
Fine. I will tell you up-front that car seats will fit easily into the back seat. Two of them, actually, with nice sturdy anchor points and everything. Wide rear doors make moving cargo and car seats fairly painless. But I'm going to make you wait on the mileage, because there is a lot more going on with this "mid-size sedan" than grocery trips and doctor's appointments.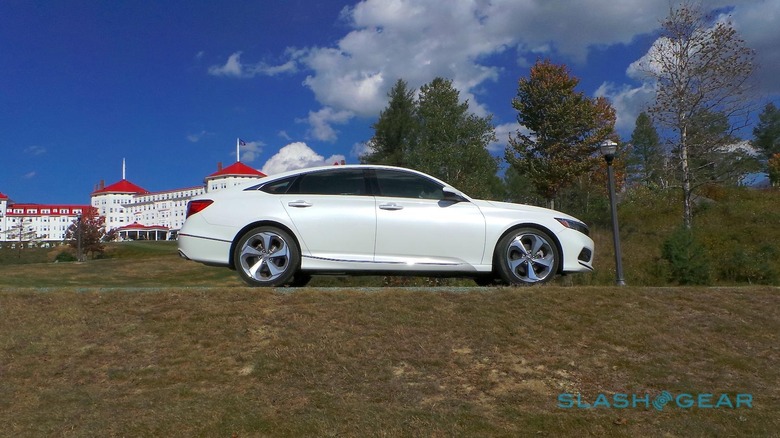 Everything you need to know about the "Newly-Redesigned Tenth-Generation 2018 Honda Accord 2.0T Touring Sedan" is all in the adjectives. All the stuff before the word "Sedan" is what we're gonna talk about below. I pretty much covered what you need to know about "Sedan" in the previous paragraph – except the mileage. Have patience.
Newly Redesigned
From the wheelbase to the headroom, it's brand-spanking new. New engines, new (for the Accord) transmission, new suspension, new trim level, new fake wood, and new real leather. On the outside, the car is less complacent than the prior generation. It's no longer satisfied with a glance and an acknowledgment that it is indeed in traffic and you must obey the applicable right-of-way laws. It will now require a moment of your time to see it as a serious automobile. 100% LED lighting, all around, on all trim levels. Large grille up front. Tires pushed to the corners. Millimeters taken off the overall length and height of the 2017 model and transferred to the width.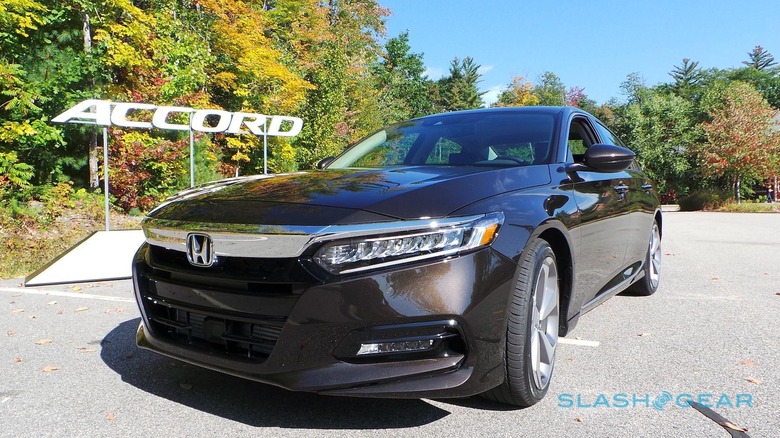 Honda calls it "aggressive" styling. But this is still a Honda, and it has manners. "Assertive?" No doubt. But aggressive? Leave that to lesser machines. You'll have no trouble picking out the "waterline" running the length of the car from fender to trunk. This feature also is prominent on the nosecones of modern stealth aircraft. And that's a pretty decent analogy for this Accord's design. If you're close enough to notice, it's far too late to ignore.
The new Accord will offer a 1.5L turbocharged engine, a 2.0L turbocharged engine and a 2.0L hybrid. There's not a 6-cylinder in the bunch. On the transmission side, your choices are a Continuously Variable Transmission available only with the 1.5L Turbo, a 10-speed automatic available only with the 2.0L Turbo, and a 6-speed manual available for either flavor. While the CVT was mated to a traditional console shifter, the 10-speed (and the hybrid) offered me a selection of push-buttons and a finger switch to instruct the transmission on its current assignment. I found it non-intuitive and sort of a waste of space. Either give me a shifter to grab or move the buttons out of the way for a phone bay or bigger cupholders.
Once I got over my mild annoyance at the cockpit controls, I had a couple of questions about these transmission choices. Fortunately, I was able to pose them to Terunobu Kunikane of Honda's Research and Development.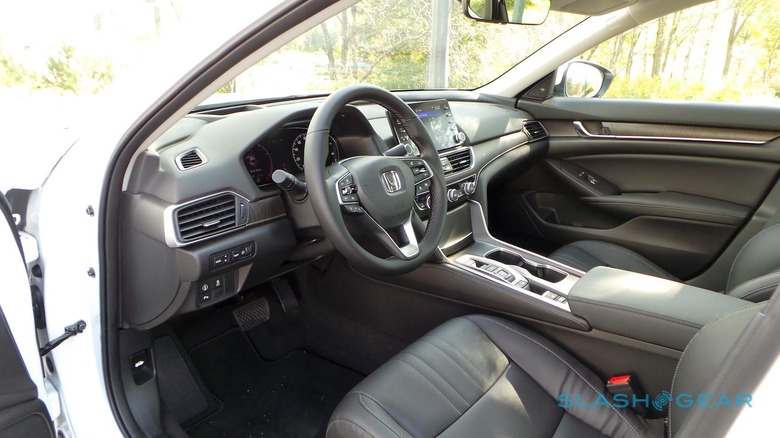 There were a disproportionately large number of manual transmissions available at our test event, and I asked him if that mix was indicative of Honda's manufacturing targets. Are there really that many Honda customers who want a manual gearbox? He said Honda knows some of its customers want a manual transmission, and he wants them to know Honda will make a car for them.
On the subject of porting the Odyssey's 10-speed over to the Accord rather than simplifying things with the CVT on all models, his answer was twofold: emissions and fuel efficiency. The increased fuel consumption at the low end of the torque curve should be offset by the lower consumption at highway speeds. More on that tradeoff down below.
Tenth Generation
The Accord is unquestionably Honda's flagship. It's the USS Enterprise of HondaFleet. During the automaker's technical presentation, there was a low key sense of "this had better work" running under everything. Four years in development, in a segment that Honda has traditionally, if not outright owned, then certainly locked in a long-term lease, means that this incarnation of Accord can't afford to lose ground.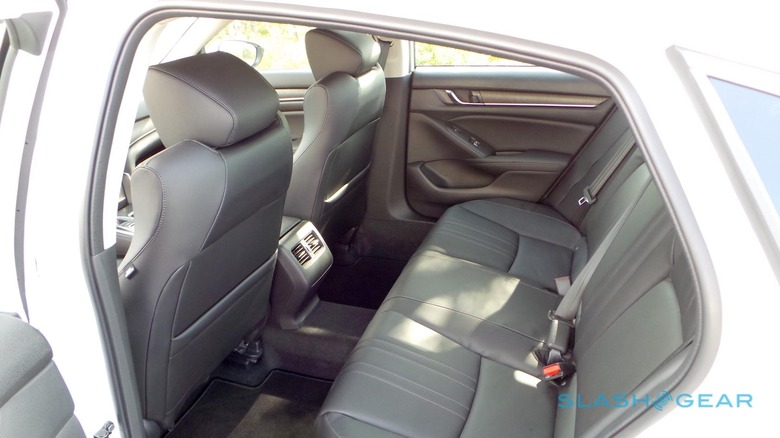 To that end, Honda has pulled no punches on amenities for the 2018 model year. There's been a great deal of thought put into making the cabin feel more spacious as well as actually be more spacious. Seat warmers, Active Noise Cancelling (like expensive headphones, only for your entire cabin), and 12-way power seat adjustments. Honda Sensing comes standard on every trim. Collision mitigation, road departure, adaptive cruise control, lane keeping, rear view cameras, driver attention monitor, straight driving assist and auto high beams go on every Accord that rolls off the line. Shell out for the EX trim and above and Honda will throw in blind spot monitoring. Go all out for the Touring and you'll get front and rear parking sensors. All this tech jammed into a 3,000 plus pound rolling metal box could be a recipe for distraction.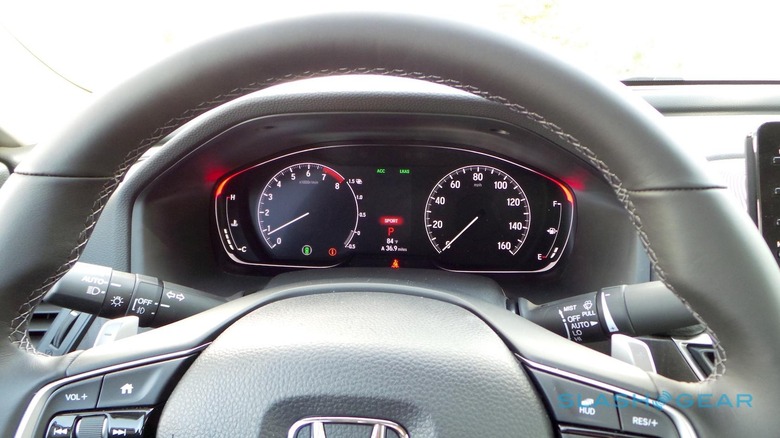 Honda's solution is to integrate all this data into a 7-inch TFT panel embedded into the instrument cluster. On the right, a fairly standard analog speedometer – whose size and typeface reminded me of Accords of old – goes from 0-160 mph as expected. On the left, an electronic image of mileage, drive gear, and a basic tachometer – basic until the car needs to tell you something. The TFT screen presents condition messages that light up the center of the tach or the right side of the screen (the center of the instrument cluster). On the top end Touring model, a multi-function heads-up display (with positioning that easily adjusts on the fly) augments your situational awareness and is strikingly easy to read even in full sunlight.
2018 Honda Accord
Yes, it's an Accord. Since 1976, it's been almost the calling card of the Japanese mid-size sedan. It has four doors with seating for five. It's got a nice 8-inch display for entertainment, navigation, and phone syncing. It has nice solid knobs for controlling those functions as well as the touch screen interface. Glove box, tilt steering, cold air, power brakes, power steering, blah, blah, blah. A sedan, like all the other shiny metal boxes rolling around, right? Well, let's see...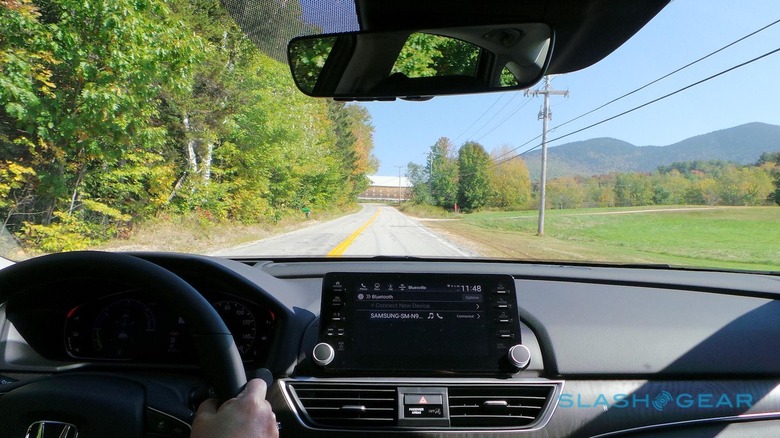 Honda made some competitors' cars available to drive, and so I took advantage of that offer to compare a few flavors of the new Accord with the Toyota Camry XLE and Hyundai Sonata Eco on the twisty roads of northern New Hampshire. It really felt like Honda was punching down. In the case of the Hyundai, both in price and build quality, it clearly was. But I was surprised at how much more poised the Accord felt versus the Camry. Maybe it was the trade between the turbo and two extra cylinders? Maybe it was the 0.2 inches of extra wheelbase on the Accord? Maybe the fancy new "L-arm" suspension that Honda says is designed to reduce road vibration? Maybe it was the subtle grace of what the Japanese call oyayubi-no-tame-no-basho?* In any event, the Honda owned those New England autumn roads. The other vehicles were just visiting.
*Literally translated: "place for thumb." You know that little bump on the inside of the steering wheel that you're supposed to rest your thumb on? That's what I'm talking about. Hey, the Germans shouldn't have a monopoly on "special words for automotive things."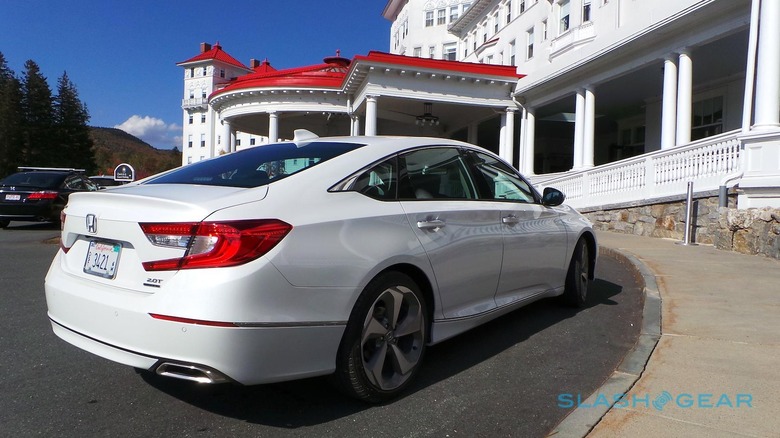 There's one big problem with using those other vehicles as benchmarks: I don't think those are the buyers Honda is really aiming for. Honestly, anyone who is going to consider a Sonata or a Camry is automatically going to have an Accord on the research list. Also a Fusion, maybe a Charger (I said maybe), some flavor of GM 4-door, and probably an Altima. But this car clearly wants to snipe at the sporty end of the minivan and small SUV buyers. These would be the young families who aren't ready to give up the idea that they are young. Remember the car seat bit 1100 words ago? That's them. I also think that Honda could credibly aim for the lower price points of the fancier luxury brands. What you're going to give up in badge appeal, wood trim and 12-speaker TMX theater sound, you'll make up in ride quality and the nicer suits you can buy with the money you save.
The Accord has the trunk space (16.7 cubic feet) and the rear passenger comfort to act as a people hauler and the road manners of genuine touring car. The development team may have been talking a conservative game during my evaluation, but I think they know what they have on their hands: a platform that's going to steal from segments that most mid-size manufacturers conceded long ago.
2.0T Touring
Let me finally get to the point of this article. I didn't know what to think of this car until I was stuck behind a work truck on a two-lane highway running beside a double yellow line. We were both traveling at or near the posted limit – thanks very much, Honda Sensing, for putting that data on the HUD. The leaves were still on the trees, creating obstructions to my distance vision on the twisty roads. It was illegal for me to pass this truck, and maybe just a little bit unsafe.
I wanted to anyway.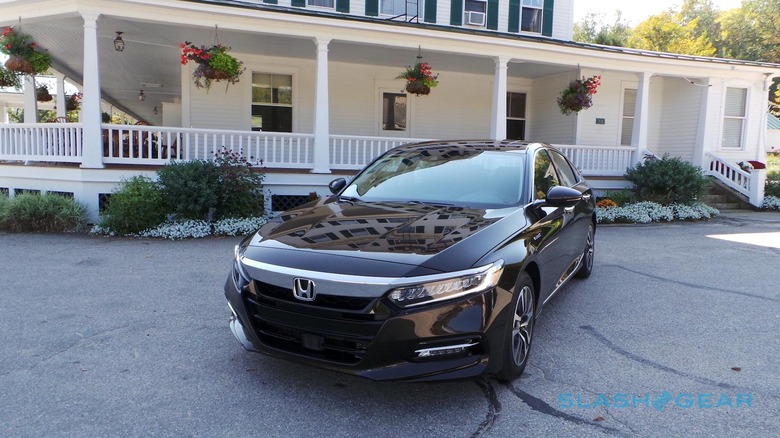 This car wants you to be evil. Not EVIL, or eeeeeevil. Just a little evil. It gives you the means, with predictable acceleration outputs versus your throttle input. The 10-speed automatic shifts down efficiently and quickly, and then shifts right back up as you speed up. Pushing the wheels to the corners and redesigning the suspension created a solid connection to the road. The console-mounted switch that changes the car's drive mode from Eco to Standard to Sport gives you some control over the size and shape of Accord's performance envelope. I may have exceeded the HUD-displayed posted limits by a ticket-generating amount a couple of times during this evaluation. In Sport mode, I never once felt like I was pushing any kind of envelope.
The top end Touring trim, in my mind, has a seat at the table at every point in the torque curve. But every trim level lives at the corner of 75 MPH Road and Passing Lane. Even the base model 1.5L Turbo CVT handled those upper end speed changes with enthusiasm. Starting from the line with the 1.5L? Not so much. When I raised the issue with Honda, they shook their heads a little mournfully and conceded that the CVT was supposed to help with the lower displacement. Bottom line, physics is a harsh mistress and the smaller engine won't be making jackrabbit starts. But let's face it, a standing start at the bottom of a 6% grade in the New Hampshire foothills is a bit of an edge case. And it's not that the 1.5L can't do it, it's just that the 2.0L does it with panache.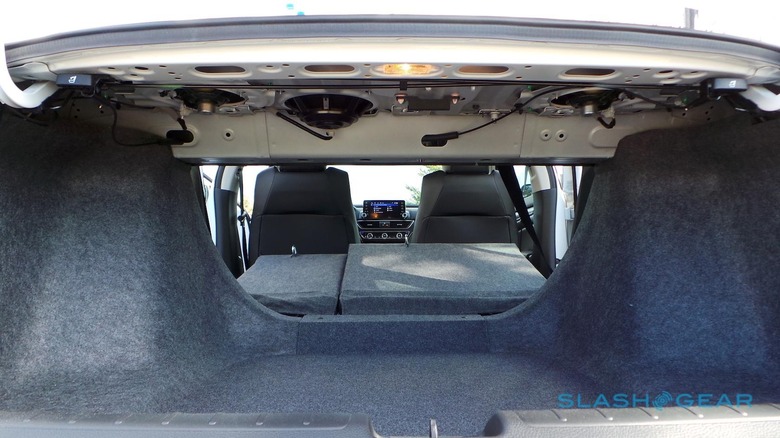 Here's another bit of trivia – the Hybrid was a lot of fun on those roads. It did suffer just a tad from the extra weight of the battery and other gear, but we were driving a pre-pre-production model, so I'll reserve judgment on it. The customizable regenerative braking settings combined with the responsive accelerator made it almost a sport trying to steer with just the throttle. And the engineers at Honda managed to cram all the extra gear needed for electric/gasoline drive into the same volume as the petroleum-only sister models. Shrinking and water-cooling the Power Control Unit, integrating it with the powerplant under the hood, and sticking the battery under the rear passenger seat means that the car's center of gravity stays low and the rear seats fold down for that trip to IKEA.
Come on, it's a hybrid, you know it's going there at least once.
"Sedan"
Once more for the people in the cheap seats: yes, it's an Accord. So let's get back to the nitty gritty. I promised you the mileage figure right at the top of the article, and I can tell you that for the 1.5L Turbo with the CVT, it checks in at 30/38/33 mpg in city, highway and combined, respectively. The EPA has yet to sign off on final numbers for the 2.0L with the 10 speed AT as of today, but Honda is confident that it will be somewhere around 23 mpg city and 34 mpg highway, depending on trim. Pricing is a pleasant surprise, with the base LX model and smaller engine clocking in at an MSRP of $23,570, only $300 more than the 2017 entry level price. On the other end of the scale, the 2.0L Touring will set you back $35,800. This is only $800 more than the current model. Considering that performance and features are up across the board from last year's model to this year's, it's a pretty restrained sticker boost. The 2018 Accord is simply a superior vehicle when compared to the 2017 model (I drove one of them, too).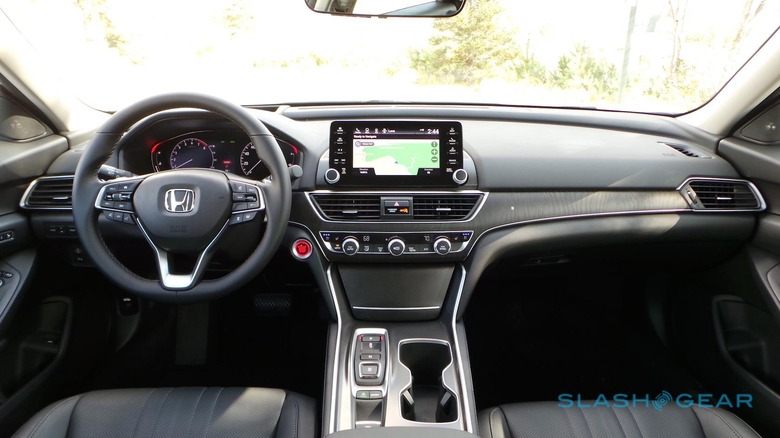 Just to prove to you that I'm not making things up, SlashGear's Editor-in-Chief Vincent Nguyen took an Accord prototype for a few laps on Honda's test track in Japan four months ago. He reached a few conclusions after his drive which closely tracked mine on the production model. "Butter smooth" 10-speed automatic? Check. Name-checking European luxury brands as performance benchmarks? Check. Pleasing amounts of torque from pretty much anywhere? Check. Curiosity about Honda's insistence on including a 6-speed manual option? Check. I wasn't able to test his mild disappointment in the 100mph-to-35mph-to-100mph regime because I was driving in the real world where pedestrians and road crews are a real thing. But I think we can admit that is also somewhat of an edge case.
Wrap-up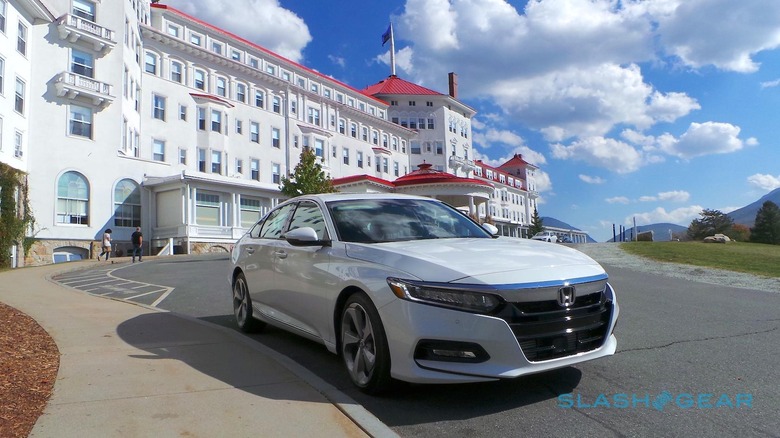 As the first year of a new-generation model, there is one thing that gives me pause about this new Accord. The sheer amount of technical wiz-bangery crammed under the hood, and in the dash, and under the rear bench (in the case of the hybrid) virtually guarantees something is bound to go wrong a few months after the fleet leaves the lot. Once the Accord's first wave of customers puts a few million collective miles on these cars, there will be a recall or two: let's face it, every car has them. On the other hand, Honda's typical first generation build tends to be a bit over-engineered. Tolerances are finer, fewer expenses are spared to ensure that quality isn't a failure factor – because one or two design failures will sneak through.
The Accord team trotted out the theme of the redesign as "Absolute Confidence." I'll go ahead and agree that road handling, acceleration, cabin comfort and visibility, curb appeal and sheer joy at highway speed all hit that phrase pretty close to the mark. Give me a real transmission lever and a year of consumer testing, and I'd probably commit all the way.