2018 Ford Fiesta ST breaks cover, and we want one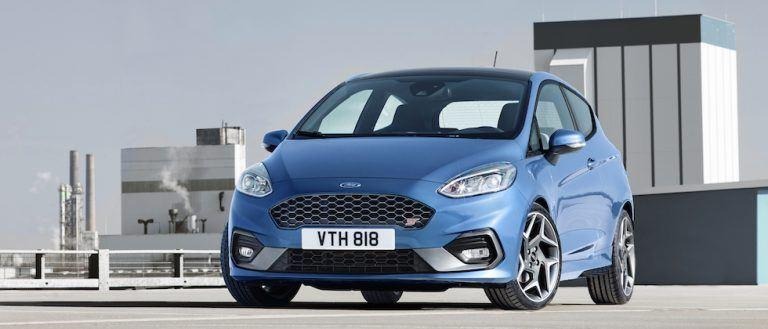 Ford has taken the wraps off its new 2018 Fiesta ST, a punchy little hot-hatch that bucks the trend in terms of engines. Revealed initially in European-market form, the new Fiesta ST eschews the typical four-cylinder engine you'd expect to find under its hood, and instead goes the three-cylinder EcoBoost route. In fact, it's a mere 1.5-liter example, though Ford is still making sizable promises about the car's performance.
In fact, the new Fiesta ST should pack a healthy 197 horsepower and 214 lb-ft. of torque, Ford says. That's good for an anticipated 6.7 second run from 0-62 mph. While that may not sound especially impressive, according to the automaker the fun is all at the low-end: torque comes in high at low rpm, while the turbocharger is new and builds pressure faster for a perkier response.
However, with EcoBoost in the name you'd also expect some green credentials too, and there the 2018 Fiesta ST doesn't disappoint. Its 1.5-liter engine supports cylinder deactivation, where one of the three cylinders can have fuel delivery and valve operation temporarily paused when the full power isn't required. Disengaging and re-engaging happens in 14 milliseconds, Ford says, so there shouldn't be any lag when you drop your right foot, either.
Fuel consumption numbers aren't available yet, but what we do know is that this generation of Fiesta ST will have switchable drive modes for the first time. Normal mode will be for everyday use, while Sport mode will see the engine mapping and throttle response made snappier. The electric power steering will deliver more feedback and finer control, while the active noise control valve will open up to deliver more engine sound to the cabin. Meanwhile, the electronic stability control (ESE) will be loosened for a little more fun.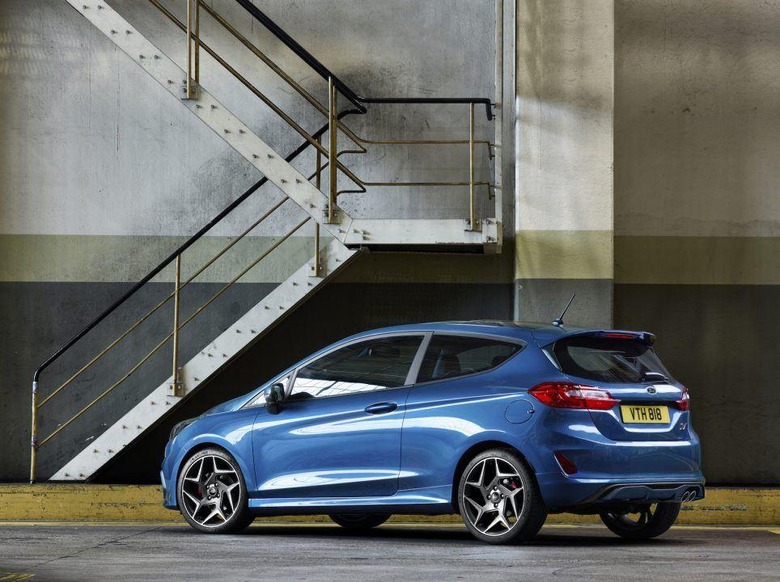 Finally, there's Track mode. There, all of the settings are switched to what's best for the fastest lap times, while traction control is disabled altogether. The ESE gets tamed to the point where wide slips can happen in the corners. Ford Performance has had its wicked way with the car's chassis, and there's Torque Vectoring Control that uses individual braking to the front wheels to tighten turns. The ESE will be independently controllable, with three modes ranging from full system intervention, through wide-slip mode with limited intervention, and then finally the system being turned off altogether.
Inside, Ford is broadening the options list for colors and materials. There are Recaro sports seats and a flat-bottomed sports wheel, along with SYNC 3 with up to an 8-inch touchscreen and support for Android Auto and Apple CarPlay. A B&O PLAY audio system will be an option.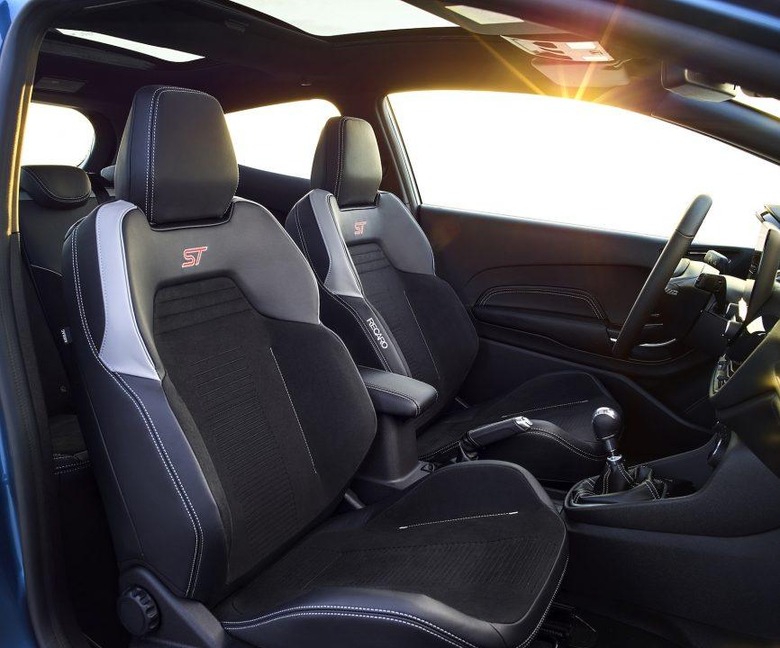 Outside, Ford's distinctive Liquid Blue paint will be offered, and there'll be exclusive 18-inch alloy wheels, different from what's offered on the rest of the Fiesta line-up. In Europe, at least, there'll be three- and five-door options, with a mesh grille at the front. We'll see just how good that looks at the Geneva Motor Show 2017, where the car will make its public debut.
In Europe, the new Fiesta ST will go on sale in early 2018; pricing will be announced closer to launch. Exactly what those in North America can expect – in terms of body-style, engine, performance, and price – remains to be seen, with Ford playing those details close to its collective chest.