2018 Ford Expedition boosts tech and space for 8: First impressions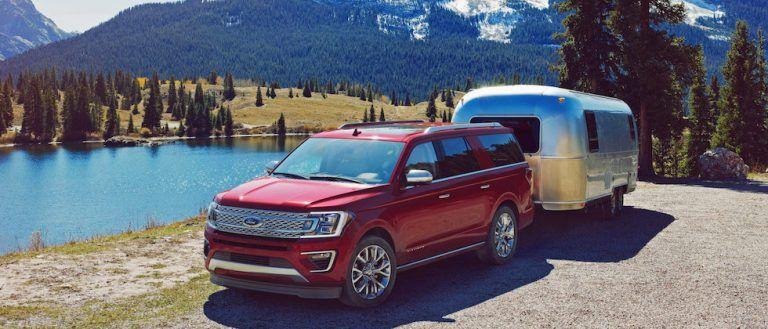 You'd be forgiven, in today's EV-obsessed climate, for thinking full-sized SUVs are on the way out, but the 2018 Ford Expedition wants to correct you. The new truck, revealed today in Dallas, sits atop Ford's five-strong line up of SUVs, from the smallest EcoSport due to arrive in the US later this year and then up through the Escape, Edge, and Explorer. I stopped by Ford's HQ in Dearborn, MI last week to clamber all over the new Expedition in advance of today's debut.
Unfortunately, leak-fearing Ford wouldn't let me take photos, but it was a good opportunity to see just how much improved the SUV's cabin is, in particular. That means things like usable space and the family-friendly features that Ford is counting on to encourage upgrades.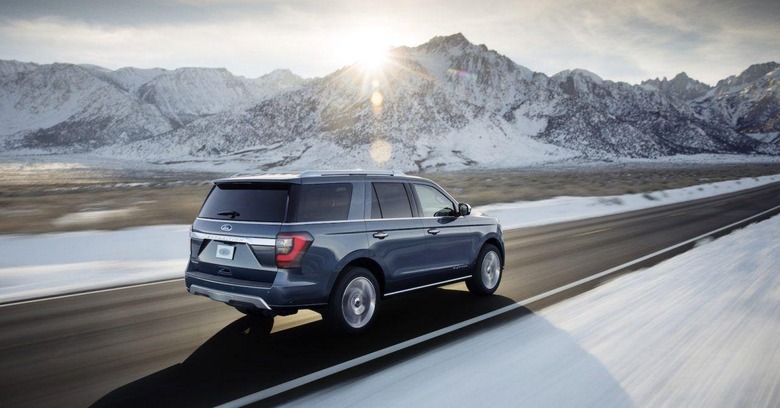 SUV business is booming: 44-percent of vehicles sold in the US in 2016 were SUVs, in fact, an 11-percent rise since 2009. Although small SUVs like Ford's Escape – its number two volume vehicle, after the F-series of trucks – are the biggest sellers, medium and large trucks like Explorer and Expedition are seeing growth too, the automaker says. Last year alone, it sold 773,000 SUVs in the US, and almost 1m more elsewhere in the world.
That said, the Expedition was, Ford execs admitted to me, overdue a revamp. The current, third-generation SUV dates back to 2007, albeit with nips, tucks, and tweaks along the way. If the automaker really wanted to coax Gen-Xers and Millennials out of their Explorers and into the bigger model, it needed to bring the technology, adaptability, and overall capabilities up to scratch.
So, the 2018 Expedition still seats eight (or seven with the optional second-row captain's chairs) but the cabin has twice the cubby space. Honestly, you might want to add a Bluetooth tracker to everything you bring inside: there are twin glove compartments, a vast central box between the driver and front passengers' seats, multiple pockets in the doors, and more. The trunk will still take 4x8 sheets of plywood, but there's also a new "Advanced Cargo Manager" which acts as a cover for under-trunk bins, folds up as a bulkhead to divide the space, or latches up to act as a shelf more readily accessed through the rear window glass hatch.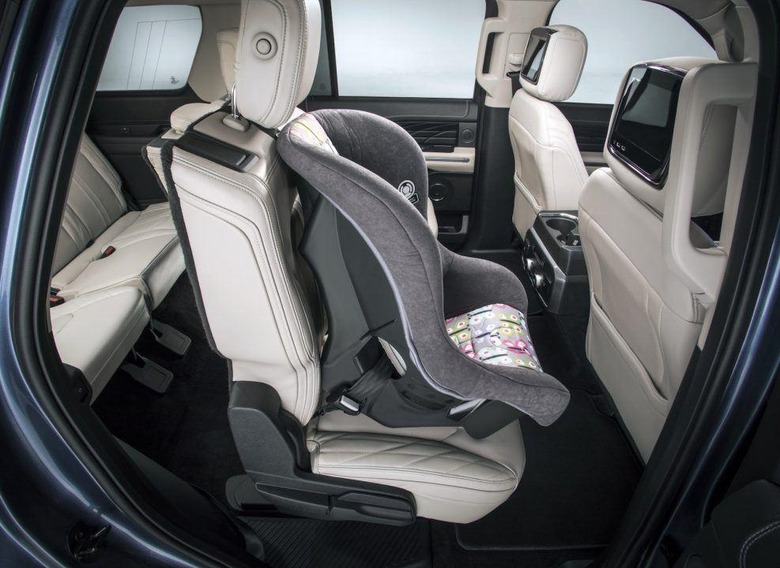 The second row seating now slides, and the seats tip forward and slide for third row access. In the current Explorer, they collapse down, which means you have to remove a child seat if one is latched into place. The third row now gets reclining seats, while an optional panoramic vista roof means the rear space is brighter and feels more roomy.
Ford has stuck with a body-on-frame design with a high-strength steel undercarriage, while the independent rear suspension means that the third row floor can be lower for increased legroom. I'm 5'8 and, even with the second row pushed all the way back, I had enough legroom in the third row seats and my head didn't touch the roof lining. It also means the load floor in the trunk is flat, though Ford has added a slight lip to avoid spilled groceries and other cargo from tumbling out when you open the hatch. Rows two and three can be dropped flat with buttons in the trunk.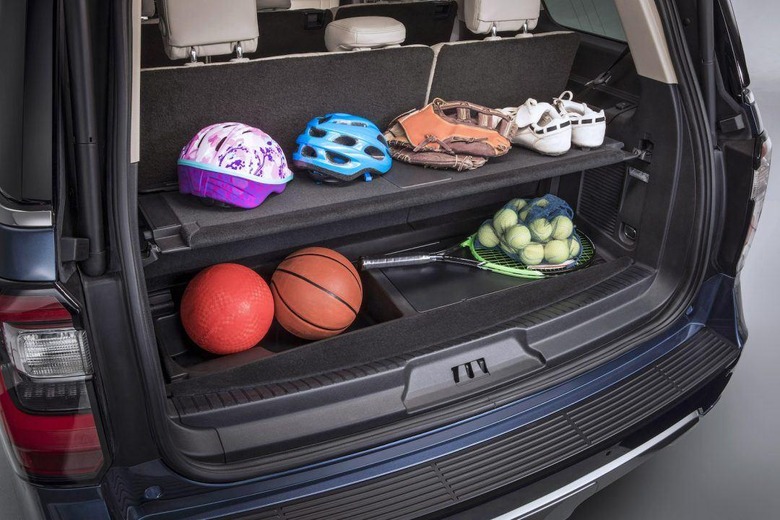 Like the F-150 before it, the 2018 Expedition uses high-strength aluminum-alloy for the body. It's a not-inconsiderable weight improvement: even with heavier features like the panoramic roof and second row rails, and the fact that the SUV has grown a little overall, the new Expedition still weighs around 300 pounds less than its predecessor. It should make it more responsive on the road, too, though Ford wouldn't be drawn on performance figures (or, for that matter, cargo or cabin space, though it says it expects to offer best-in-class hauling abilities). The Expedition MAX will be roughly 10-inches longer than the regular version.
What we do know is that there's a new 3.5-liter EcoBoost engine, paired with a 10-speed automatic transmission. Economy is expected to rise, too. An electronic limited-slip differential will be offered as an option, and there's the Terrain Management System that automatically switches the 4x4 high/low modes and other settings according to everyday driving, sport, towing and hauling, eco, grass/gravel/snow, sand, and mud/rut modes. Under the aluminum there's continuously controlled damping with active shocks.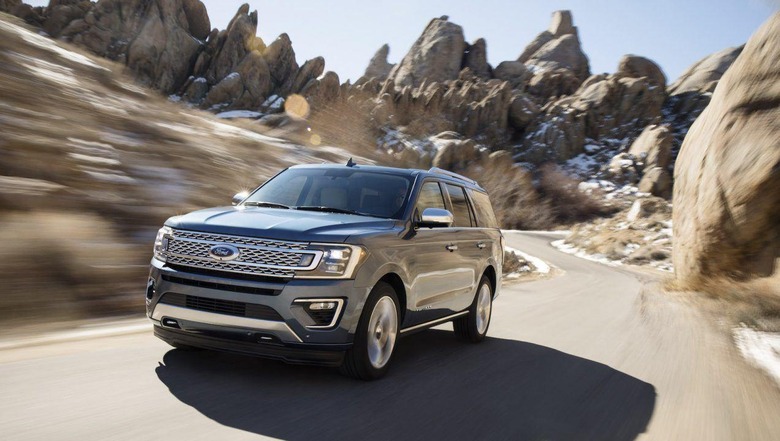 According to Ford's research, Expedition owners love to tow. In fact, 15-percent of current drivers do so at least every month. Pro Trailer Backup Assist has been borrowed from the F-150, therefore: a knob on the dashboard controls reversing, allowing the driver to watch the backup camera and easily maneuver a boat or trailer.
It's not the only technology, mind. A WiFi hotspot shares the Expedition's AT&T 4G LTE connection with up to ten devices; you'll be able to sign up to an individual plan once the three month/3GB bundled trial expires, or add the SUV to your existing AT&T Mobile Share plan. Ford says the boosted antenna delivers 50 foot WiFi range around the SUV. A wireless charging pad is in one of the front cubbies; it's big enough for an iPhone 7 Plus-sized handset.
The driver gets SYNC 3 on an 8-inch touchscreen along with Apple CarPlay and Android Auto, SYNC Connect for remotely locking and locating the Expedition, and an optional B&O PLAY audio system with twelve speakers. A rear seat entertainment system adds headrest displays for the second row; the left screen has a DVD player and an HDMI input. Alternatively, Ford has cut a deal with Sling TV for streaming content. Those in the third row will have to use their tablets or phones, of course, though there are six USB charge points, four 12V points, and a 110V outlet spread throughout the cabin.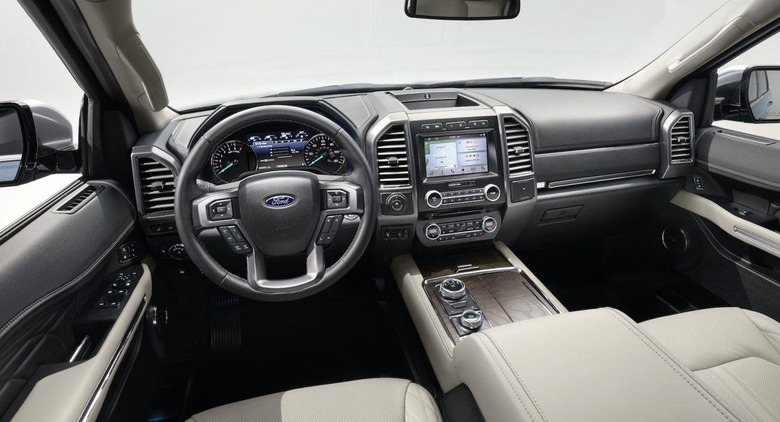 As for safety tech, there's blind-spot monitoring, collision avoidance, adaptive cruise control with stop/go, lane-keeping assistance, and a 360-degree camera for easier reversing, though not all will be standard. Other options will include auto-park, and there's a power tailgate on the upgrade list too.
Admittedly, Ford only had its top-spec Platinum trim models on hand for me to take a look at; the 2018 Expedition will also be offered in XLT and Limited trims, together with an XL that only fleet customers will get. Still, it's a noticeable step up inside compared to the outgoing SUV. Cabin materials are clearly higher quality, the switchgear is more tactile, and the styling has borrowed the best of the F-150's cab while making convenience changes like an electronic gear shifter rather than a space-sapping mechanical stick.
What we won't know until closer to launch is exactly how much the 2018 Expedition will cost, how powerful it'll be, and how green. That should all be revealed in time for the SUV appearing in showrooms in the fall, with Ford manufacturing the Expedition at its Kentucky Truck Plant in Louisville.