2018 Chevrolet Colorado vs 2018 Toyota Tacoma vs 2018 Honda Ridgeline: Pickup wars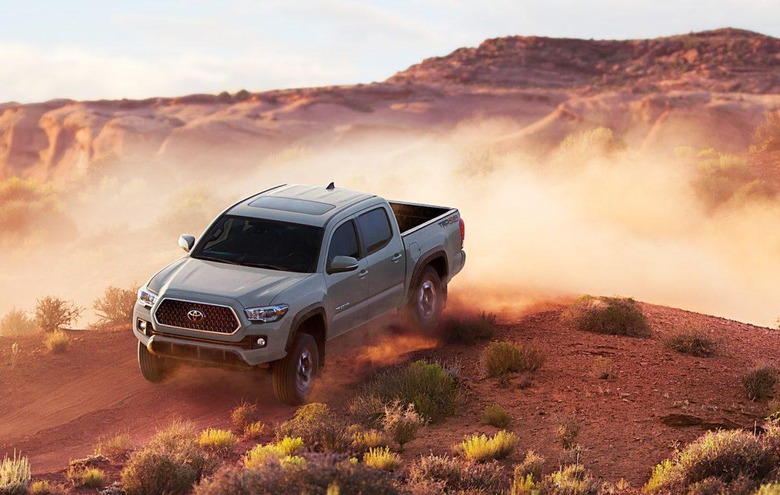 Looking for something more rugged and more capable than a normal sedan? If you were primarily looking at a midsize pickup truck for your next car, you can't go wrong with the 2018 Chevrolet Colorado and 2018 Toyota Tacoma. Both pickup trucks have deep-seated roots of ruggedness and all-terrain capabilities in their DNA. However, if you want a lifestyle-oriented pickup truck that is many times more capable than an average sedan or station wagon, the 2018 Honda Ridgeline is a sterling choice.
The Colorado, Tacoma, and Ridgeline are the top-selling midsize pickup trucks in the USA. We would love to include the upcoming 2019 Ford Ranger in this comparison report, but it won't arrive at US Ford dealerships until November 2018. From what we know, the new Ford Ranger's comeback will be motivated by a 2.3-liter EcoBoost four banger with a 10-speed automatic transmission.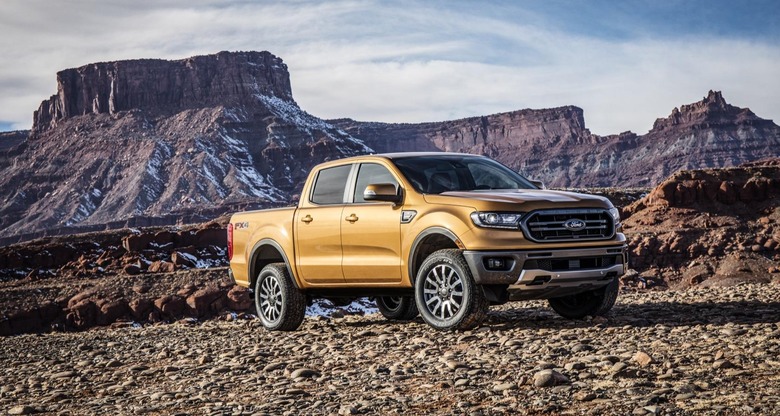 We've driven the ASEAN market Ford Ranger many times before. If our initial test drives are any indication, the new Ford Ranger is well-equipped and well-built to butt heads with the Chevy, Toyota, and Honda.
But for now, the real battle is between the Colorado, Tacoma, and Ridgeline. Which among the three is better? That's what we're here to find out.
2018 Chevrolet Colorado
The 2018 Chevrolet Colorado is designed to appeal to genuine truck fans. This is the vehicle to buy if you really want a pickup truck but don't need the earth-moving capabilities of a full-size monster. What we really like about the Colorado is the aggressive and rugged styling. We also like the comfortable cabin and the car-like driving feel. It may look tough on the outside, but it is no harder to drive than a regular compact car.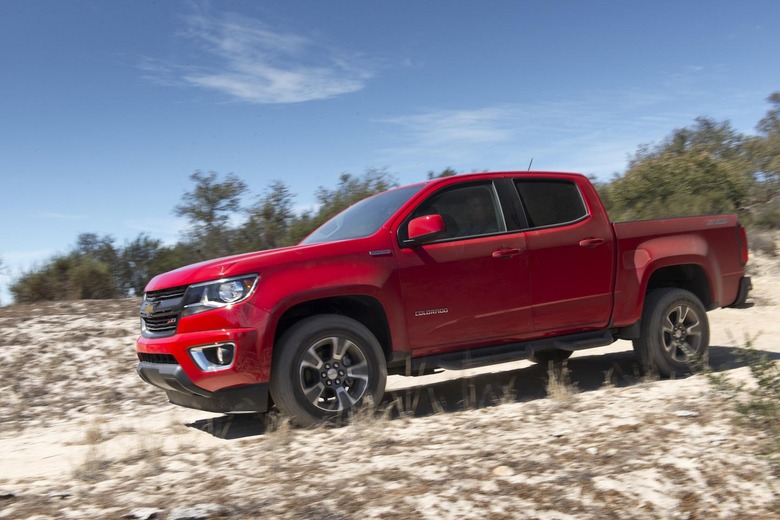 As expected from an American Pickup truck, the 2018 Chevy Colorado is available in a bewildering array of trims. It is available in crew-cab and extended-cab body styles with a choice between two bed lengths: 5'2" and 6'2". The base trim starts at around $21,000. It is only available in an extended cab body style but it comes with a powerful 2.5-liter four cylinder motor that produces 200 horsepower and 191 foot-pounds of torque to drive the rear wheels. The base trim comes with a six-speed manual tranny along with a host of standard features which includes air conditioning, four-way power driver seat, six-speaker audio system with Apple CarPlay and Android Auto, Bluetooth connectivity, and a brilliant 7-inch display unit.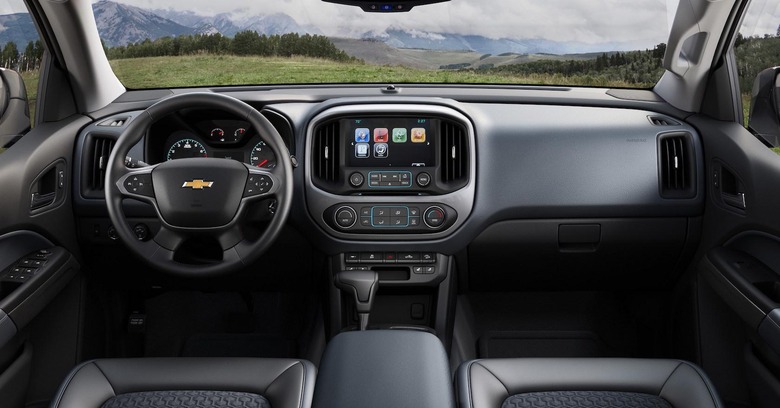 If you need a four-wheel drivetrain, start with the WT or Work Truck trim. It can be configured as either an extended cab or crew-cab. You can also choose between engine options from a powerful 308-horsepower V6 to a torquey 2.8-liter 181-horsepower diesel mill. You can also choose between the standard manual tranny and a six-speed automatic. The WT also comes with OnStar, 4G LTE Wi-Fi connectivity, cruise control, and remote keyless entry.
When it comes to value for money, we prefer the Colorado LT. It comes with all the standard options including larger 17-inch alloys, a larger 8-inch touchscreen, USB ports, and a leather wrapped tiller. But if it's our money on the line, we will choose the Z71 trim that comes with chunkier all-terrain tires, off-road suspension, hill descent control, and a locking rear differential. This trim model also comes with electronic traction and stability control, six airbags, rearview camera, and a tire pressure monitoring system.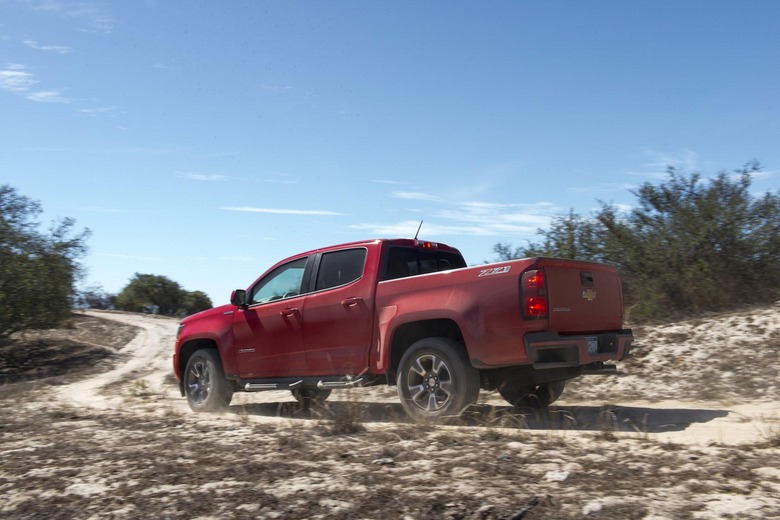 The 2018 Chevrolet Colorado can be a rugged workhorse or refined cruiser. It handles much better than other trucks we tested. The steering is not as accurate and lacks the necessary feedback when driven in the open highway but redeems itself when the roads get rough. The V6 motor is our preferred engine choice but wouldn't mind counting the miles behind the smooth and silky torque delivery of the 2.8-liter diesel motor. The Colorado with the diesel engine can tow a maximum weight of 7,700 lbs.
What's really surprising is the ride quality. The Colorado rides better than other full-size trucks. The suspension tuning is on the firmer side of the spectrum but it's not as bouncy or as harsh as we expected. This makes the Colorado the perfect compact pickup truck for mundane city driving. For the perfect balance between work and play, the Colorado can do no wrong.
2018 Toyota Tacoma
If toughness, reliability, and off-road prowess are the attributes you desire in a midsize pickup truck, the 2018 Toyota Tacoma deserves more than a second look. However, Toyota decided to ditch the standard manual transmission in the base SR trim equipped with the 2.7-liter four-banger. The Tacoma is available in single and double cab models with either a short or long bed. It also comes with two-wheel or four-wheel drive options.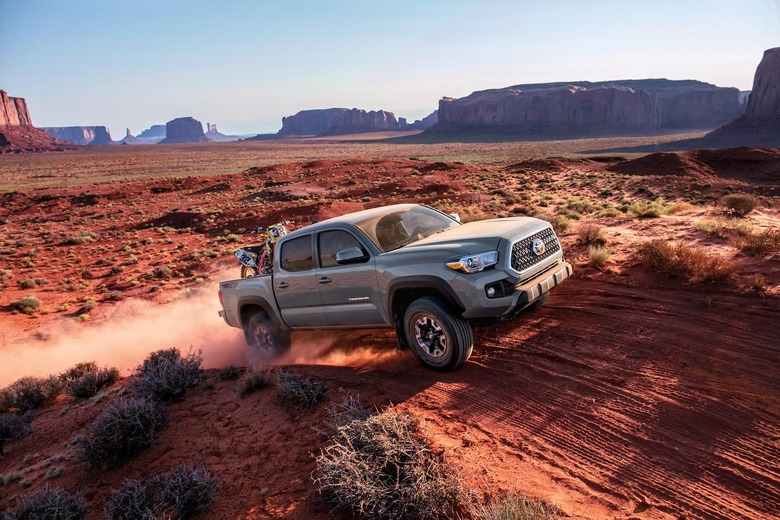 All 2018 models of the Tacoma are now equipped with Toyota Safety Sense P that comes with forward collision warning, emergency braking, automatic high beams, lane departure alert, and adaptive cruise control. No matter what you need, it seems there is a Tacoma that is right for your needs and lifestyle.
All Tacoma models are gifted with a lifted stance and a higher seating position. This is testament to the vehicle's off-road prowess and utilitarian nature. The Tacoma is available in six trim levels. The base SR trim starts at around $25,000. It is available as a crew cab with a 5-foot bed and extended cab with a larger 6-foot bed. It can also be equipped with a two-wheel or part-time four-wheel drivetrain. The standard motor is a 2.7-liter four-cylinder than churns out 159 horsepower and 180 foot-pounds of torque. The base trim is more expensive than the base model Chevy Colorado, but is comes with plenty of standard features. This includes a six-speed automatic transmission, 16-inch wheels, a composite bed that doesn't require a separate bedliner, a tilt-and-telescoping steering wheel with stereo controls, and Bluetooth connectivity.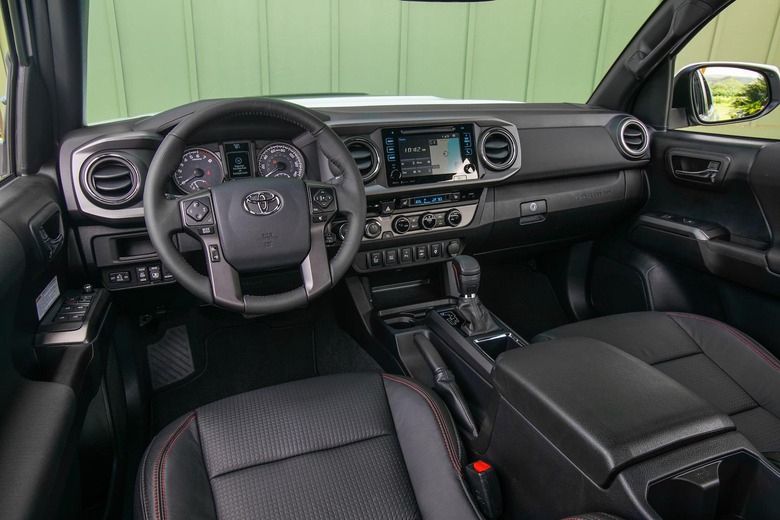 The Tacoma SR5 can be ordered as a crew cab with a longer 6.1-foot bed. It starts at $27k and comes with chrome exterior accents, front fog lights, remote keyless entry, a sliding rear window, and leather-wrapped steering wheel. You can go for the standard four-cylinder engine or choose the larger 3.5-liter V6 motor with 278-horsepower and 265 pound-feet of torque. The SR5 trim is the choice for most buyers but we prefer the Tacoma TRD Sport. It comes standard with the smooth V6 motor that can be paired with a six-speed manual transmission in four-wheel drive trim. It also comes with larger 17-inch alloy wheels, a standard hood scoop, body-colored fender flares, a push button start system, and a larger 7-inch touchscreen among other things.
The TRD Off-Road package adds skid plates, Bilstein shock absorbers, a lockable rear differential, and an off-road traction control system. The Limited trim comes with larger 18-inch wheels while the TRD Pro is only available in crew cab body style and four-wheel drive. It also comes with FOX shock absorbers and sits higher by an inch compared to lesser trim models.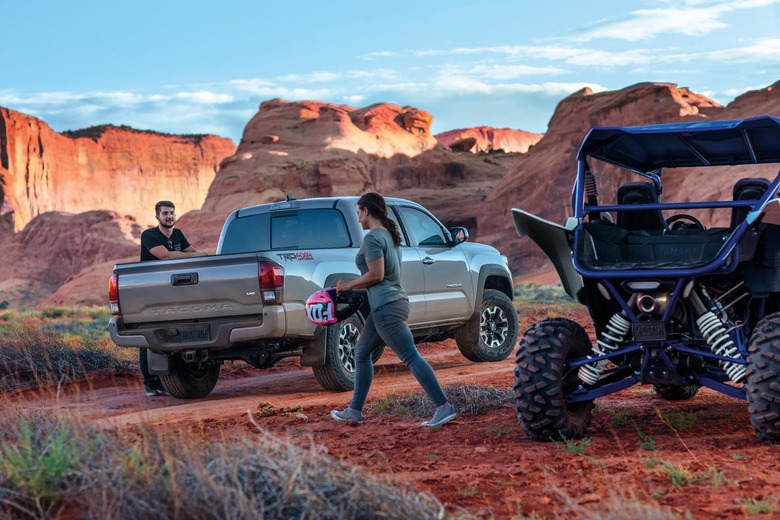 Our major gripe with the Toyota Tacoma is the blunt response of the V6 engine. It delivers a smooth rush of torque but lacks the urgency of the more powerful V6 motor in the Chevy Colorado. But unlike the Chevy, the steering in the Tacoma is more responsive. It also handles well for a midsize truck similar to the Colorado. And while the maximum towing capacity of the Tacoma V6 is rated at 6,400 lbs. (which is less than what the diesel Colorado has to offer), this is more than enough for most jobs.
2018 Honda Ridgeline
The 2018 Honda Ridgeline is an enigma. It is part car and part pickup truck. Unlike the Colorado and the Tacoma, the Ridgeline is built on a car-like unibody platform. It may only have a maximum tow rating of 5,000 lbs. (3,500 lbs. for 2WD models), but this also means the Ridgeline handles and rides better than any other pickup in the market.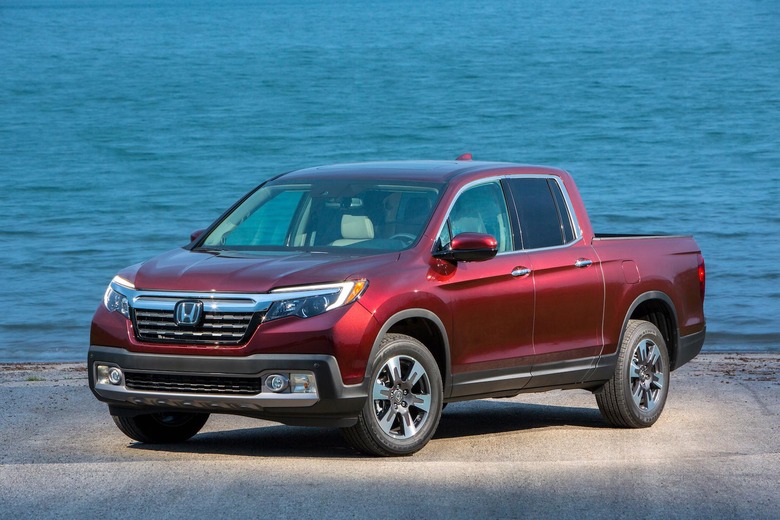 The Ridgeline is an interesting take on a tough and versatile workhorse that offers the creature comforts of an Accord sedan. It is available in front-wheel or all-wheel drivetrain and is available in five trim models. The base RT trim may be expensive at $29k but it comes with an impressive list of standard features. This includes a 3.5-liter SOHC i-VTEC V6 motor that produces 280-horsepower and 262 pound-feet of torque, which is shared between all trim models. It also comes with the innovative dual-action tailgate that can be opened downwards or sideways using a clever hinge system. All trim models of the 2018 Honda Ridgeline is equipped with this feature.
The base Ridgeline RT may cost more than the base model Colorado or Tacoma, but it comes very well equipped. This includes a push button start system, USB audio interface, Bluetooth, traction control, and a 6-speed automatic transmission. The Sport trim will throw in a few extra goodies including 18-inch alloy wheels, tri-zone climate control, fog lights, and available all-wheel drive with variable torque management for less than $33k.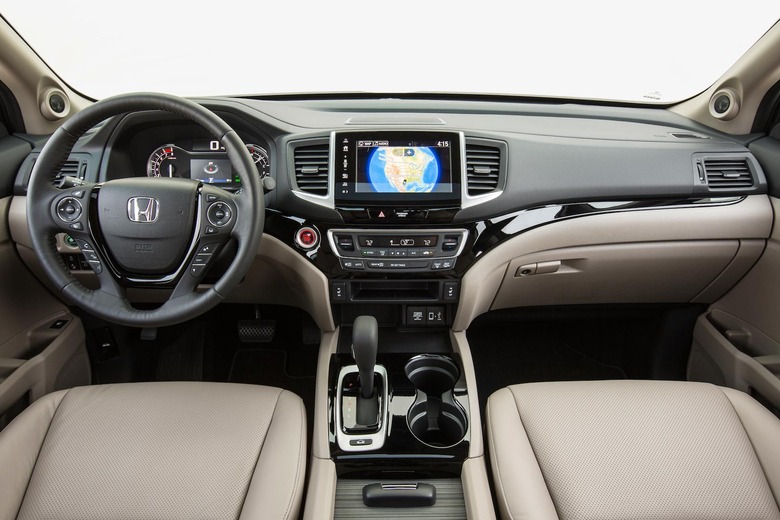 The RTL trim adds sumptuous leather seats, a power moonroof, power and heated seats, and a power sliding rear window. The RTL-T starts at $37k and includes Apple CarPlay and Android Auto, satellite navigation, and an audio touchscreen system. The RTL-E adds a 540-watt premium audio system, blind spot information, and a truck bed audio system for less than $42,000. In terms of safety, all trim models of the Ridgeline comes with stability and traction control, anti-lock brakes, electronic brake force distribution with brake assist, multi-angle rearview camera, and a tire pressure monitoring system. Higher trim models get lane keeping assist, adaptive cruise control, blind spot warning, and automatic high beam headlights.
On the road, the 2018 Honda Ridgeline is a revelation. The standard four-wheel independent suspension and unibody construction enables the Ridgeline to behave like a normal car. The ride quality is the best among all the pickup trucks in this comparison and even the NVH characteristics are impressive as well.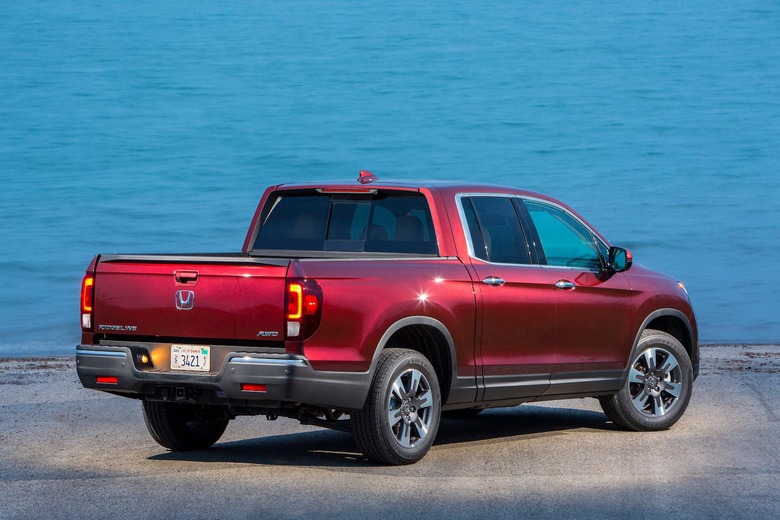 But what really makes the Honda Ridgeline shine over the Colorado and the Tacoma is the interior cargo space. It is the only one in this test that comes with flip-up rear seats and a flat load floor. This will allow you to carry larger items inside like a full-size mountain bike or a bevy of sporting equipment. It even comes with a lockable in-bed trunk! It is also the only pickup truck that comes with a two-way tailgate. It can be opened downwards like a conventional tailgate but it can also open sideways for added convenience.
The shortcomings of the 2018 Honda Ridgeline are quite obvious. This is not the vehicle to buy if off-road prowess and towing capabilities are your primary concern. The 5,000 lb. towing capacity is low for a midsize pickup truck, but this is enough for light to medium jobs. The standard V6 motor is the smoothest in this test, but it's not as lively or as fast as the Chevy Colorado V6.
If you want your pickup truck to drive and behave like a normal car, the 2018 Honda Ridgeline is the best choice. In most cases, this will probably be all the pickup you will ever need for mundane day-to-day driving. The higher base price may offend some buyers but it is hard to find a car-based pickup truck that offers the cargo-carrying capabilities and utility of the Honda Ridgeline.
Conclusion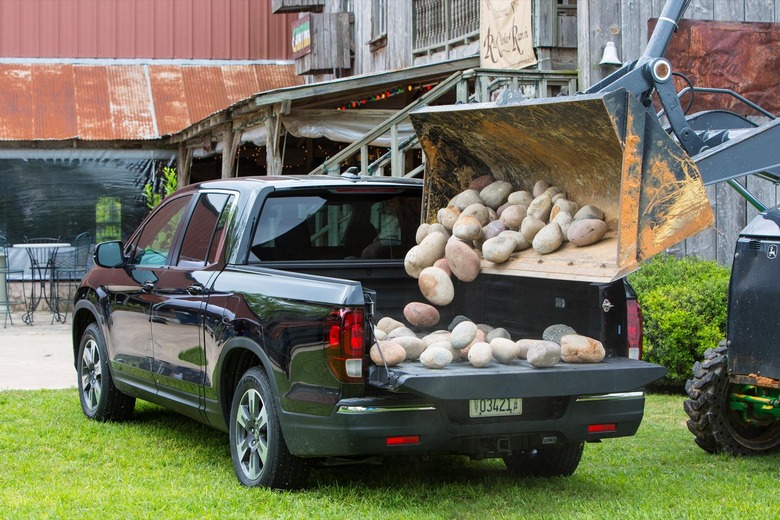 There are many reasons why the Chevrolet Colorado, Toyota Tacoma, and Honda Ridgeline are the market leaders in the midsize pickup truck segment. The Chevy Colorado offers aggressive styling and refined road manners at a lower base price. The Tacoma is an excellent choice for buyers who demand superior off-road capabilities and the bulletproof reliability of the Toyota badge. On the other hand, for most drivers wanting the cargo flexibility of a pickup but primarily using it on the road, it's hard to argue with the Honda Ridgeline's comfort and refinement. That, we think, is worth the premium price.