2018 Bullitt Mustang's rear spied rocking crosshair emblem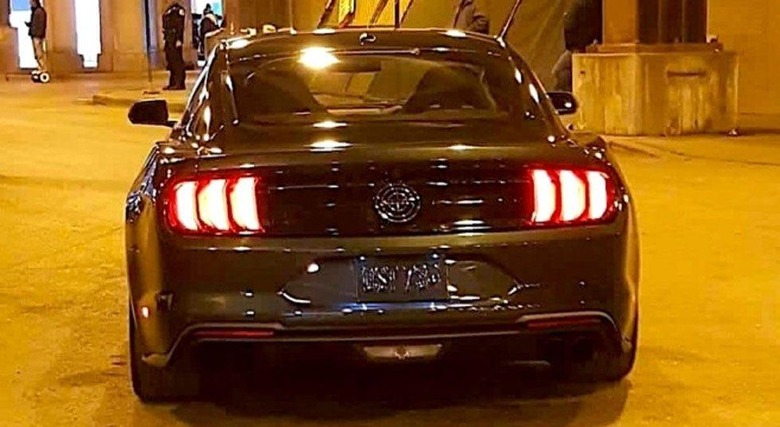 Earlier this month we saw some very blurry images making the rounds that were said to be from a commercial that someone has happened upon while it was filming. The dark green Mustang seen in the images most certainly looks like the famed Bullitt Mustang from the iconic Steve McQueen movie.
More images have turned up that appears to be from the same commercial shoot, and this time it's a bit clearer. One photo shows the back of the Mustang in question and while it's still blurry, you can make out the crosshair emblem on the back of the car. Mustang6g.com claims that its sources have confirmed the Bullitt will happen.
The website claims that its sources say that the special Mustang was spied under a white sheet as it was escorted down Lower Wacker Drive in downtown Chicago. The car is wearing dark green paint, torq thrust style wheels, and has no 5.0 badges on it.
In the classic movie, the Mustang had all badges shaved. Other images that have turned up on forums showing additional blurry details. The photographer says that the car had red Brembo brake calipers and Recaro seats inside.
There is no indication of when the new Bullitt Mustang might be unveiled, but if the commercial is shooting now and it's a 2018 model the reveal can't be far away. Perhaps the car will get official soon and we will know more. It does seem a bit odd that the car would travel under a sheet and then just sit out in a crowd for people to photograph.
SOURCE: Mustang6