2018 Audi S5 Sportback and 2018 S4 priced up for US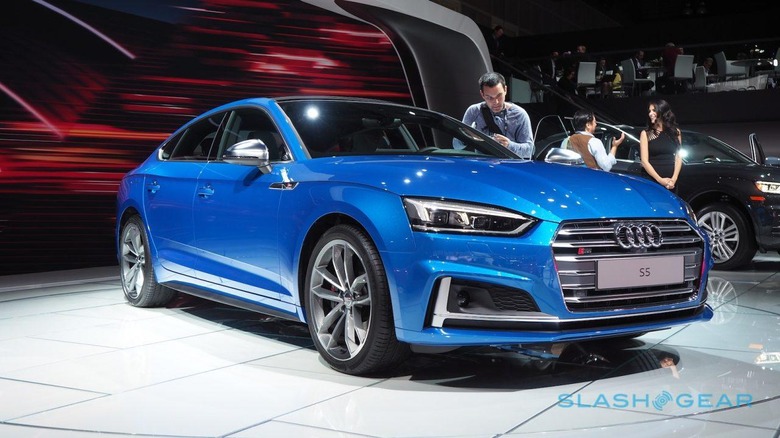 Audi had been holding out on North America when it came to the 2018 S5 Sportback, but now we know exactly how much it – and the 2018 Audi S4 – will cost when it arrives on these shores. It's also an opportunity to confirm just what sort of performance we can expect from the 3.0-liter V6 that both cars share. That musters an impressive 354 horsepower courtesy of its turbocharger – replacing the supercharging on its predecessor.
Meanwhile, torque comes in with more power and from lower in the rev range: 369 lb-ft from 1,370 to 4,500 rpm. In all, you're looking at 21 HP more and 44 lb-ft. more compared to the old 3.0-liter V6. Both cars pair the TFSI engine with an eight-speed Tiptronic automatic transmission.
Audi says that gearbox has been specially selected to suit what are arguably dual-personalities for the S4 and S5 Sportback. On the one hand there's the need for acceleration – the S4 does 0-60 mph in 4.4 seconds, while the S5 Sportback does it in 4.5 seconds – so the lower gears have tighter ratios. Further up, though, you find longer gearing for more grand-tourer style driving.
Both cars get Audi's quattro all-wheel drive as standard. However, each can be specified with the optional quattro sport rear differential; that means torque can be pushed not only between the front and rear axels, but between the rear wheels individually, too. It's not the only performance tech that helps set the S range cars apart from their A-line siblings, though.
Other options include sport adaptive damping suspension, which comes on the S sport package. That gets a new suspension control unit, which includes sensors for acceleration and yaw measurement. Dynamic steering is an other option, varying according to both the current speed and the current setting in Audi's "drive select" drive modes system.
The 2018 Audi S4 will be priced at $50,900 for the Premium Plus trim, which includes 18-inch alloy wheels as standard, LED headlamps, a sports steering wheel with paddle-shifters, heated front seats with diamond stitching, and three-zone climate control. The Prestige trim will be $55,800; both also incur $975 destination fees. Options include a Bang & Olufsen audio system with surround sound and dual pane acoustic glass for front side windows. Audi's Virtual Cockpit is another option.
As for the 2018 Audi S5 Sportback, that kicks off at $54,400 in Premium Plus trim, rising to $58,800 for Prestige trim. It has the same standard features and options as the S4, with extra options including a head-up display in full-color. Both will hit dealerships this spring.