2018 Alfa Romeo Stelvio Quadrifoglio priced up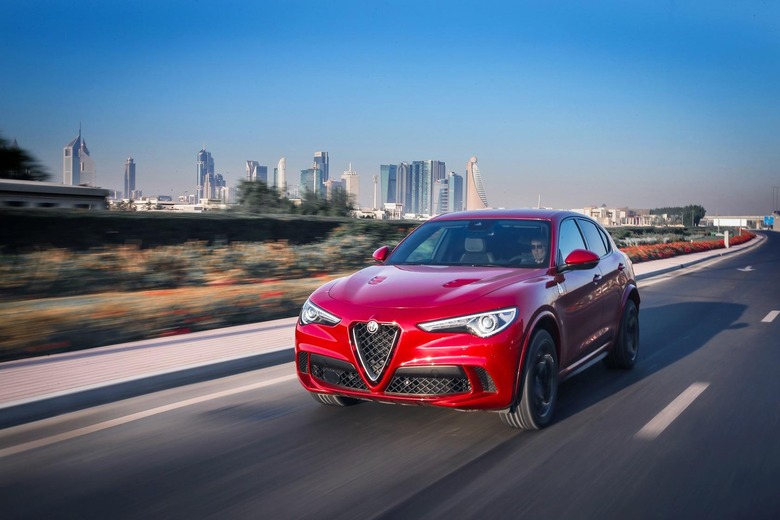 Alfa Romeo's punchy little Stelvio crossover may have impressed us, but the version we've really been waiting for, the 2018 Stelvio Quadrifoglio, has finally got its price tag. Just as with the Giulia sedan before it, the "Quadrifoglio" badge on this particular luxury SUV means a huge increase in power from a beefy V6 engine.
In fact, it's a 2.9-liter V6 with twin-turbochargers, for a total of 505 horsepower and 443 lb-ft. of torque. Alfa Romeo pairs it with an eight-speed automatic transmission, though sadly there's no manual option (since drivers, the automaker points out, say they want that but then never actually order it). 0-60 mph comes in an estimated 3.9 seconds, with the crossover barreling on to 176 mph.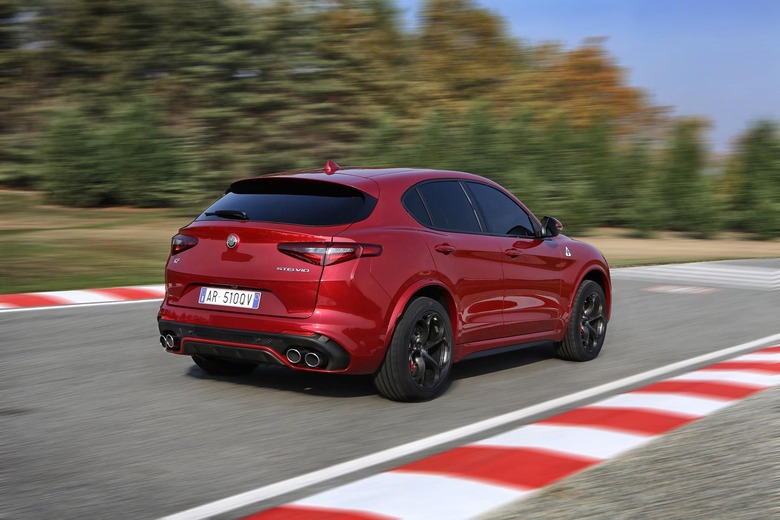 All-wheel drive is standard, just as on the regular 2.0-liter turbocharged four-cylinder 2018 Stelvio we reviewed, which might even help the small SUV get more of that power down to the road. The rear-wheel drive Giulia Quadrifoglio is notorious for getting its tail swinging, after all. There are some differences to the regular car, mind.
That includes a torque vectoring differential, and a new "Race" mode for the four-setting Alfa DNA Pro drive mode selector in the center console. The adaptive suspension has been Quadrifoglio tuned, too. The carbon-fiber drive shaft of the regular Stelvio has been carried across. All in all, Alfa says it took the crossover to the infamous Nürburgring, whereupon it promptly notched up a 7 minute 51.7 second lap time. That, performance SUV fans, is the fastest time ever for a production SUV.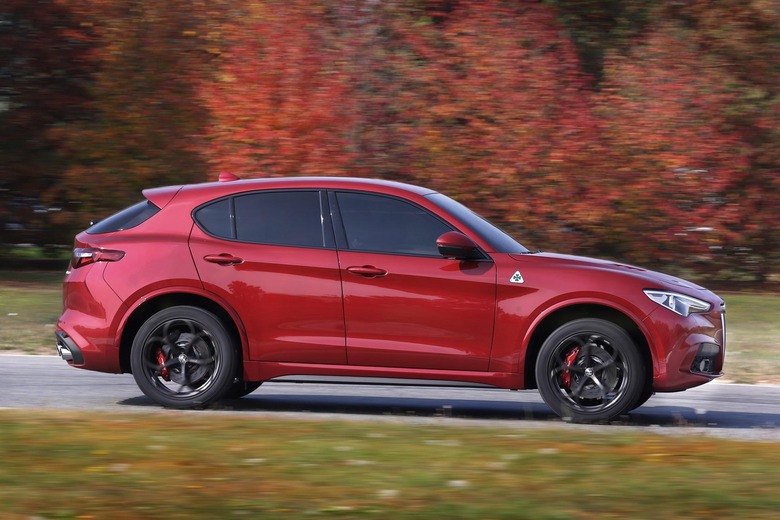 On the outside, the Stelvio Quadrifoglio is definitely distinctive. There's a custom bodykit, with rear spoiler and side-sill inserts, and it rides on 20-inch aluminum wheels. They's slowed by 6-piston Brembo brakes on the front. Alfa's hand-pained four-leaf clover – its mark of Quadrifoglio cars – is on the front wings.
Inside, there's a special instrument cluster with a 200 mph speedo, beefier sports seats with Alcatara and leather surfaces, and leather wrap to the dashboard and doors. Real carbon fiber trim has been used, and there's 14-way power adjustment to the front seats. Options include carbon fiber shell ultra-lightweight Sparco racing seats with even more lateral support, and a Brembo carbon-ceramic material (CCM) brake upgrade.
All in all, it's shaping up to tick just the right boxes for Alfa fans in the US. Pricing will kick off at $79,995 for the 2018 Stelvio Quadrifoglio, plus $1,595 destination for a total of $81,590, and it's headed to dealerships soon.