2017 Volkswagen Golf Alltrack Review: The Would-Be Crossover Killer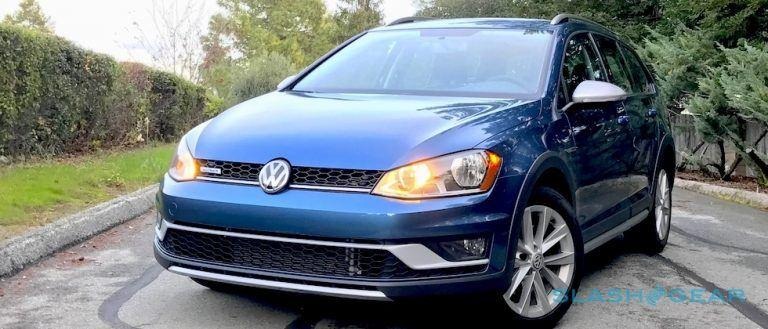 EDITORS' RATING: 7/10
Crossovers are everywhere, but the 2017 Volkswagen Golf Alltrack is choosing to see that as a big potential audience rather than an insurmountable problem. Convincing drivers to give up their sleeker SUVs and give a station wagon a chance is no small challenge, though. So, just as if you want a cat to swallow a pill you have to either rub its throat until it acquiesces or bury the medication in a mound of delicious treats, VW has opted for a mixed strategy when it comes to feeding Americans a wagon.
On the encouragement side, there's the 2017 Golf Alltrack's reasonably competitive price. Undercutting – for the most part – the typical all-wheel drive fare of crossovers and compact SUVs, the $26,950 starting price isn't eye-watering, though tick the options and it'll spiral up past the $30k mark. The biggest problem is Subaru, of course, whose Outback is bigger than the Alltrack and similarly priced if not a little cheaper, trim depending.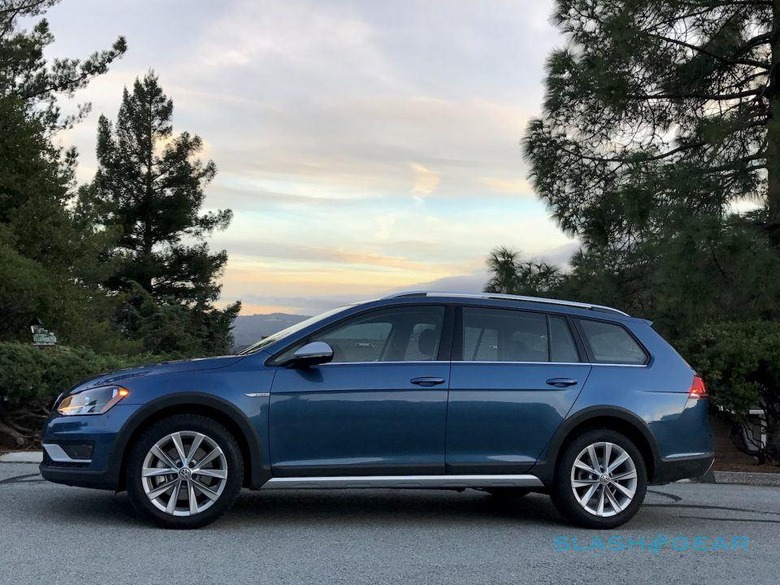 To sweeten the deal, Volkswagen's designers have given the Golf wagon a meaty makeover. Contrast cladding and a slightly jacked-up stance borrow cues from the significantly more expensive Audi A4 allroad, but add just enough visual distinction from the SportWagen it's based on to avoid unearthing shaming memories of station wagons from your childhood. It's not going to be mistaken for an SUV, no, but it's still impressively practical without going too far to remind you of that fact when you walk back to it in the parking lot.
So far, so good, but is it enough to make the cool urban cats of the United States willingly swallow what VW is selling? The Golf Alltrack is off to a good start with the automaker's punchy 1.8-liter turbocharged four-cylinder engine, here tuned for 170 HP and 199 lb-ft. of torque. Better still, for the few who still know how to row them, there'll be a 6-speed manual transmission; sadly, just as I suspect most examples in the US will be ordered, my review car had the optional – and excellent – 6-speed DSG automatic, since the manual doesn't arrive until later this year.
Nonetheless, it's a decent combination, though you could argue that "Alltrack" is a little misleading. Total lift – courtesy of taller tires, longer springs, and extended dampers – is a conservative 1.4-inches, enough to raise the car out of many of the ruts that might bog down its regular Golf siblings, but there are still going to be plenty of paths it's ill-advised to follow. Better, then, is the Alltrack's showing on the sort of rutted, unpaved or untended roads that would shake your fillings loose in the normal car.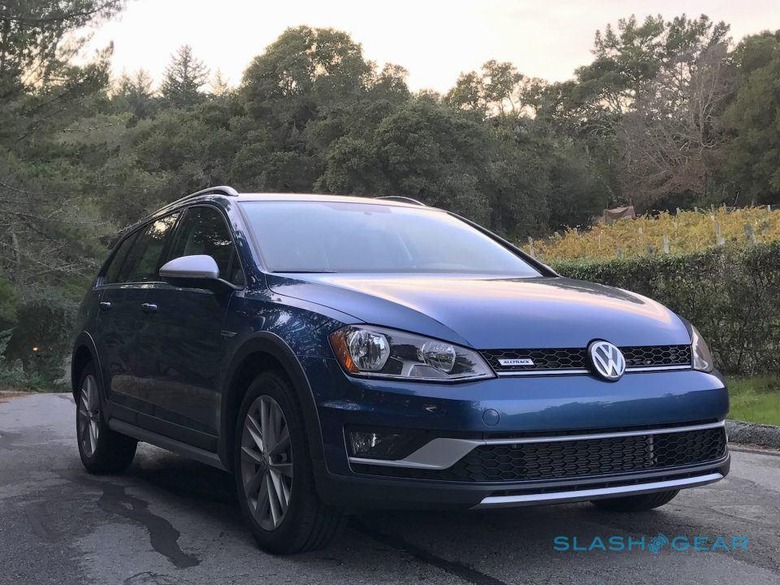 There, the help iron out much of the shock and judder. VW has added a fourth drive mode to the usual normal, sport, and custom, with the off-road profile tweaking throttle response and transmission shifts. It also turns on hill-descent control, for the sort of slow & steady downward creeps that once upon a time you'd have needed a Land Rover for.
I didn't have a full off-road course to try the Alltrack's talents on, but I did go hunting for the sort of muddy, slippery, and generally boggy surfaces that can give two-wheel drive cars a headache. VW's 4MOTION all-wheel drive can push up to 50-percent of the engine's power to the rear, and then uses the brakes to handle individual wheels. It's not quite as finessed as the fancy new quattro with ultra technology as on the A4 allroad, but it's cheaper and still more than sufficient to handle the ditches and loose gravel I attempted to get myself moderately stuck in.
Otherwise, though, what's notable is just how unnoticeable the driving experience is compared to a standard Golf. That's a good thing at this point: the steering is nicely weighted and accurate, the car poised through corners, and body roll kept to a pleasing minimum. Push hard in the corners and, 4MOTION be damned, you'll get a touch of understeer, but it's all terribly predictable and easy to deal with since the electronics kick in after a split second.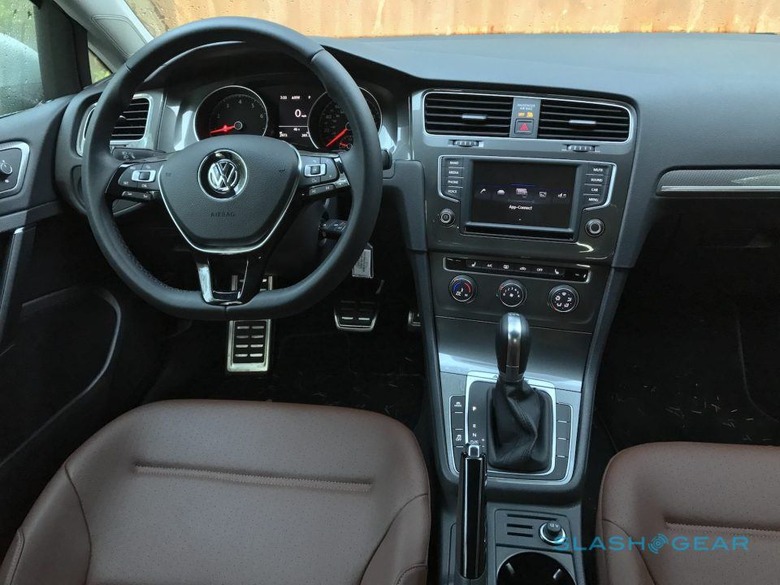 The familiarity continues inside. VW's cabin aesthetic is still hung up on its "Teutonic Minimalism" phase, and the touches of silver trim on the dashboard only go so far to brighten the expanses of sturdy-feeling plastic and glossy black inserts. Even with heated seats, a (rather small) 6.5-inch touchscreen infotainment system with Apple CarPlay and Android Auto, and air-conditioning, there are a notable number of button blanks; a single USB port seems unduly miserly, too. The faux-leather feels like it could handle some muddy rumps without getting too precious, though the padding is on the firm side and even on higher-spec trims adjustment is still partly manual.
Of course, the real reason automakers know wagons make sense is twofold: the practicality of a big trunk, but without the thirst of an SUV. There, the Golf Alltrack ticks half the boxes. Rear seats up, its trunk will swallow 30.4 cubic feet of luggage; fold the 60/40 split down, and that climbs to 66.5 cubic feet. A regular Golf hatch, in comparison, will manage 22.8 cubic feet seats up, or 52.7 with the seats down. On the downside there's no towing support; on the upside, thanks to the moderate height increase both the flat trunk floor and the standard-fit roof rails are easy enough to load.
Economy isn't quite such the glowing star, though. The EPA says you'll get 30 mpg on the highway, 22 mpg in the city, or 25 mpg combined. In my own mixed driving I came in at more like 23 mpg. I'm sure with a little more time in the normal drive mode rather than the more engaging sport setting I could've teased out numbers closer to the official figures, though it wouldn't have been much fun along the way. The regular Golf, which is several hundred pounds lighter, is unsurprisingly more eager with the same engine; the front-wheel drive SportWagen gets better economy.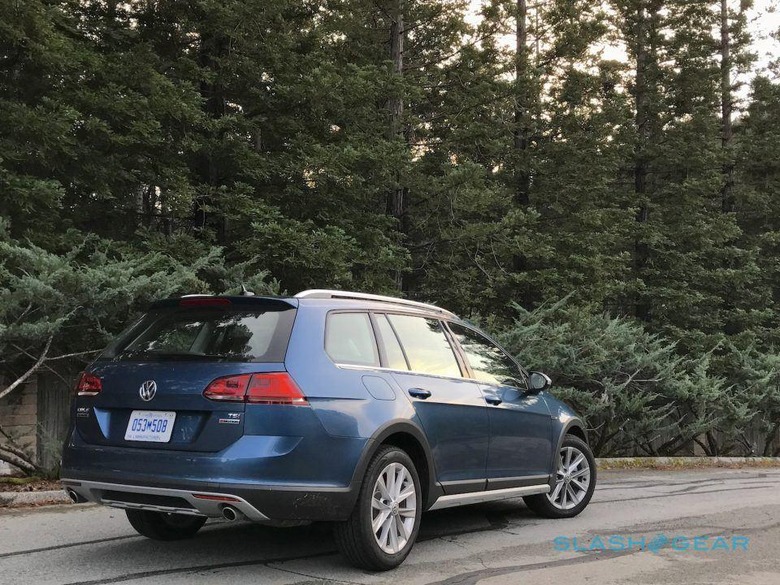 As for the Subaru competition, demand for the Outback has been more than healthy, and though I haven't tested their off-road abilities side-by-side I suspect the Japanese car's talents would be slightly ahead. It has more cargo space and is generally bigger, too. All the same, I much prefer the VW's handsome styling – the Outback is, dare I say it, fairly bland – and it's much more entertaining to drive.
NOW READ: 5 midsize sub-$40k SUVs to consider in 2017
I suspect Volkswagen would prefer us to contrast the Golf Alltrack with its more expensive, more luxurious Audi A4 allroad cousin. There, the Golf's price and surprising off-road abilities help it punch above its weight for those wanting German badging on a budget. Throwing a wrench into the works is the decision to offer, as of the 2017 model year, AWD as an option on the Golf SportWagen. You don't get the higher ride height, or the fancier exterior or interior, but you also save around $2k.
That's not enough to dampen my enthusiasm for the 2017 Golf Alltrack, though. I'm part of the minority eager to try the manual option, but even with the automatic it's a compellingly capable, quirky twist on the wagon design. Not everyone will willingly swallow VW's medicine, but those who do will find themselves at the wheel of something altogether more interesting than the typical crossover.