2017 Porsche 718 Cayman gets sportier with 4-cylinder engine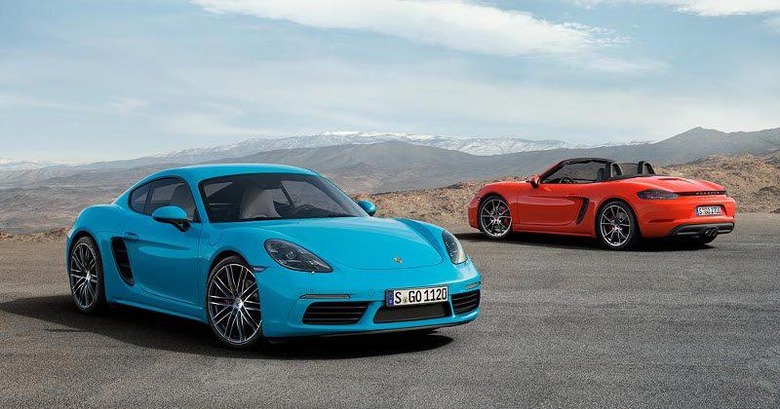 Usually, when new a new version of an existing product has less of something, it's often taken as a bad thing. Porsche, however, is proving that it isn't necessarily the case with the new 718 Cayman coupe. Yes, it does "downgrade" the previous model's flat-six cylinder engine to a flat-four one. And yes, it is marketed as a mid-engine model just like its 718 Boxster sibling. However, the new sports coupe makes up for those lower numbers with power and design that outranks its predecessor in a number of ways, giving the 2017 Porsche 718 Cayman a unique combination of price and performance.
The same flat-four cylinder engine that powers the roadster can also be found in the 718 Cayman. In the standard configuration you get a 2.0-liter engine that delivers 300 horsepower, and 280 lb-ft. of torque over 1,950 and 4,500 rpm. The Cayman S naturally gets a 2.5-liter engine with 350 horsepower, and 309 lb-ft. of torque. In both cases, these 2017 models get 25 more horsepower than their respective predecessors. Is it any wonder, then, than Porsche decided to name them after legendary 718 race cars? The 718 Cayman, can go from 0 to 60 mph in 4.5 seconds while the S model does it in just 4. Part of the 718 Cayman's road prowess comes from Porsche's 7-speed PDK transmission, short for Porsche Doppelkupplung. Literally "double coupling", PDK is essentially two gearboxes in one, with the accompanying two clutches. Power is transmitted to one half gearbox and one clutch at a time, while the other half gearbox preselects the next gear. This results in a near instantaneous gear shift.
The increased speed and performance of the 718 Cayman naturally demands some changes in its construction. Like its namesakes, the new Cayman gets firmer springs and sway bars. The retuned shock absorbers and half-inch wider rear wheels increase lateral grip, especially for cornering. Porsche also promises a steering rack that has an on-center hub 10% quicker than the previous model. All that power needs more powerful brakes as well, with the 718 Cayman inheriting the previous Cayman S' brakes, while the 718 Cayman S inherits the 911 Carrera's four-piston calipers. Other sporty options include the Sport Chrono Package, which can now be adjusted with the Mode Switch on the steering wheel, offering a new "Individual" custom setting on top of the "Normal", "Sport", and "Sport Plus" modes. Porsche Active Suspension Management or PASM can lower the Cayman and Cayman S ride heights by 10 and 20 mm, respectively.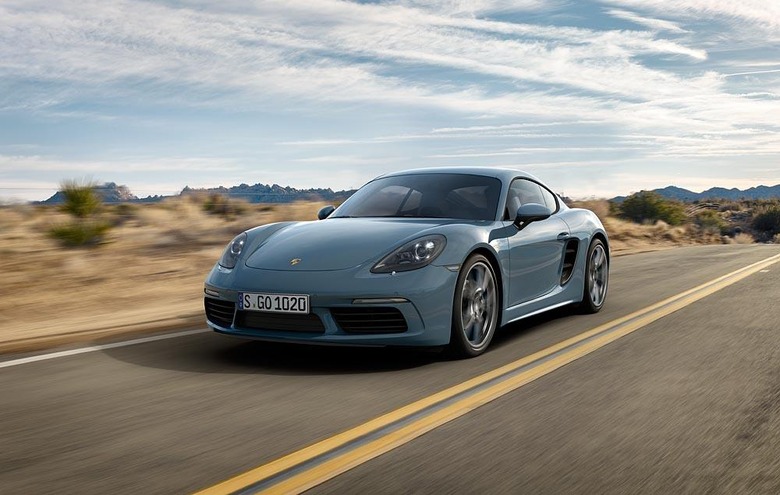 Given Porsche is going for a sportier appeal in the 718 Cayman, it is only appropriate that it get new external and internal designs to match. Indeed, the new Cayman looks more muscular, more aggressive than ever before, with a combination of a sharper front fascia profile, ultra slim front lights above prominent air intakes, and a wider rear fascia. Inside, the 718 Cayman gets the same design sport steering wheel of the 918 Spyder. The Porsche Communication Management or PCM now comes part of the standard package, offering an optional Connect module for adding a USB port for Apple CarPlay or Android Auto. The navigation module is still optional and an equally optional Connect Plus offers a combination of real-time traffic alerts, Apple CarPlay, Google Earth, Google Street View, and even Wi-Fi connectivity.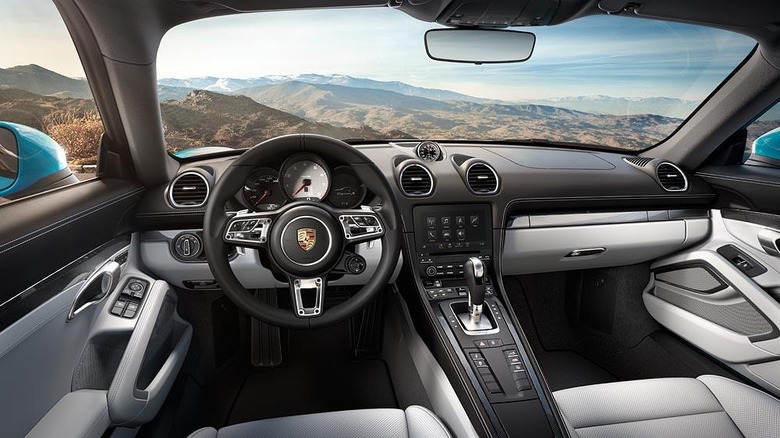 Also new to the 718 Cayman is the price tag, which Porsche says is lower than its roadster counter part for the first time. Now available for purchase and reaching the US in November, the 2017 Porsche 718 Cayman goes for a $53,900 starting price while the 718 Cayman S starts at $66,300. Those prices exclude the $1,050 delivery, processing, and handling fee.