2017 Mercedes-AMG C63 S first-drive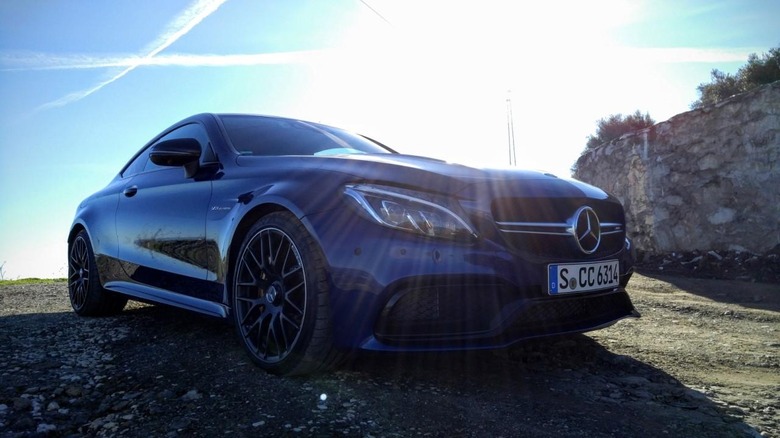 On road or on track, the 2017 Mercedes-AMG C63 S is ready to thrill the thrill seekers. It's a beast – 503 horsepower does the trick there – but one that's also refined; more than track-capable yet finessed in so many ways that it could well be the perfect road-going sports coupe.
Since it doesn't go on sale stateside until sometime next summer, I took a long trek to Malaga, Spain courtesy of Mercedes-AMG for some quality time. It would be my second chance to tackle Ascari Circuit, a brutally technical course with 26 turns spread over 3.36 miles. Perhaps sensibly, Mercedes-AMG sent us out on the track before letting us loose and on our merry way around the city streets and back roads of Spain. Certainly the C63 S can satisfy any "need for speed" you might have, but getting it out of my system meant I could more fully appreciate what the car has to offer on the road.
While it's not my first time around this sort of horsepower, it is the first time that experience has come with an AMG badge on the hood. Track first means a very short getting-to-know-you phase, and when rubber meets the road, we're off running – or driving in this case – very fast indeed.
The 4.0-liter twin-turbo V8 engine is developed completely in-house, not to mention assembled by a single technician. It's good for 469 horsepower in the standard C63 Coupe, or 503 hp in the C63 S, with peak power arriving at 5,500 – 6,250 rpm. Prepare yourself for an awesome, throaty growl as the 479 lb-ft and 516 lb-ft of torque, respectively, kicks in at 1,750 rpm and tops off at 4,500 rpm.
Mercedes-AMG employs a pair of turbochargers tucked in-between the engine's cylinder banks, known as a "hot inside V." It's an unusual placement, but it allows for a more compact engine overall, with Mercedes claiming a near-instantaneous response as they each push air into the eight-cylinder, delivering both snappier performance and lower exhaust gas emissions.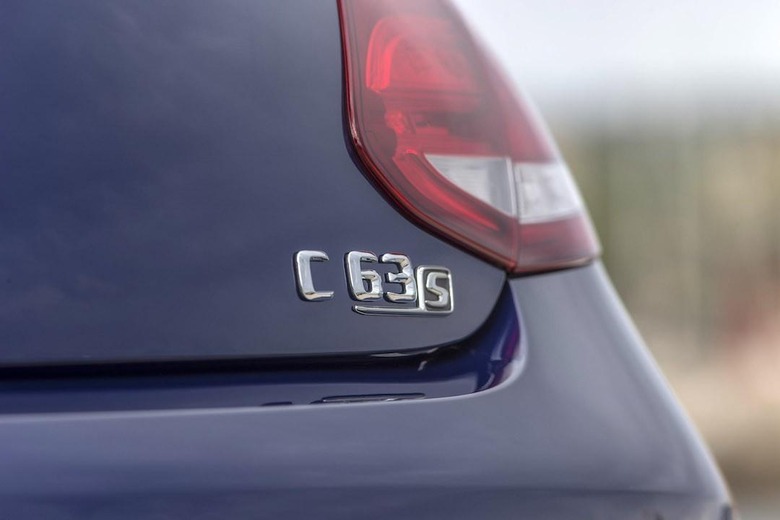 They're also a concession of sorts for the misleading name. The "63" designation would traditionally be for the engine displacement, but of course that no longer applies since the new engine is 4.0-liters. Still, the old V8 was 6.2-liters anyway, so frankly 63 still didn't make much sense. More importantly, even with "only" 4.0-liters, the compressed fuel-air mixture sent into each of the eight cylinders makes for nearly the same power level overall as the old C63 Black Series.
First things first, even with an aggressive driver at the wheel of a GT pace car, I had no problem keeping up on the back straight of Ascari. My 128 mph best didn't scratch the 155 mph limit of the C63, never mind the 180 mph top speed the C63 S offers, but it was certainly good fun.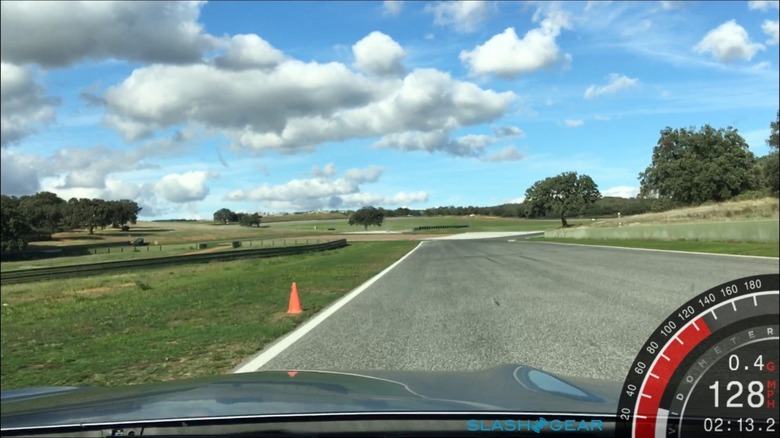 All the same, a true sports car transcends driving fast in a straight line, and after that 128 mph peak I ran out of road and faced a sharp turn. Happily, there's plenty to love about the handling of the new C63 S.
Having DTM champion Bernd Schneider leading in the AMG GT S proved both a godsend and a curse. I did my best to remember his words of caution – "be careful with the throttle ... and don't switch off traction control" – but all bets are off on the track, particularly when you're trying to keep up a pro-driver in a more track-focused GT S through the twists and turns.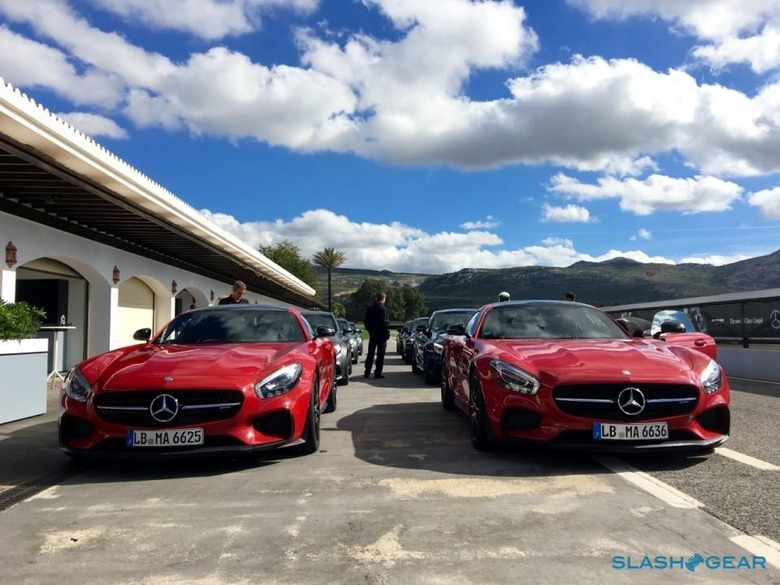 Schneider deigned to give me a slightly calmer first lead-follow lap, offering an opportunity to familiarize myself with the behavior of the car: important, when you're looking at a not-inconsiderable 3,803-pound curb weight and 51/49 front-to-back weight split. Thankfully, for that relative heaviness, Mercedes-AMG offers carbon-ceramic brakes – they're optional but, as I quickly realized, highly recommended – for quick or, in my case, frankly abrupt slowing in order to enter corners at reasonable speeds.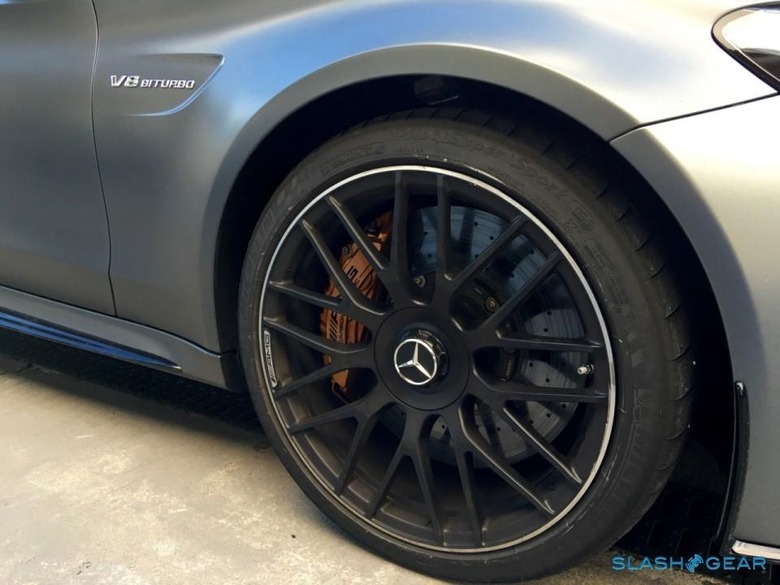 On the way out, it's the turn of the improved Speedshift MCT seven-speed transmission to show its skills. Sure, other gearboxes might have more ratios, but set to Track mode it never skipped a beat nor picked the wrong gear for what I was trying to do. All the same, while the transmission's brain is certainly quicker than you or I, I did prefer manual mode simply because of how connected to the process it left me feeling.
A connected novice, that is, and it was still tough to keep up with the GT S even in Track mode with Traction Control on. Flipping over to ESP Sport Handling gave me a whole lot more confidence in the car – and, okay, myself too – not to mention and a better fighting chance at keeping up on the third lap. It was almost enough to make me forget this was only my second time on the track; after all, you never want to be "that guy" that crashes a piece of automotive art.
In the regular C63, ESP Sport Handling finesses the electric power steering so that entering and exiting corners gains precision. As for the S model, that throws in an electronic limited-slip differential capable of reducing inner wheel speed; even for a novice driver, you really notice the difference during mid-corner acceleration. As a welcome side-effect, it also helps to stabilize the rear in those hard-braking moments.
In manual transmission mode, meanwhile, you get more control as it shifts (no pun intended) throttle mapping to deliver more linear acceleration, in effect making the twin-turbo V8 act more like a naturally aspirated engine; there's also a change in how the engine braking kicks in, among other things.
Speaking with Mercedes-AMG chairman Tobias Moers, he made it clear that flipping over to the manual transmission mode does more than give you control over gear changes, and after my day at the track I can see just what he means.
Don't mistake any of that control for the C63 S being tame, mind. For a start, it has such a deliciously wide torque range that, with so much power on tap, it's easy for the rear end to kick out should you put the car in Race mode and turn both traction control and ESP off completely. Now, it's not that I'm against such thrilling throttle-heavy maneuvers, but on a race track you more than likely want the car to deliver its power more predictably rather than drifting sideways coming out of tight corners. The car will do everything possible to keep you safe but, drive stupid and disrespect the V8's massive torque, and you'll end up in trouble.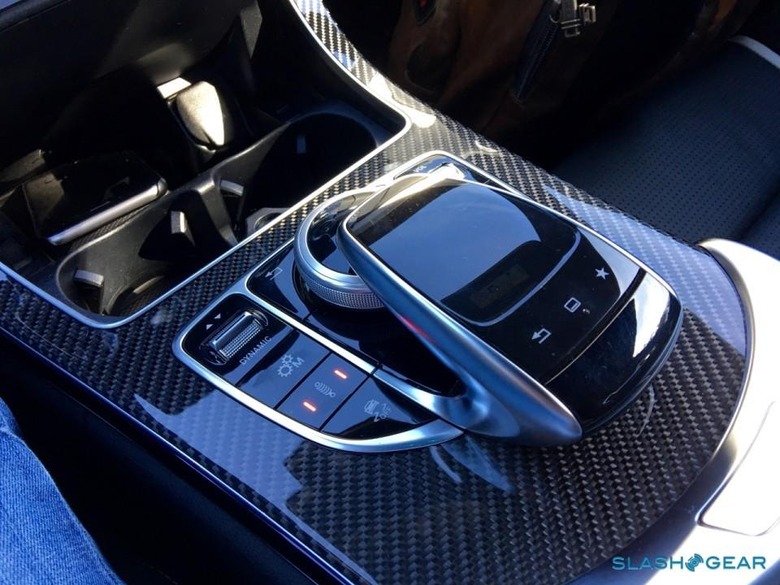 It's not all raw power. You might not instantly think "super-slippery" when you look at the new C-Class Coupe, but its 0.26 drag coefficient (Cd) value it's actually one of the best in the industry. You notice that mostly on the highway at high speed, though I also felt the benefits when up in the mountains facing greater wind resistance.
That focus on aerodynamics also helps reduce road noise down, cutting it almost to nothing. Even so, it's hard not to be reminded that you're driving a performance-centric machine, surrounded by high-end materials with premium finishes, like the precisely-drilled holes on the aluminum speaker grilles for the standard-fit Burmester sound system.
Should the exhaust note end up interfering with your music-listening enjoyment, it's possible to tone it down. Being a watch guy, I particularly appreciated the integrated timepiece designed by IWC Schaffhausen. This sort of attention to detail goes a long way in making the car – and you – feel special, even if you're just sat in traffic.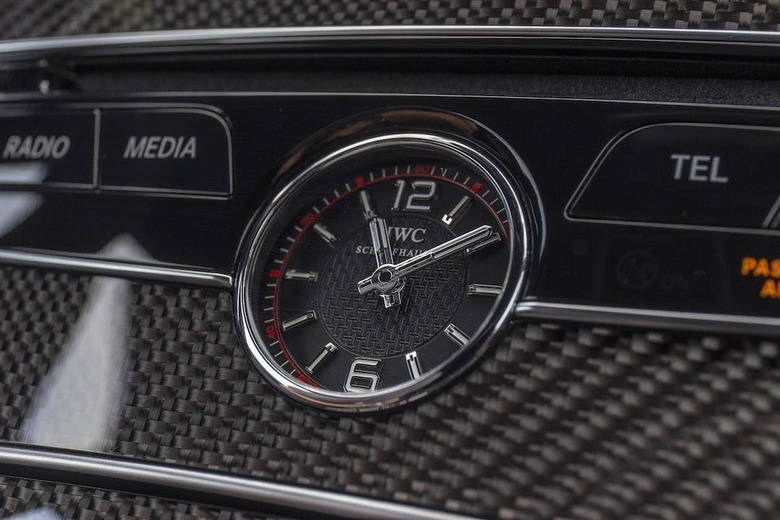 The C63 and C63 S sit at the top of Mercedes' well-esteemed C Series line-up, but if you're thinking the C63 Coupe is basically a muscled-up version of the C300 Coupe, then it turns out you're wrong. In fact fact, the two only share roof, doors, and deck-lid; the stance is wider, coming in at 2.51 inches at the front and 2.59 inches at the rear.
Those wider wheel arches, combined with extremely broad intakes on the front, add up to a fascia that's fairly eye-popping – not to mention pretty intimidating when it surges up behind you in your mirrors – when viewed dead on from the front or rear. Compared to the four-door sedan, both C300 and C63 have a lower stance and it's hard to miss the 2.36-inch longer aluminum hood bulging with two distinctive powerdomes.
So, if your wallet is already open, do you go for the C300 Coupe or the Mercedes-AMG C63 or C63 S? With prices expected to start at $70,000 for the C63 and $80,000 for the C63 S when the cars go on sale in the summer of 2016, it's hard not to consider the C300 as the affordable option, kicking off at around $40,000. There, your money gets you 241 horsepower and 273 lb-ft of torque, paired with a 7-speed gearbox.
Think of the C300 as Dr. Jekyll and the C63 as Mr. Hyde. During my test drive with the more affordable coupe, I found it to be a much better everyday car than the C63, while still enjoying the same premium interior with quality detailing like the leather surfaces and open-pore wood. The Burmester sound system is optional on the C300, however, which I personally would add just for the real aluminum trim that helps the cabin feel so high-end.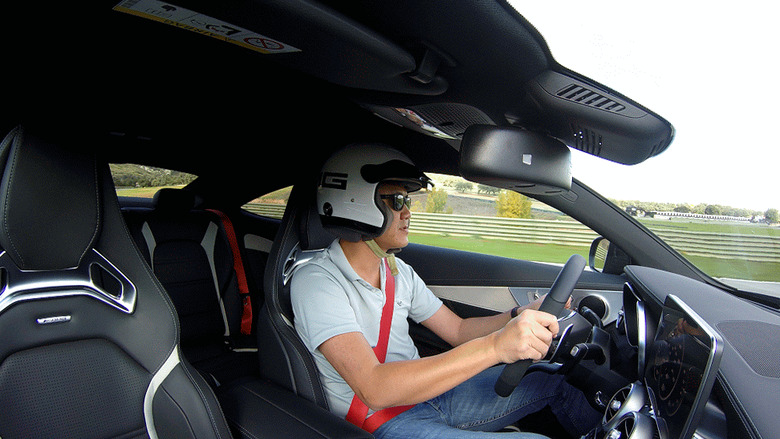 Yes, you lose the face-melting performance of the AMG cars, and you'll be at a severe disadvantage on the track, but negotiating the narrow twists and turns of Malaga's mountain roads at the wheel of the C300 was no less a pleasure. There's a poise that matches the restraint of the exterior design.
Keen drivers have no shortage of powerful, striking coupes to choose between. If you're minded to stick with the Germans, then BMW's M4 and Audi's S5 deserve your attention; mention must be made of the US' own Cadillac ATS-V Coupe.
Underestimate the three-pointed star at your cost, however. The C63 – whether with S suffix or without – is a performance beast that's been just tamed enough to work as everyday transport, while the C300 is an all-round luxury coupe that can also feel sporty when you need it to, minus the hefty price tag of its more powerful siblings.
[gallerybanner p="415158"]