2017 McLaren 570GT Review: Because "Practical" Needn't Be Dull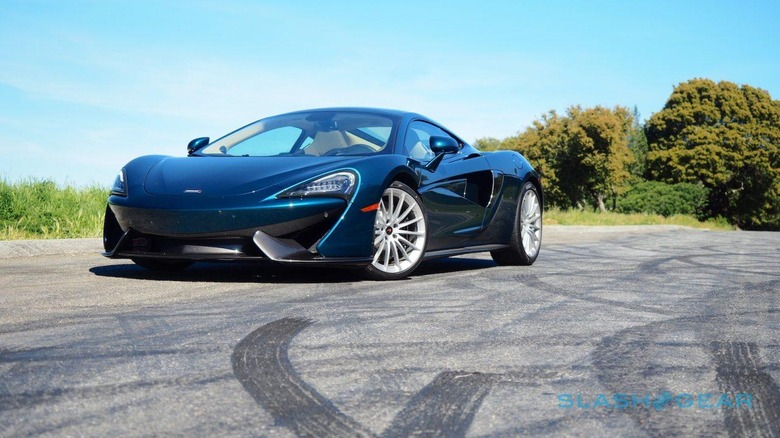 EDITORS' RATING: 9/10
In the fast, exclusive, and expensive world of supercars, "practical" is a dirty word. Cachet for such cars, after all, comes from their speed, or their rarity, or how efficiently their jaw-dropping design endears you to those of your gender of preference. Yet the 2017 McLaren 570GT carries its convenience like a mark of honor, and it turns out with good reason.
It's about as "practical" as a car with the McLaren badge on the hood gets, anyway. The British automaker is the epitome of niche, currently nudging up against its max production capacity with a small portfolio of coupes and convertibles. Even if it wanted to follow the rest of the performance segment and make a four-door like Porsche's Panamera, or an SUV like Bentley's Bentayga – and, McLaren people tell me, they really don't – right now they haven't the scale for it.
So, no four seat option, but there's a surprising amount of space for what you and a passenger bring along. Like the McLaren 570S there's an impressively deep front trunk that eats up a checked-luggage bag. It even has a little light in there. Exclusive to the 570GT, though, is the hinged rear glass, which lifts to reveal a split-level cargo deck above the mid-mounted engine. No, you're not going to fit the spoils of a Costco raid inside, but a couple of soft bags will easily fit.
You can transport them at high-speed, too. The 570GT shares the 3.8-liter twin-turbo V8 and seven-speed dual-clutch Seamless Shift Gearbox (SSG) of its S-sibling, together good for 562 HP and 443 lb-ft. of torque. A 204 mph top speed is undeniably impressive, but it's the McLaren's enthusiasm at speeds that don't demand track access that really wows.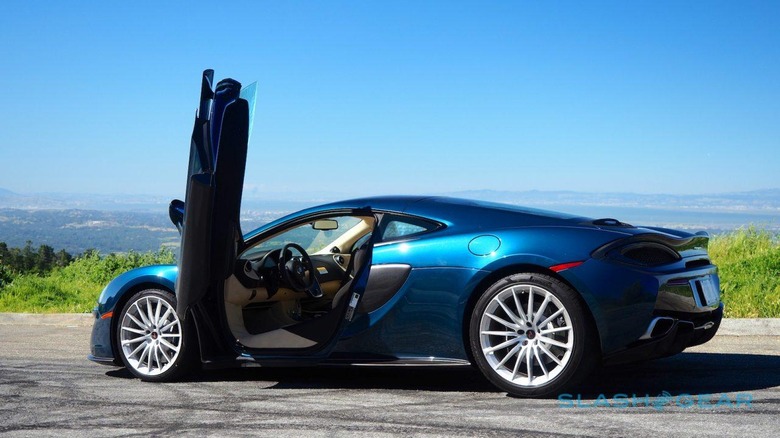 When the roads got twisty, less than thirty seconds behind the wheel and I was reminded of what I love about the 570S. There's an eager compliance that McLaren simply nails each time: the 570GT dances gleefully through the turns, pivoting and darting, and coaxing you to push a little harder, to play a little more. Unlike many powerful cars, the Brit doesn't seem designed to cow you into awed silence. "Sure we could drive home," it whispers, conspiratorially, into your ear, "but how much more fun would it be to take the long route instead?"
Press the "Active" button and you can start tinkering with the dynamics systems. McLaren offers individual control over the powertrain and the handling, with each having "Normal", "Sport", and "Track" settings. In "Active" mode you can lock the transmission into manual, too, as well as turn off all the ESC nannying if you feel so bold (or reckless).
Straight line speed loses out 0.2 seconds over the 570S in the 0-60 run, taking 3.4 seconds in all. You shouldn't care unless you're playing spec-sheet bingo. At the other end of the equation, shedding speed comes courtesy of standard steel brakes with composite discs, unlike the carbon-ceramics of the 570S. You can upgrade if you really want to, but I never felt cause to doubt their grip.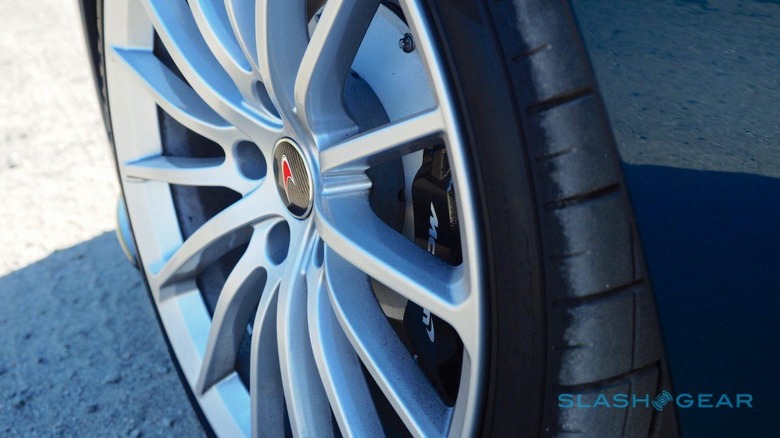 Yet the 570GT isn't so single-minded as to be impossible to use day to day. Indeed, while the 570S proved surprisingly easy to live with, the tweaks McLaren made to its GT sibling only improve on that. None of it, individually, signifies a huge difference: the front and rear suspension is softened 15- and 10-percent, respectively, while the algorithms for the adaptive damping have been tamed a little. The steering ratio is slightly reduced, and the exhaust system has become a tad more muted.
Altogether, though, that relentless aggression that makes the 570S such a racer's dream but can leave it harsh on public roads has been finessed away. Certainly, the 570GT can still be unsettled by ill-kempt asphalt, and even in "Normal" mode the ride is on the firm side, but that little twist of greater compliance makes for a far more usable everyday car. Only a little jerk from the transmission in low-speed stop/go traffic reminds you of the untapped potency as you dawdle along.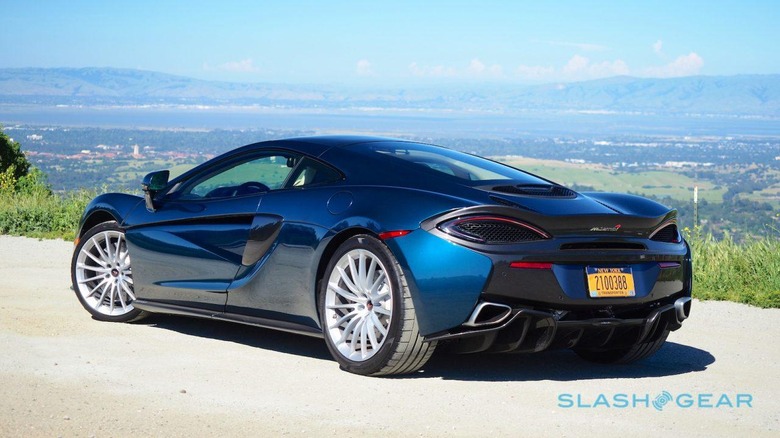 You can almost feel the range gage's frustration as you switch things up. If the 570GT had an AI personality, it would be a put-upon British man: "Well, you have 300 miles of range... no, wait one moment, no you have 95 miles of range... oh, no, please excuse me, that's 195 miles of range." Plant your right foot, hear those twin turbos spool up, and suddenly there's no confusion as to why you're paying the gas-guzzler fee along with registration and destination fees.
I'm not sure anybody who can afford a McLaren really cares about fuel economy, though. They're probably too busy marveling at the bespoke cabin, which – unlike what you'll find in even the most expensive R8, 911, or NSX – doesn't have mainstream dashboards to share switchgear with. Instead, there are beautifully machined knobs and dials, along with swathes of leather that arc and flow through the sweeping curves.
There are some foibles, of course. This is not my first time in a McLaren, but navigating the all-digital driver instrumentation can still be headache-inducing. The portrait-aspect 7-inch touchscreen in the center stack, running the automaker's own Android-based IRIS infotainment platform, can be convoluted to navigate (particularly – ironically – when you're trying to switch through the navigation system itself), while the display itself gets frustratingly dark when you're wearing polarized sunglasses. The row of physical shortcut keys underneath it is welcome, but there's no media shortcut and no buttons on the steering wheel either; skipping tracks becomes a multi-tap process.
Maybe that's by design. Sure, the optional Bowers & Wilkins audio system sounds incredible – and looks the part, too, particularly the "space tadpole" tweeter right atop the dash – but the engine sounds even better. The twin-turbos spool up rapidly, like the monstrous drills of some demented British dentist, only far more welcome.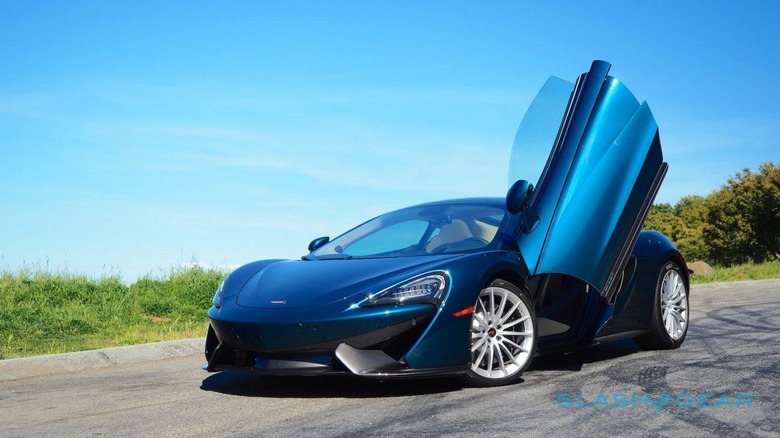 Right now, all eyes are on McLaren's 720S supercar, and by all rights that's with good reason. It's blisteringly fast, looks striking, and promises the sort of rarity that has Lamborghini drivers feeling like Prius owners in an Uber line. Yet I'm tempted to think that the real magic is actually happening lower down in the range, in the so-called Sport Series where the automaker must carefully balance price with performance.
At a hair's breadth under $200k, the 2017 570GT clearly isn't inexpensive. Its combination of exclusivity, relative practicality, and – tamed driving dynamics be damned – agility make it feel just that little bit more special than Audi's R8 or Mercedes-AMG's GT R.