2017 Lincoln Continental First Drive: How to reboot an icon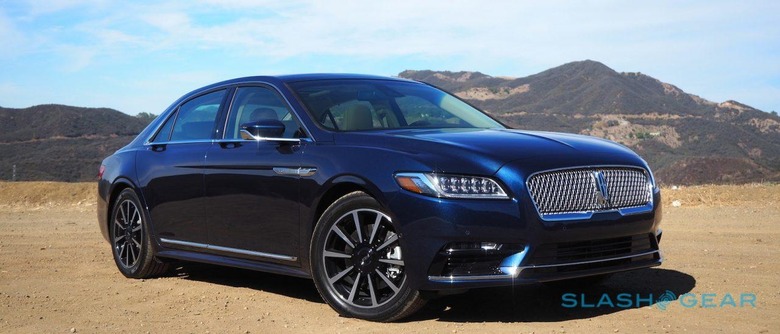 Five minutes into driving the 2017 Lincoln Continental, a Mercedes-Benz C300 pulled up alongside me at the lights. "That's a beautiful car!" the middle-aged driver called to me across the gap, to the barely-disguised pleasure of the Lincoln exec in the passenger seat. With less than 24 hours in Los Angeles to get to grips with the new Continental, I was attempting to multitask and squeeze in not only experiencing the car but figuring out what exactly had prompted the company to resurrect the such a storied nameplate now.
First impressions are a big part of the new Continental's story. Even by the time the last car to bear the badge was axed in 2003, it was a shadow of its former self: smaller, more fuel-efficient, and hardly the great rival to German luxury that once it had been. Now, absent for more than a decade, the Continental needs to woo the well-heeled with an instant perception that this is more than just a fancy Ford.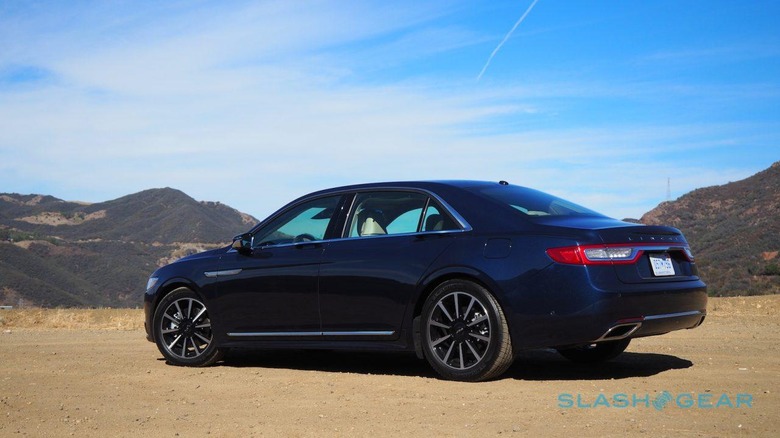 It all started with the Continental Concept back in 2015. Suddenly, rather than a dressed-up Taurus, Lincoln was offering a vision of a truly distinctive flagship. Unapologetic styling, lashings of chrome, and a presence that skirted the line between brash and luxurious grabbed the attention first, but what lingered was how cohesive and thoughtful the package overall had been made. If, went the conclusion at the time, Lincoln can bring this to market, it actually could sell.
Fast forward to today, and while the Continental Concept might be bubble-wrap clad in a warehouse somewhere, its astonishingly similar production cousin is filtering out to dealerships. The 10th generation car is the definition of what Lincoln describes as "quiet luxury", and based on my first impressions – and my new friend at the traffic lights – they're off to a great start.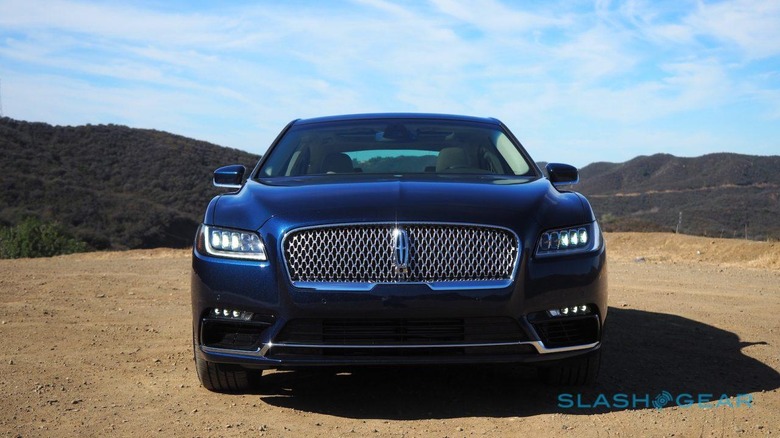 Some of the show car's brightwork has been toned down, but it's still a bold exterior. At the front, the company ID is everywhere: the LED headlights are segmented with Lincoln-logo shaped gems, while the shiny grille is perforated in Lincoln-logo holes. There's some Jaguar XJ in the way the bulging hood sweeps down to that vast, chromed nostril, but move to the side and the Continental trades up again and borrows cues from Bentley's imperious Mulsanne, particularly around the rear arches.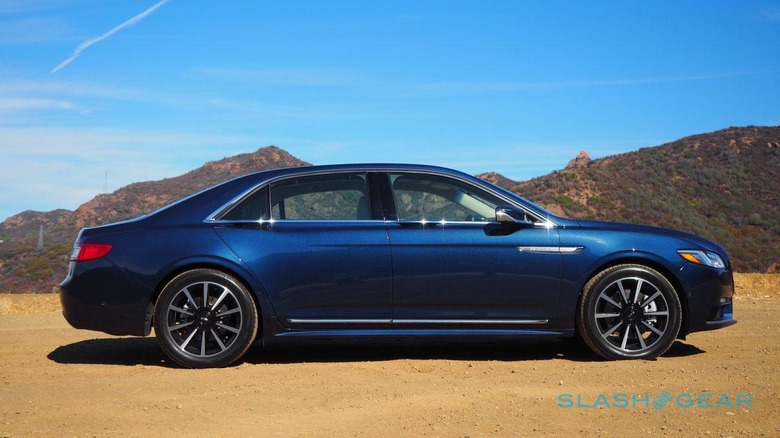 From the rear, though, we're back to Americana. The sweep of the LED lights across the trunk, punctuated by a bracket of chrome like the fashionable spectacles of a New York City ad exec, is a fitting underscore to the bold Lincoln logo. Sadly the quartet of contoured tailpipes has been lost from concept to production car, but the back is still arguably the 2017 Continental's best angle.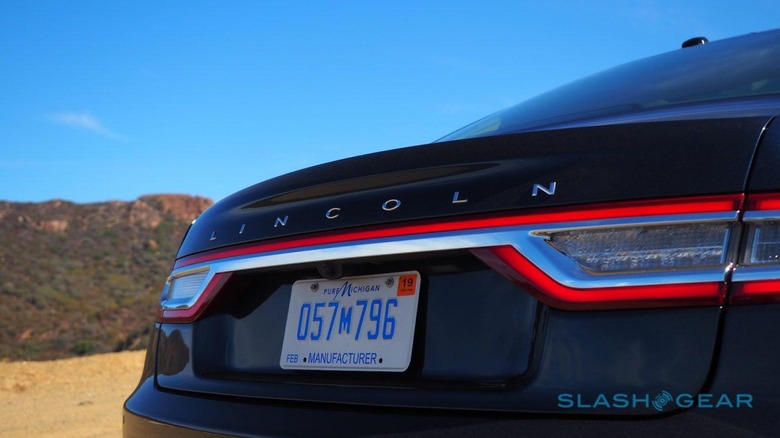 Lincoln's detailing is often exquisite. Nowhere is that more so than the door handles, the company switching to electronic latches. Rather than breaking up the door panels with mechanical ugliness, they're sleek chrome ripples in the metal that runs along the shoulder line. Squeeze the switch inside and the door pops open silently; push it closed, and the latch grabs at the last moment and draws the whole thing shut. That ribbon of metal encompasses the side mirrors too, almost sculptural in their poise.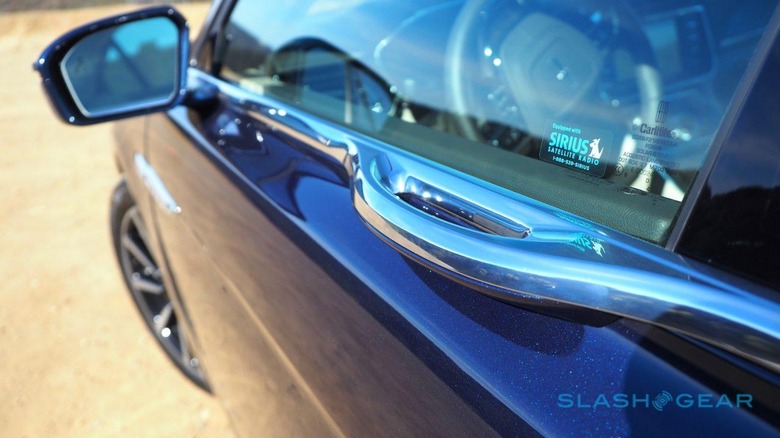 All the same, it's the interior which truly wows. There's a horrible tendency for the luxury arms of mainstream automakers to dip cost-saving hands into the parts bins of their cheaper cousins. Like trying to pass off Cava as Champagne, it's rarely tasteful.
Instead, the new Continental arrives with a cabin more than up to the task of giving Mercedes, BMW, and Audi some restless nights. Real wood, high quality leather, and authentic metal sit together in pleasing harmony. Again, a sizable portion of the charm is the attention to detail: the wood being laser-cut from a single piece, for instance, so that the grain matches across different panels.
Rather than parts-share, the designers and engineers created special switchgear of their own. Though the SYNC3-based infotainment system gets a sizable touchscreen to play on – as well as a new theme to match the interior – there are still dedicated buttons and knobs for multimedia and HVAC control. Just about everything your fingertips land upon is unrecognizable from any recent Lincoln; if there are rare misses, then Ford's window switches are one, and the plastic buttons for gearshifts and such that flank the touchscreen another.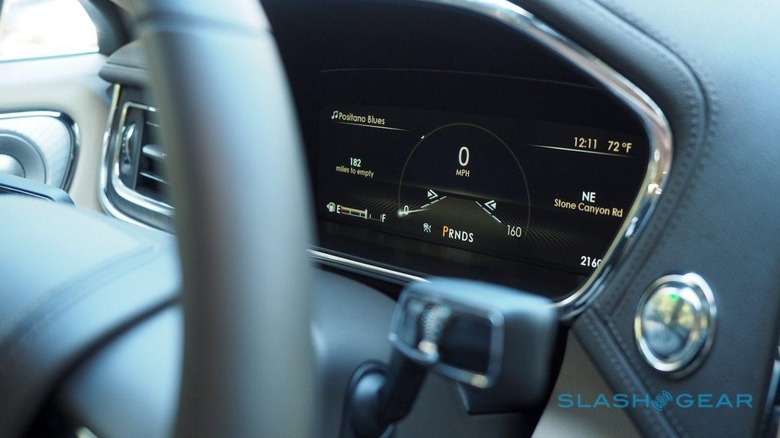 The driver gets a fully digital instrument display, an Audi-style LCD replacing the traditional dials and piping in engine, navigation, multimedia, and other information. Rather than the data-packed view Audi's Virtual Cockpit delivers, however, Lincoln is minimalistic almost to an extreme, with gages little more than sweeping curves that leave behind a wake of gold-glowing pixels. Unlike Audi's panel, Lincoln fits it as standard on every Continental.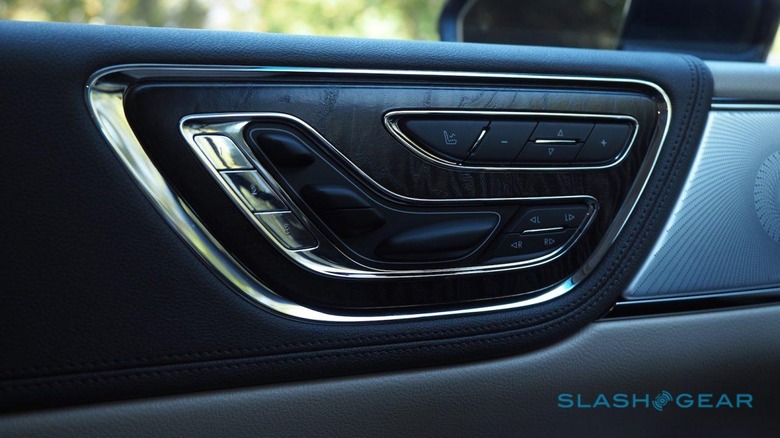 That's not to say there aren't options to be ticked. The company is perhaps most proud of its seats, complete with 30-way adjustment. Not only is the back rest split, the top and bottom half individually maneuvering according to the cluster of buttons on the doors, but the seat bolster can be adjusted independently for your left and right legs. Luckily there are three position memory buttons, since it's not impossible that you could spend twenty minutes or more finessing the chair to your liking.
You pay $1,500 for the privilege. Meanwhile, the standard seats have 10-way adjustment and heating, and there are 24-way heated/ventilated seats in-between. No matter which you pick, frankly, they're all cosseting and supportive.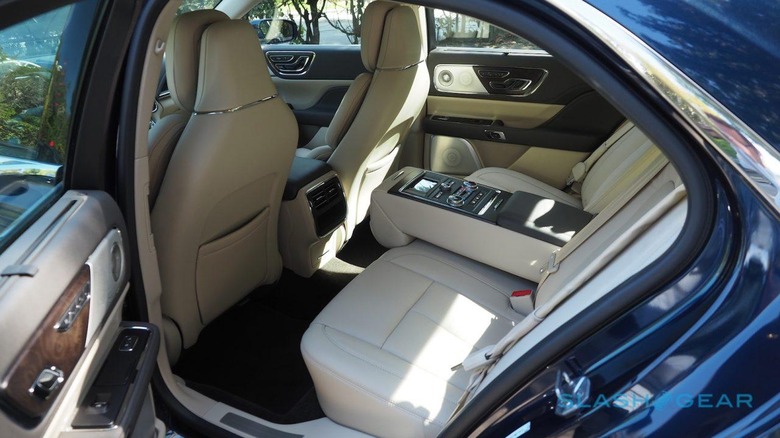 Lincoln tells me that it expects the new Continental to be driven by owners, not driven around for them, but there's plenty of attention to the rear too. The $4,300 Rear-Seat Package throws in power recline, heating, and cooling, controlled variously with buttons on the doors and in the sizable arm rest. It's the latter where you'll also find HVAC and media controls, complete with a dedicated display so you can see what's playing.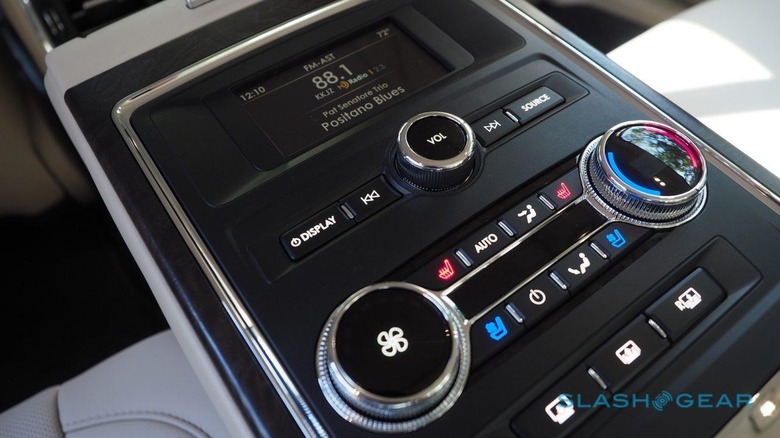 Courtesy of the imperious roofline, headroom in the back is ample. I've no complaints with legroom either, and the doors – while lacking the rear-hinged swing of classic Continentals – open wide enough for limo duty. Neither front nor rear doors have a traditional handle; instead, there's a button on the grip which you press to release the lock.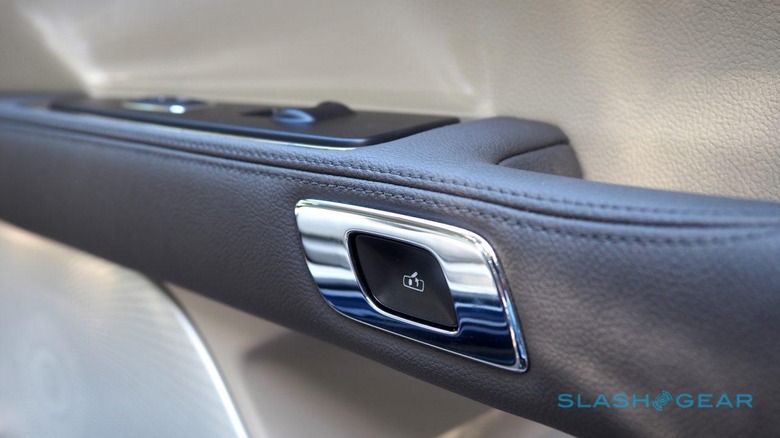 Lincoln insists that Mercedes, BMW, and Audi aren't the Continental's primary targets. Normally that sort of thing can be discounted as PR lip-service, but there are signs the company isn't afraid of striking out from where the Germans wouldn't ordinarily go. The dramatic blue interior of the Continental concept has unexpectedly spawned a production version, for instance, dubbed "Rhapsody". There's less velour than the show car, true, but it's still a finish that's hard to imagine on an E-Class or 5 Series.
I confess, I expected the Continental to ride like a boat. A land-yacht, if we're being kind, but a big, wallowing, boulevard cruiser all the same. I thought Lincoln would've taken the supple, spoiling interior and extrapolated that to a similarly dreamy, wafting ride.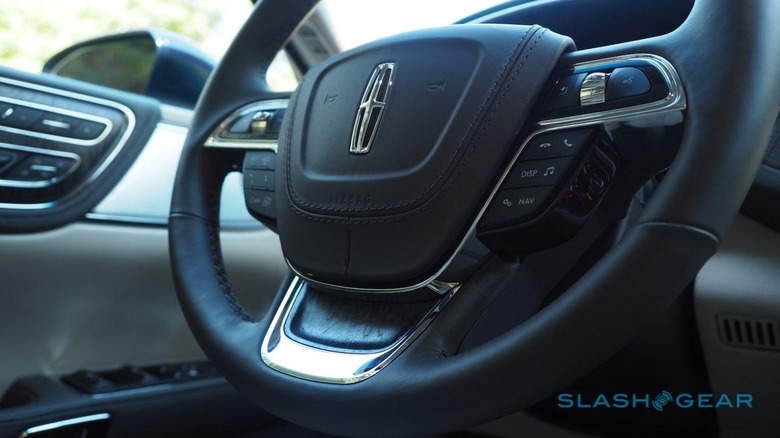 Happily, I was wrong. There'll be three engines for the US, kicking off with a 3.7-liter V6 good for 305 HP and 280 lb-ft of torque. A twin-turbo 2.7-liter V6 with 335 HP and 380 lb-ft of torque is the mid-tier option, and finally there's a 3.0-liter twin-turbo V6 with a neatly-matching 400 HP and 400 lb-ft. A six-speed automatic is standard for each, with the 3.7- and 2.7-liter cars having front-wheel drive as standard and all-wheel drive as a $2,000 option. The range-topping 3.0-liter is all-wheel drive as standard.
China, meanwhile, will have a 2.0-liter, four-cylinder turbocharged EcoBoost as standard, but there are no current plans to offer that to American drivers. Despite what some rivals like Audi and Volvo say, Lincoln isn't convinced that luxury buyers here are ready for anything with less than a V6.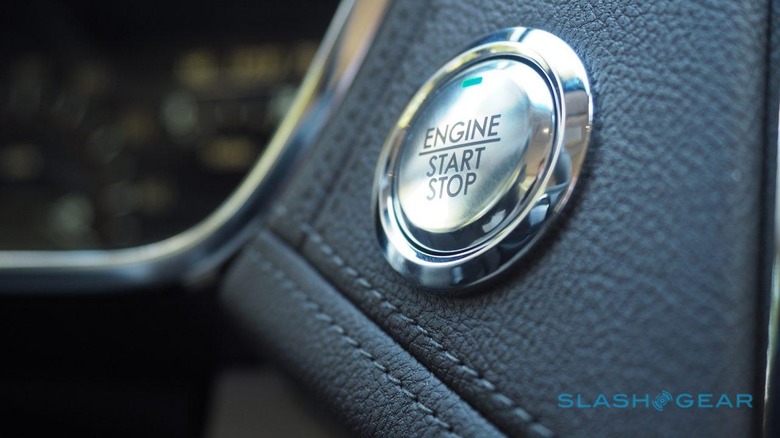 I spent my time in the 3.0-liter AWD, and it's something of a star. Peak torque arrives at around 2,750 rpm, meaning low-speed pickup is swift, and it hides the not-inconsiderable 4,224 pound curb weight well. Around town it purrs discretely, but there's a welcome rasp to the engine and exhaust when pushed.
Its all-wheel drive system is special, too. Unlike the fairly standard setup on the less powerful engines, the 3.0-liter is paired with dynamic torque vectoring at the rear. Unlike braking-based vectoring, which slows the inside wheel in a turn for tighter cornering at the expense of power, the Continental's system borrows from the Ford Focus RS and can actively direct more power to one side or the other.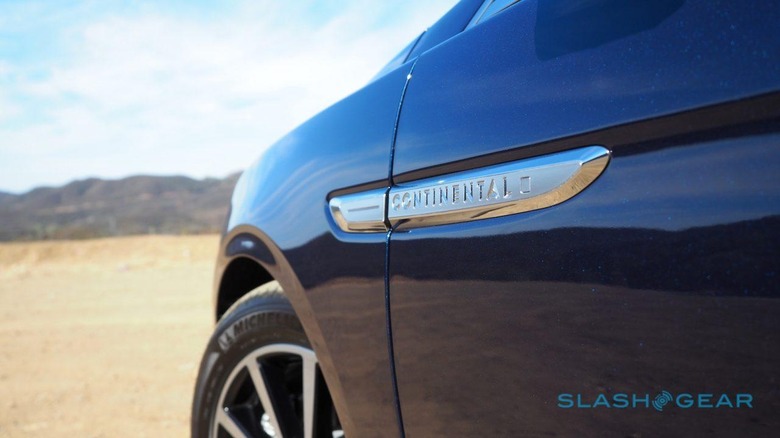 The result is a big luxury sedan that hustles with surprising ease through corners. Out in the twisting mountain roads above LA, switched to Sport mode, the Continental proved positively playful. MacPherson strut dampers and integral-link suspension on the front and rear, respectively, are joined by continuously controlled damping. It's not the air suspension that some offer, but it's more than enough to smooth out rough tarmac and potholes without bucking like a ship at sea.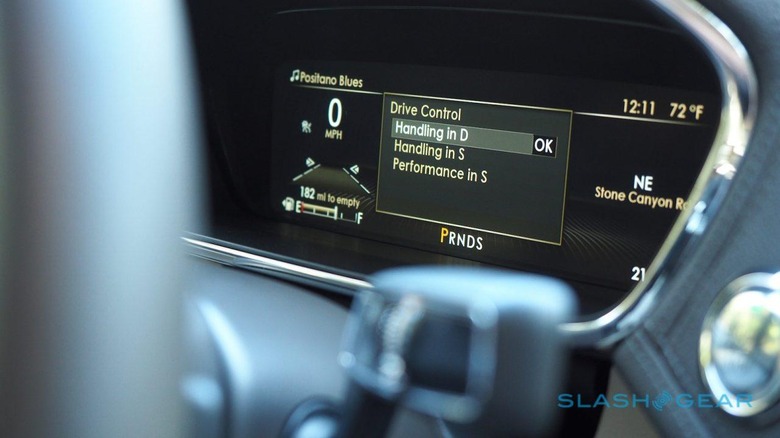 While there's a Sport button among the transmission controls, you actually get three different modes: Normal, Comfort, and Sport. Unusually, Lincoln opted not to put a dedicated button anywhere to cycle through the three – there's even a spare blank by the touchscreen, where the Chinese car's engine start/stop override would be found – and instead you need to dip into the settings on the driver display and toggle in there.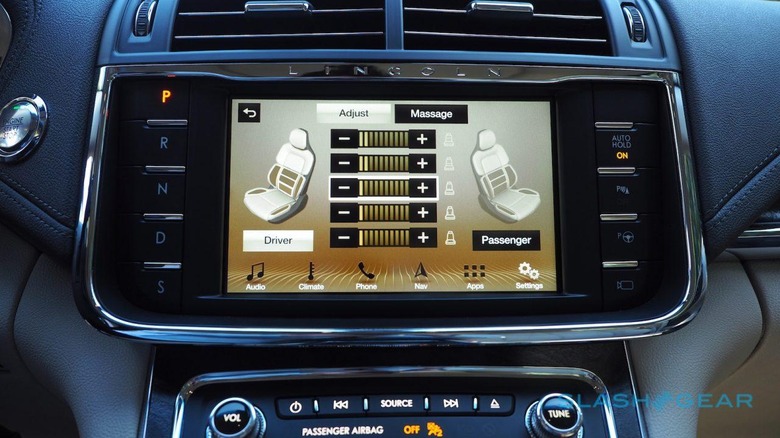 As for other geekery, the world is effectively your oyster. A $3,105 Technology Package adds a 360-degree camera, parking and lane-keep assist, adaptive cruise control, pre-collision assistance with pedestrian detection, collision warnings, rain-sensing wipers with de-icing, active braking and brake support, and a few other niceties, and you can also throw in blind-spot warnings and active park assist which does the steering for parallel and perpendicular maneuvers for you. A 19-speaker Revel Ultima audio system with beautifully machined metal grilles can be installed too, and it sounds as good as you'd expect. Lincoln's tech guy tells me he's pushing for a deal of some sort with a provider of high-res audio files, so that those who have eschewed CDs have something better than the usual low-bitrate streaming suspects.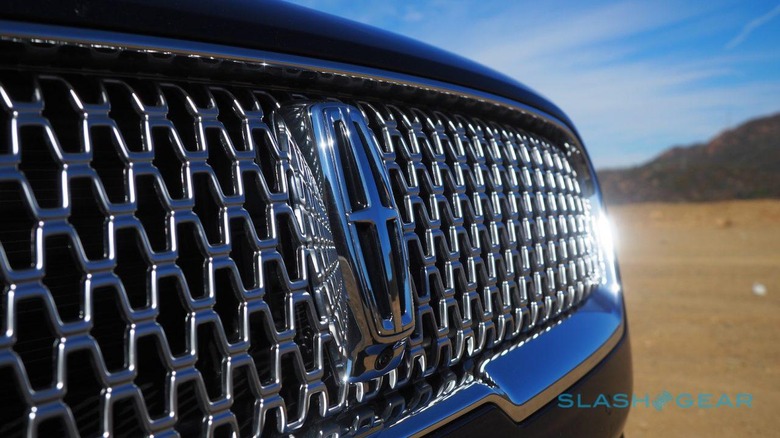 Pricing kicks off at $44,560 for the 3.7-liter FWD in Premiere 100A form, rising to $49,765 for the 2.7-liter FWD Select 200A. The cheapest 3.0-liter AWD is the $59,180 Reserve 300A. Then there are the Black Label cars, Lincoln's top-spec models with special styling and more choice in colors and finishes. Figure on $68,180 for a 3.0-liter Black Label 800A.
As for economy, the 3.0-liter AWD is rated for 16 mpg in the city, 24 mpg on the highway, and 19 mpg combined. Most efficient is the 2.7-liter midrange, though only by a point or two depending on FWD/AWD configuration. Lincoln has a new transmission on the horizon which should improve things, though it won't arrive for a couple of years yet.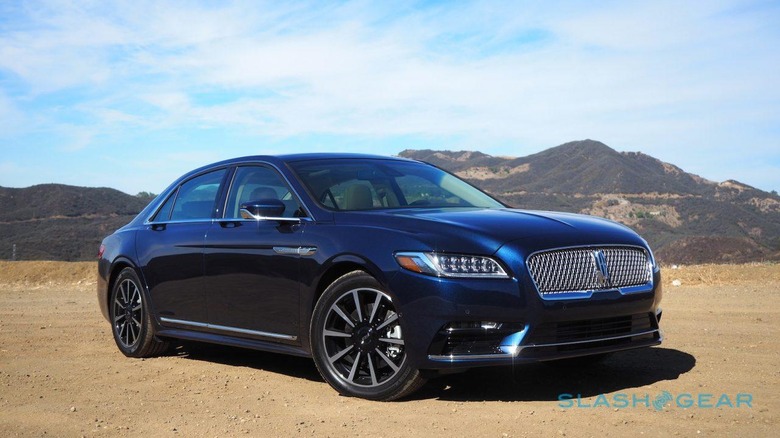 I wouldn't hold off because of that, though: you'd be missing out on a surprisingly refined, capable car. "Quiet luxury", it turns out, means top-tier comfort and ample performance, with none of the mildly ascetic hard edges that the de-facto German trio involve. The 2017 Continental is relaxing and cohesive, sporting – in top-spec engine form, at least – when required, but more than anything it's memorable inside and out. That seems like a more than fitting return for an iconic nameplate.