2017 GMC Acadia Denali AWD Review: The "U" in SUV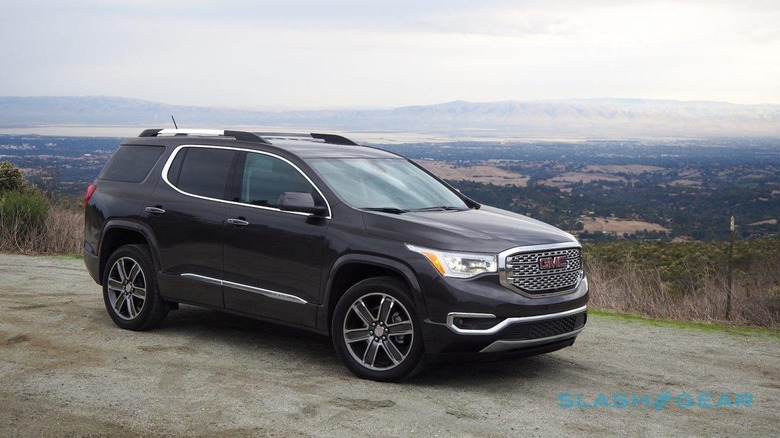 If there's one truth about the auto industry, it's that as the years go on, cars have only become bigger. Coupes get lower and longer, sedans pack in more wheelbase like middle-aged spread, and SUVs demand more and more square feet on the asphalt.Clearly, the 2017 GMC Acadia didn't get that memo.
The nameplate may be the same, but this latest Acadia otherwise shares little with its predecessor. That's down to the underlying C1 platform which GM is using to good result on the 2017 Cadillac XT5. It cuts the overall length of the Acadia by more than 7-inches, the bulk of which is lost in the wheelbase.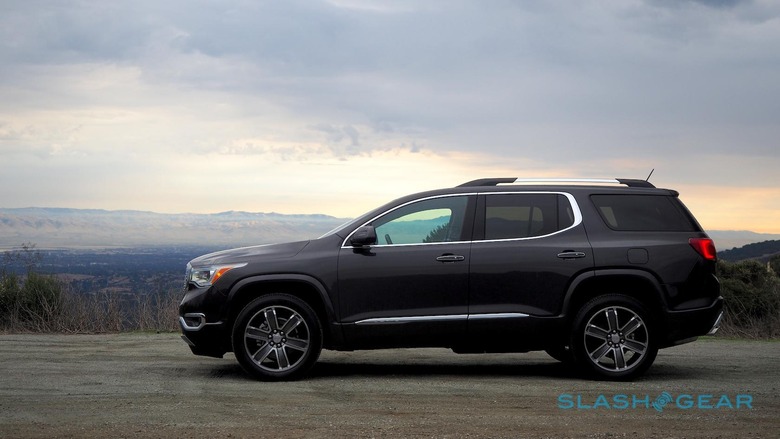 This is no regular Acadia, however. The Acadia Denali is GMC's top-trim model, for those drivers who want lashings of chrome and some gadgets in their midsize three-row SUV. In 3.5-liter V6 form, with all-wheel drive, it has a $47k sticker. $3k of extras – including adaptive cruise control, surround vision, and real-time continuous variable damping – bring it to $50,985, including destination.
That's fairly crowded territory in the SUV space, and you get the feeling the Acadia Denali isn't sure whether to embrace that or blend into it. Take one look at the grille, which has all the subtlety of an oversized microplane grater, and you'd think this was a truck of the Mr Shouty school. Yet the rest of the design is blandly handsome; stolid in the face of more eye-catching competition.
It's much the same for the experience behind the wheel. The V6 offers 310 horsepower and 271 lb-ft of torque, though the latter doesn't arrive in full until 5,000 rpm. As a result the Acadia seldom feels perky, something not helped by the aging 6-speed automatic transmission. Sure, it churns along fine in traffic, but there's a lack of urgency in downshifts that only underscores that this SUV is more about "utility" than it is "sports." The same can be said for the handling, which is pleasingly predictable but won't let you forget what sort of car you're in. Mazda's four-cylinder CX-9 is slower on paper, but feels more poised in the corners and thus more eager overall.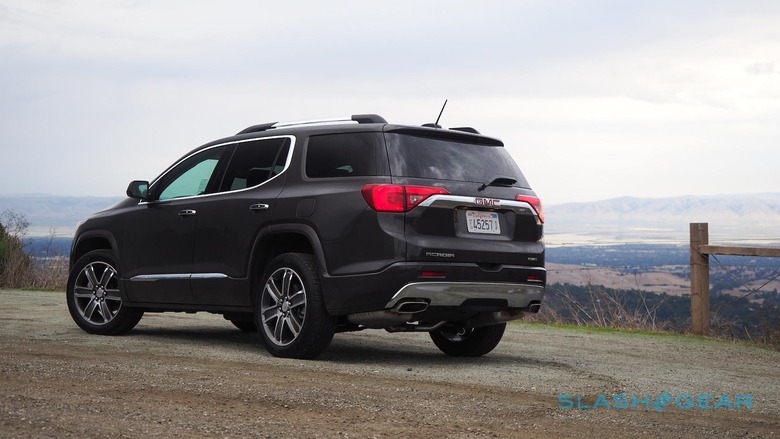 Down by the stick-shift there's the knob for the drivetrain, with 2WD or AWD along with a variety of off-road modes. I'd prefer auto-switching depending on road conditions, but there's something to be said for predictability, not least when it comes to economy. GMC says the 2017 Acadia should do 18 mpg in the city, 25 mpg on the highway, and 20 mpg combined. In my mixed driving, often in AWD mode, I saw a smudge over 18 mpg.
Where the Acadia shines – and in Denali trim in particular – is the cabin. Plus leather seats with heating and ventilation in the front, along with heating in the rear, and a heated steering wheel make the SUV a snug place to be. Three-zone climate control is standard, as is a Bose 8-speaker audio system controlled by an 8-inch touchscreen. Navigation, Apple CarPlay, and Android Auto are standard too, as is 4G LTE WiFi.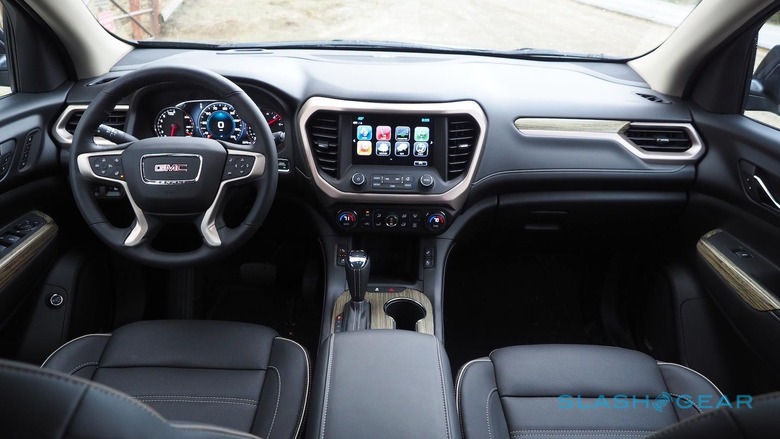 You won't confuse it for a German SUV – the GM switchgear makes sure of that – but it's nicely screwed together, and there are plenty of USB charging ports, a 120V power outlet, and safety tech that includes blind-spot monitoring, pedestrian detection and forward collision warning with emergency breaking, and lane-keeping assistance. If you want seven seats you'll need to sacrifice Denali trim, since that comes with two more spacious chairs in the second row. Do what you can to avoid the third row, which is definitely sized for kids.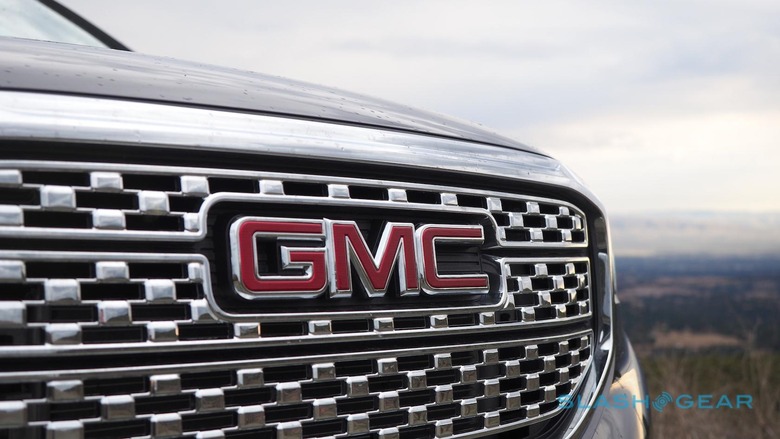 Behind them there's an underwhelming amount of cargo space. Just 13 cubic feet, in fact, though that rises to 42 feet if you sacrifice the third row, and 79 cubic feet if it's just you and a front passenger.
It's hard to praise the 2017 Acadia Denali in the same way that it's hard to find too much to fault with it. GMC's newly-midsized SUV is inoffensive, capable, and thus unmemorable. Whether that's refreshingly retiring, or simply unforgivable depends on whether you view your means of transportation as an extension of your identity, or as a utility.