2017 Genesis G90 specs show optional 420hp V8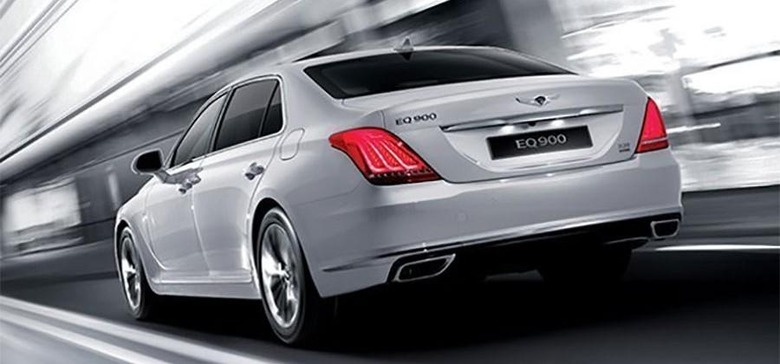 The first time we talked about the new luxury car from Hyundai called the Genesis G90 was when there were only renderings of the car to look at. The Genesis G90 is the first in a line of all new luxury cars that will no longer carry the Hyundai name. Hyundai is going for something along the lines of what Lexus did for Toyota with the new Genesis line.
This time out there are better images to show us what the car will look like, the EQ900 badge the car in the images wears is the name the car will carry over seas. Among the features to be found on the inside of the car are a 22-way adjustable driver seat and 14-way adjustable rear seats for the VIP rear passengers.
Standard power will come from a 311hp V6 with a 365hp V6 as an upgrade and a 420hp V8 engine as the top of the line power plant. Word is the base V6 might not make it to the States and that mid-range engine has twin-turbos. Hyundai still plans to have six cars in the Genesis range come 2020 so the G90 won't be alone for long. G90 rolls on a 124.4-inch wheelbase and is 204.9-inches long overall with a width of 75.4-inches.
The interior of the car is very nice looking with a 12.3-inch dashboard display, Lexicon audio, and tri-zone climate control. The car is a rear-wheel drive offering with optional AWD. One major detail that is still unknown is price. The G90 will make its official debut in Detroit in January.
SOURCE: Car and Driver