2017 Ford Focus RS Review: Sideways seduction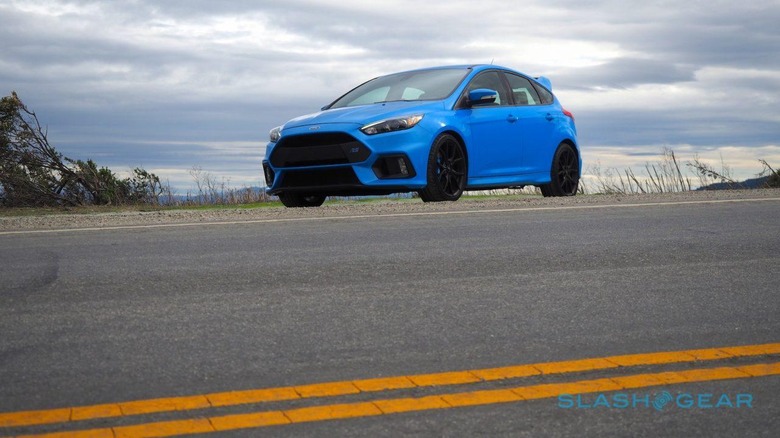 Along came the third-generation Ford Focus RS, and all anybody could talk about was Drift mode. Seldom has a vehicle made going sideways such a priority, yet in all the "road-going rally car" furore the RS' true talents were starting to get overlooked.
The magic isn't so much in the engine as it is the way the power from that reaches the road. Ford's 2.3-liter EcoBoost four-cylinder turbo isn't short on grunt, certainly, with its matching 350 horsepower and 350 lb-ft. of torque. Neither is the six-speed manual transmission anything to complain about. Its short-throw action and nicely weighted clutch aren't as fast as a DCT auto would be, but they definitely make you feel more involved.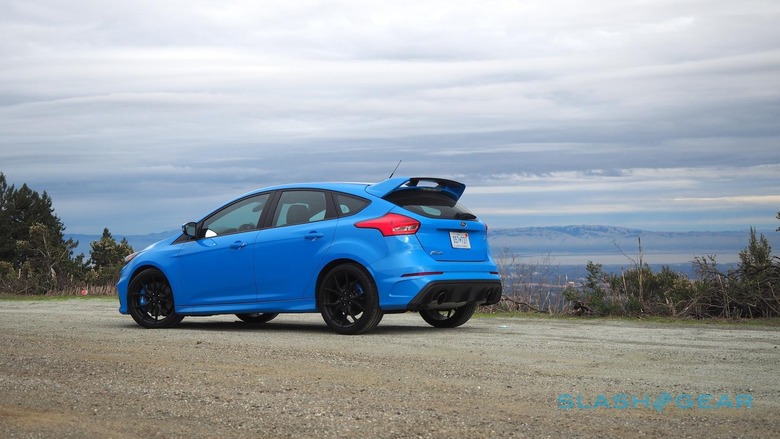 Still, it's the Ford Performance All-Wheel Drive System that stands out. Specifically it's how the torque differential on the rear axle works, a complex and clever arrangement that can either lock up a 50/50 split between the wheels, or push up to 100-percent of the power to one side. The Focus RS isn't shy in doing so, either, and the result is a uniquely distinctive driving style.
Heading into a corner, and through it, there's a sense that the RS' rear is keen to overtake the front. Ford's drive mode system admonishes you to leave Track and Drift modes to closed circuits, and in Normal and Sport the tail-happy eagerness is left manageable but no less entertaining. Wet roads and the optional Michelin Pilot Sport Cup 2 summer track tires could've been a recipe for, if not disaster, then at least soiling of the Recaro sports seats, but they turned out to be grippy and predictable.
Factor in the firm but precise steering, and the result is a car that beckons you on to greater levels of (legal, I assure you mother) hooliganism as you grow to trust the engineering. Drift mode, as the number of crashed RS you can find in the classifieds underscores, is best saved for the track, as is hitting the track suspension button that cranks up the stiffness noticeably. That's great if you've raceway-smooth asphalt to play on, but only amplifies the already-firm ride on public roads to the point of discomfort, not to mention leaving the Focus RS feeling off-puttingly skittish.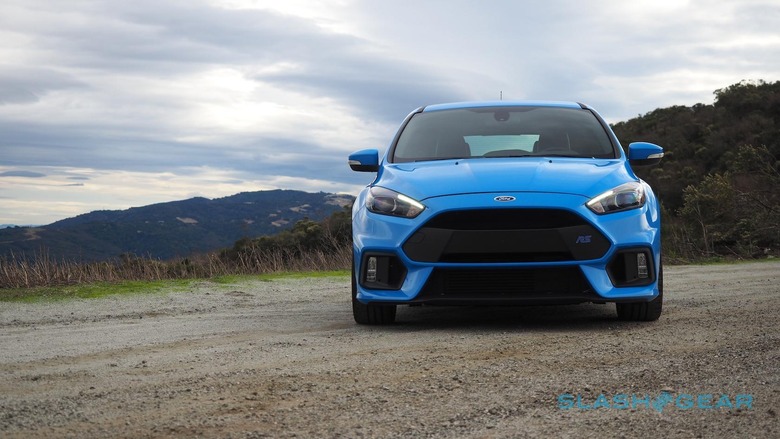 Better, then, to forget your Ken Block aspirations – you'll only end up in a ditch – and just focus (no pun intended) on good, partially-clean fun. The RS' excesses make it a handy plaything on back roads, what its engine lacks in soundtrack being made up for with a usably-broad torque band and a silly but addictive shotgun "braAP" from the tailpipes on downshifts. Point, squirt the throttle, turn, and feel the Focus pivot first neatly and then building in a way that's grin-inducing but which stops just short of unsettled oversteer.
It's enough to make you overlook the cabin, which is a little too close to a rental car to have that "special" feeling. Ford Performance's seats are figure-hugging enough to compound your Thanksgiving over-eating regrets, and there's a row of extra gages for turbo boost and such – shared with the Focus ST – that run across the top of the dash, but the plastics and styling are dependable, not delightful. Ford's SYNC 3 infotainment system is similarly serviceable, but lacks Apple CarPlay and Android Auto. At least with four doors and a hatchback, it's practical.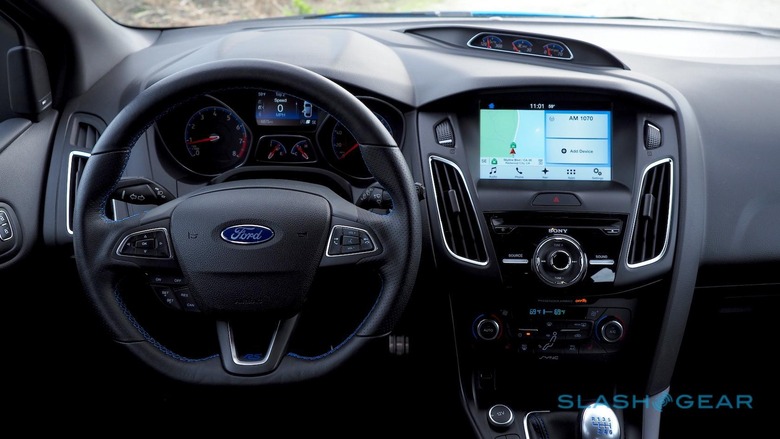 Were it my name on the order sheet, I'd bypass the bright blue paint and opt for Ford's fetching battleship gray. The "Nitrous Blue" finish may be traditional at this point, but it's also catnip to competitive boy-racers and those with blue siren alike. Anyway, the RS has talents enough; it doesn't need to shout about them. Indeed, I'd do as much as possible to keep the car to its $35,900 sticker price, including sacrificing the $2k 19-inch wheels you see here, and the $2,785 RS2 package with its heated front seats and steering wheel, and added navigation.
What I love about the Focus RS is how it combines the best of rear-wheel drive and all-wheel drive. Ford's rear differential isn't shy about giving the car some swing at the back, but it's a motion that's playing with you not fighting you. In that sense, you get the reassurance of an AWD car, but without the somewhat earnest capability that can border on sensibleness.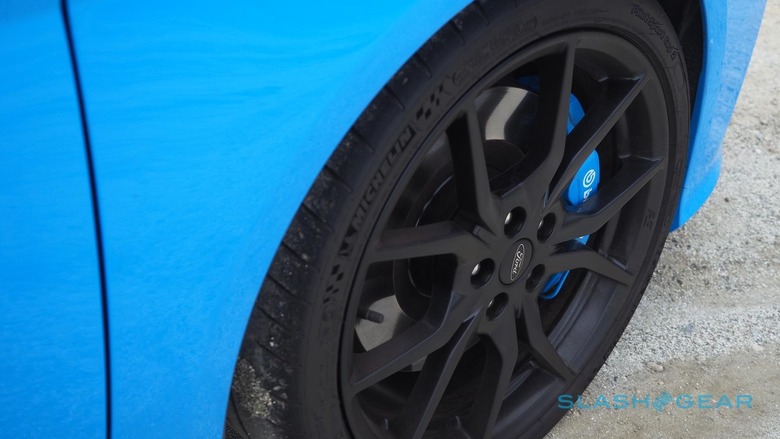 There's no denying that, right now, the Civic Type R has captured some of the attention that was once, rightly, given to the Focus RS. Ford offers more power and AWD; Honda has a diabolically good chassis and front-wheel drive. Side by side, the feisty Civic's styling is even more outlandish than the RS' – whether that's a good thing or not is in the eye of the beholder.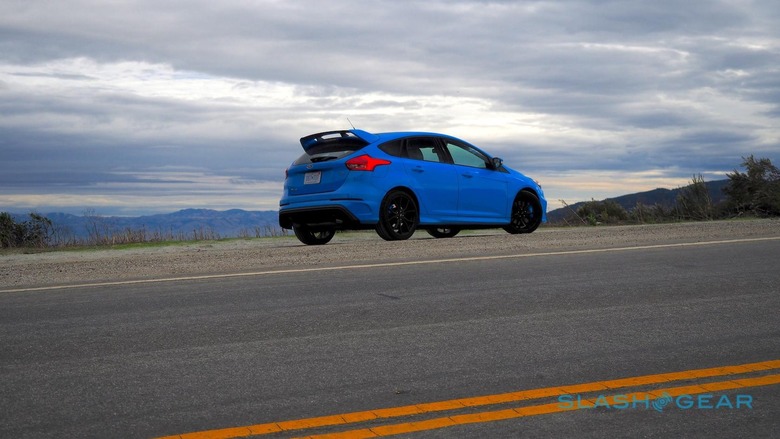 Which is "best" is one of those discussions that could sustain gearheads for days. If you're at all leaning toward the Ford, though, I'd suggest less talk and more time at the nearest dealership. The Focus RS' run ends with the last few cars of the 2018 model year (which throw in a limited-slip front differential, too), making your window of opportunity short. I suspect it'll end up a future classic, though you shouldn't let that keep you from pounding the backroads whenever you get the chance.