2017 Audi A4 Review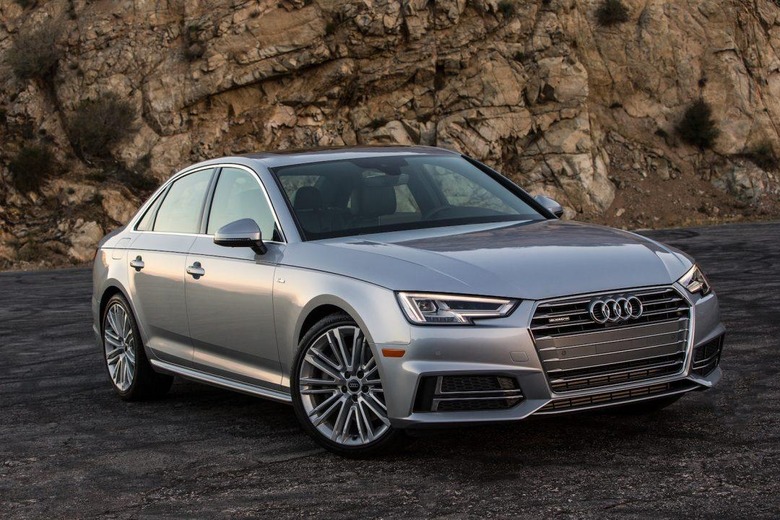 Classic design ages gracefully, but the 2017 Audi A4 hides its technological prowess under a body that's evolutionary rather than revolutionary. The latest version of the German company's compact executive sedan may look a whole lot like the outgoing model, but to my mind that's the beauty of it: unlike some rivals, change hasn't been made for its own sake.
With over 12 million sold worldwide, the A4 is one of the most successful midsize sedans out there. It has to be good, too, as it's competing in one of the most competitive segments, up against classic foes like Mercedes-Benz's C-Class and BMW's 3 Series, along with newer challengers like Cadillac's ATS. That means Audi bringing its A-game when it comes to driving dynamics, future-proof technologies, and precision in design.
During the stateside press launch, Audi made the available the Premium Plus and a Prestige A4 with quattro AWD. Base sticker price is $37,300 but spec'd out price as tested is $47,750 for the Premium Plus and $53,550 for the Prestige; subtract $2,100 for FWD option.
Exterior Design
It doesn't really matter at which angle you look at the A4, it's well-proportioned and sleek. Though it clearly has a strong connection with its predecessor, in fact 90-percent of the exterior is completely new. Look closer, and you can identify the new body panels thanks to the sharper edges and more pronounced creases; according to Audi, a lot of effort and work went into improving the aerodynamics of the car, and the result is a best-in-class drag coefficient of 0.27.
Hitting that figure wasn't easy. Audi door-mounted the side mirrors – they still fold up for tight parking spaces – and smoothed out the undercarriage, all in order to increase airflow. As well as having efficiency benefits, the changes are aeroacoustic to, in turn reducing cabin wind noise. The drop in both puts the A4 in the same range as the current A8, with some help from sound deadening material added to the wheelhouse and firewall. Even at 100 mph, wind noise is all but non-existent.
At the front, Audi's signature "singleframe" hexagonal grille is more pronounced than before, integrating the four-ring logo neatly into the top three lines. If you're paying close attention to the details, you might notice that the lines on the radiator grill continue to flow towards the headlights, themselves ever so slightly rounded and angled so that they gently wrap around the car. Inside Xenon bulbs replace the old halogens.
The newly-designed hood flows smoothly down into the shoulder line, lowering the shutline point. Visually, it leaves the A4 looking lower and wider, but it also demanded some pretty significant engineering since the shadow line is consistent from the front to the rear of the car.
The Devil is indeed in the details and, should you get a chance, peer through the radiator vents to see where Audi painted the grill all the way through, rather than just what you see when you initially glance. The windshield wash reservoir has been offset to one side for easier refilling; something you might only do once every few months, but made more convenient as a result.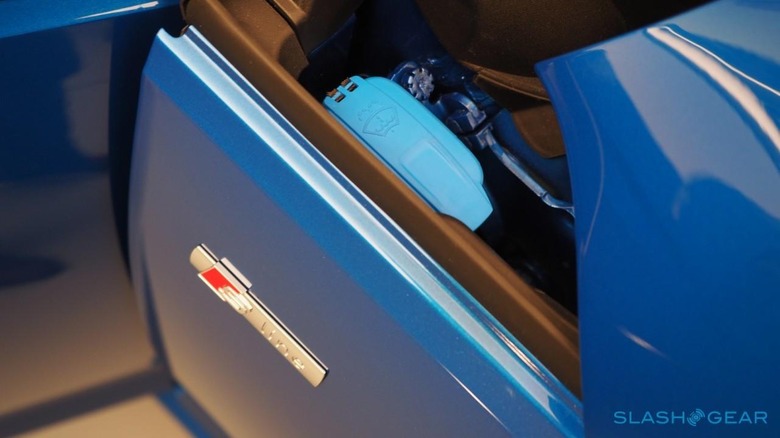 The A4 is now 25mm (roughly an inch) longer and 16mm wider than the outgoing car, so it look some fairly obsessive engineering to shed roughly 110 kg or 242 pounds. Among the dieting, Audi reduced the weight of the seats by 9 kg, the steering wheel frame is magnesium, and even the wiring harnesses have trimmed their bulk, all atop the lightweight MLB platform's aluminum and steel. If you're wondering, yes, the A4 is lighter than both the C-Class and 3 Series.
Driving Experience
A great looking, lightweight car is a waste of space if it doesn't perform just as well on the road. Improvements in ride and handling, along with a sense of fun, are the name of the game.
For 2017 that means a brand new 2.0-liter TFSI (turbo fuel-stratified injection) engine with 252 horsepower and 273 lb-ft of torque. The fun starts at 1,600 rpm and hits a peak at 4,500 for what's a fairly broad power band. It's matched up to a customized 7-speed dual-clutch S-tronic transmission.
For a luxury cruiser, 5.7 seconds from 0 to 60 mph in the quattro all-wheel drive – 6.1 seconds for the FWD – isn't too shabby, considering how well it accelerates along the straights and negotiates the bends. During some more spirited driving sessions on the highway and along the backroads, I found handling to be good both in Comfort and Auto drive modes; switching to Dynamic stiffens up the steering, while Individual mode allows you to independently change the steering input, damper control, shift points, and adaptive cruise control behavior.
Sport suspension is an available option, lowering the ride height by roughly 23 mm, as well as adaptive-damping suspension for the choice of sportier handling or a more comfortable ride depending on the drive mode you're in.
You might be wondering whether a 2.0-liter four-cylinder is enough push the A4 along with some sense of sportiness, and that's a fair concern. Having had the opportunity to drive the A4 abroad as well as stateside on open roads, I feel like the additional 32-horsepower is just the "right size". On the one hand you get better fuel economy than before, but on the other there's the fast-acting turbocharger lending its boost for overtaking.
All the same, if you really want peak performance and handling – and a more compelling answer to the hotter models in the 3 Series line-up – you should probably wait for the Audi S4.
Interior
The 2017 A4's interior is understated and fairly conservative; pleasingly clean and free of clutter. That, as well as the peace and quiet, adds up to luxury for me. This is one of the best interiors in its class; granted, there's a lot less flourish than the C-Class' cabin, but Audi still raises the bar high.
Key touch points such as the steering wheel and gear lever are leather-wrapped as standard, and rather than cheap, shiny plastics, Audi instead uses plenty of soft-touch rubber. It's another big reminder that the A4 carries the premium torch: knobs and buttons turn, twist, and flick with a hefty, solid feel. What you see is what you get.
Being 6'2" it can be rough when I have to sit in the back seats. I'd expected to be cramped in the A4 but happily that wasn't the case, and even with a moderately tall adult in front I was comfortable. Audi says that's thanks to a combined half-inch increase in width, an inch more headroom, and 2.6 inches more front shoulder room. Overall, the entire cabin feels roomier.
Technology
Audi's Virtual Cockpit is hands down one of the best implementations of a fully digital instrument cluster on the market today. Heck, the 12.3-inch display directly behind the steering wheel is more impressive than many recent concept cars we've seen.
Depending on your viewing preference there's either the classic view, where circular dials for speed and revs take over the majority of the display, or infotainment view, which gives more real-estate to the navigation system, telephone, Audi connect, and media. I've praised the system on the TT and R8 before, and it's just as good in the A4, both easy to navigate and helping you keep your eyes pointing straight ahead rather than at a screen in the center stack.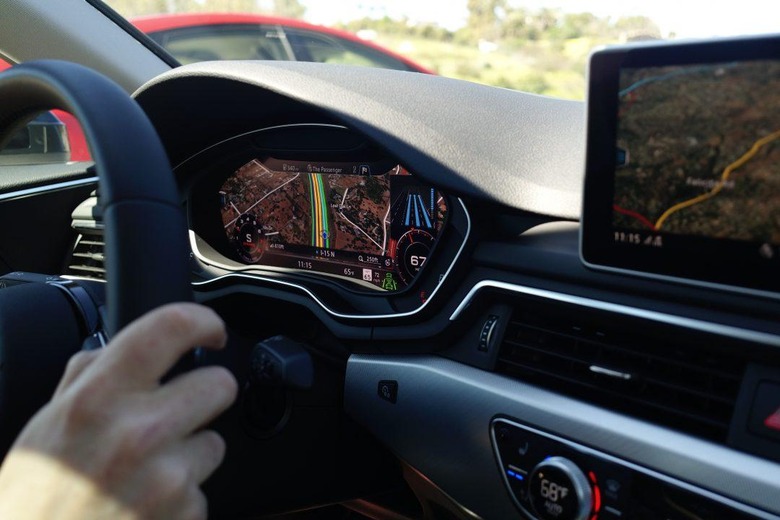 Although such a large LCD can be a little intimidating at first, it's actually straightforward to get to grips with. There's a rotary controller down in the center console, but all of its features are doubled-up with buttons and dials on the steering wheel, so you need never move your hands if you prefer.
The rotary controller supports MMI touch, whether you're sketching out letters and numbers to type in a place name, or scrolling and pinch-zooming through maps. Push it left and right and it opens either the function menu or a context-sensitive menu, just as you would get right-clicking a mouse on a computer.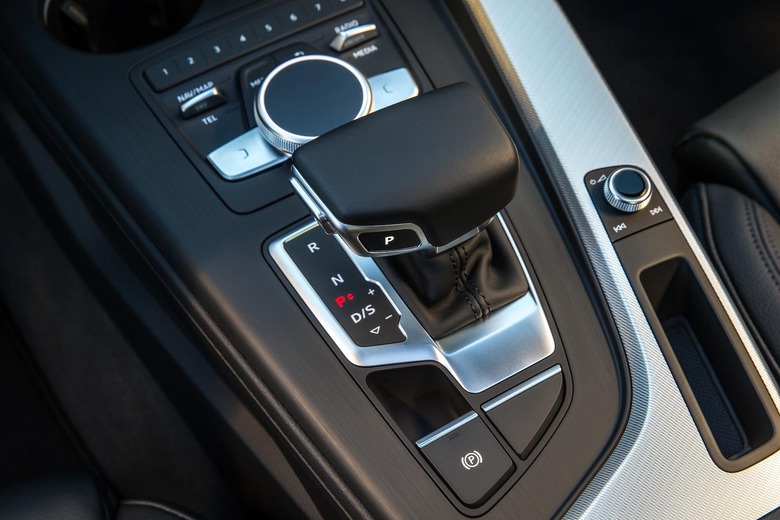 Audi has been gradually paring back its UI, and the scroll wheel is now flanked with fewer buttons thanks to a flatter menu structure. There's also natural language recognition, triggered with a button on the wheel.
In addition to the Virtual Cockpit, the A4 also has a second display in the center (it no longer neatly slides away). Depending on which box you tick, you either get a 7- or 8.3-inch panel – the latter part of the Nav Plus Package- while also optional is Bang & Olufsen's 3D Advance Sound System, and Audi Connect with apps and a WiFi hotspot sharing the car's 4G LTE.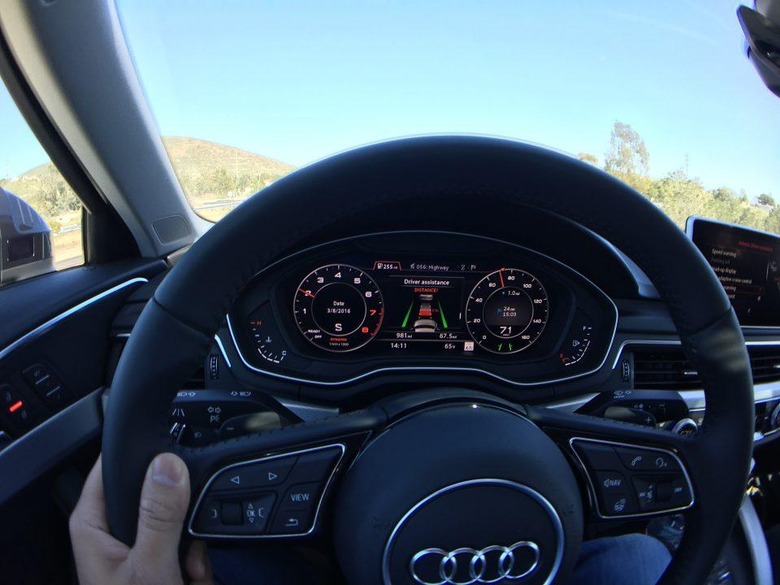 As for safety, there's a long list of standard-fit and optional tech. That includes Audi Pre Sense basic, Audi Pre Sense City – which detects obstacles and can completely stop the car from speeds below 25 mph – together with rear cross-traffic alert, vehicle exit assist, traffic sign recognition, collision avoidance assist, turn assist, and adaptive cruise control with stop and go traffic jam assist.
Many of them you'd rarely – or, indeed, ever – want to put to the test but, should you need them, they're constantly watching out for your safety. In total there are around 37 different technologies and systems, many of which I had the chance to test out in a more controlled environment, and though Pre Sense City does come as standard at the $37,300 base price, it's hard not to recommend ticking the box for the rest as you make your purchase.
Testing out forward collision warnings with automatic braking is daunting but hey, someone has to do it. Heading toward a car directly in front, and with me forcing myself not to slow down, the A4 gave a sudden jolt and loudly alerted me that I needed to slam on the brakes. Next test, with my foot hovering over the brake pedal, I let the A4 handle everything itself: I braced for impact as, with zero hesitation, the car took over and slammed on the brakes itself to prevent a rear end collision.
Another big key feature for me and anyone with a significant commute is Audi's adaptive cruise with traffic-jam assist. Available up to 40 mph, it'll take over control of the steering, gas, and brakes by following the cars in the lane ahead. "Trust in the car," I kept telling myself during these tests, though don't mistake this feature for autonomous driving since you're still required to touch the steering wheel every 15 seconds or so to let the A4 know you're still there and alive.
In the event you're out, the car will first sound an alert and then, if you're still unresponsive, it'll automatically come to a slow stop. It goes to show how it can save you in the event you get drowsy or sleepy at the wheel, just like how the steering wheel nudges you if, using the car's onboard camera it either spots you drifting out of the lane or if it loses track of the markings altogether and needs you to take over.
Another two segment-first features include Turn Assist and Exit Assist. Turn Assist detects and assesses oncoming vehicles for proper spacing, and if it determines that it's unsafe for you to make the left turn at the intersection, it'll stop the car. Audi told us that should you still want to overrule it, mind, you can. Exit Assist uses radar to detect approaching cars from behind to prevent you from opening the door with warning lights for you, front and rear passengers. Both of these are options on the much more expensive Q7 SUV, so it's impressive to see them trickle down to a more affordable car.
Standard-fit three-zone automatic climate control is another first-in-class. Specificially, it features a sweeping design that wraps around the dashboard, using diffuser air vents for more natural airflow. The HVAC controls are further streamlined, with touch sensitive levers for controlling temperature, airflow, and such.
Would I buy an A4?
That'd be an emphatic yes. I'm a big fan both of A4's technology and its classic styling: it has great low-end torque which manages to be both fun to drive and sufficiently sporty in everyday use, while still getting better-than-average fuel economy, while I suspect five to six years from now the A4 will still look great. Timeless, in fact, like a high-end timepiece that doesn't feel the need to completely change with every new model year.
"It may have taken us nine generations to get here," Scott Keogh, president of Audi USA told me, "but this is the best we have to offer." The 2017 A4 is an intelligent choice for buyers across the board thanks to its mix of exceptional handling, balance of conservative yet aggressive looks, and a cabin that cossets as it wows with technology and safety levels you'd only expect to find several segments above.