2016 VW Beetle Dune is a Baja Bug throwback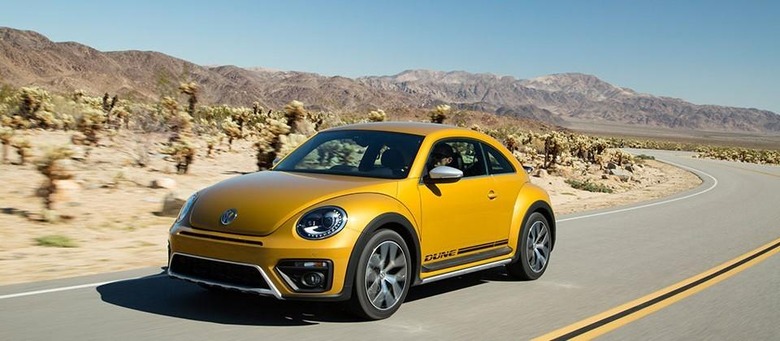 Embattled Volkswagen isn't letting the massive investigations into it and employees over the Dieselgate saga keep it from rolling out new models and special editions. The latest special edition is the new 2016 Beetle Dune. One glance at the Dune and anyone around long enough to remember the Bugs of yore will recognize the Dune as a throwback to the Baja Bugs that were everywhere in the '80s.
VW will offer the Dune as a convertible and a coupe with special styling touches. The Dune gets new bumpers, side moldings, wheel design, and raised ground clearance. The Dune is 0.4-inches higher than the standard Beetle and 0.6-inches wider in track than the standard Beetle.
VW plans to offer a lighting package with Bi-Xenon headlights, LED daytime running lights, and LED license plate lighting. Dune beetles will be offered in Sandstorm Yellow, Pure White, and Deep Black Pearl colors. The yellow version will have yellow trim on the inside with the other two colors getting black trim.
All Dune models will use the 1.8L turbo TSI four-cylinder engine. That engine makes 170hop and 184 lb-ft of torque and is paired with a six-speed automatic transmission. The Dune Coupe will go on sale in Q1 2016 with the Dune convertible landing Q3 2016.
SOURCE: Volkswagen