2016 Toyota Tacoma TRD Off-Road Review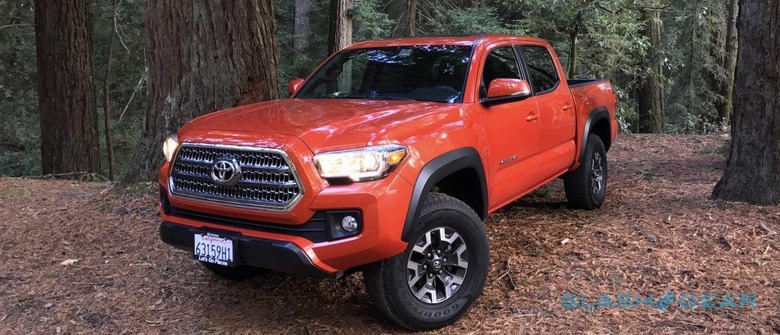 Drive the Toyota Tacoma for even a day, and you suddenly realize quite how many are on the road. Toyota's pickup has a reputation for go-anywhere flexibility and live-forever build, and rightly so, though not all of them are finished in Inferno Orange like this 2016 Tacoma TRD Off-Road. You could argue, indeed, that this stab at fashion highlights one of Toyota's weaknesses: as its rivals have matured to be more refined, the Tacoma has been left behind.
Here's the thing. The Tacoma may be designed with off-roading in mind – hey, it's even in the lengthy name of this particular variant – but plenty of them get no further than spitting distance from asphalt. So, while I didn't get the chance to put the truck through its undeniably capable paces out in the wilderness, I probably experienced it like a fair number of drivers would for the length of their entire lease.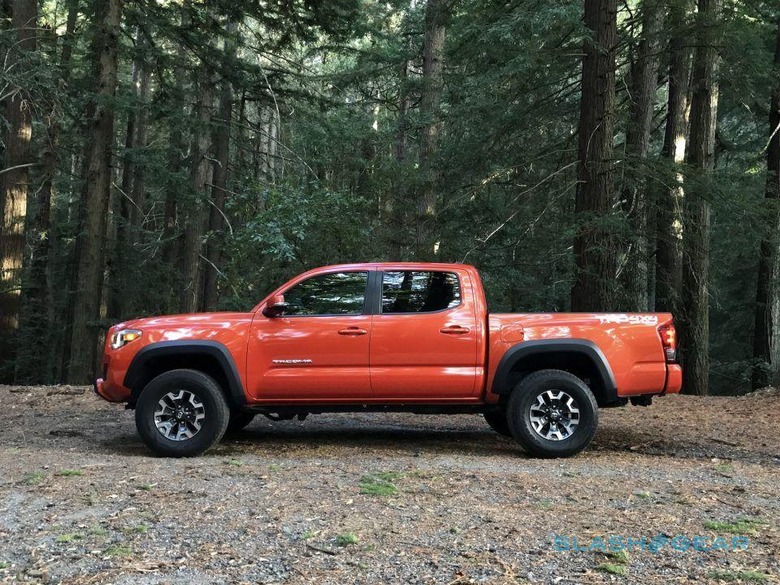 I can understand the appeal. Toyota's refreshed design looks great, even in nuclear orange which is no easy feat, like a Tonka toy blown up for grown-up roads. There's a butch meatiness which can't help but feel flattering, even if like me you're an altogether-average British man who spends most of his day in front of a keyboard.
The bolstered feeling continues inside, where it's less welcome. In fact, given the truck's dimensions the interior space on offer feels surprisingly tight. It's functional rather than fancy, even with the splashes of body-colored plastic on the dashboard. Toyota's fabric seats feel just as hard-wearing as the sturdy switchgear. None of it makes much of a claim to being premium, but neither does it feel fragile.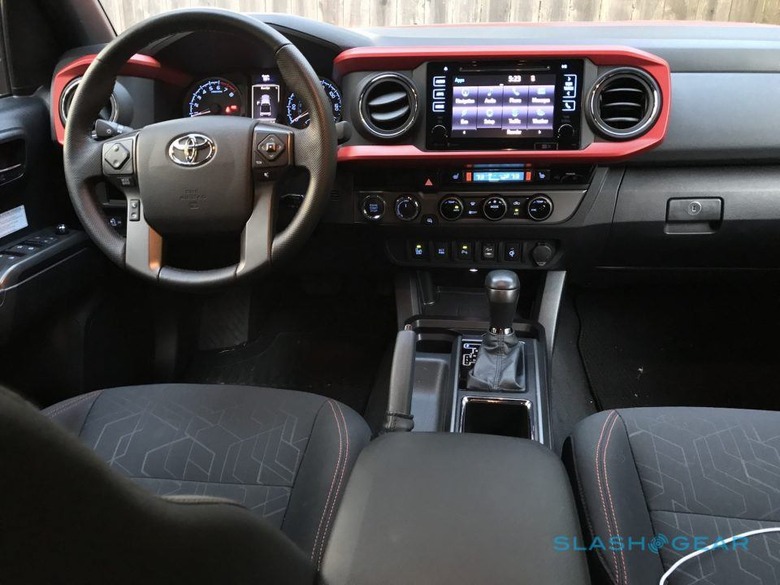 In the back, the double-cab lacks legroom for taller adults. Indeed, you'll get more space in the rear of an SUV like Toyota's own RAV4, but then you don't have the flexibility of the bed. 5-foot long, with various useful tie-down points, a 120V power outlet, and an easy-to-use tailgate – which you can remove if you prefer – makes it one of the more flexible out there, though you don't get fancier features some rivals offer like in-bed speakers and lockable underfloor trunks.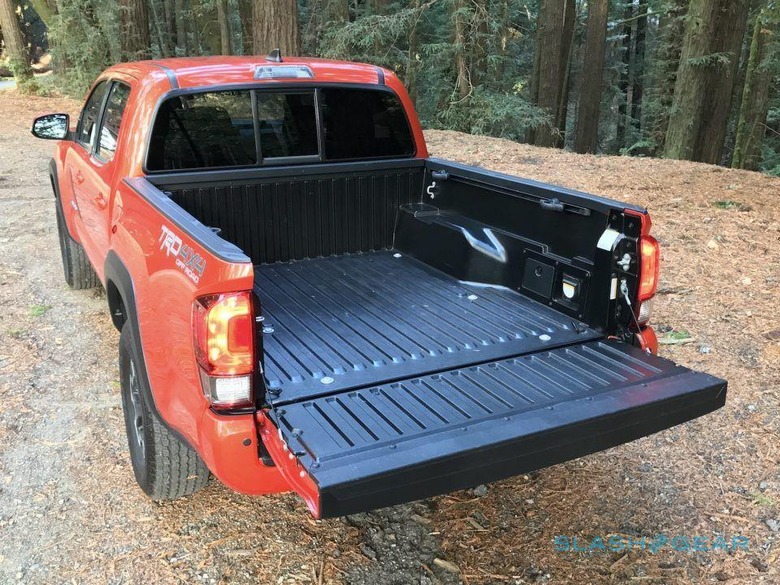 Toyota's engine of choice of the 2016 year is a 3.5-liter V6. It's naturally aspirated and good for 278 horsepower and 265 lb-ft. of torque at 4,600 rpm. You can have the Tacoma with a six-speed manual, but the orange beast came with a six-speed automatic.
Refinement isn't really on the menu. For a start the engine sounds rough and drones considerably, while the automatic tends to prefer shifting up and sticking there. You can provoke downshifts, but only with an aggressive right foot: overtaking at highway speeds is more sluggish than the numbers would suggest on paper.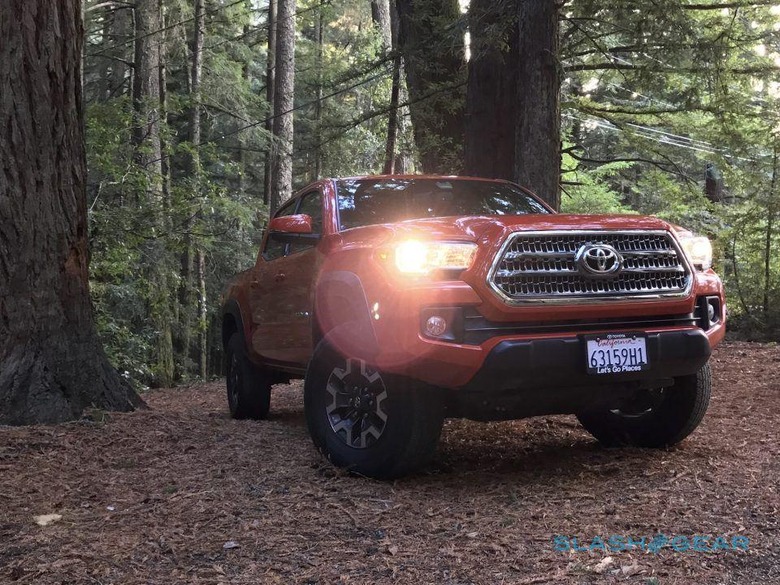 You could perhaps forgive the Tacoma that, were it doing it all in the name of economy. Unfortunately, in everyday driving I saw 17 mpg: some way off the EPA numbers of 20 mpg combined, 18 mpg in the city, and 23 mpg on the highway. Ride is bouncy and you get plenty of tire noise from the beefy 16-inch wheels with their fat P265/70R rubber.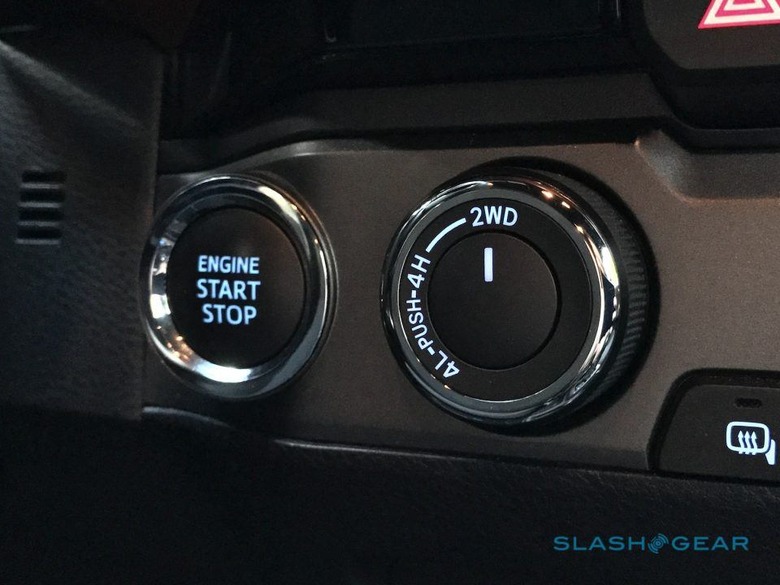 Toyota's Entune infotainment system lives on a 7-inch touchscreen, with HD Radio and Sirius XM, Bluetooth, and a USB input, but no Android Auto or Apple CarPlay. It's nowhere near the prettiest in-car interface around, but functionally it performs better than it looks. Unexpectedly, there's a Qi-compatible wireless charging pad in the center console, if you have the right phone to take advantage of it.
The $2,330 Premium & Technology Package throws in dual-zone climate control and heated front seats, though is really worth it for the rear parking sensors and blind spot monitoring. The Tacoma – in double-cab form at least – isn't a small truck, and any help avoiding crashing the sizable bed into other traffic is welcome. Finally, Toyota threw in the $650 V7 Tow Package with a hitch, ATF/engine-oil/power steering cooler, trailer sway control, a 130 Amp converter, and 4/7 pin connector.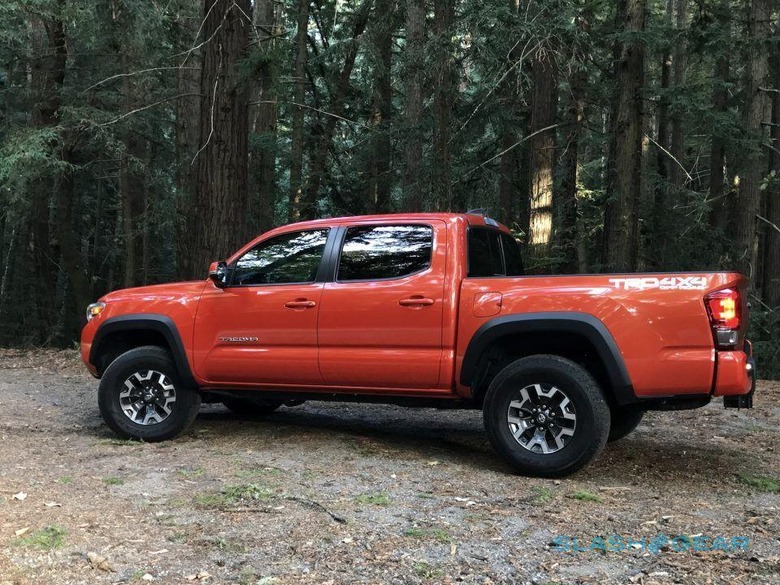 Altogether, you're looking at $37,610 including Toyota's $900 destination. That's from a starting price of $33,730. You're slap bang in Honda Ridgeline territory and, frankly, if you're looking for a car-like driving experience the Ridgeline should be your first port of call.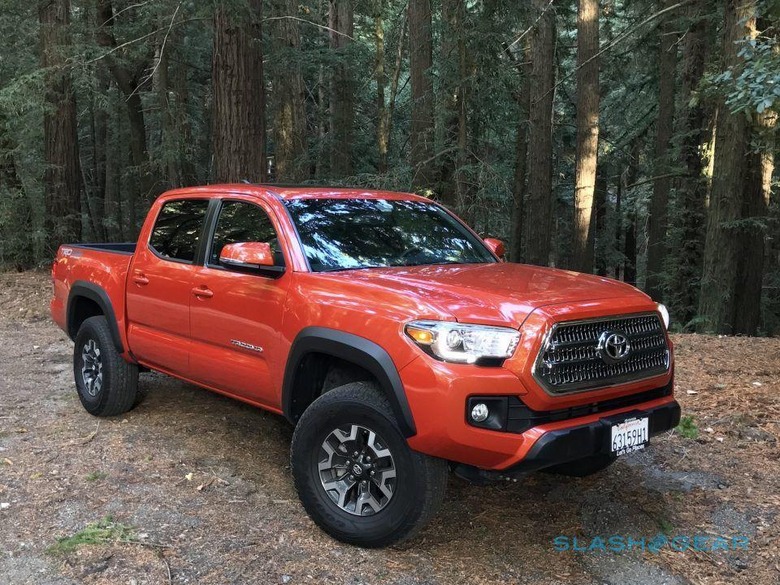 All the same, there's plenty to recommend the Tacoma: if, that is, you're going to take advantage of it. The 2WD/4WD switch may be manual, not automatic as it is in some more tech-savvy rivals, but there's no doubting its abilities. Throw in multi-terrain crawl control, hill-start assist, a locking rear differential, and automatic limited-slip diff, and you have a truck that's basically begging to go off-road, and come prepared for that eventuality.
Not that person? It's a tougher sell, though the Tacoma's inherent ruggedness and aggressive design does help offset some of the less cosseting aspects. Personally, I'd avoid the fancier trim levels and head to the entry-level options: a roughly $30k Tacoma has all the on-road attitude but doesn't over-promise on refinement.