2016 Scion iM first-drive - Goodbye xB, hello maturity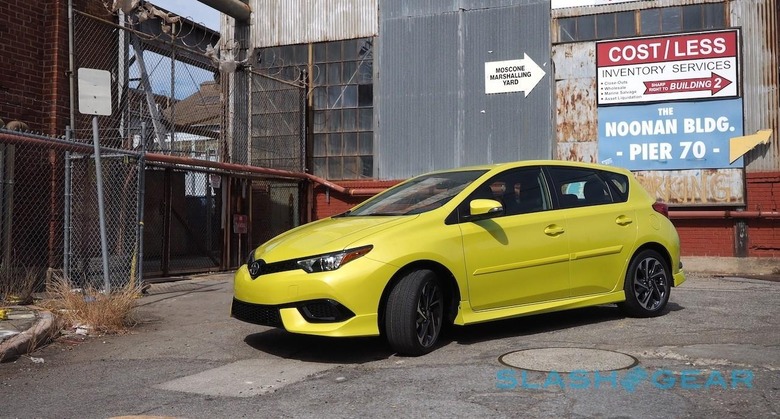 Scion made its name with a bizarre hatchback, the xB, and is hoping to revive its fortunes with the 2016 iM. Targeting fun-seeking but cash-poor Millennials with a sub-$20k sticker price and lashings of standard kit, the iM not only courts those who might covet a Golf or a Mazda 3, but drivers that might otherwise be looking to a four-year-old used car instead of something new off the forecourt. Times are tough, though, and so rather than cook up a new car from scratch, Scion has followed the same approach that netted the perky FR-S roadster for its range and based the iM on an existing design.
That said, Scion's choice of donor vehicle is an odd one. The iM is based on Toyota's Auris, a European hatchback known more for its staid reliability than anything close to getting the pulse racing. Scion throws a decent compliment of spangles against the five-door hatch, including 17-inch alloys as standard, but while the result is a fairly sharp design that's more down to the Auris' inoffensive good looks rather than the parts bin thrown at it.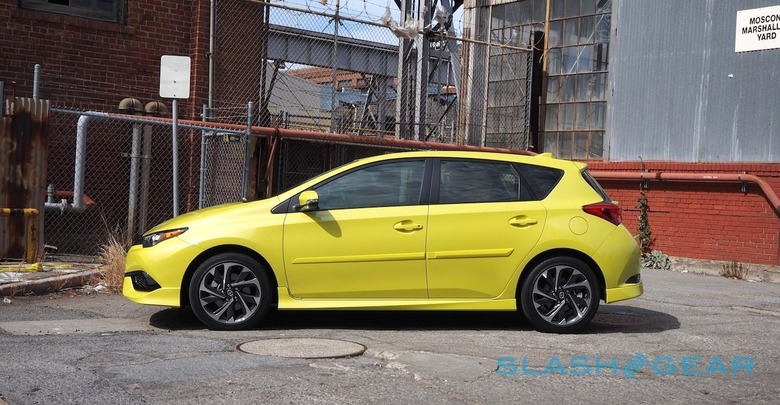 Move inside, and it's another mixed bag. Fit and finish are actually surprisingly good, with a fair amount of soft-touch plastic and padded faux-leather with contrast stitching, though you can find tougher stuff without much effort. Unfortunately, it feels like the designers couldn't decide on a finish, and so opted instead to throw everything at the iM's dashboard.
The center stack is a slab of Mirai-style glossy black plastic, ravenous for fingerprints, while the dash-top has a coarse elephant-butt texture. Swathes of faux-leather, fabric, and then the hide-feel of a different elephant finish things off, and that's just the dashboard. It's far from cohesive, and when combined with the high waistline leaves the iM feeling a little claustrophobic.
It's a shame, since the front seats are supportive, and the rear bench conveniently splits 60/40 to make the most of that hatchback design. Three adults are going to feel tight in the back, but headroom is reasonable.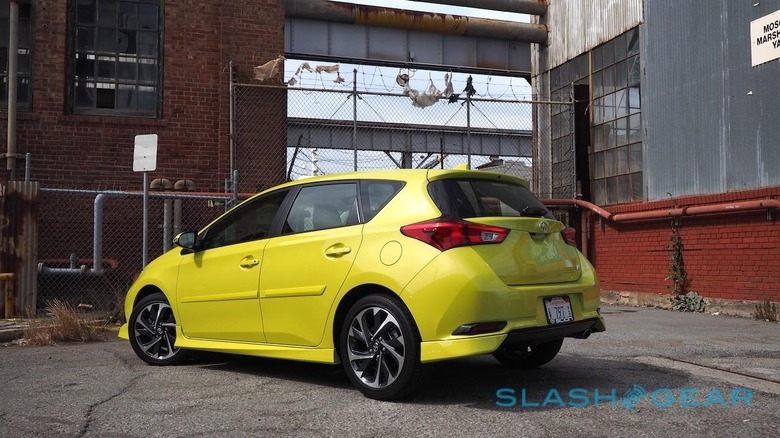 Scion is keen to play up its Mono Spec approach to the options list, and sure enough beyond adding navigation your only choices are transmission and exterior color (I'd say go for something bright, which helps highlight the sheet-metal's creases). It means you get a faux-leather steering wheel, dual-zone climate control, smartphone connectivity for the Pioneer 7-inch touchscreen head unit, eight airbags, a rearview camera, and several other creature comforts all included in the sticker price.
Sometimes, though, a little choice is a good thing. Leave aside hopes of even faux-leather seats or a sunroof – you can't have them. The radio is AM/FM/HD Radio with USB/aux-in connections and support for Aha internet radio and Bluetooth streaming, but you don't get a CD player or Sirius XM. Scion tells me it's pushing smartphone-based entertainment instead, something it sees its younger audience more enthused about, which makes the absence of CarPlay or Android Auto even more noticeable.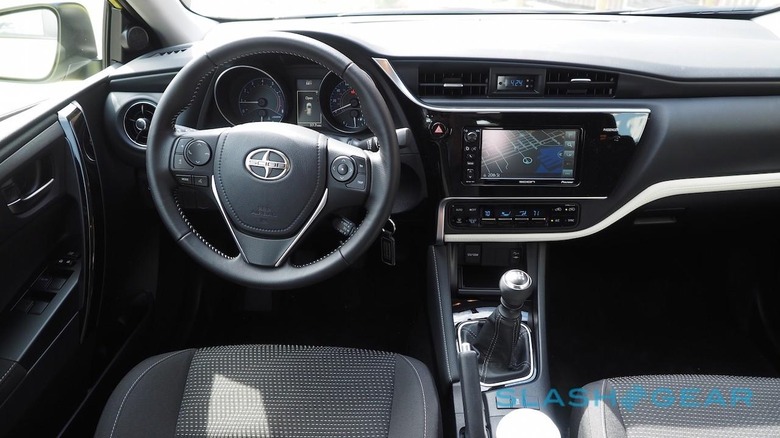 Instead, the head-unit gets a version of Toyota's Entune platform, which is far from being my favorite. Not only does the software feel clunky and the UI tired and confusing in places, the Pioneer's touchscreen is frustratingly dim and prone to reflections.
The driving experience redeems things somewhat, though that arguably depends on what you expect from your Scion. Under the hood there's a 1.8-liter, 4-cylinder 16-valve VVT-i engine, mustering 137 HP and 126 lb-ft of torque. It can be paired with either a six-speed manual (for $18,460 plus $795 destination when it goes on sale September 1st) or a CVT auto transmission (for $19,200 plus destination), programmed to give seven "gear" equivalents. A sport mode on the latter claims to use feedback from the iM's yaw sensor to figure out if you're cornering and thus hold onto a lower gear.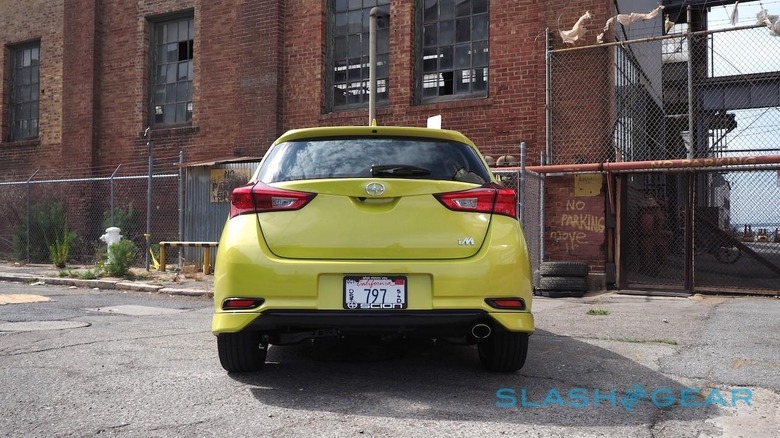 Compared to the Golf, Focus, and Mazda 3 that Scion sees as the likely rivals, the iM is down on power. The engine is fairly perky, but the manual gearbox is dreary, with over-long clutch travel that only engages at the very top. Maximum torque comes at 4,000 rpm and max horsepower at a heady 6,000 rpm, which means there's plenty of rowing to be done with the gearbox if you want to move.
The CVT is less tiring, then, but either way the iM needed to downshift at least one ratio and sometimes two in order to stick to 55 mph going up hills. Thankfully the electric-assisted steering feels reasonably precise, even if it's over-assisted, but overall the iM just doesn't encourage enthusiastic driving.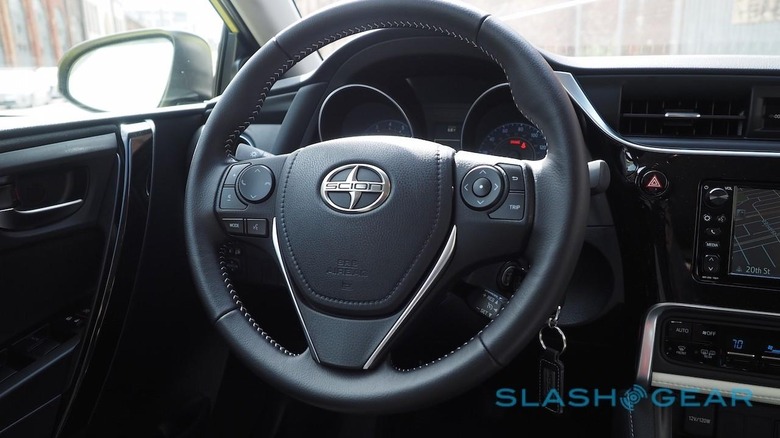 In fact, it's all too easy to believe you're in a Toyota – no surprise there – and even with the optional TRD Performance add-ons, like a sway bar, lowered springs, and a different air intake (good, Scion concedes, only for 1-2 HP more at best) there's little that feels sporty about the car. Scion claims the handling and steering are "European-inspired" but it's really more bangers & mash than fiery paprika.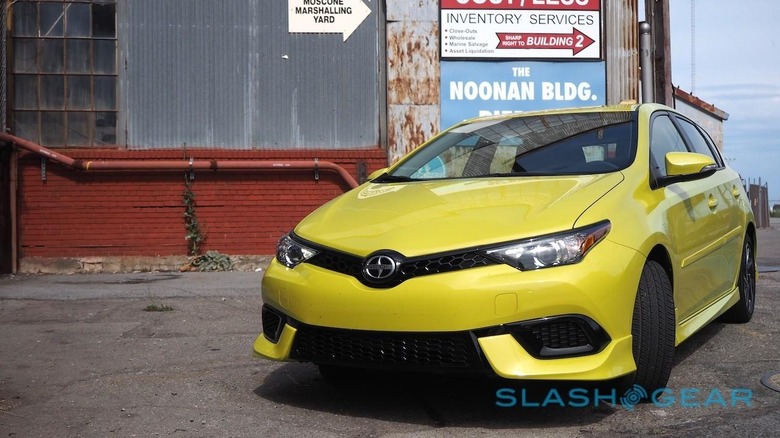 That, Scion argues, is what car buyers want: something with room for their weekend "adventures" at a price within easy reach. Thing is, it's also a package most of Scion's rivals are offering, and while you'll pay more for a similarly-equipped Golf or Mazda 3, you'll get more power and an improvement on the 27/36/31 (city/highway/combined) mpg of the manual or 28/37/32 mpg of the CVT in the process.
It all feels a far cry from the much-loved original Scion xB, a car which set out the brand's stall as a purveyor of offbeat vehicles that bucked the trends that the rest of the industry were clinging to. Tracing any strand of that car's kooky DNA to that of the iM is pretty much impossible, however. Scion has cooked up for itself a more mature car, but its affordable meal lacks some of the spice that endeared early fans.