Range Rover Evoque Convertible Review: Droptop SUV an acquired taste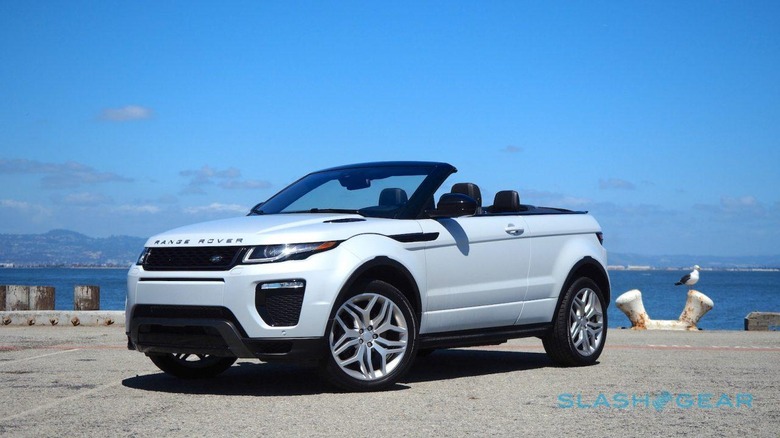 The Range Rover Evoque Convertible's time in the autoshow spotlight may have faded to distant memory, but its oddball status remains. Even several months after they started showing up on dealer forecourts, usually sufficient time for the gloss to fade on all but the most unexpected exotica, the Evoque Convertible still turns heads. A reasonable part of that, I suspect, isn't so much because onlookers necessarily like the design, but because seeing an SUV with the top chopped off is still strange.
I'm not a huge fan of convertibles, most of the time. For a start I'm a pale British man prone to burning in the sun; I'm also fairly self-conscious behind the wheel. Bizarrely, though, for all its ostentation the Evoque Convertible might actually be the perfect droptop for the socially awkward.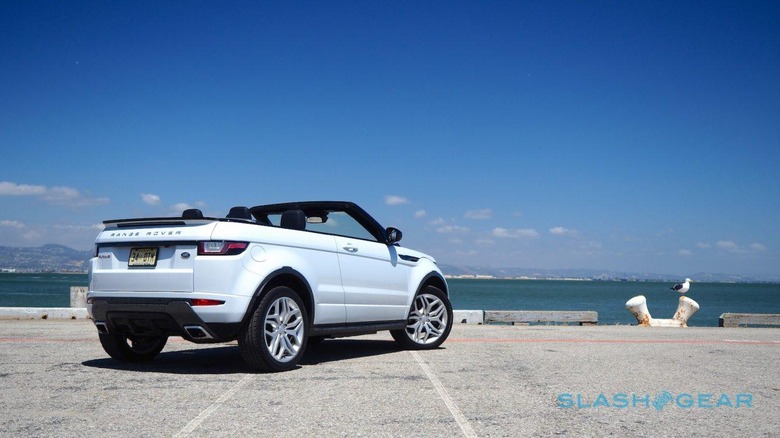 That's primarily because of its jacked-up SUV height and its tall sides. You don't sacrifice any of the regular Evoque's off-road ability – which, yes, won't take you as many places as a Land Rover Discovery might, but is certainly no misleading crossover – and so you don't miss out on its ride height either. Combined with the hefty doors and the cabin actually feels reasonably snug and private.
The roof itself – a 5-layer fabric affair – drops in 18 seconds and raises in 22, and can be operated at speeds up to 29 mph. Raised, the cabin is impressively quiet, with only a gentle murmur of road noise when you're on the highway. Down, there's some buffeting for those in the rear seats, though Range Rover includes a removable windbreak that can be fiddled into place behind the rear headrests. Most of the time, I didn't bother.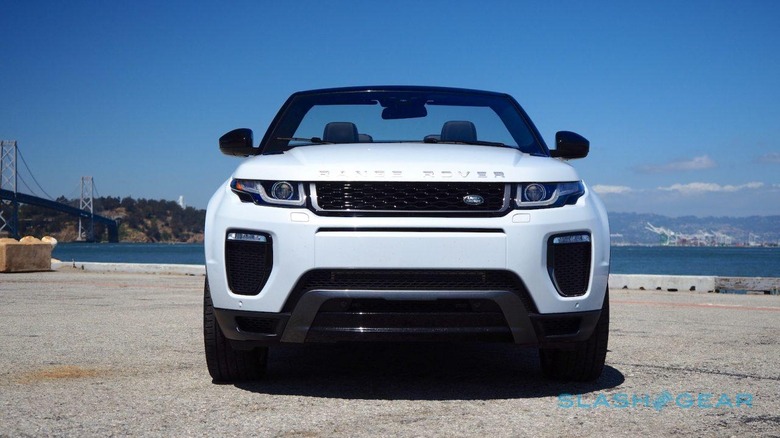 On the road, the 2.0-liter 4-cylinder turbocharged engine likes to rev high. It doesn't lack in punch – there's 240 horsepower and 250 lb-ft. of torque to play with – though the 9-speed automatic transmission can prove frustrating at times. In drive it can be slow to downshift, and combined with a little turbo lag can leave you unexpectedly lacking in power as you tackle uphill corners, for instance.
Switch to sport mode, meanwhile, and things get a lot more frenetic: a little too much, frankly, for comfortable everyday cruising. Happily there are paddle shifters to take control manually. Whichever way you row the gears, the Evoque Convertible can be a thirsty beast. Official EPA numbers suggest 20 mpg in the city, 28 on the highway, and 23 combined; I was lucky to see 20 mpg in my own, mixed driving.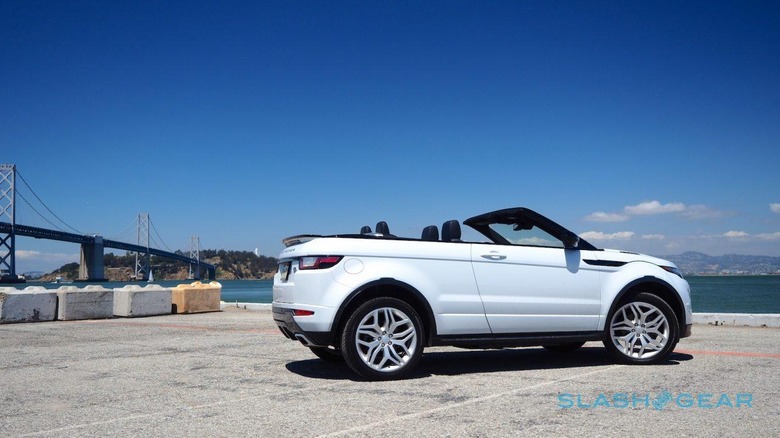 As for the ride, the combination of a donor vehicle designed for off-road duties, and the strengthening involved in avoiding convertible flex, means this is no lightweight car. In fact, you're looking at more than 4.5k pounds, though the short wheelbase helps make the Evoque Convertible surprisingly nimble in tighter corners. The AWD helps too, of course, but it takes a heavy right foot to get the Range Rover up to speed. Official 0-60 mph is 7.8 seconds, with top speed 112 mph.
In the back, there's space for two adults comfortably. The roof pillars do intrude somewhat and take a bite out of shoulder room, mind, though not as much as the whole assembly impacts trunk space. Open the truncated hatch – which would be more convenient, frankly, if it dropped down rather than swung up – and there's a fairly low slice of cargo room. On paper it's 8.8 cubic feet, but it can be tough to load and unload.
Standard-fit is Range Rover's InControl Touch Pro infotainment system with navigation, along with dual-zone climate control, power front seats with heating, leather trim, keyless entry, and a 380W Merdian audio system. You also get rain-sensing wipers, front and rear parking sensors, and blind-spot monitoring. HSE Dynamic trim adds the Cold Climate Convenience Package as standard, with a heated steering wheel and washer jets, 20-spoke alloy wheels, more leather than the usual car, connected navigation services, and SiriusXM.
InControl Touch Pro certainly looks the part, with its wide-aspect touchscreen spanning the center stack. It's noticeably slower than versions of the system on other recent Jaguar Land Rover family cars, however, The dashboard, too, feels a little plasticky in places, and that's only going to become more glaring when the upcoming Range Rover Velar arrives, with its beautiful interior.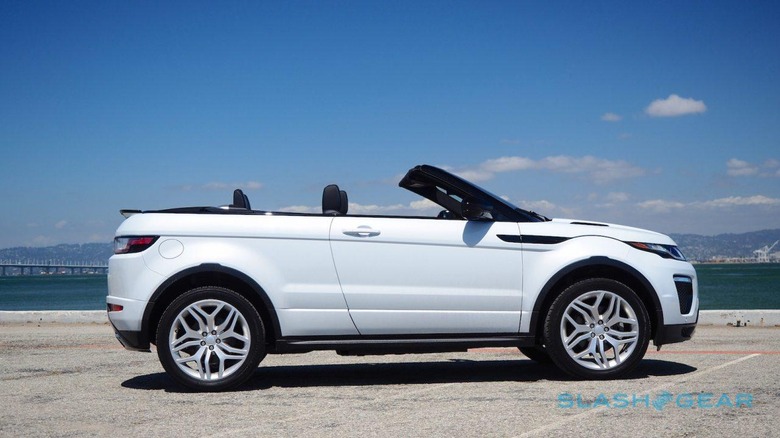 Given the Evoque Convertible's boulevard-cruising spirit, it seems almost distasteful to mention its off-road abilities. I suspect few will go further into the rough stuff than parking on the grass at a country fair. Kudos, then, to Range Rover for including the full suite of Evoque all-terrain tech nonetheless: dynamic stability control, hill descent control, trailer stability assist, hill start assist, an electron rear differential and active torque biasing, and a four-mode Terrain Response System with specific settings for snow, mud, and sand. Think of them as get-out-of-jail cards for your next swampy glamping trip.
Wrap-up
NOW READ: 2016 Range Rover Sport Review
The Evoque Convertible faces a not-unfair question of just who the target audience is. At $58,270 (including destination) as tested, it's certainly not a cheap way of getting some wind in your hair. That sticker price puts it in some compelling company, too, if you don't mind sacrificing the unusual SUV foundation.
If you're one of the small group unwilling to make that sacrifice, there's arguably value to be had in that divisiveness. After all, scarcity for a car like this can only help its exclusivity. Not everyone will succumb to the Evoque Convertible's charms, but social-phobics might find this is the one droptop that doesn't leave them feeling completely exposed.