2016 Nissan Maxima Review - Bold style, bolder promises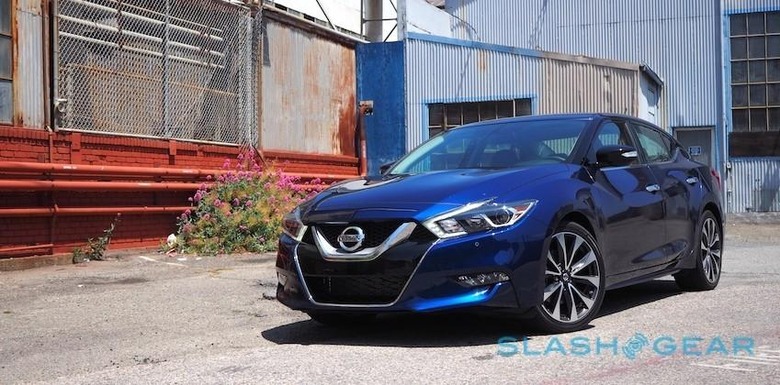 Nissan calls the 2016 Maxima a "four-door sports car" but it takes more than branding and some fighter-jet inspired design tweaks to make a true performance sedan. With 300 HP under the hood, lashings of segment-above level luxe in the cabin, and aesthetics that are certainly striking, the Maxima makes a strong jab at living up to its billing. Question is, has all that punch been pulled with a CVT transmission?
If previous generations of Maxima were markedly conservative in their styling, Nissan has made up for its restraint with this eighth-gen car. To describe the design of the 2016 Maxima as divisive is serious understatement.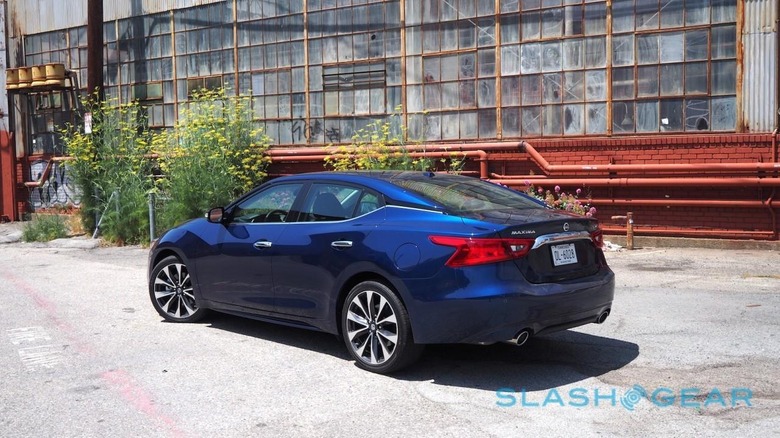 It owes plenty to 2014's Nissan Sport Sedan Concept, particularly from the side, but even with smaller lamps than the concept and a less angular rear, you either love it or you hate it.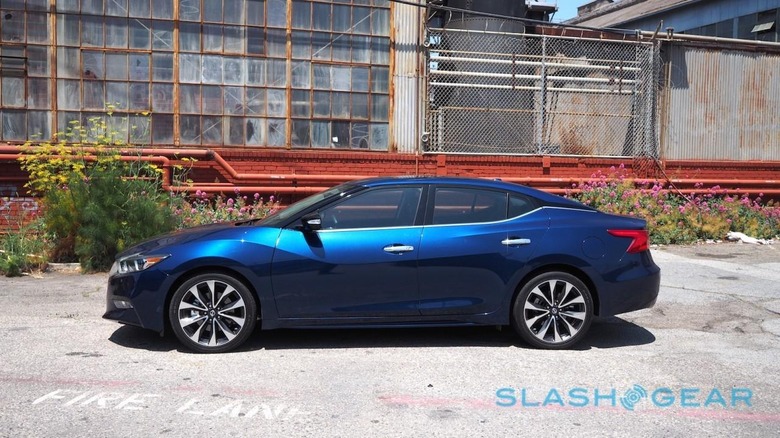 Personally, I like the floating roof – a blacked-out slide of the rear pillar – and the tapering trunk, but the swooping line over the front arch is set too low for my taste. The fascia is fussy, too, a riot of swoops and chrome, while the lengthy overhangs leave the Maxima looking as though it's lunging forward at you with its slack jaw.
Those overhangs also add up to what feels like a very long car. At 16-feet in length I struggled to parallel park it, even with the standard reversing camera. Never before have I so desperately wished for auto-park to be fitted.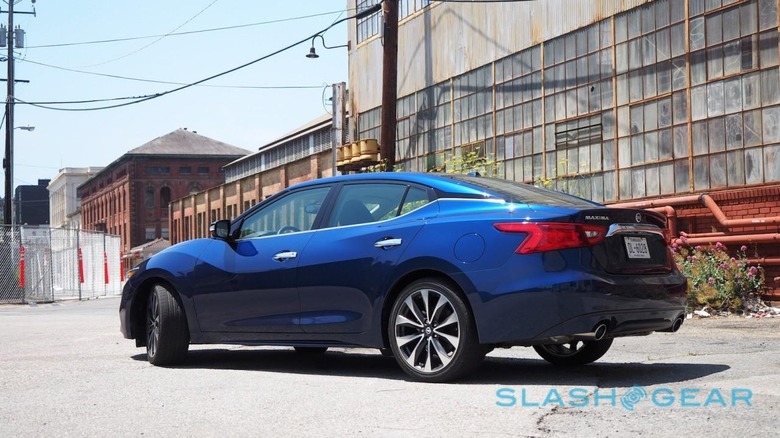 Where some large cars feel like they shrink around you as you drive them, the Maxima never really lost its sense of bulk, either. That means road presence, too: people may not necessarily like the looks, but they don't miss them.
Nissan offers five versions of the Maxima, kicking off with the $32,410 S and topping out at the $39,860 Platinum. However, it's the Maxima SR, at $37,670, that's ostensibly the sportiest of the bunch, with its sport-tuned suspension, 19-inch aluminum-alloy wheels, and Alcantara-inset sports seats.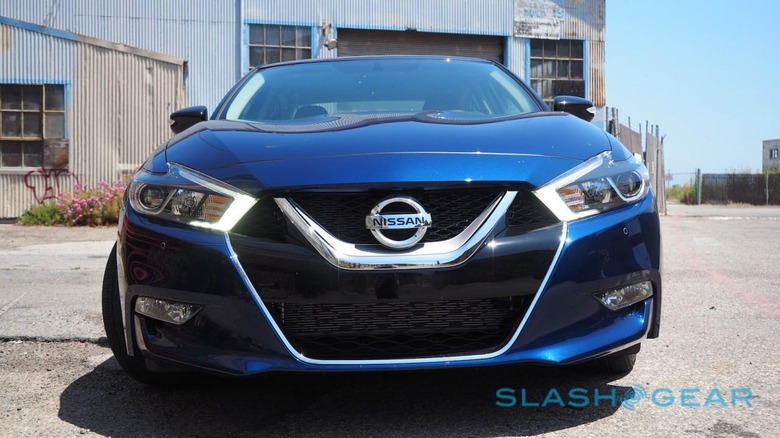 When it comes to power, in fact, it doesn't matter which you pick. Every 2016 Maxima has the same 3.5-liter V6 engine, good for 300 HP and 261 lb-ft of torque. It's based on an existing engine, though Nissan says it's more than 60-percent changed for this new car.
Vying with the aesthetics in the controversy stakes is the transmission Nissan chose to pair with its V6. It may be dubbed Xtronic but it's a CVT, not something most drivers would normally associate with a car promising sporting potential.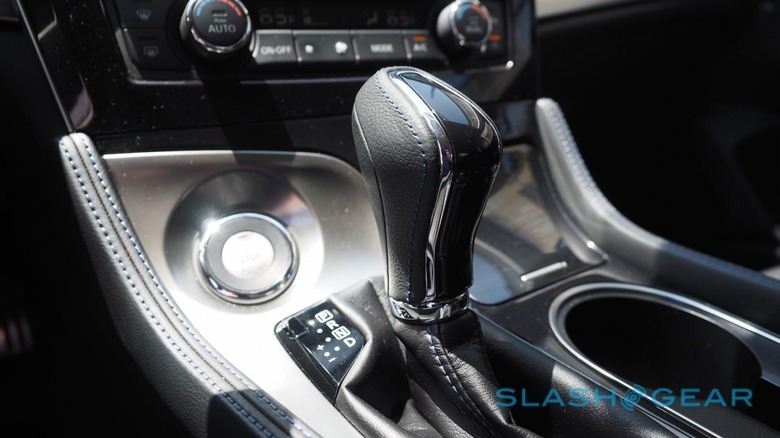 Hold your continually-varying horses, however, because it's not exactly terrible news. CVTs have a bad rep mostly because of their whiny soundtrack and their tendency to shift away from anything approaching performance, leaving cars that often return great economy numbers but at the price of driving enjoyment.
For the 2016 Maxima, Nissan has given its CVT the artificial brain of a seven-speed automatic. It may not have any actual gear ratios to flick between, but it certainly does a good job of convincing you they're there. You get a throttle blip and an companion engine growl when you downshift in earnest, and when in Sport mode the Maxima is quick to "change down" when you jab the throttle.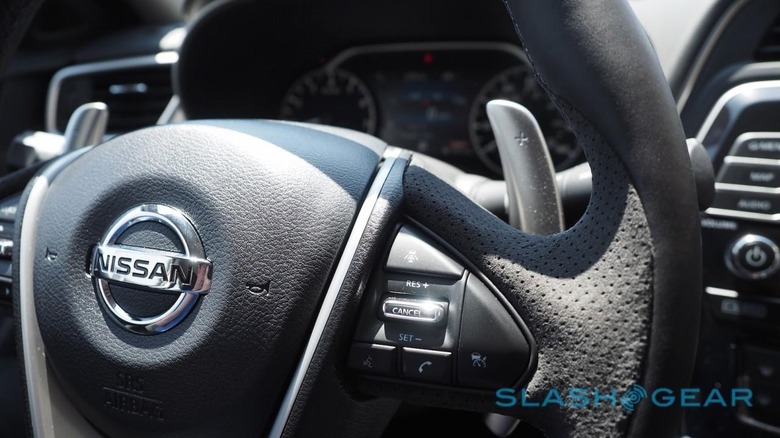 Perhaps it's for that reason that, though the EPA says the 2016 Maxima should deliver 22 mpg in the city and 30 mpg in the highway, during my mixed driving with the car I saw closer to 21 mpg.
In fact, though Nissan positions the car as a sports sedan, it makes a lot more sense as a touring cruiser. It's not that it handles poorly – in fact, there's a surprisingly small amount of body roll given the size and weight, and the steering feel has a pleasing amount of meat to it – but it simply seems to prefer long, loping strides along the highway, the ample midrange power leaving overtaking headache-free.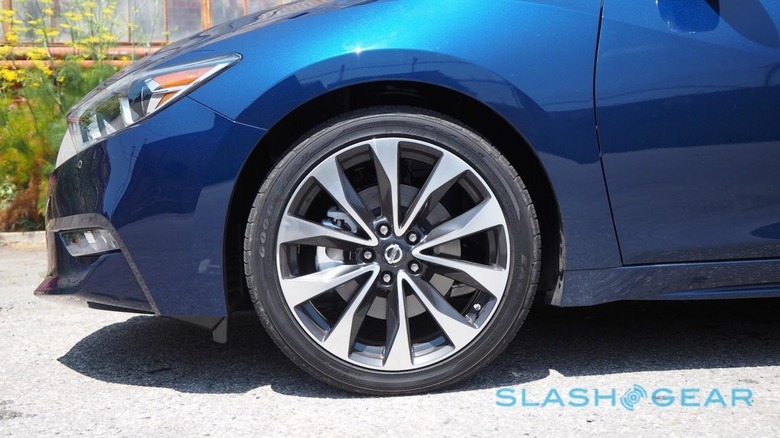 Nissan stiffened up the chassis stiffness and cut torsional twist, and there's Active Ride Control which near-invisibly blips the brakes so as to smooth out unruly roads. If anything it could work too well, holding some of the road feel at a polite distance just as the Bose active noise cancelation does for highway grumble what your Bose headphones do on the plane.
You drive in a surprising degree of comfort too, and while Nissan is quick to mention the inspiration taken from fighter jets in the cockpit, what that really means is a car that's focused very much on the driver's needs.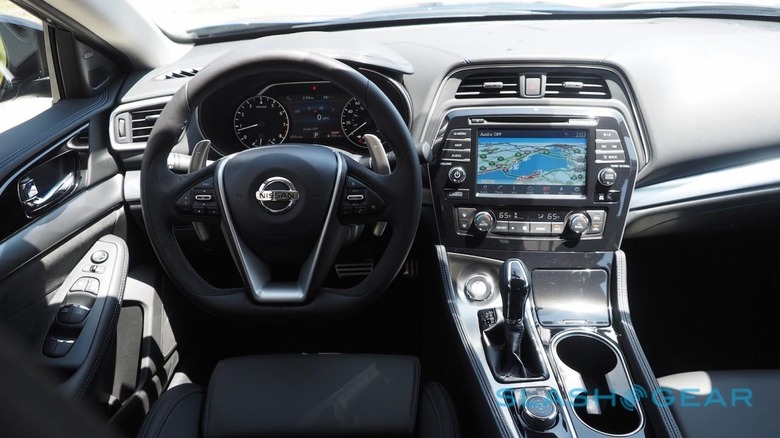 So, the seats are comfortable – I particularly appreciated the extending thigh support – and there's power lumbar support as well as Nissan's "Zero Gravity" construction. Silly name, maybe, but I got out of the Maxima after a two hour traffic jam without a complaining back, which is convincing enough for me.
The center stack is angled toward the driver, while the tunnel is fairly high, helping with that "it's a cockpit, honest" gimmick. The Maxima SR gets ambient lighting, too, which is fairly subtle but nice all the same, and there are pleasantries such as dual-zone climate control, a heated steering wheel, and and front seats which can be both heated and cooled.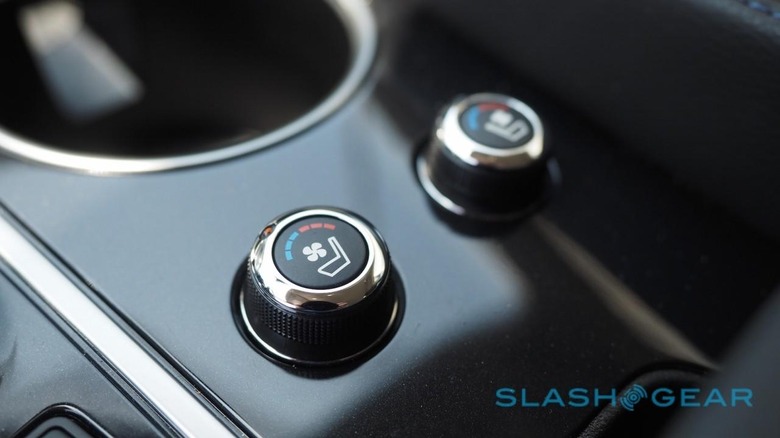 Elevating everything is the quality level of the trim in general. In fact, Nissan deserves serious credit for the consideration put into the Maxima's parts bin: similarly cars in the segment, like the Acura TLX and even the BMW 328i, pale in comparison.
The leather and Alcantara seats have beautiful diamond stitching, while the finish on the door trim and dashboard top is equally considered. The Maxima SR comes with a special steering wheel with Alcantara inserts, and they feel great under your fingertips, far nicer than the full-leather wrap most sporting wheels offer.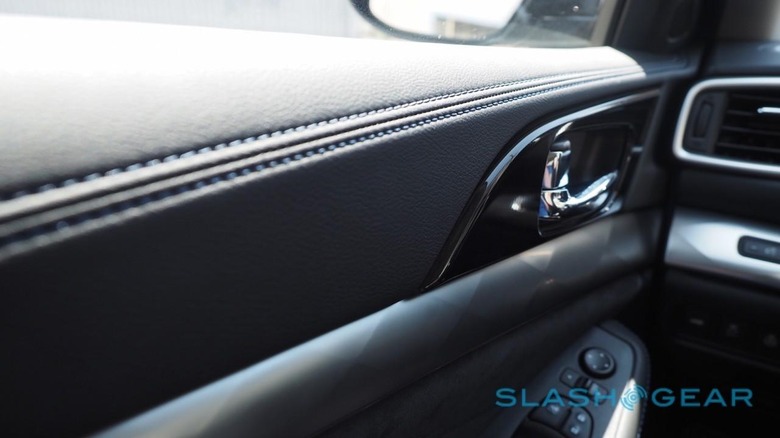 The interior isn't a clean sweep, mind. The "Liquid Chrome" faceted trim across the dashboard isn't real metal, which I can forgive, but the paddle-shifters feel plasticky. While the rear seats are comfortable, there's not as much legroom as you might expect given the size of the car. Nissan's combination joystick/scroll-knob is conveniently placed but has more wobble than I'd like, while the 8-inch touchscreen in the center stack can be sluggish to respond at times.
In fact, Nissan's infotainment system in general falls a little short at times, which is a shame because many of the tech boxes have been ticked.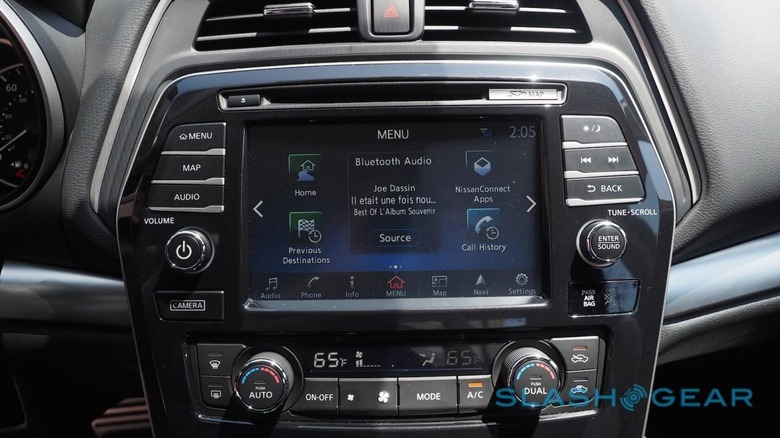 For instance, you get an aux-in port and two USBs, intelligent cruise control, navigation as standard, voice control which actually did a decent job of understanding me, remote engine start, SiriusXM, and Bluetooth. Along with the 8-inch screen in the middle, there's a 7-inch full-color panel in-between the analog speedo and tacho for the driver, and both are of a high resolution.
Problem is, Nissan's UI doesn't take advantage of all the pixels it has to play with. The infotainment homescreen, for example, is a glum selection of basic boxes, more like a dreary PowerPoint chart than the hub of a 300 HP sports sedan. At times the auto-zoom while navigating would be oddly clunky.
Pairing up phones prompted more head-scratching than normal, ending up a two-stage process whereby they needed to be independently registered for hands-free and music streaming. Nissan's on-screen prompts were little help.
I feel like a lot of my complaints could be tidied up with a software update, since Nissan has so much of the hardware right. At least once I had things connected properly, the Bose 11-speaker audio system sounded great.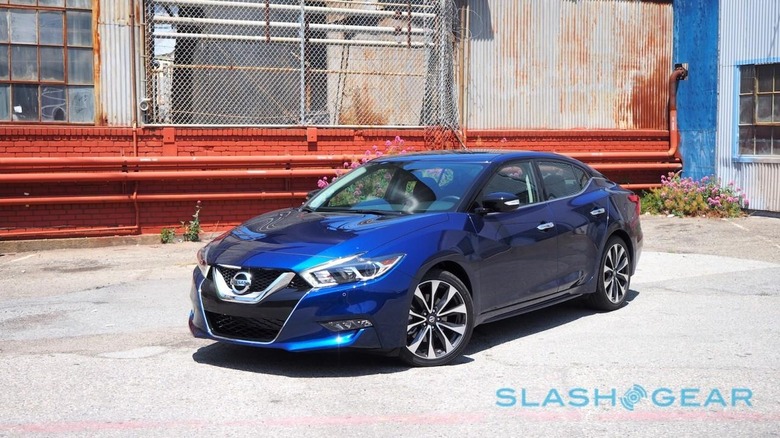 Debate will undoubtedly still rage over the "is it a sports car or not?" argument, but my lingering impression of the Maxima is that such definitions aren't really important.
Instead, focus on the highly competitive pricing – the only added extra in this SR tester was a $255 mat and trunk net set – and the on-road comfort, not to mention the strong levels of standard-fit tech. If you're of the camp which likes the striking design, that adds up to a refined cruiser with an ambitious price tag.