2016 Lexus RX 350 FWD Review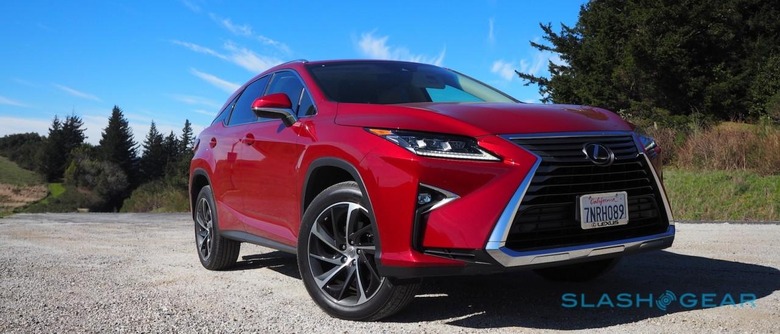 It's easy to coast when you're in first place, but in the fiercely contested SUV segment it's also a recipe for disaster. Lexus has been sitting pretty at the top of the luxury SUV pile for years now – a class of car the Japanese marque is keen to remind you that it invented, no less – and so expectations for the 2016 RX are understandably high. Anything less than best-foot-forward isn't an option.
Usually, when trying to impress, manufacturers coax you into models from the higher end of the range. Sometimes, on a launch event, entry-level trim cars aren't even available to try. So it's a mild surprise to see the opening model in Lexus' RX range, the 350 FWD, which kicks off at $41,900 before its $940 destination.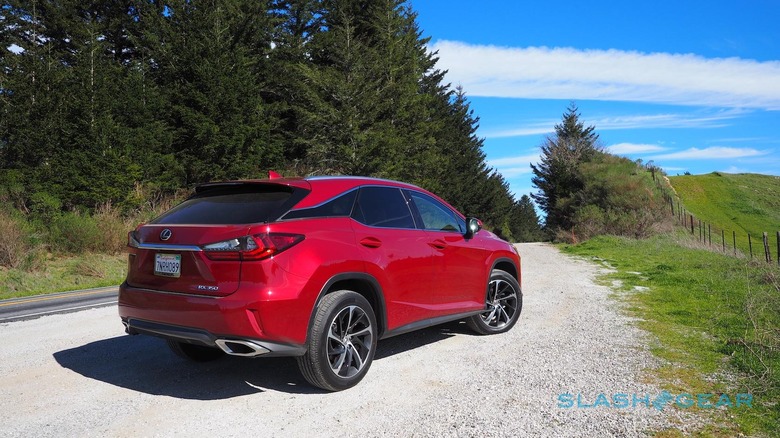 Of course, Lexus couldn't resist loading it up with options, and to be fair many customers won't be able to restrain themselves either. The $4,610 Luxury Package adds leather seats, a heated wood and leather steering wheel, power mirrors, sunshades for the rear doors, 20-inch alloys, rain-sensing wipers, and LED ambient lighting along with various wood and aluminum trim in the cabin.
Then there's the $2,250 Lexus Safety System+, with pre-collision detection that can spot other cars and pedestrians, brake assist, and LED headlamps. $2,180 upgrades the infotainment system to the huge, 12.3-inch widescreen LCD and throws in navigation. $1,100 adds the moonroof – not, it's worth noting, the panoramic glass roof, which is $500 more – while $640 grants the front seats both two-stage heating and ventilation.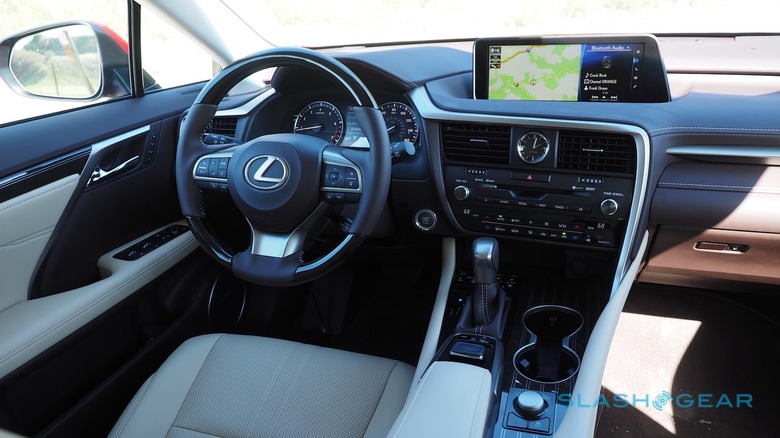 $500 adds blind-spot monitoring and rear cross traffic alerts, something I really think should either be standard-fit or at least included in Safety System+. Another $500 adds parking sensors, while $200 gets you a hands-free opening system for the power tailgate: wave at the rear Lexus badge and hey-presto, the trunk opens.
To save you the math, altogether it takes what was a $42k car to a not-inconsiderable $53,880 (or $54,820 with destination). It's by no means the most expensive RX in the line-up, but it does land you slap in the midst of the Audi Q5 range (with room for options), or even an entry-level Mercedes-Benz GLE350.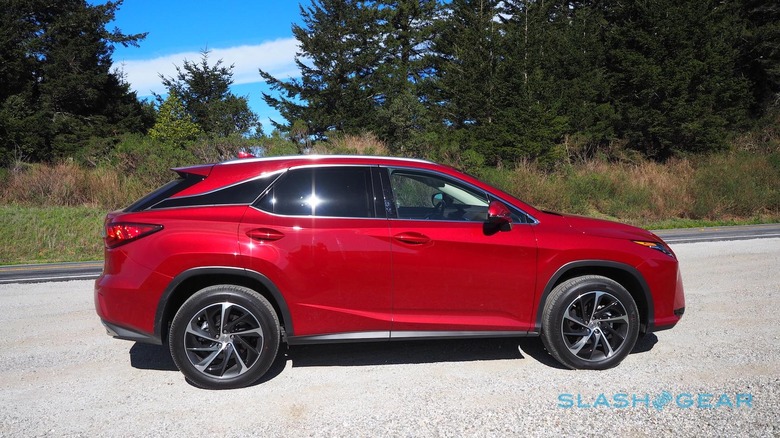 Neither has the dramatic styling of the Lexus, though whether that's a plus or a minus depends on the eye of the beholder. I still prefer the company's aggressive lines and dramatic grille to its more anodyne aesthetic of the past, but I know not everybody feels the same: you may not love it, but you'll certainly remember it.
Look beyond the maw and the RX's lines are fairly pleasing in a moon-buggy sort of way. Lexus isn't alone with its "floating" rear pillar conceit, but that – plus the raised shoulder line – does help lower the car visually, even if it's not actually any lower than the model it replaces. The optional bigger wheels help, since the standard 18-inchers can leave the RX looking under-shod.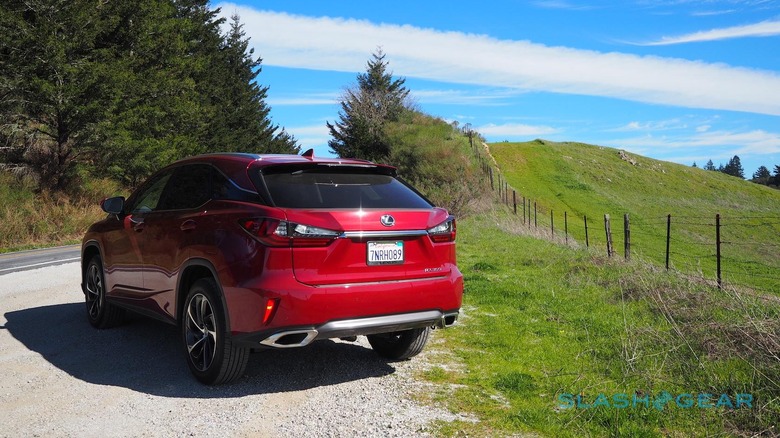 Inside, I'm only partially convinced. It's spacious and airy – though there's no seven-seat option – and, though I missed the more bolstered seats from the F SPORT, the standard versions are comfortable. $42k doesn't get you real leather, mind, only the fake stuff, and I'm betting many upgrade to the Luxury Package for that reason alone.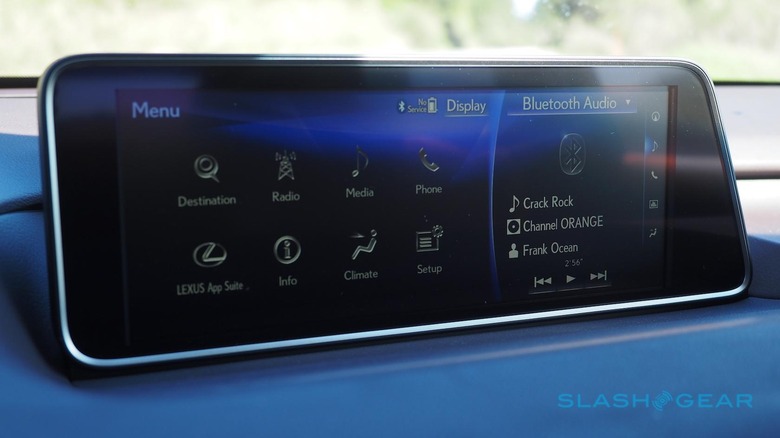 The base car also lacks the huge, eye-catching display atop the dash, too. It's one of the biggest screens in a car today, though I can't help feeling that Lexus hasn't really capitalized on it. You get the same Enform infotainment system as in the company's other cars, simply spread out over the larger panel – Lexus describes it as "high-resolution" but there's a softness to it still – and the choice of either full-screen mapping or a roughly 60/40 split with two apps shown at once.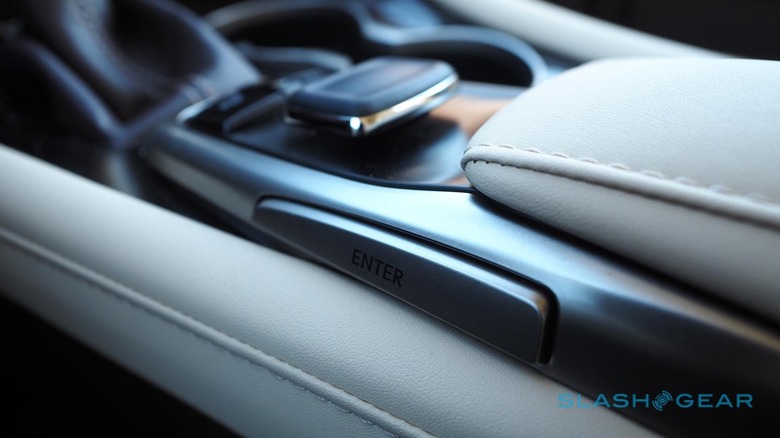 You navigate via Lexus' pesky little joystick controller in the center console, and it's still not a terribly pleasant experience. Most frustrating is how easy it is to overshoot on-screen buttons like the keyboard, but navigating through the map is fussier than it needs to be, too.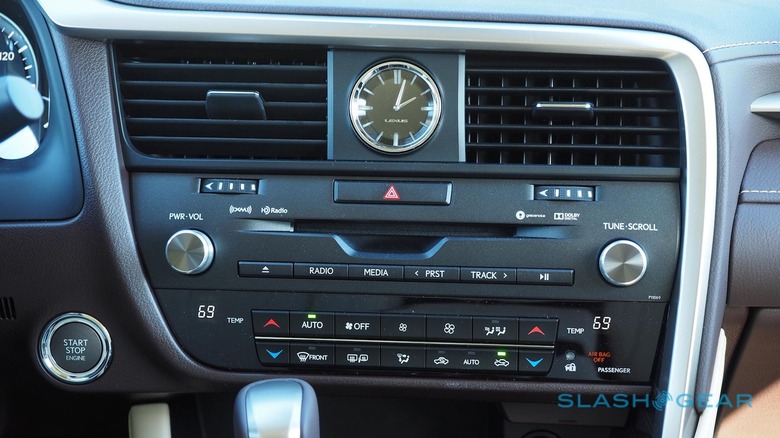 Happily Lexus doesn't stint on physical buttons, and you can control the HVAC and music playback with dedicated keys. As a whole everything feels sturdy, but it's noticeably plasticky.
The soft-touch trim to the dashboard is nice, but the switchgear and aluminum-effect plastic underwhelms in comparison to what you find in rival SUVs. I'm not entirely sure if the wood used in the steering wheel has ever seen an actual tree, but if it is indeed authentic then Lexus has wasted that effort with its cheap-feeling lacquer.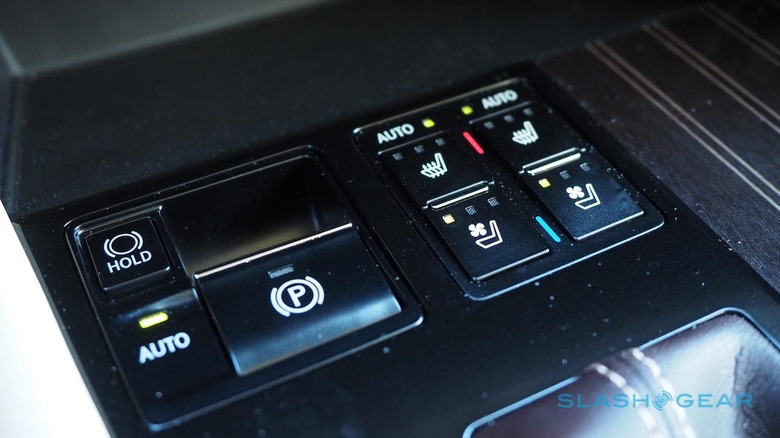 NOW READ: How Lexus made the astonishing LC 500
Cabin quality is clearly somewhere Lexus quietly knows it could improve, since one of the key goals with the upcoming LC 500 coupe is to push the company's envelope in terms of fit and finish. Right now the difference between the LC and the RX is night and day, and that improvement can't filter down through the range soon enough.
It's a shame, because in many ways Lexus has been incredibly thoughtful with its cabin design. There's a surfeit of cubbies, stowage nooks, and bins, and the 18.4 cubic foot trunk (56.3 cubic feet if you drop the rear seats) may be smaller on-paper than its predecessor but is more usable in practice.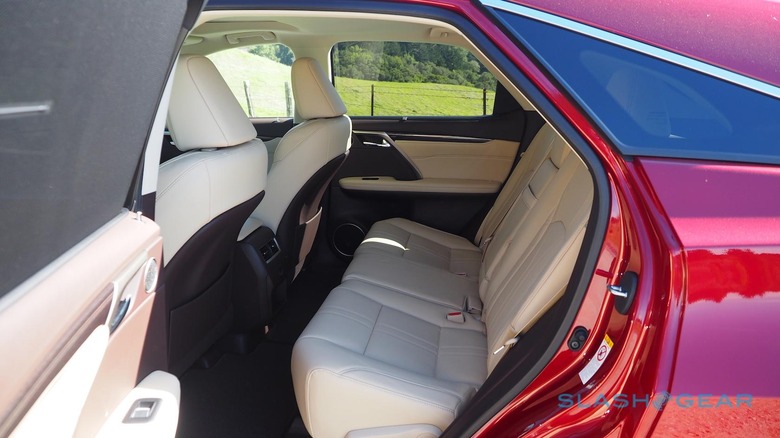 Human cargo gets plenty of space, too, and despite what the looks might imply, there's no shortage of headroom in the rear. Lexus' depth-adjustable cupholders may seem like a gimmick initially, but I'll wager they'll find favor as soon as the first venti caramel macchiato is snugly slotted inside.
The driving experience is similarly focused on comfortable cruising rather than anything especially dynamic. Lexus' 3.5-liter V6 has 295 horsepower and 268 lb-ft. of torque, fed to the front wheels via an 8-speed automatic transmission.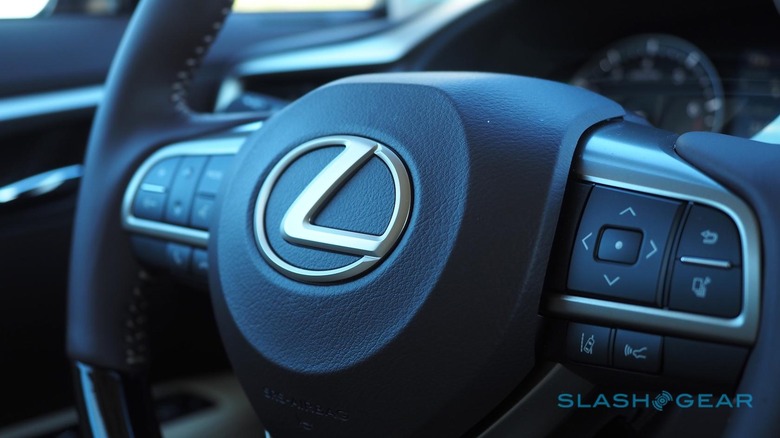 It doesn't encourage back-road thrashing. On the freeway, the RX wafts smoothly, gears shifting with slurred refinement, though it can get unsettled and bouncy on poor road surfaces. Those slight tendencies are magnified when you hit more challenging corners; notching the drive mode dial over to Sport helps rein in some of the chop and wallow, but I found myself missing the even tauter Sport S+ option that F SPORT cars get, not to mention their Adaptive Variable Suspension. Those with any enthusiasm should look at least to AWD and preferably to F SPORT; $49,125 get you an RX with both.
Steering is light and low-speed maneuvers are straightforward. There's a reason the RX has become the darling of urban parents, and there'll be nothing to unduly challenge their perception of the new car.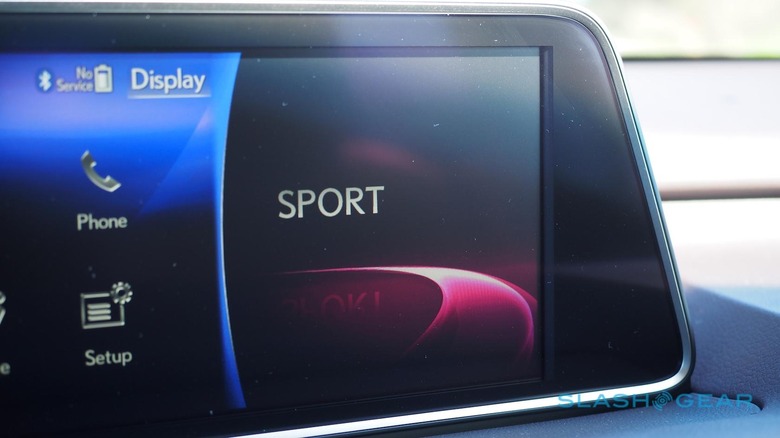 As for economy, the EPA says the RX 350 should manage 20 mpg in the city, 28 mpg on the highway, and 23 mpg combined. Unlike many of its rivals it won't insist on premium gas, either. In my mixture of highway driving and some more interesting back roads, I saw 21.8 mpg overall.
Lexus has clearly given the new RX plenty of thought, striking a balance between an SUV that won't frighten off the loyalists while at the same time following in the more aggressive tread-marks of its recent sedan and coupe siblings. That has paid off in terms of ride comfort, convenience features, and a generally quiet, smooth experience on the road.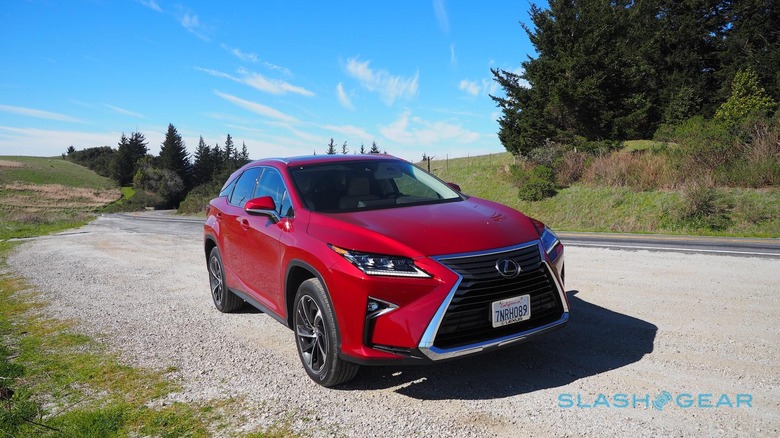 At the same time, in many ways the 2016 RX 350 feels like Lexus played it safe. The styling may be bold, but the driving dynamics are unmemorable and it doesn't take long in rival SUV cabins to start questioning Lexus' choice of materials.
Ironically, the gauntlet is thrown down most significantly by the RX's own stablemates. The LC 500 shows Lexus can make a class-leading interior. The GS F proves it can make a potent sports sedan perfectly capable of taking on the Germans. While the RX may be the best-seller, that doesn't necessarily mean it's the best SUV; now it's time for Lexus to show us what it's so clearly capable of.
[gallerybanner p="432316"]