Lexus had already spilled the beans on its 467 HP surprise for the Detroit Auto Show, the 2016 Lexus GS F, but there's no denying it's an intriguing beast in the metal. Latest to the Japanese company's F SPORT line-up, and spiritual successor to the IS F, the midsized sedan sticks with Lexus' controversial design language – including a vast "spindle" grill, angular LED headlamps, and splashes of carbon fiber to emphasize its sporting ambitions. Those ambitions aren't just on paper, mind: with 389 lb-ft and a 7,300 rpm redline, this Lexus should shift.
Lexus has opted for a naturally-aspirated V8 where many of its rivals have gone instead for a V6 with either one or two turbos strapped on. It's paired with an eight-speed automatic with manual shifters.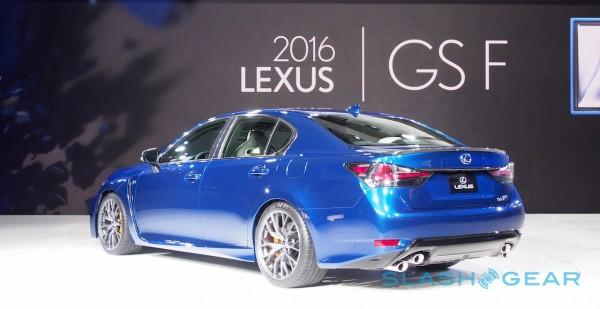 As we've seen on other F SPORT cars, there are four different driving modes – Normal, Eco, Sport, and Sport S+ – which adjust suspension, steering feel, handling, and more.
There's also the company's Torque Vectoring Differential (TVD) system with a pair of electro-mechanical clutch packs as standard. That offers three modes – Standard, Slalom for more precise steering and agility, and Track for high-speed circuit driving – though Lexus has also gone old-school with its approach, with the GS F more than 300 pounds lighter than some of its segment rivals.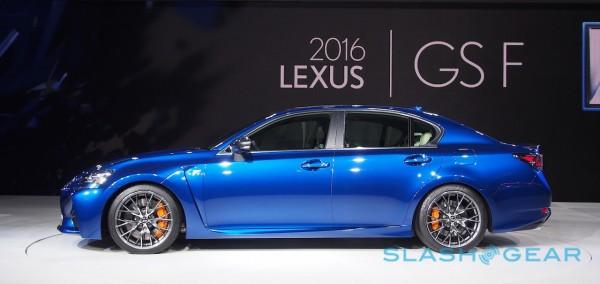 Styling is likely to be as polarizing as any recent Lexus. Lots of mesh, chrome around the gaping "Predator" grill, and L-shaped lamps which split apart the running lights into separate bars.
19-inch wheels and plenty of carbon fiber – around the rear spoiler being the most obvious – along with four trapezoidal exhaust pipes are the big eye-catchers. However, when you look more closely, you see some of the more discrete detailing, like the thin cooling mesh in the vents behind the front wheels.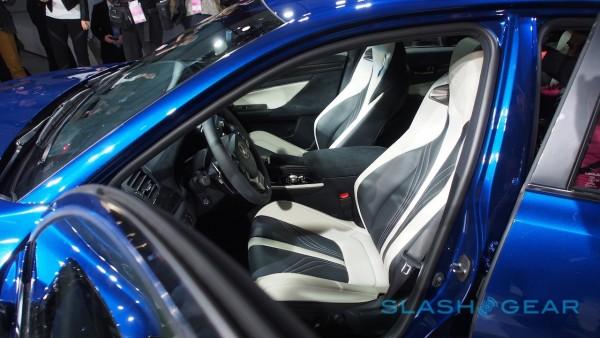 Inside, there are some big F-branded racing seats in twin-tone leather, Alcantara trim on the doors, console, and above the instruments, and a 17-speaker optional Mark Levinson audio system. Otherwise it's much as we've seen from other recent Lexus, with a 12.3-inch display and touchpad controller in the center console.
Pricing and final performance numbers aren't announced yet, and nor is when the Lexus GS F will show up in dealerships. That's expected to happen later on in 2015.