2016 Honda Civic first drive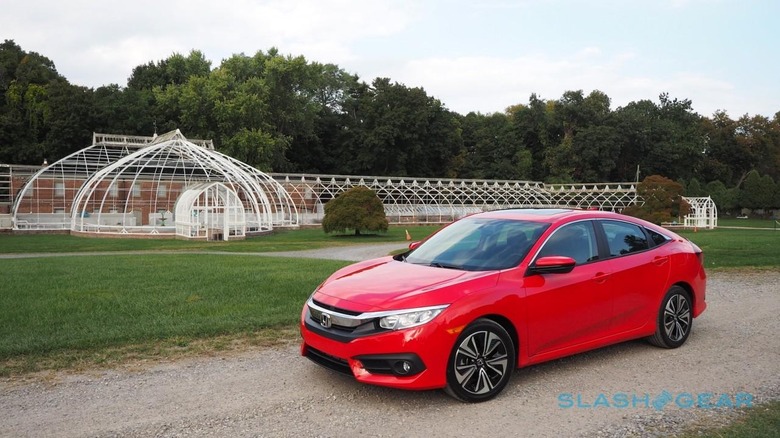 What do you expect from a mainstream car? If you're talking about the 2016 Honda Civic, then those expectations vary hugely, with what's considered a "must-have" proving just as broad as the age range of the car's audience. It's no small issue, and one Honda can't afford to ignore. Some drivers prioritize economy above all else; others demand space and luxury features; style is vital but potentially divisive; and even in this mass-market segment, driving feel can't be ignored.
The 2016 Civic, then, needs to be all things to all people, and that's a big ask. It's also not something Honda has quite managed in any of its previous nine generations. Certainly, the outgoing Civic is well screwed-together, spacious inside, and has the reliability and economy existing drivers love. It can't exactly be described as heart-stoppingly handsome, though, nor especially eager even with a keen driver behind the wheel (with the exception of the Type-R, which was never offered in undiluted European form in the US).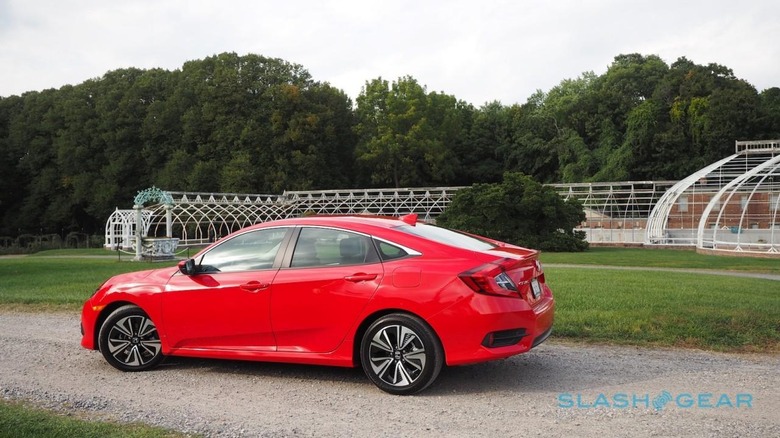 Honda says it's addressed all of that with the 2016 Civic, and from a spell with several models spanning the new range across the space of two days, I'm tempted to think they're not exaggerating. Even if you're not in the market for a midsize sedan, there's good news for 2016 that could sway you into a Honda showroom.
First things first. The new Civic looks great, a solid balance between the conservative silhouette of the outgoing car and more engaging design that should make it a little less anonymous on the road. The scythe of brushed metal that bisects the front grille is a good example, being far more visually interesting than the flat chrome of the old model.
The stance looks wider, and strong creases flow down the sides and into the oversized rear lamp clusters that fall just across the tasteful line of resembling a 60s rocket ship.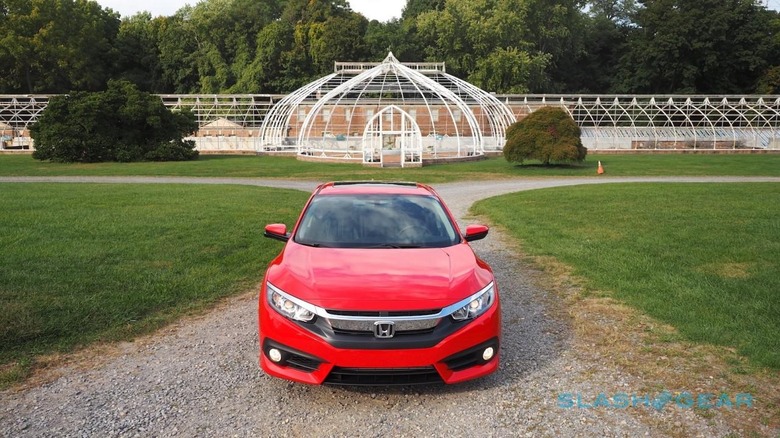 Oddly, the rear looks as though it should be a hatchback but it's really a sedan; Honda hasn't said exactly how the hatch version, due later in the lifecycle, will handle the bigger opening, and whether it'll be upright like the existing European car or a more subtle reworking of this design.
Most cars seem to grow as they evolve, and the 2016 Civic is no exception. It's wheelbase is longer, as is its rear overhang, though the front overhang is shorter. The latter forced some clever thinking in the crumple-zones, too: two new brackets underneath deform backward and pull the engine down at the same time, to slide it under the driver's feet.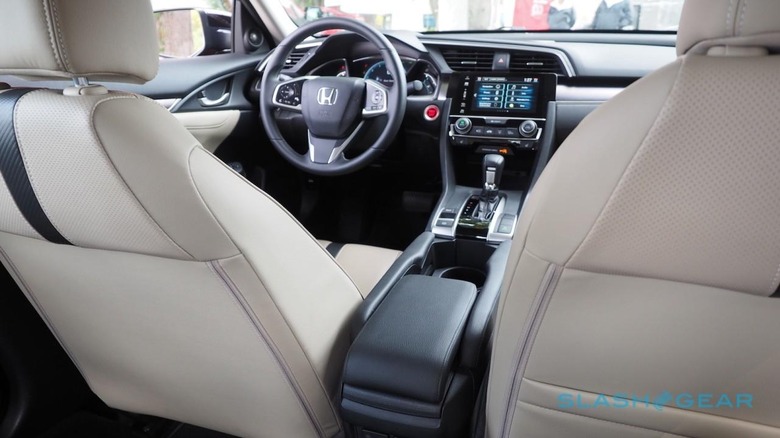 Inside, as well as extra space you have more gadgets to play with, particularly as you step up to the higher trim levels. The entry-level Civic still gets power windows, automatic climate control, and Bluetooth audio, together with a clever twin level cubby system in the center stack which allows you to snake your phone charger cables out the way rather than have a rats' nest around the shifter.
However it's when you upgrade to EX or above that things get interesting. That's when the 7-inch DisplayAudio system debuts with CarPlay and Android Auto, plus heated side mirrors, remote engine start, and a 60/40 split rear seat (that has a somewhat narrow aperture from the trunk).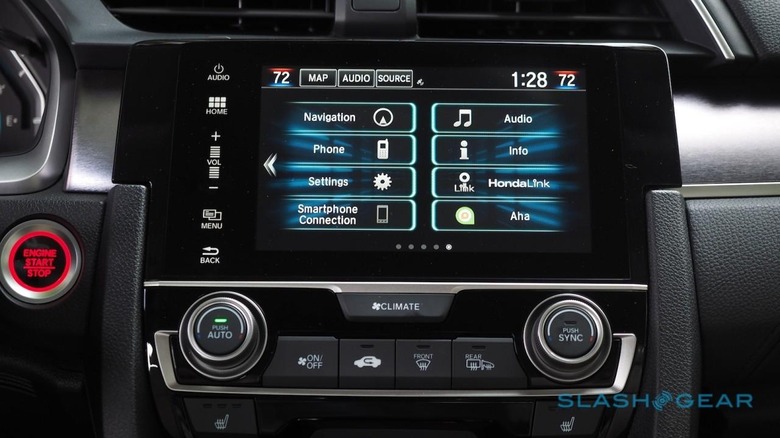 The EX-T throws in heated front cloth seats, dual-zone climate control, XM and HD radio, and bigger, 17-inch alloys, while the EX-L adds a power drivers seat, leather trim, and auto-dimming rear mirror, while opening the door to Garmin navigation.
Finally, the Touring has Honda Sensing as standard – a $1,000 option lower down the range – plus rain-sensing wipers, LED headlamps, power seats for both in the front, heated seats in th e back, and a 450W, 10-speaker audio system.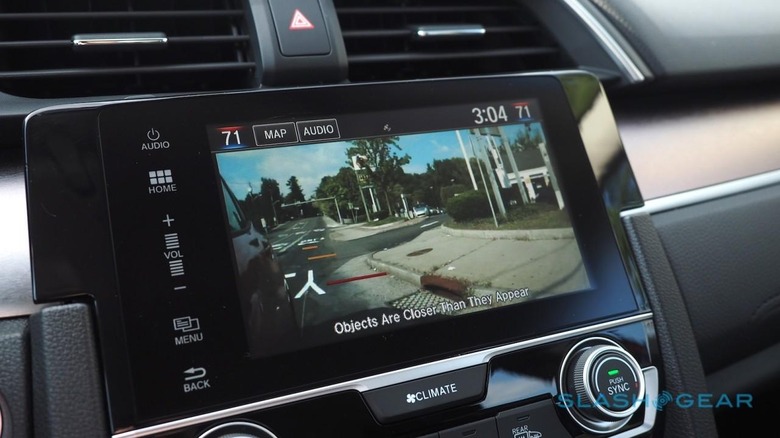 Oddly, there's no option for blind spot alerts – warning you when there's someone in your blind spot in the lane either side of you – nor cross-traffic alerts. The adaptive cruise control handled the freeway well, but was disconcertingly jerky at city speeds, surging forward then jolting to a holt and, at one point in stop-go traffic, flashing up a scary "BRAKE!" warning rather than bringing things to a halt itself.
I've been generally critical of most factory-fit infotainment from just about all the main manufacturers, but happily the 2016 Civic raises Honda's game. In fact, I'd say it's my favorite system from any of the automaker's current cars, including anything wearing the Acura badge.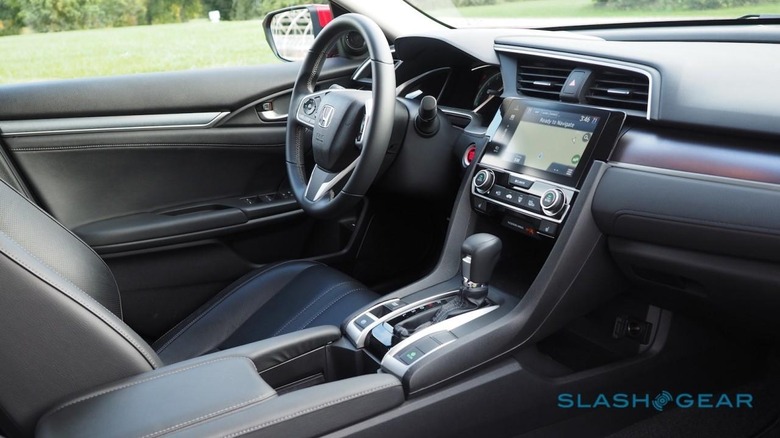 Importantly, the Android-based system is now faster – a sluggish touchscreen can be a dealbreaker since you're never quite sure if you actually tapped the right button, distracting when you're on the move – and has been redesigned to make it easier to navigate. Tabs across the top lead straight to the audio controls and – if fitted – the map. Honda looked to Garmin to provide the navigation software, and it's more intuitive as a result.
GM and Honda appear to be in an ongoing battle to offer CarPlay and Android Auto to as many drivers as possible – no bad thing for consumers, of course – and the new Civic has both. Frankly, I'm still not 100-percent convinced by either, since I find Apple's system too restrictive around third-party apps while Google's has proved a little less stable in use than I'd like – but I'm glad to see the choice there.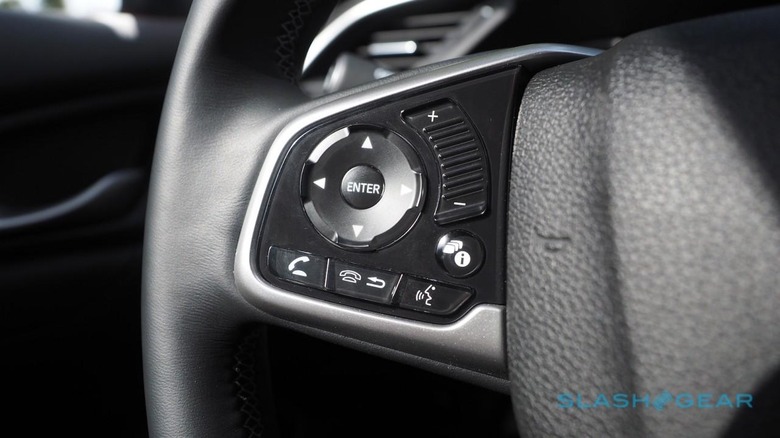 That's not to say Honda scored 10/10. You get plenty of easily-reached shortcut controls on the steering wheel, including a slick little touch-sensitive volume rocker that can be either pressed or swiped, but the Civic lacks a physical volume knob on the center stack. Instead you get capacitive buttons which, though futuristic in a 90s HiFi sort of way, are annoying when you simply want to reach out and twiddle the music up or down.
I tried both of the new engines, and found the 2.0-liter to be a notch above the 1.8-liter it replaces in the outgoing car. A little more power – 158 horsepower and 138 lb-ft of torque – give it a mild increase in small-of-the-back shove.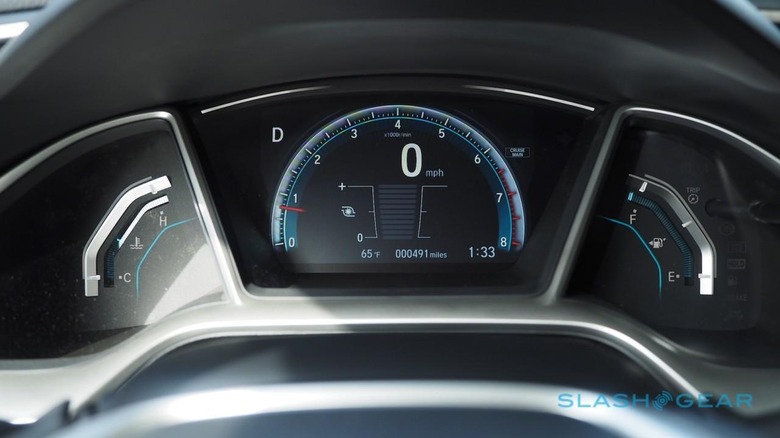 Though there'll be a manual entry-level option, Honda expects the bulk of purchases in the US to be of the continuously variable transmission (CVT) which uses a torque convertor to minimize lag. It's supple and pairs well with the naturally-aspirated engine.
The gem of the two 2016 powerplants is the new turbo, though, the power delivery of which is so smooth and lacking in lag that you'd think Honda had been slapping turbochargers to its engines for years. No, you're not going to mistake the 1.8-liter for the Type-R, but neither are you going to find yourself short of pep pulling away from the lights or trying to overtake at highway rates.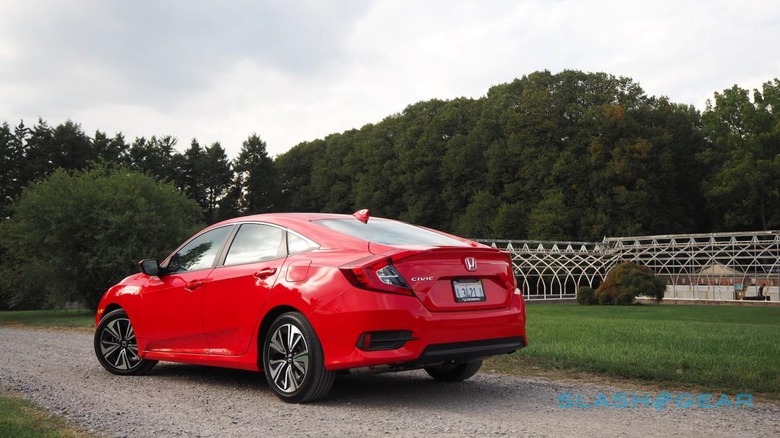 In contrast, the 2.0-liter naturally-aspirated engine that's standard on the entry-level Civic trims feels a little more mundane. It's not a bad engine – driving it back to back with the outgoing car I noticed the slight increase in power and mildly-warmed-up enthusiasm – but you'll thank yourself later for digging into your pocket for the turbo.
Your wallet should thank you over time, too, since the 1.5-liter engine is more efficient despite its extra power. According to the EPA, the 2.0-liter Civic is good for 31 mpg in the city, 41 mpg on the highway, and 35 mpg combined (those numbers drop to 27/40/31 for the 6-speed manual).
However, the turbocharged Civic manages 31 mpg in the city, 42 mpg on the highway, and 35 combined.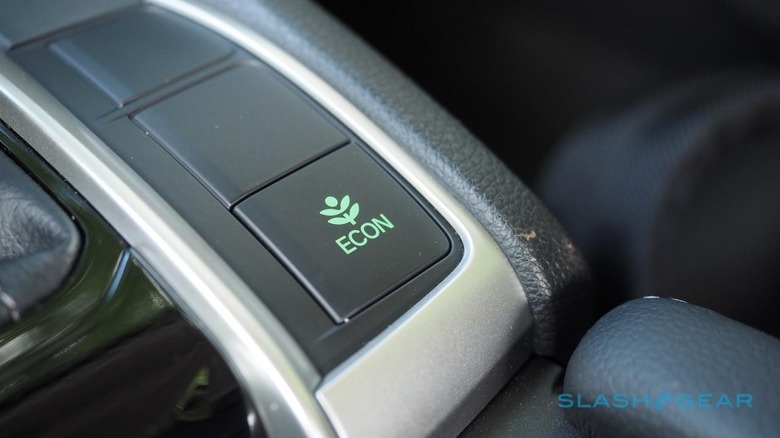 Despite Honda's lofty aims, the Civic doesn't quite tick every box. Steering is lacking in feel – just, noticeably, like it is in the 2015 car – and, a minor frustration, the adjustment for tilt/reach is mounted oddly low and can be tricky to reach. Forget about impromptu tweaks while you wait for the red light to change.
Honda's biggest challenge lies in the nature of its competition, though. Previous-generation Civics had lost their way, chief engineer and North American development leader Gary Evert explained to me, being too focused on mass market sales and competing with Toyota's Corolla. For the 2016 car, Honda picked its rivals from the segment above, looking to German luxury C-Segment cars.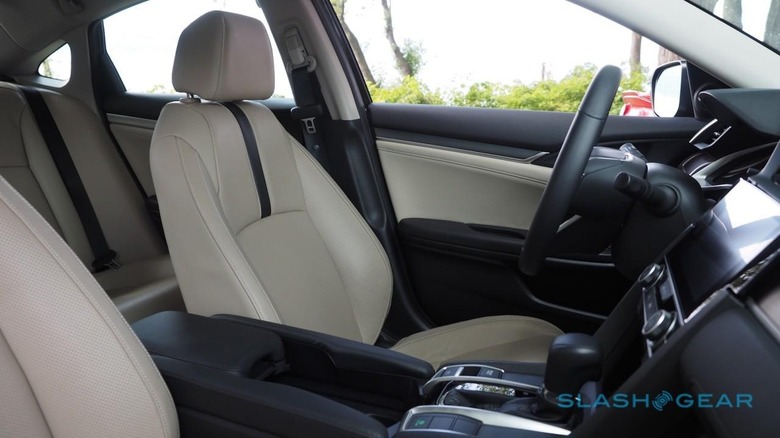 Testament to Honda's focus, in many ways the new Civic does indeed feel like a much more expensive model. In fact, the challenge may not be the car itself, but the brand it wears.
It's a similar problem that Honda stablemate Acura has faced with the ILX, trying to persuade drivers who might usually opt for a 3-Series BMW by default to give Japanese a chance. Honda specifically name-checked Audi's A3, for instance, as a benchmark by which the new Civic was designed. I'm not entirely confident that, even if it matched the driving dynamics, style, and everything else, the badge cachet will win it those sales.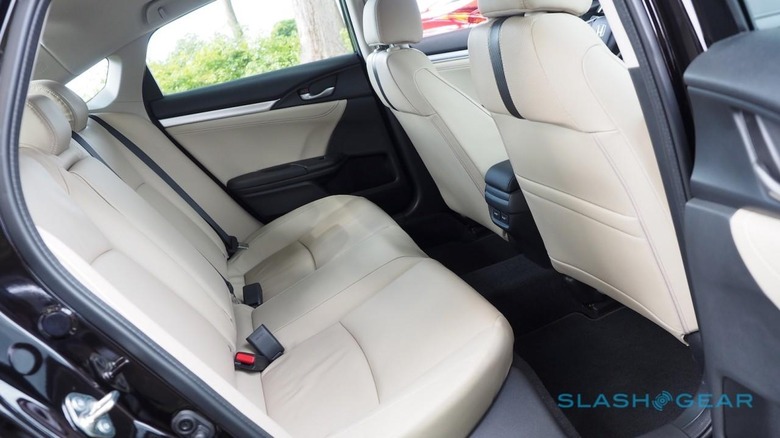 NOW READ: Honda prices the 2016 Civic
Then again, maybe that's not such a worry. It's notable that, on the eve of this brand new model, the outgoing Civic is still the most popular car in its class in terms of retail sales. Honda's existing audience is clearly finding the Civic recipe to its taste, and if the company can persuade a few extra percentage points to dine at its particular C-segment table then that – to take the food analogy to its stretched conclusion – would just be gravy.
From my first-impressions, that gravy will be free-flowing. The 2016 Civic drives well, packs more technology than you might expect, and has an engine pair that match its upmarket ambitions. Things will get even more interesting when the coupe arrives this winter, culminating in the Type R which, Honda promises me, won't be a poor imitation of its Euro cousin when it finally reaches American shores. That makes the Civic good news all round.
[gallerybanner p=410203]