2016 Dodge Viper ACR officially holds the most production car track records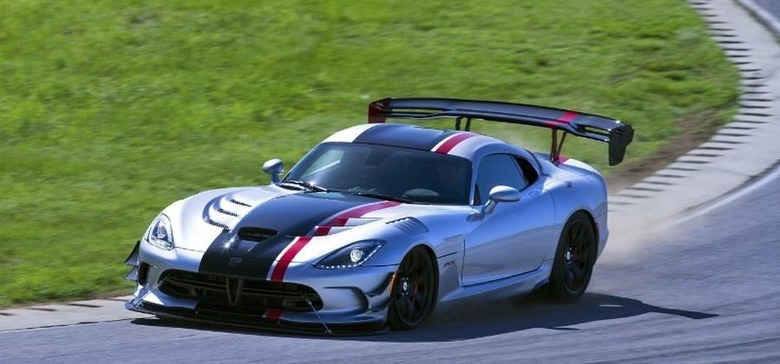 Dodge is taking sometime to brag about the 2016 Viper ACR. This is the factory built car aimed directly at the weekend track day fan. Dodge has announced that the SCCA has officially recognized that the Viper ACR has more track records than any other production sports car with 13 different records to its name.
Among the courses where the car holds the official record are Laguna Seca, Road Atlanta and Virginia International Raceway. The car used to set the records was a 2016 Dodge Viper ACR with the big aero package. That aero package produces over 1700 pounds of downforce at speed.
The aero tidbits include a dual element carbon fiber wing, carbon fiber diffuser on the rear, a SRT hood with removable louvers, detachable front splitter extension, and dive planes. Out of the 13 records, SRT engineer Chris Winkler set 11 of them.
At Laguna Seca the Viper ACR bested the Porsche 918 Spyder by over a second, equating to an 11 car length lead. Sadly the Viper and its hotter cousin the Viper ACR will not be sold for much longer. Word is that the cars are being discontinued in 2017. That means this could be the last hurrah for the Viper ACR.