2016 Chevrolet Tahoe Review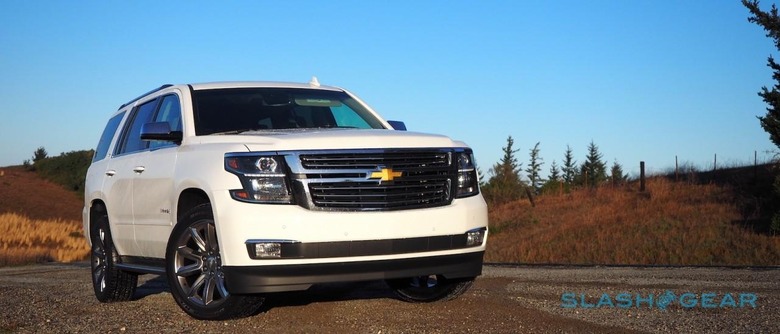 "Try the Tahoe" I was told when, a month or so ago, I admitted that Cadillac's vast, attention-seeking, and generally louche Escalade had wormed its way into my cold British heart. According to the commenters, I'd have just as much success – not to mention save a few tens of thousands of dollars – with the 2016 version of Chevrolet's SUV. So, I thought I'd put that to the test.
On the face of it, it's a good comparison. Cadillac's SUV might be a bastion of chrome and excess, but it shares plenty with the far more mainstream Chevy. The big difference is in price: your friendly Cadillac dealer wants at least $73k for a 2016 Escalade, while the 2016 Tahoe starts at a mere $47k.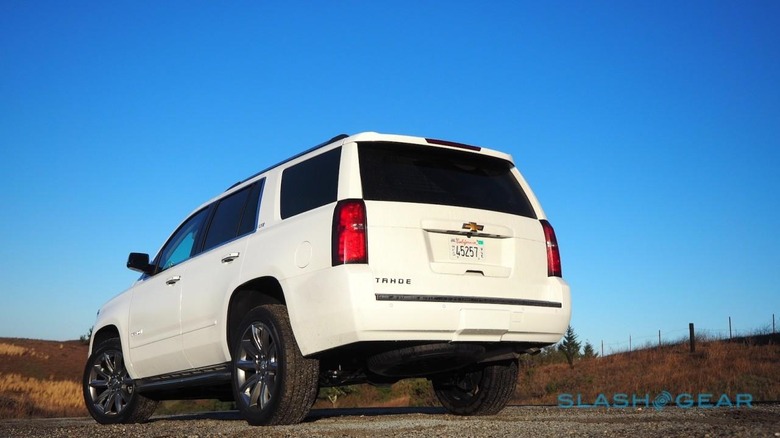 My review car turned out to be considerably more than that, mind. Its base was the Tahoe 4WD LTZ – Chevrolet offers both two-wheel drive and all-wheel drive versions of the truck, while LTZ is the highest trim level – which comes in at $64,610, on top of which Chevrolet stacked on around $5k of options.
The whimsically-titled "Sun, Entertainment and Destinations Package" is $2,760, for instance, and includes a power sunroof, drop-down display for those in the rear, and nine more months of SiriusXM to listen to. $1,495 switched the standard 20-inch wheels for a set of 22-inch rims.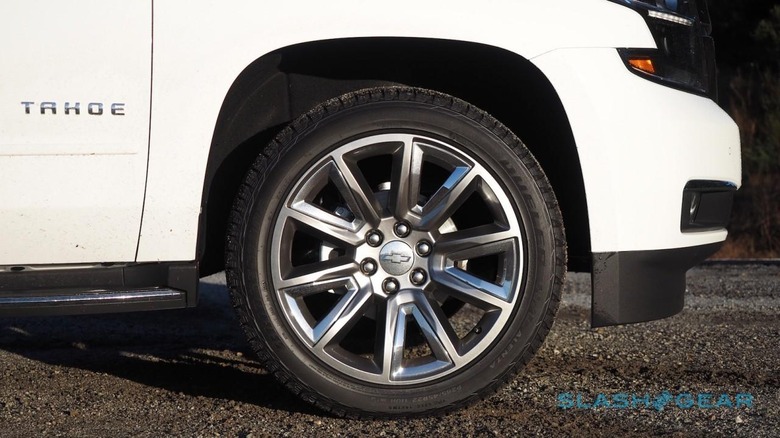 By the time they'd spent $875 embiggening the screen in the driver binnacle to 8-inches, dropped in a head-up display, and thrown in the destination charge, I'd ended up with an SUV that cost $70,435.
That's a lot by any measure, but it's worth remembering that I was comparing it to a $95k Escalade 4WD Platinum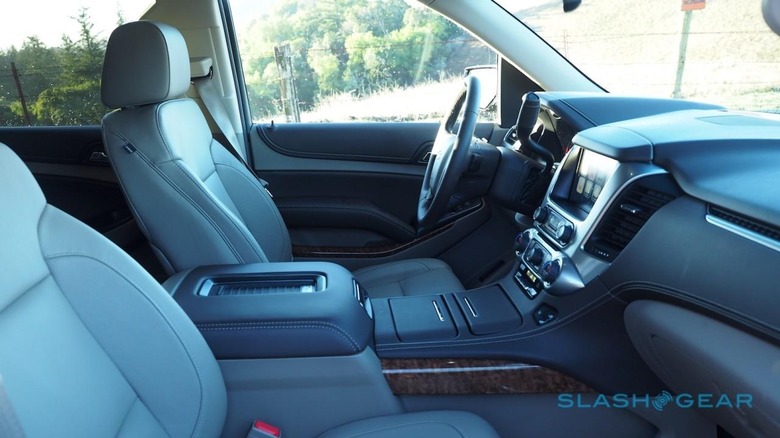 Interior design is different, but there's a fair amount of shared switchgear. Those who dislike Cadillac's fetish for touch-sensitive buttons will find my to appreciate in the physical dials and keys beneath the 8-inch touchscreen in the center stack, though the absence of a shortcut back to the navigation seems an odd omission.
Soft-touch plastics abound and the seats are leather, but you can forget the stitched hide that graces most of the Escalade's dashboard surfaces. Instead, there are a few underwhelming examples of plasticky faux-wood.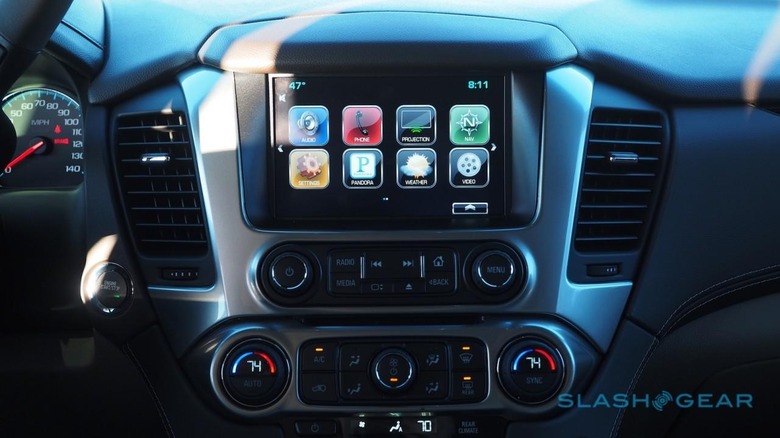 Tech levels are admirably high. Front seats are heated and cooled, and the steering wheel warms rapidly too. The pedals are motorized, something you don't realize you want until you get into a truck without such niceties, and there's wireless charging for a phone atop a cavernous center cubby that can do duty as a hanging file cabinet.
110V power outlets handle laptop charging duties, and there's 4G LTE baked in with WiFi hotspot support. Chevrolet's MyLink has Apple CarPlay too, though not Android Auto, while the 10-speaker Bose audio system sounds great. Everything is straightforward to use, with the Tahoe erring on the cosseting side with its power tailgate, power-folding third row seats (the second row are power release buckets but you'll have to fold and unfold them yourself, just as in the Caddy), and remote start.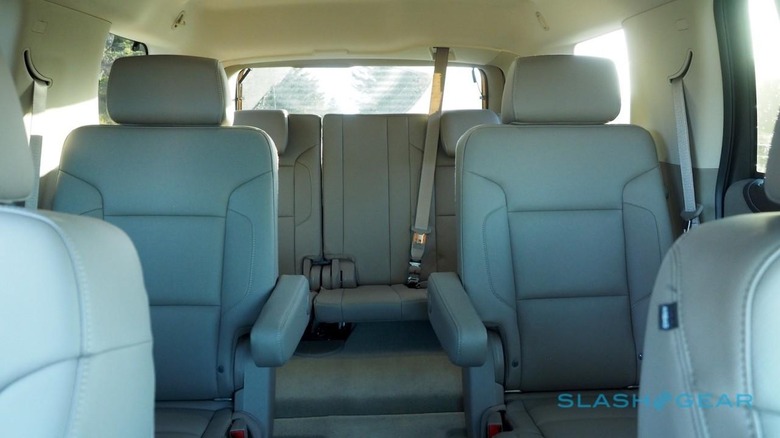 Unfortunately the excellent 360-degree camera system doesn't make it over from the Escalade, and the Tahoe has a rear camera and parking sensors. When you're dealing with a 17 foot long truck that's more than six and half feet wide, you need all the help you can get.
The biggest difference though – and, for me, the deal breaker in our unofficial Tahoe vs. Escalade test – is the driving experience. Chevrolet packs the Tahoe's front with a 5.3L V8 engine, mustering 355 HP and 383 lb-ft. of torque. It's paired with a 6-speed automatic transmission.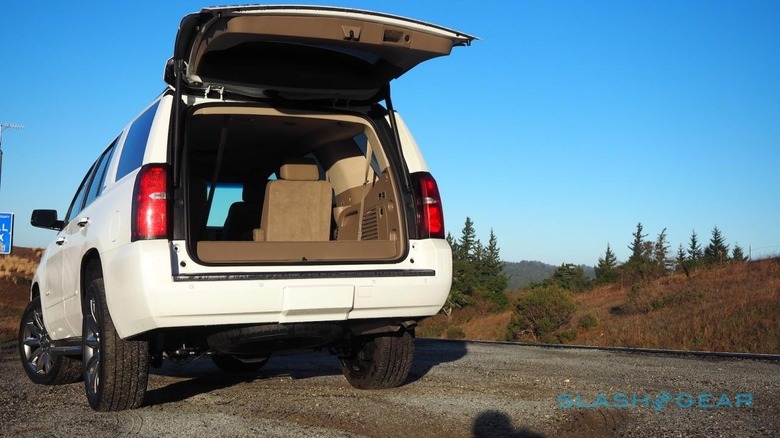 Whereas a lesser Tahoe will make do with regular live-axle, leaf-spring rear suspension, the LTZ gets magnetic ride control, just like the Escalade. That fills the dampers with special electro-magnetically controlled fluid, firming up or loosening according to the road surface.
Unfortunately, while the Escalade wowed me with its trick personality change when flipping between Tour and Sport modes, the Tahoe has but a single setting. Combined with a transmission that shifts smoothly but hardly enthusiastically, and over-assisted electric steering, you're looking at a truck that does nothing for the eager driver.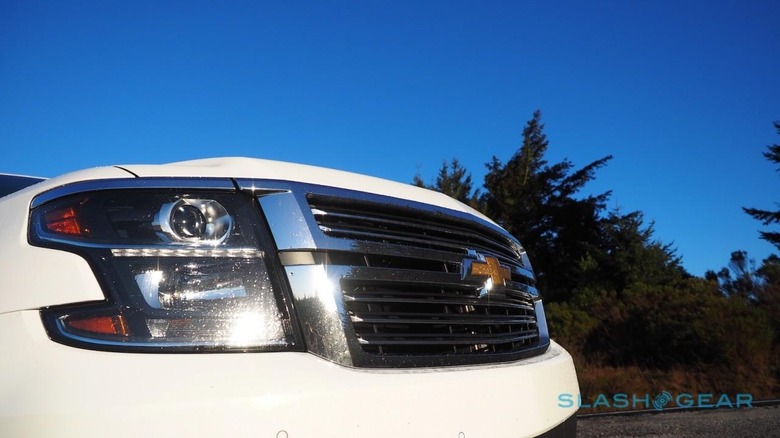 Is that too much to ask of an SUV? Perhaps, but given Chevy's own stablemate had shown me just what was possible, I don't think it's unfair to draw the comparison.
Comfort is definitely Chevrolet's goal, and with a decent road surface the Tahoe achieves it. Even the magic magnetic fluid can't quite hide more unkempt paths, however, and the lean in corners is as good a reason as any to prod at the capable disc brakes and shed some pace.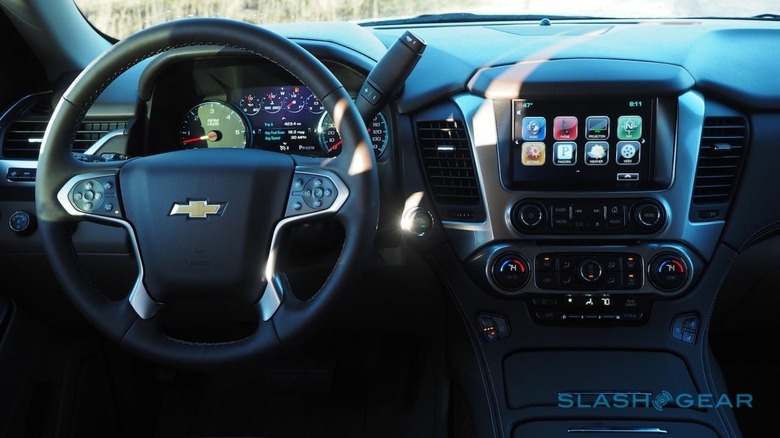 You'll save – supposedly – on gas along the way. The EPA says you should see 18 mpg combined from your seven-seater, broken down into 16 mpg in the city or 22 mpg on the highway. That's a point higher in every category compared to the 6.2 liter Escalade. With a mixture of driving I averaged 16.3 mpg in the Tahoe; oddly enough, with similar use (though not to the point of scientific comparison, to be fair) I got 18.3 mpg from the Cadillac.
There's no denying that the 2016 Tahoe is a solid SUV. It'll carry seven in comfort, though you probably need to look to the longer Suburban if everyone has luggage, since with all the seats in place the trunk space is a compact 15.3 cubic feet. Drop the third and then second rows, and you can increase that to 51.7 and 94.7 cubic feet, respectively.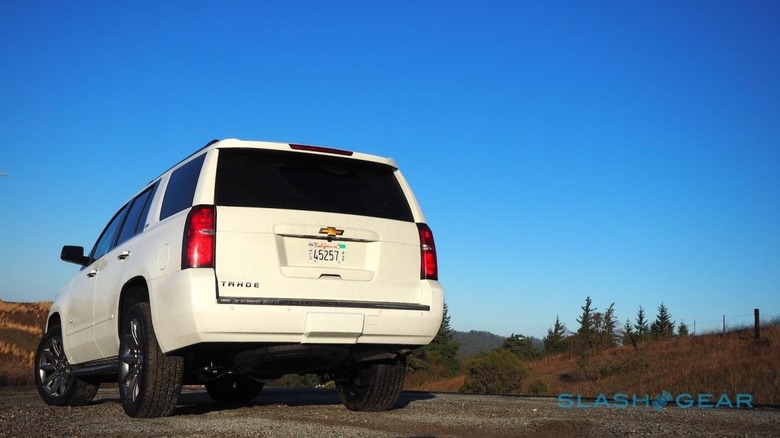 It can tow with the best of them, cruise highways in comfort, and has the bells & whistles you'd expect from a $70k truck. Even in white, which I wouldn't say was the Tahoe's most flattering finish, its combination of upright looks and a sprinkling of chrome make it a handsome beast.
My initial question wasn't "is this a great SUV" though, but "is this the budget Escalade?" Unfortunately for Chevrolet the answer to that is no: the Tahoe is let down by its single-minded suspension and less-than-eager transmission.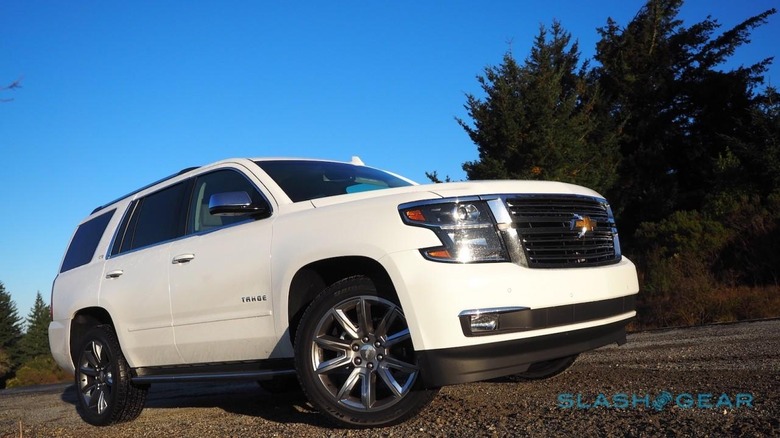 NOW READ: 2016 Cadillac Escalade Platinum Review
Factor in that Cadillac's entry-level Escalade starts at $76,565 for the 4WD model, for which you get the great engine and transmission, Sport magnetic ride control, and a huge chunk of the gadgetry the Chevrolet delivers, and I'd recommend you follow the rappers to the Art Deco truck instead.
Down in the $50k area, mind, Chevrolet makes a lot more sense. Then, you really are getting a comfortable truck with practicality and space. Just be sure to stay clear of the options list.
[gallerybanner p="419210"]