2016 Bentley Flying Spur Review: Lavish is an understatement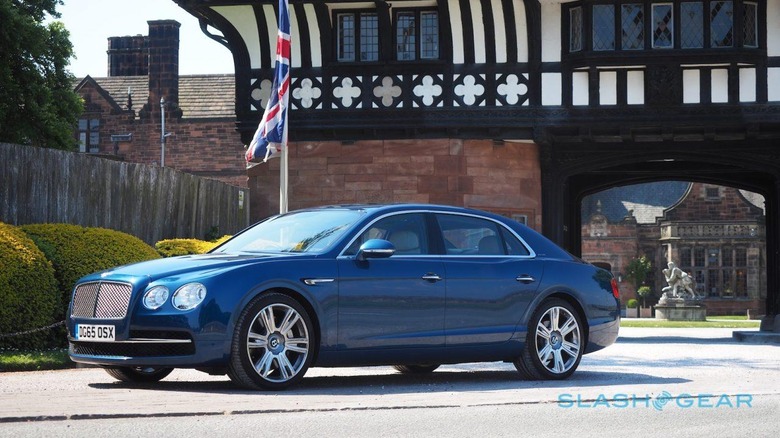 EDITORS' RATING: 8/10
The Bentley Flying Spur is over seven feet wide. Wider, in fact, than a Hummer H1. Just twenty inches narrower than a Smart car is long. Ironically for a marque so closely associated with Britain, that makes the Flying Spur singularly unsuited for a great many British roads. And, with a price tag easily ten times that of the Smart – and dwarfing even the cost of a full tank of gas for the Humvee – it's not something you want to scrape along one of the ancient stone walls you suddenly notice the UK has in abundance when you're driving a borrowed behemoth.
It may be my country of birth, but tackling British roads after living – and driving – for some years in the US takes some mental readjustment, doubly so when you're straight off the plane and into a £191,190 ($249k) car.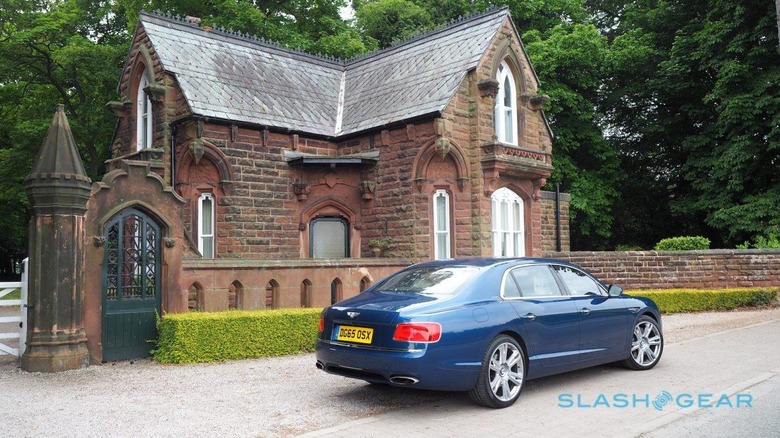 The Flying Spur used to fall under the Continental umbrella but, as of the 2013 redesign, it graduated to a category of its own. Bentley offers two engine options, a 4.0-liter V8 with either 374 lb-ft. of torque or 502 lb-ft., and the big daddy, a 6.0-liter W12 with 616 HP and 590 lb-ft. Along the way, the suspension was redesigned for more comfortable wafting, and the standard fit all-wheel drive tweaked to push 60-percent to the rear as a matter of course.
It looks, for want of a better word, regal, especially in Marlin Blue. The 21-inch polished alloy wheels, a £4,355 ($5.7k) option, would appear vast on most other cars; on the Flying Spur, they look just right. The sweeping lines, reminiscent both of classic yachts and old Bentley S1 and S2 sedans, make the most of its more than 17 feet long body.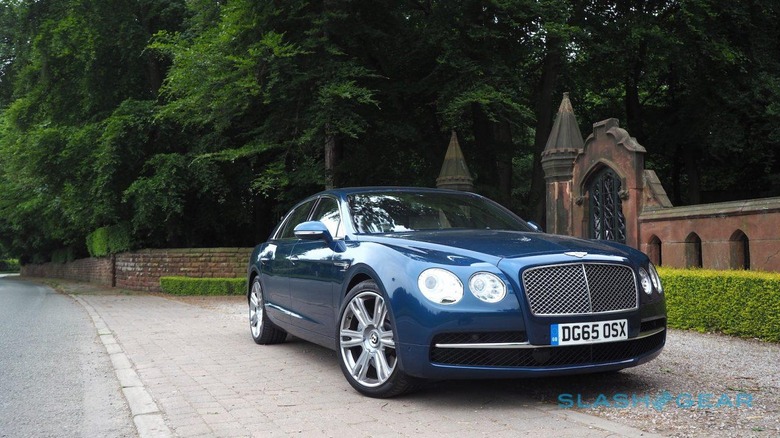 At 5,456 pounds, even in W12 form you might expect sluggishness. Think again. Plant your right foot and the 6.0-liter engine ponders a scant moment, the eight-speed automatic slurs swiftly down a cog or two, and then the car simply hurls itself forward. It's a long, powerful gush of power, a calfskin-gloved hand pressing your chest back into the plush seating as the next corner arrives with surprising urgency.
Bentley quotes a 4.3 second 0-60 mph time and a top speed of 199 mph, but what's really impressive is how well the Flying Spur can hustle around bends. Toggle the air suspension into Sport mode and, along with the all-wheel drive, it just grips and grips. My resolve – weakened already with the knowledge of just how weak my credit rating would be were I be forced to repay the cost of a crash – gave out before the car's adhesion did.
I've driven the higher-tuned V8 S in the Continental GT and it's a more eager engine, but the W12 suits the Flying Spur's character. That goes doubly so when you welcome passengers onboard; after all, no good chauffeur would unsettle his or her charges from the Linen and Imperial Blue hides.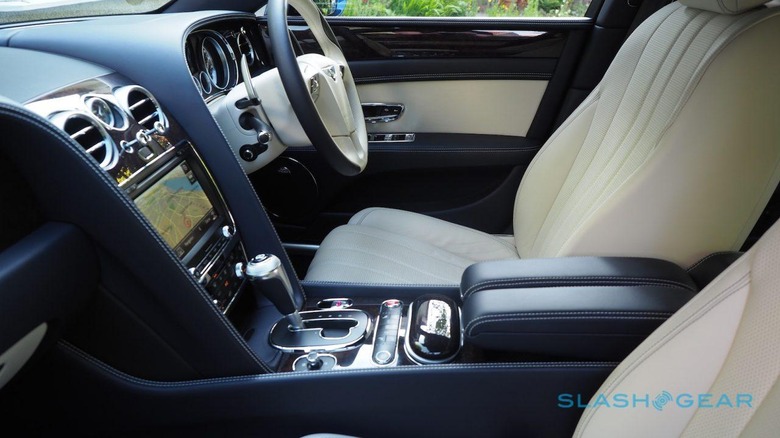 If you need to convince someone of the asking price of a Bentley – and there were plenty of people who required that when I told them just how much the car costs – then giving them the inside tour is generally sufficient. Those responsible for draping leather, polishing wood, and insetting chrome into the cabin are true artisans, though their handiwork commands a deep wallet.
In this particular car, someone had taken a lavish pen to the options list. On top of the £1,885 ($2.5k) Comfort Specification that adds, among other things, crowd-pleasing massage seats front and rear, there was £1,485 ($2k) for contrast stitching, £1,375 ($1.8k) dark-stained burr walnut, and various deep pile carpets – including in the trunk – that make the flooring in most luxury hotels seem flat and dreary.
Bentley clearly expects most of the fun to be happening in the back. The £3,025 ($3.9k) full-length center console turns the Flying Spur into a four-seater, replacing the rear bench with two individual seats that are controlled with a pop-out touchscreen remote. A £1,665 ($2.2k) refrigerator between them is perfect for a bottle of Bollinger (or, in my case, some sandwiches my Mom made for me); there's also the rear-seat entertainment package with its twin TVs and DVD players for £5,695 ($7.4k) and an optional WiFi hotspot.
None of that quite describes the attention to detail, though: just how authentic all of the materials and the craftsmanship feels. The wood is obviously real; the leather thick and supple. Even if you're the driver, the frustrations of long distances are discreetly smoothed away. After ten hours on a plane I spent a further five driving cross-country, stepping out of the Flying Spur at the end of it feeling more energized than when I'd left the airport in San Francisco.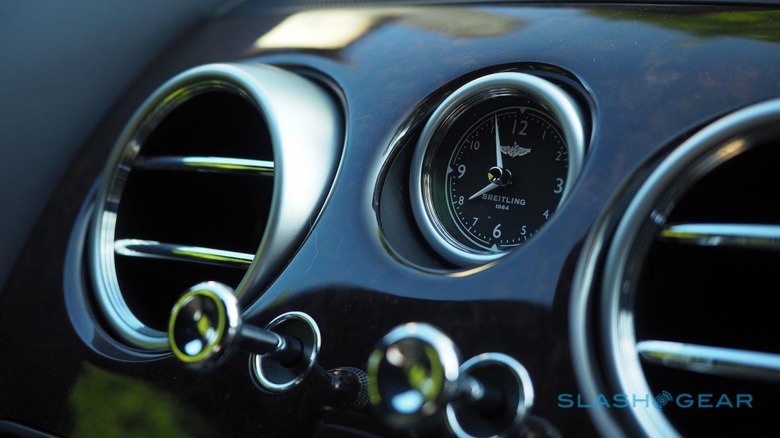 Just as when I open my mouth and show my bad British teeth, however, the Bentley has some archaic charms of its own. Most of the cabin is finished to such a high standard that the few odd points stand out all the more glaringly. The plasticky steering wheel buttons, for instance, or the complete absence of USB ports. Guess how great Spotify streamed via lossy Bluetooth sounds on the £5,835 ($7.6k) Naim audio system.
NOW READ: 2017 Bentley Bentayga First Drive
Most jarring is the infotainment system. Bentley's latest revamp overlooked the Flying Spur's in-dash display, and from the resistive touchscreen to the clunky graphics it's a taste of the Old Worlde I'll be glad to see them leave behind. Thankfully, as the Bentley Bentayga demonstrates, the Crewe crew has the parts bin of its parent VW group to pick through, and is capable of much more impressive things.
Did I crash it, or scrape those handsome flanks? Thankfully not, though at one point I held up traffic in both directions when I had to do a three point turn (okay, sure, more like a seven point turn) in the middle of a rapidly-narrowing road.
Better, then, to stick to sweeping curves, even if the Flying Spur does have a surprising degree of hustle around twisting country backroads. Steering that's light but precise helps there, as do brakes that are prodigious in their grip: I left a wake of slack jaws in the process, rather than chunks of bodywork.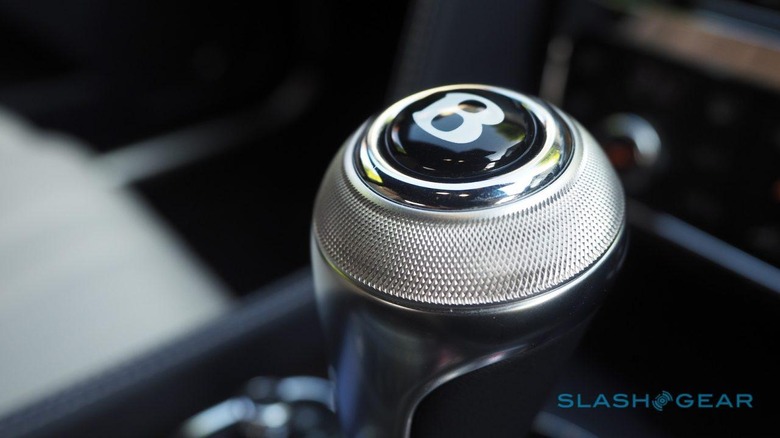 Driven slower, some of the more buttock-clenching moments I'd expected never arrived: the British may no longer have the tendency to deference many might expect of them, but most seemed unusually gracious in allowing me out of junctions and to merge in traffic.
Fuel economy? Best not to ask. Only the sizable gas tank kept me from spending most of my time at the pump; figure on mpg in the mid-teens unless you show almost suspicious levels of restraint.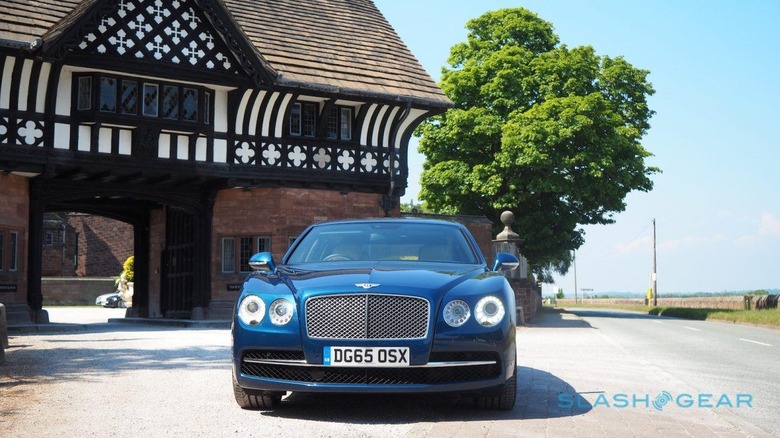 I suspect the typical Flying Spur buyer doesn't care, either for fuel costs or self-denial. Still, it's an interesting proposition in a world where the Mercedes-Maybach offers to cosset while the BMW 7 Series promises driving urgency. On paper the two Germans are more tech-savvy, just as potent, and probably more affordable.
This is, I'm sure, where you're expecting patriotic pride and a rousing defense of the Flying Spur's Great British honor. Really, though, the Bentley doesn't need my help. Its charms are self-evident, and should they not be to every driver's taste then I suspect the automaker is perfectly happy with its near-boutique production numbers and rarified clientele. If the best parts of visiting home are the new memories you leave with, then the Flying Spur proved more than memorable.