2015 Honda CR-V First-Drive: Small SUV, Big Evolution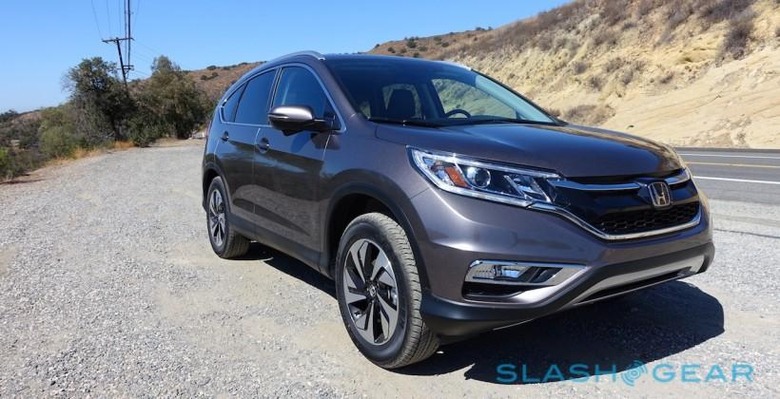 The CR-V is a big deal for Honda, and the compact SUV's redesign for 2015 reflects that. Described as "the most ambitious mid-cycle update in the car's history," this is no simple facelift: new engine, new interior design, and a splash of new safety and convenience tech mean that much of the best-selling car has changed. In a competitive segment, however, you need to bring your A-game, so has the 2015 CR-V evolved sufficiently?
Design
The CR-V keeps its overall wedge shape, with Honda's visual changes focused on the front and rear. The wheelbase is the same, at 103.1 inches, but the SUV is slightly longer than the outgoing model thanks to a bigger overhangs.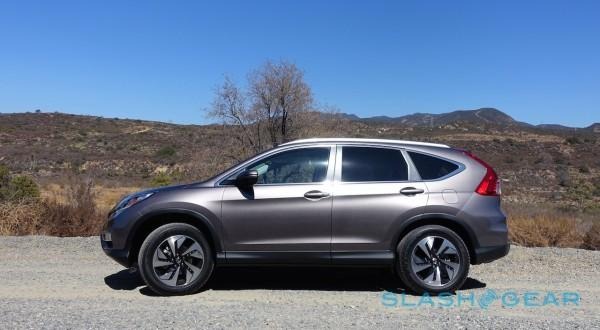 The grille and upper air intake are now more integrated, with extra chrome trim and different headlamp designs. The EX and above models get LED daytime running lights, while the Touring gets multi-reflector and projector headlights too.
At the rear, meanwhile, there are new LED taillights and a slightly changed design, while a power tailgate is now an option. Honda has also improved the structural support around the opening, leaving fewer intrusions so that loading wider objects is easier.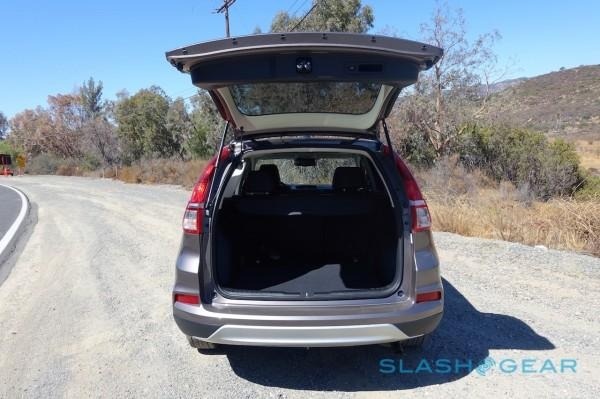 Other changes are even more subtle. New side mirrors are slightly tweaked in shape, and there's an "expanded view" on the driver's side on certain trim levels – with a unfair-style curved mirror to open up the blind spot – while the other mirror gets a camera, the view from which automatically appears on the center console when you indicate right.
It's a great feature, and I quickly got used to glancing down before I changed lanes, though at higher speeds the slight lag before the picture appears can rob some of its usefulness.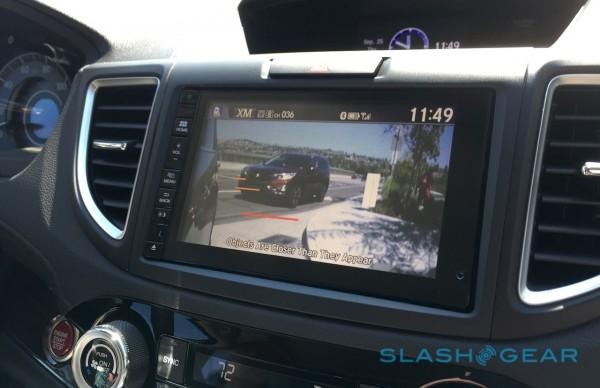 All in all, the CR-V is still a solid looking car, but it also remains a conservative one. That presumably suits Honda's audience well, but I can't help but feel that more distinctive designs might prove more popular with a younger crowd.
Engine and Performance
Out goes the old engine, in comes a new version, this time from Honda's Earth Dreams Technology line-up. The 2.4-liter, direct-injected DOHC i-VTEC inline 4-cylinder has the same 185 HP as the old version on paper, but more torque, at 181 lb-ft. The on-paper stats don't tell the whole story, however, with that torque now arriving at a lower RPM, as does the maximum horsepower, while there's a new CVT gearbox replacing the old 5-speed auto.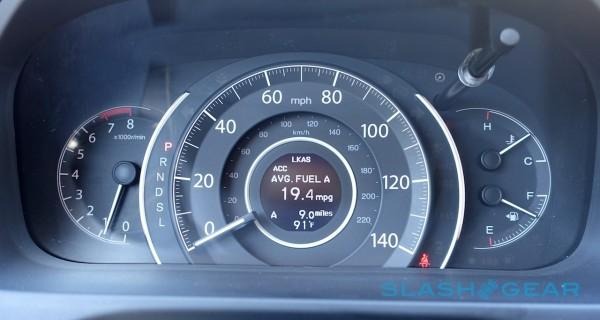 The result is a sightly sprightlier car than the old CR-V. Driven back to back, the 2015 model certainly feels a little more eager from a standing start, and overtaking maneuvers at city speeds are tackled without the momentary pause the old car suffers from.
This isn't a sports SUV, though, and my own driving experience reflects that. Perkier, yes, but this is more suited to highway cruising – where it's smooth and quiet – or making a jaunt around town. There, then, the improved MPG should be a benefit: the EPA says 27/34/29 MPG (city/highway/combined) for the front-wheel drive, and 26/33/28 MPG for the all-wheel drive which Honda expects to comprise 60-65 percent of all sales. In mixed driving, including tackling some more spirited back roads, I saw 24.3 MPG from the AWD model.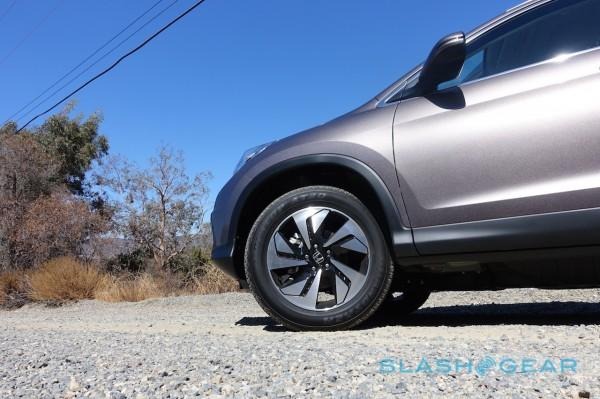 The new engine and transmission are accompanied by a batch of safety tech, under the freshly-dubbed Honda SENSING umbrella. Features like collision mitigation braking, lane-keep assist, and adaptive cruise control are all available, while things like a rearview camera are standard on all 2015 CR-V trims.
Honda uses a combination of a front camera and a millimeter-wave radio for its lane-keeping and adaptive cruise control, and they work well. The former will warn you with an indicator light and an audible alert that you're drifting, and try to guide you back on track itself, though unlike some rival systems it's only really of use on the freeway since it operates between 45 and 90 mph. A more basic version, lane departure warning, has the alerts but not the auto-steering.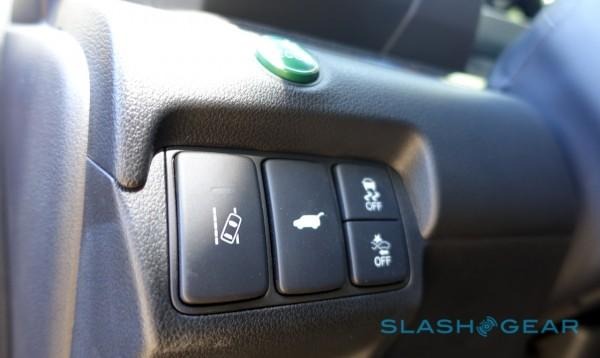 As for the cruise control, it can be set for short, medium, or long distances between the car in front, and will automatically brake if the traffic in front slows. It's operational between 25 and 90 mph, so won't resume from a full stop, however, unlike some systems available on other cars.
Interior and Infotainment
The CR-V's dashboard has been given a polish, and is all the better for it, with the judicious application of some extra chrome and colored panels. It can still feel a little "sandy" with some of the grey and beige finishes, but at least for the most part they're soft-touch (a little plasticky trim has appeared on the upper door panels, an odd flaw in what's otherwise a pretty solid interior).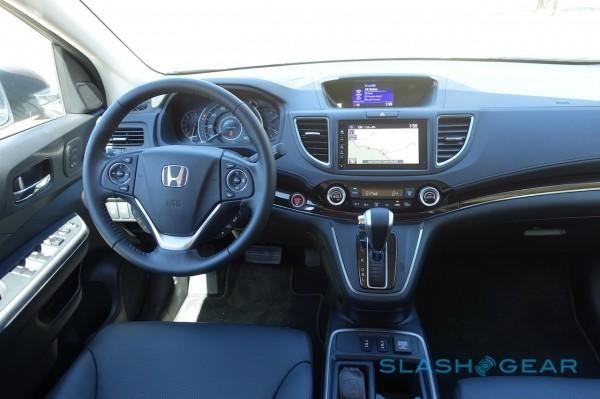 New soundproofing makes a noticeable difference on what engine and road noise makes it into the cabin, and there's a host of thoughtful little tweaks like sunvisors that slide to cover more of the side window when folded across. Air-con is standard across the range – now with dedicated vents for rear-seat passengers – as is an ECON mode, though I didn't notice much in the way of difference whether it was active or not.
Biggest change is a new center console, with a vast storage box and a broad storage tray that can be used either to hold two cups – with room to spare – or, with the dividers pulled out, a full-sized tablet. There's provision for charging it, too, with two USB ports (on higher trim levels; more basic cars get one) and a 12V outlet.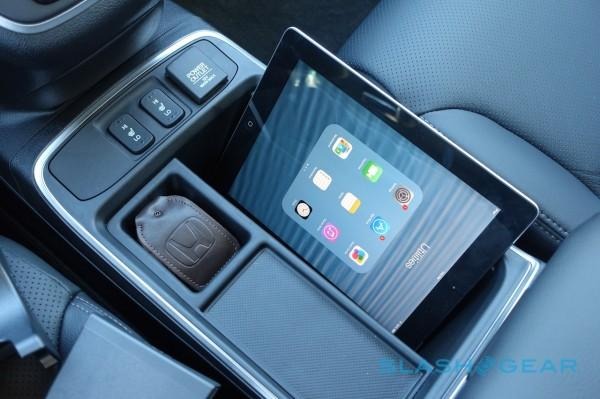 Also new to the CR-V is Honda Display Audio with HondaLink, the company's 7-inch touchscreen infotainment system, and standard on EX trim or higher. It's paired with a second, higher-level display that can show a subset of information – like the current radio station – as well as link with your smartphone to hook up to the companion navigation, internet radio, and other apps Honda offers for iOS and Android.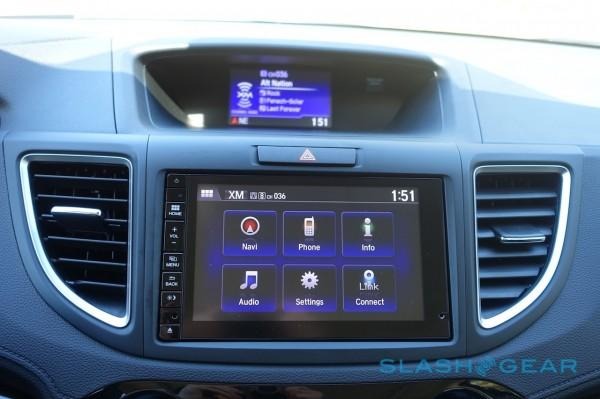 As I found on the 2015 Honda Fit, Display Audio is a mixed bag. The concept is sound – pair local functionality with the flexibility of smartphone apps that can be updated more frequently – but the implementation sometimes frustrates. The UI, oddly limited to blue tones which can leave some buttons harder to distinguish than they really need to be, can be sluggish to respond at times, though Honda has used a capacitive touchscreen that supports multitouch.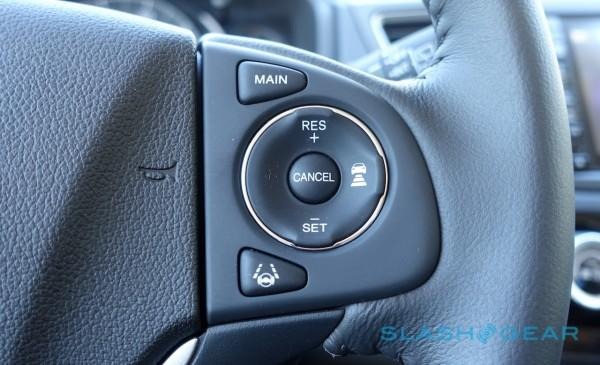 Swifter in their response are the steering wheel shortcuts, though Honda's voice control system can be as infuriating as ever. When it works, Display Audio is solid and I still believe the concept of offloading the more frequently updated functionality to a phone app (without leaving it entirely up to Apple or Google with CarPlay or Android Auto) is a strategically sound one, it just feels like the system needs a tune-up in the same manner that the engine received.
Wrap-Up
Occasionally infotainment glitches aside, it's hard to argue with the idea that Honda has crafted a much improved CR-V in the name of a mid-model update. Look beyond the slight extra glitz on the outside and you get a smoother, more economical engine that's much better suited to the sort of urban galavanting 2015 CR-V owners are likely to do.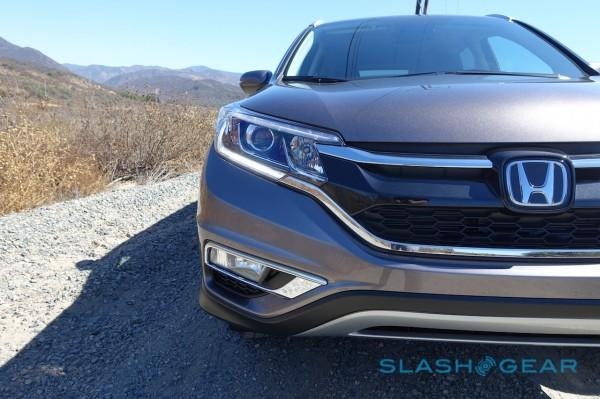 The rest of the car feels like evidence of just how closely Honda has listened to its existing CR-V owners. Interior refinements for space and convenience rather than simply change for its own sake; safety improvements that speak of a wider goal, Honda's aim being zero road fatalities by 2030.
That might not make for a shouty headline or a lust-inspiring design, but it does speak to a compact SUV that knows its role. It's a strategy that's likely to keep the 2015 CR-V in high demand when it arrives in Honda showrooms from October 1st.