2015 Ford F-150 First Drive: The big aluminum risk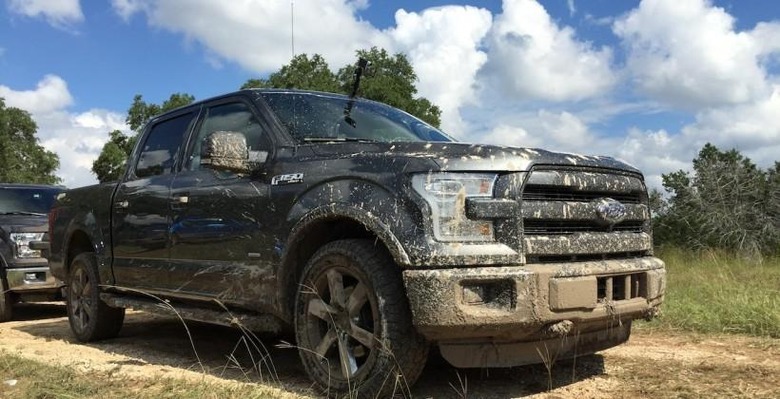 The stakes are high when you're redesigning the best-selling vehicle in America, and you could've perhaps forgiven Ford for taking a low-key approach to the 2015 F-150. Instead, however, the new truck aims for a trio of improvements (and companion challenges): an all-new aluminum body and box that needs to convince traditionalists that steel isn't the only metal; a new 2.7L EcoBoost engine that has to compete with the de facto V8; and lashings of tech at odds with the "simple workhorse" many expect. Ambitious, then: read on to find out whether Ford's new star succeeds.
Design
Unmistakably an F-150, the 2015 truck doesn't stray too far from Ford's current design language from the outside at least. The headlamps are more interestingly shaped and the grille less slabbishly-rectangular, while the detailing on things like door handles and bumpers feels more considered.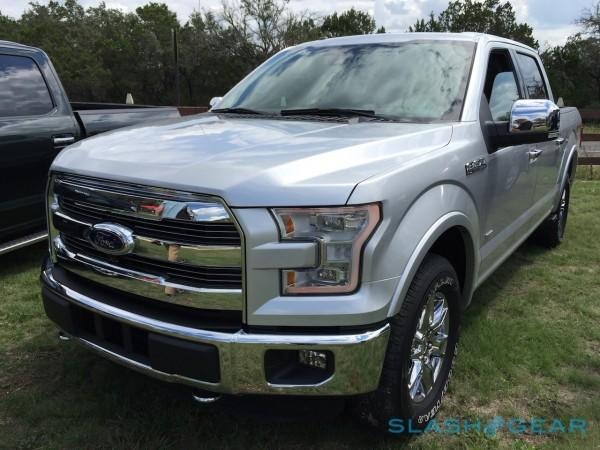 Of course, the magic is in what you don't see, and that's Ford's use of aluminum. Eyebrows raised considerably when the company announced it would be switching from steel for the body and bed of the 2015 F-150 and, while many took a wait-and-see approach to its success, some truck purists were quick to criticize what they saw as a flimsier material.
As always, the reality is more complicated. The 2015 F-150 is a truck of two halves: the frame is made of predominantly high-strength steel, bonded and riveted to the body and box which are made of high-strength, military-grade aluminum alloy.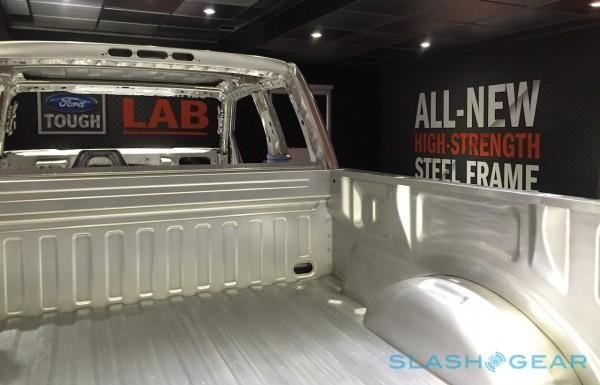 Ford argues that it's an approach in which you get the best of both worlds. The all-new frame uses 78-percent high-strength steel – 23-percent more than the old truck's frame – to make it stiffer and more resilient, but it also works with it more intelligently. So, the rollers that shape the pieces can be adjusted mid-roll to produce single components varying in thickness, ensuring strength where it's needed and cutting weight elsewhere.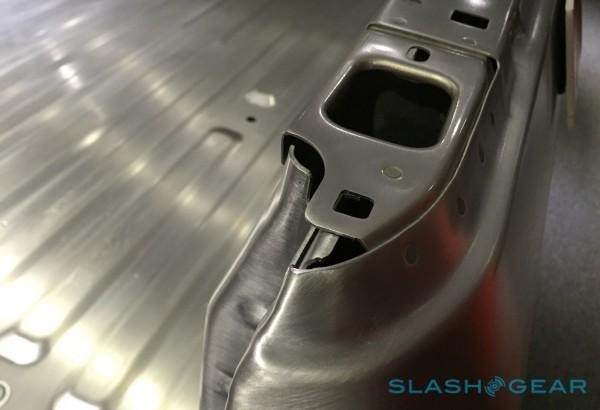 It's meant Ford could add an eighth crossmember while still keeping overall weight of the truck down, in addition to making smarter moldings. The tail-end of the frame, for instance, now finishes with a downward twist, so that the trailer hitch can attach directly rather than demanding a whole separate assembly.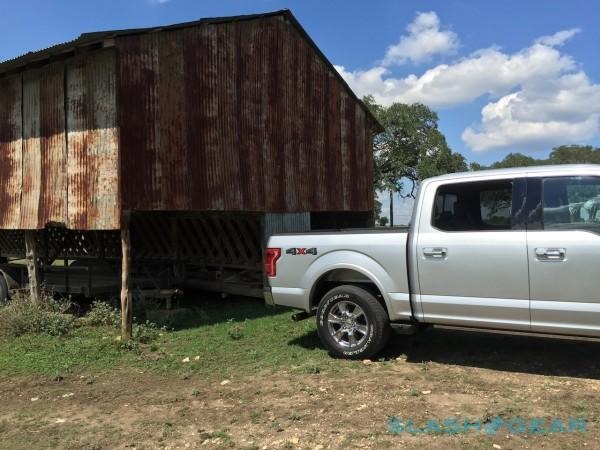 On top of that comes the aluminum body and box, and it's about as far away from a soda can as you could get (and as you'd hope, for that matter). Ford cooked up its own aluminum alloy recipe for the new F-150, but it shares more in common with aerospace and military components than it does kitchen foil.
The strength-to-weight ratio is actually higher than common steel as a result; since it's lighter than steel, key sections of the aluminum can be thicker without being as heavy, like the box floor. Scratch it, and since aluminum doesn't rust you needn't worry about structural weakening, and in fact Ford says the box should be more resilient to dents than its steel predecessor.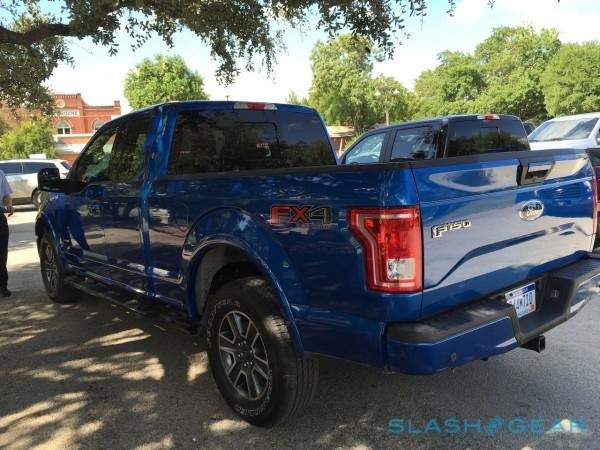 Just as the frame uses new fabrication techniques, so does the body. Ford has borrowed construction techniques from corrugated cardboard, for instance, lacing panels and tubes with bracing structures inside to keep them light but tough, as well as hydroforming complex tubes that can be snaked through areas like the A-pillars to reinforce them.
The key, then, is weight. Less of that means a more economical truck, as well as one which can haul more – even with a cab full of people – and with around a 700 pound saving (variant-depending) compared to the outgoing F-150, the new model gets an advantage right out of the gate.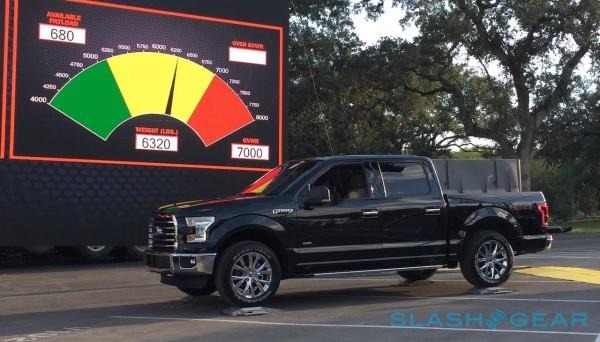 Engines and Performance
Ford has a four engine line-up for F-150 buyers, running the gamut from the sort of naturally-aspirated V8 more traditional truck buyers might gravitate toward, through to new EcoBoost models for a new breed of driver.
The entry-level engine is the 3.5-liter TI-VCT V6, naturally-aspirated and producing 283 HP and 255 lb-ft. It's rated for up to 7,600 lbs of towing and a max payload of 1,910 lbs. Ford's other naturally-aspirated engine is the 5.0-liter V8, with 385 HP and 387 lb-ft of torque, and capable of towing 11,100 lbs or a payload of 3,300 lbs.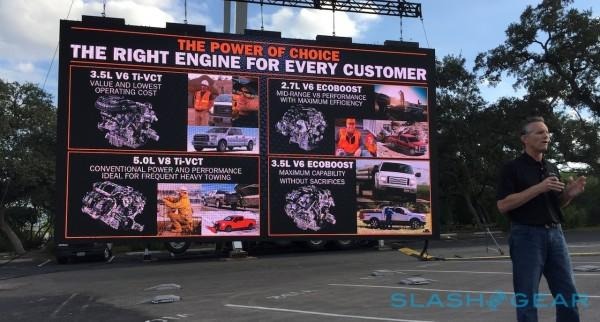 It's arguably the EcoBoost engines which are most interesting. The hugely popular 3.5-liter EcoBoost V6 makes a reappearance for 2015, with 365 HP and a range-topping 420 lb-ft of torque adding up to 12,200 lbs of towing capability and 3,180 lbs of payload capacity.
The success of the 3.5-liter EcoBoost undoubtedly guided Ford's hand in green-lighting the F-150's 2.7-liter EcoBoost. Mustering 325 HP and 375 lb-ft it's more powerful than the entry-level V6 and almost matches the V8 for torque, adding up to a, 8,500 lb towing capacity and 2,250 lb payload capacity.
All four engines are mated to a SelectShift six-speed automatic transmission and electric power-assisted steering. Brakes are four-wheel vented discs with ABS as standard, and you can opt for 4x2 or 4x4 drive (for around $3,495 more).
The combination of four engines, five trims, and several different styling packages – not to mention the choice of regular cab, SuperCab, or SuperCrew, and threw box sizes of 5.5, 6.5, and 8-foot – means there's a whole lot of flexibility in how the 2015 F-150 can be pieced together. Trims start at XL at $25,420, then work through XLT (from $30,695), Lariat ($from 38,685), and finally through King Ranch (from $48,495) and Platinum (from $50,960).
An FX4 off-road package throws in a locking rear-diff, and is now available as an option across the line-up rather than as a specific model. Its $770 also gets you Hill Descent Control, tuned shocks, and skid plates.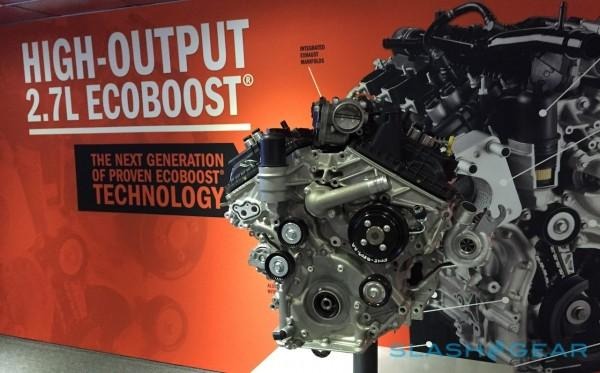 Not all engines are available with all trim levels, but in general you're looking at $795 to step up from the entry V6 to the 2.7L EcoBoost, $1,595 from the V6 to the V8, or $1,995 from the V6 to the 3.5L EcoBoost.
We spent most of our time with the two EcoBoost engines, since Ford expects them to be the most popular configurations for the 2015 truck.
In fact, Ford is preemptively crediting the 2.7L EcoBoost as keeping drivers in full-sized trucks, no longer looking to step down in size in order to achieve better fuel-economy. Like all four of the engines, exactly what that economy benefit might be is unclear at this stage: final EPA figures aren't expected to land until November, though Ford is suggesting anything from 5- to 20-percent improvement over the outgoing model, and depending on configuration.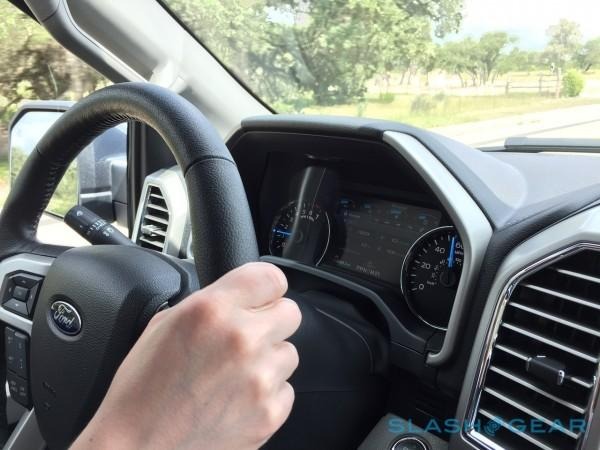 With such weight resting on its metaphorical shoulders, then, it's good that the 2.7L EcoBoost is such a success on the road. Pulling away with the urgency you'd expect from a significantly larger engine, the combination of the F-150's lower center of gravity and easy steering quickly lull you into thinking you're in something other than a sizable truck. It proved to be the same eye-opener as its 2.5L EcoBoost sibling in the 2015 Ford Mustang, in fact, which similarly astonished us in comparison to a more traditional V8.
In fact, the 2.7L handled both straights and corners with ease. On the former, it surges forward – admittedly with en empty bed – without hesitation, the low-end torque showing its worth. When we tackled some curvy stuff, however, there's little of the body roll or sway you'd expect from a truck. Understeer arrives eventually, but far later than you might predict it to, and even when faced with sudden dips in the road there was no flex or twist.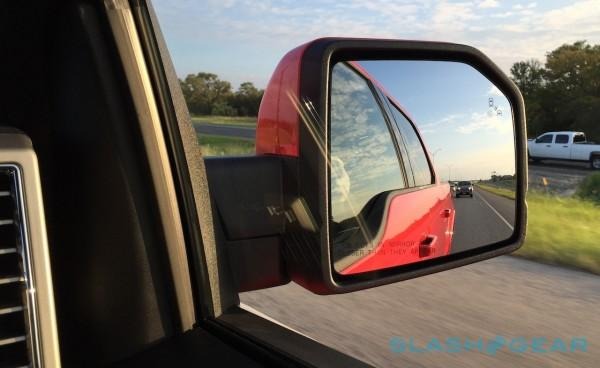 It's also the only engine to feature Auto Start-Stop – Ford tells us it decided to dip a toe into the technology, rather than force it across the range, and there's a dedicate button to switch it off if you'd prefer – that shuts the engine off at the lights. It's not invisible when it kicks in, but neither is it too intrusive: just a rumble as the engine quickly engages again. With a distinct absence of coddling, we saw around 16 mpg on the display, but more everyday driving reached more like the mid-twenties; still, it's far too early to say anything conclusive.
Step up to the 3.5L EcoBoost, meanwhile, and it's more of the same. There's a noticeable increase in the sense of urgency when you put your foot down – admittedly, if 110 mph speed limiter didn't stop you, the slab-fronted aerodynamics probably would shortly after anyway – but the predictable cornering and capable brakes are just as per the smaller engine.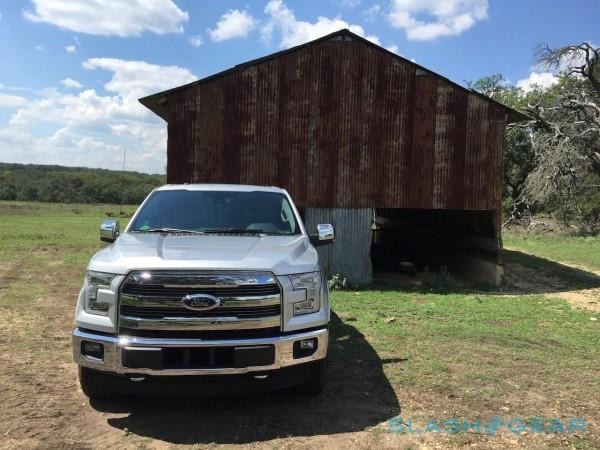 The benefits of the bigger EcoBoost come in towing. Ford had a 9,000 pound trailer hitched up to the back of the F-150, and the truck handled it with ease. Pulling away from standstill obviously required a little more gas than unladen, but there was no struggling, and neither did we have issues picking up the pace on the freeway.
In fact, if anything it proved all too easy to forget that there was something hanging off the back of the F-150, so thankfully there's active braking with a manual backup control just down from the steering wheel. The reversing camera also shows a dynamic line to show where the trailer will end up, too, bypassing the need for a spotter outside.
Towing is part of a truck's DNA, and so Ford hasn't skimped there: either on the physical capabilities or the tech to go along with it. Core to the F-150's value is the aluminum: as Ford tells it, every pound you save in raw vehicle weight is an extra pound available to lug. In fact, you get as much as 1,030 lb more in payload capacity than the nearest competitor.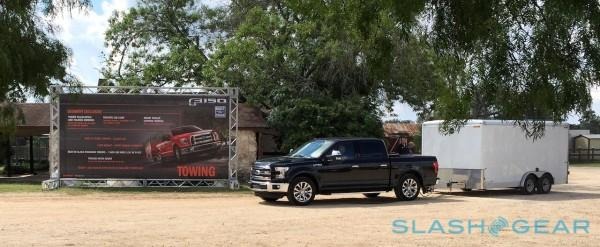 On the gadget side, there's a new Smart Trailer towing connector while Dynamic Hitch Assist is an option. Power telescoping mirrors can be added, too, while trailer sway control is fitted as standard, as is hill-start assist. You can save pre-configurations for multiple trailers – including things like brake gain – into the F-150's memory, and cycle through them on the driver display.
Then there are the off-road abilities. Ford had a sample course with various inclines, wet and muddy areas, rocky trails, and other far-from-smooth-asphalt conditions for us to try, giving an opportunity for the 360 degree camera system, Hill Descent Control, and the locking rear differential.
Handle it the F-150 did. Surround cameras – built into the front of the truck, behind the rear view mirror, as well as under the side mirrors and at the rear – build a virtual bird's eye view seen on the dashboard display, helping identify how close you are to rocks and other obstacles. Hill Descent Control is as clever and disconcerting as ever, taking over throttle and braking and leaving you with nothing more demanding than the steering.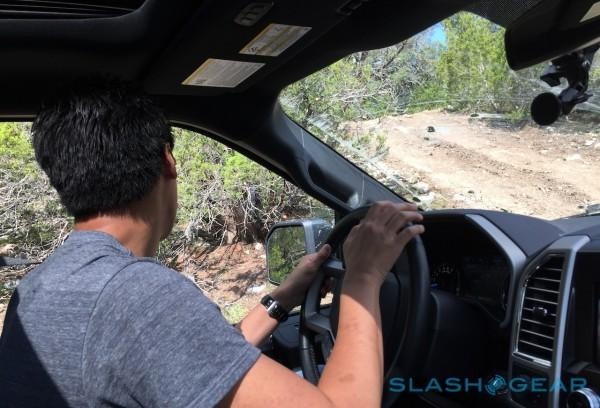 On the road, meanwhile, and there's optional adaptive cruise control, using radar sensors in the front grille to track the traffic ahead and adjust speed accordingly. It's another neat trick, but it's more suited to the highway since it won't work under 20 mph, or indeed if the car has been brought to a halt. Lane-keeping gives a gentle nudge to push you back in place if you start to drift, though it's not as aggressive as some systems we've seen. Ford does keep an eye on you, though, flashing up various degrees of warning that you should take a rest if you overstep the lines too often.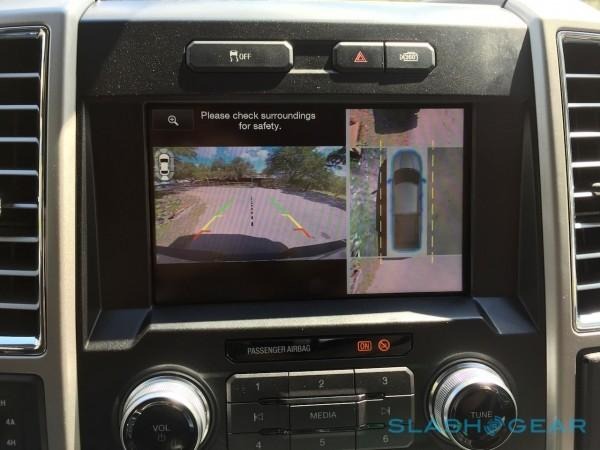 Interior and Infotainment
Truck buyers range from gold miners through to casual speedboat towers with every possibility in-between, and so the new F-150's cabin has to be a lot of things to a lot of different people. Happily Ford gets the basics right for the most part, leaving decisions like whether to go with the tough fabric seats or the dust-tortured leather up to the driver.
Whichever cab you choose, inside it's 2-inches wider than before, with more hip and shoulder space. You sit up high, of course, and visibility is great; Ford has dropped the belt line an inch, while the drop-down notch in the front side windows is even more pronounced than in the outgoing truck.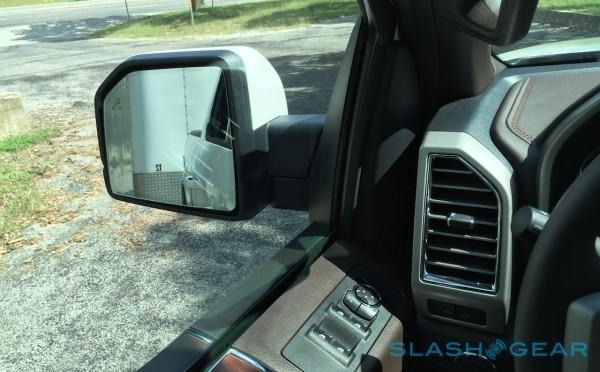 SuperCab and SuperCrew versions get a choice of five or six seat options, with the latter having a 40/20/40 split up front. A capacious storage console takes its place in the five-seater; either way, the front seats are supportive and comfortable, particularly when you add optional heating/cooling. In the back, meanwhile, the rear seats fold up with surprising ease and leave a huge, flat-bottomed swathe of space for luggage. It's particularly easy to fill with the 170-degree backward-opening suicide doors of the SuperCab, B-pillar free so as to leave the whole side of the F-150 open.
The dashboard has been completely redesigned versus the 2014 model, and it's all the better for it. Broad window sills and armrests, a chunky wheel, and dedicated physical controls for the key features – all with sizable buttons and knobs – are welcome, particularly if you're wearing gloves.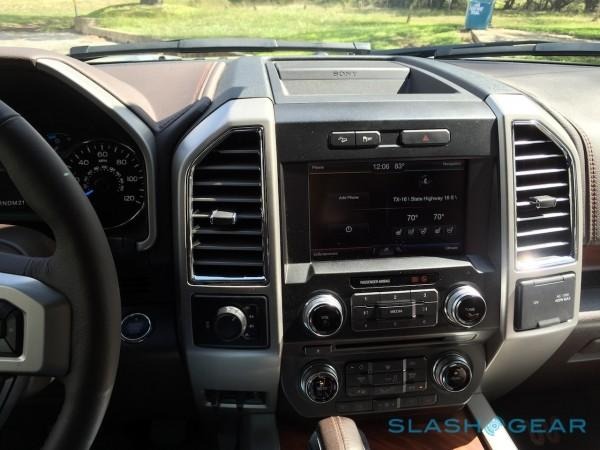 Ford has tried to skirt a line between tech and usability in the center stack, and for the most part succeeds. There's a new 8-inch touchscreen from which all of the usual infotainment can be accessed, like multimedia and navigation, and it responds well, using a resistive touchscreen – again, for those wearing gloves – that's still quick to react. However, it's also a button-fest of a cabin, with something to press across most of the surfaces.
There are separate clusters for the electric windows, the power mirrors, the LED external task lights built into the mirror housings, the memory seats, the various hill-descent and 4x2/4x4 drive modes. The 360 camera gets a button, as does Auto Stop-Start on the 2.7L, and then physical controls for multimedia and HVAC. The wheel gets buttons of its own, controlling the driver display as well as the cruise control and Bluetooth hands-free kit.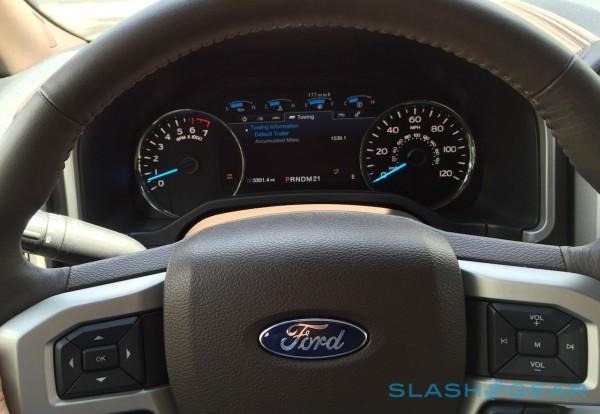 Above your head, then, there are multiple buttons for the excellent, full-length power moonroof and its shade, along with the motorized rear window. Figure on spending some familiarization time before everything comes naturally.
Still, there are some omissions in the mix. There's no CarPlay or Android Auto, for instance, with Ford unable to tell us when they might be added. You can only have one Bluetooth device paired and active at any one time, and there's no way to turn on the passenger side external light from that side of the truck; instead, you have to lean across to the driver's side.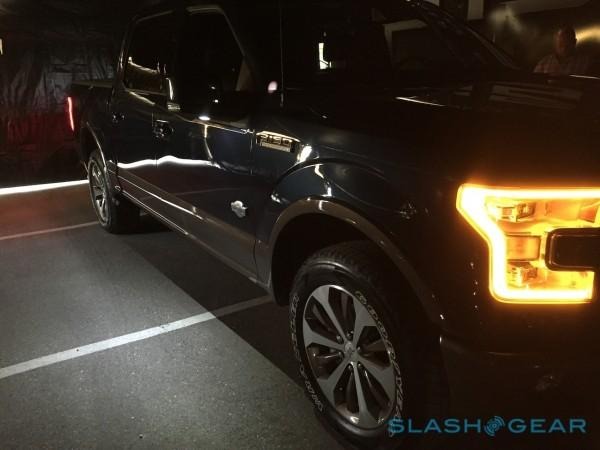 Nonetheless, there are several features we found ourself wishing all cars would come with, like two full 110V outlets – one in the dash, one at the rear – which get a 400W inverter (300W while driving) so that they can not only charge phones and tablets, but run a flatscreen TV or charge your power tools. The optional 8-inch display sandwiched between the analog dials in the driver binnacle is clear and crisp, topping several panes of vehicle information with a row of customizable virtual gages.
It's a quiet, comfortable place to spend a road trip in. New seals not only keep out smaller dust particulates but help reduce road noise (leaving you to ponder the necessity of the artificial engine noise piped discretely but arguably pointlessly into the cabin in the EcoBoost models).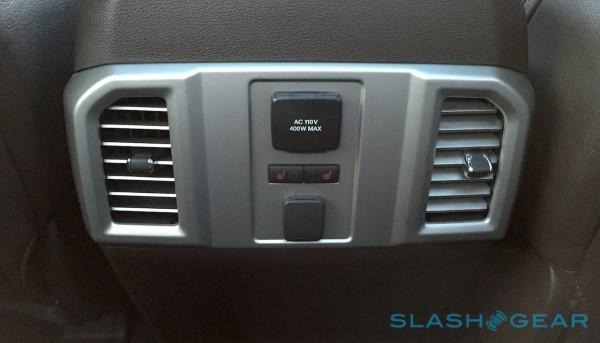 The tech continues outside, too. LED quad-beam headlamps and LED tail lamps are standard on the XLT Luxury and above, as is LED cargo box lighting which shines down on the bed and can be controlled either from in the cabin or in the box itself, and an LED rear light to illuminate the hitch. A remote tailgate release works with a double-press of the key and is standard on the King Ranch and Platinum, as is an integrated tailgate step that's now fully built-in.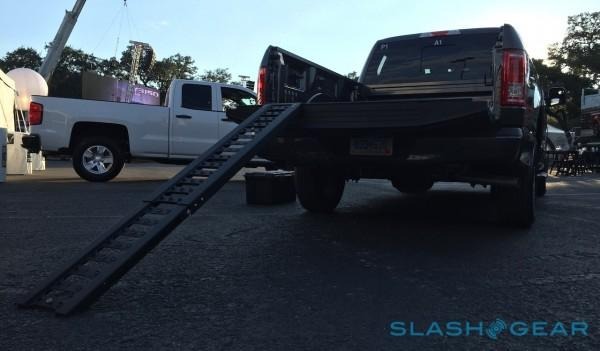 Ford has integrated what it's calling BoxLink into the box: four reinforced plates for lashing cargo, adding extra cleats, dividing the space up with a moveable panel, or indeed fitting any E-Track accessory. BoxLink is also where the optional loading ramps can be clipped out of the way: pull them out and slide them onto a rail on the tailgate, and you can drive an ATV, lawnmower, or other vehicle straight up into the box.
Of course, given it's aluminum, even if your ATV then scratches up the bed it won't rust. Still, there'll be various optional load-bay protectors if you so desire.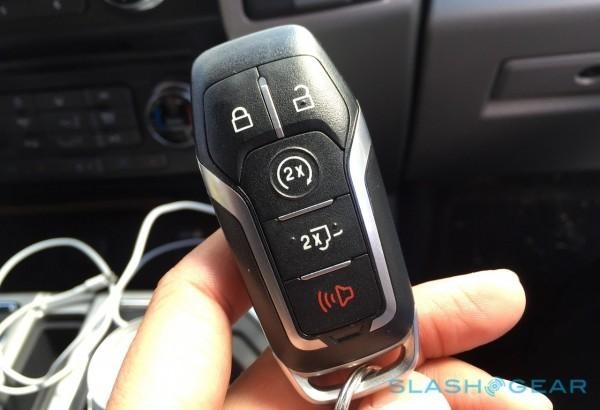 Wrap-Up
For all the increased flexibility, the wider capability, and the more considered functionality, what stands out most about the 2015 F-150 is how car-like it is behind the wheel. Ford's switch to aluminum has many advantages, but one of the biggest is how it makes the truck more personable and approachable than before. Driven side-by-side with the 2014 F-150, the new model's increased refinement, weight loss, and its lower center of gravity all add up to a more refined experience even if you're just traveling from A to B.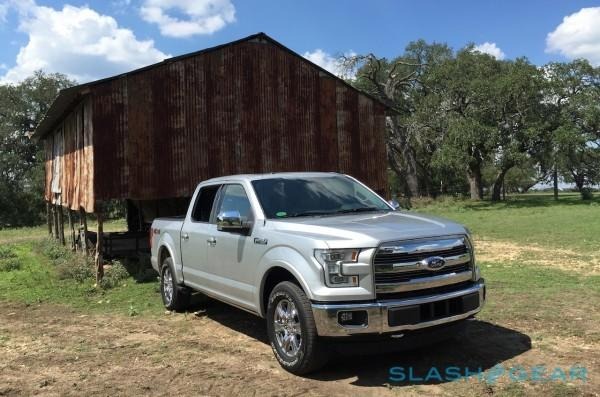 If you've got some serious cargo to haul along the way, though, there's no denying that the new F-150's capabilities are significant. The truck retains its poise even under heavy load, and though the fact that the aluminum makes the it lighter than before but perversely capable of carrying more will take some explaining in showrooms, it's hard to argue with the numbers.
With final fuel economy figures still to come, it's still too early to crown the 2015 F-150 the king of trucks quite yet. Nonetheless, it makes one of the strongest arguments as a truck for the everyman we've seen in the segment, with a combination of quality construction and thoughtful configuration that's only missing a 2015 Raptor to truly round out the range.