2015 Ford Mustang First Drive: Pony Car rebooted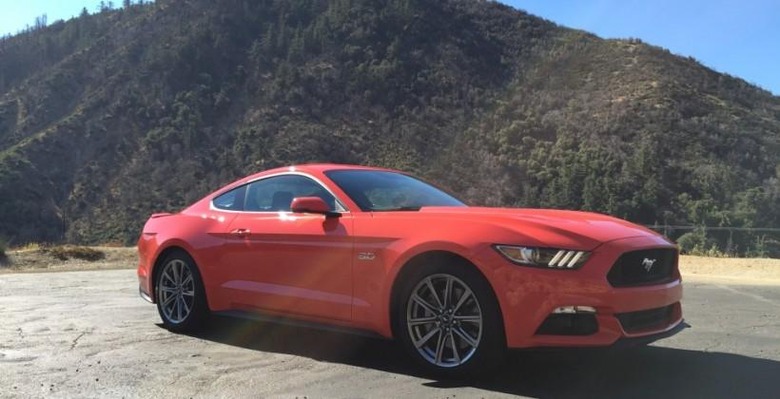 Being an uncontested icon in the automotive world is a blessing and a curse. On the one hand, there's the cachet and instant attention that comes with legendary status. The flip-side, as Ford has discovered with the brand new 2015 Ford Mustang, is that it's incredibly tough – if not impossible – to please every fan, every time. Hell hath no fury like a Mustang enthusiast scorned, so has Ford done enough to escape that wrath?
Design
Hello 2015 Ford Mustang!
If in the world of muscle cars, previous Mustangs had been body-builders, the 2015 model looks more comfortable being a part of Fight Club. Ford's latest design is clearly a Pony Car, no mistaking the lineage, but it's a sinuous, snake-like reinterpretation for a new generation, all taut surfaces and evil eyes.
At the front, the trapezoidal grille sneers impatiently, its chromed stallion badge a medal of honor beneath the strongly creased hood. It's flanked by some of the best light clusters on a coupé I've seen in a while: angrily squinting main HID beams and a triple-slash of daytime running lights that echo Mustang vents of old.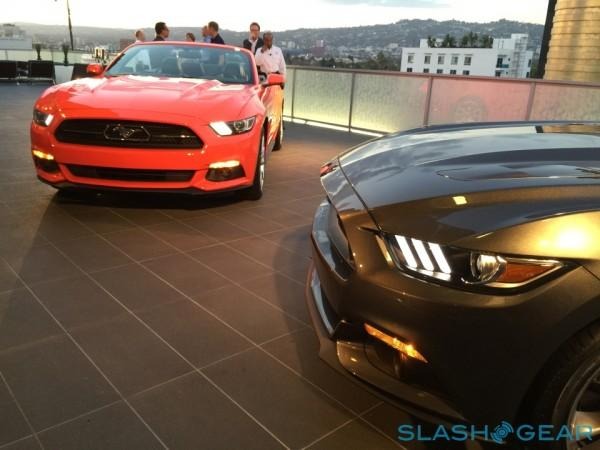 Side-on, and it's a car of two halves almost. From the shoulder up the roofline is a flowing curve, pulled back in a graceful arch from the long snout with its sudden drop-off to the grille. Below the shoulder, though, the muscle car roots start to show: meaty haunches balanced against crisp tapering around the doors.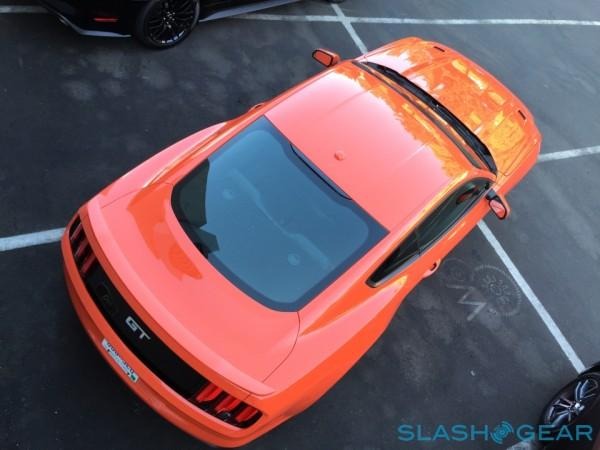 It's lower and wider than the Mustang it replaces, and the detailing is more finessed. At the rear, the triple-bar brake lights finish up a theme that the running lights started, not to mention looking great, while the badging is more simplistic than before. Some eye-catching aero treatment in the form of a scalloped diffuser can end up being disguised some on darker cars. but pops on lighter colors.
Mustang fans have been split on the 2015 car, but I think it's the most successful iteration Ford has managed in years. Instantly it makes the last-generation model look heavyset and blunt.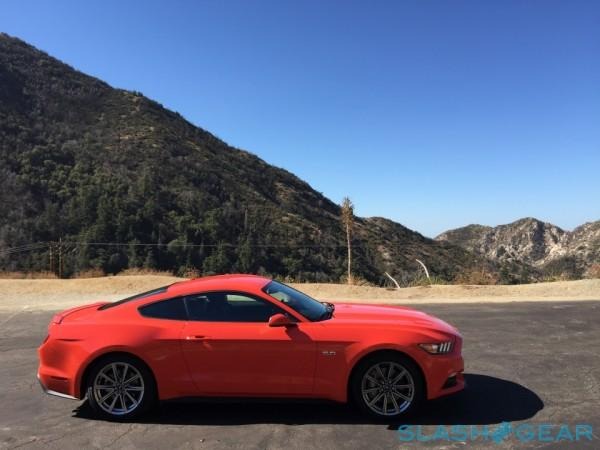 Engine and Performance
Ford will have three engines for new Mustang buyers to choose between, though I'd argue that most people should instantly cut their decision down to just two of those.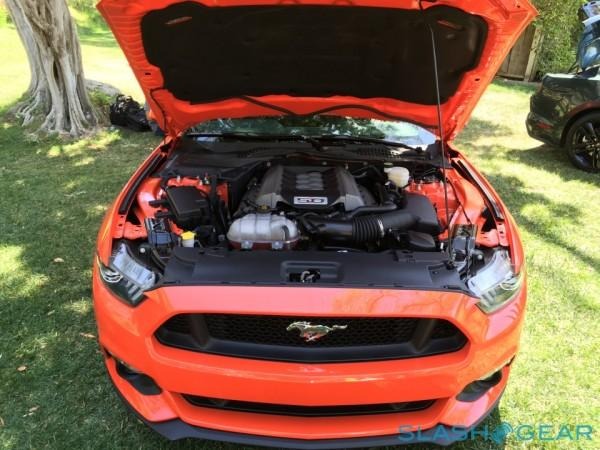 The entry-level car gets a 3.7 liter V6, with 300 HP and 280 lb-ft of torque. At the other extreme, the most powerful 2015 Mustang uses Ford's 5.0 liter V8, with 435 HP and 400 lb-ft of torque. Both come with a 6-speed manual transmission as standard, with Ford offering a 6-speed auto with paddle shifters as an option.
Ford 2015 5.0L V8:
The consensus – and one I'd not argue with – seems to be to skip the V6, though, and step up to the surprise sweet spot of the Mustang line-up, the 2.3 liter EcoBoost. Sure, you might question whether a four-cylinder has a place under the hood of a muscle car like this, but with 310 HP and 320 lb-ft of torque – the latter encountered at just 3,000 rpm, too, at least 1,000 rpm lower than peak power in either of the other engines – it demands to be considered.
Ford 2015 2.3L EcoBoost engine:
Ignoring the V6, then, I headed straight to the V8 for an authentic shot of Pony Car power. It's the model the purists will want, and I can't blame them for that. The standard car borrows the connecting rods, valves, springs, and some other niceties previously reserved only for the Boss 302, and its drag cred is secure: 0-60 mph in 4.4 seconds and a 12.8 second quarter-mile, hitting 112.2 mph by the time it's done.
Sure, you'll get there faster in a Challenger SRT Hellcat, which does the 0-60 mph run in 3.7 seconds and the quarter mile in 11.2 seconds, but the 2015 Mustang has some serious all-rounder skills its predecessors couldn't dream of. There's new independent rear suspension and Ford finally does away with the solid axle that left older Mustangs feeling squirrelly and outclassed in the corners.
Ford wasn't letting us take the Mustang to the track yet, but I quickly pointed the GT to the winding, curving backwoods tracks of California. The car cut through the mountains like a knife through butter, surprisingly nimble for a muscle car and encouraging me to take corners faster and faster.
2015 Ford Mustang drive modes explained:
Sport+ mode – one of several drive modes, including Sport and Track – showed just how much of an improvement the new setup made. It's worth noting that the V8 is heavier than the outgoing car – 196 pounds more, at 3,814 pounds – which, going into tighter turns, did see a hint of sluggish oversteer raise its head. That proved easy to correct with the throttle and balancing things with the incredibly communicative steering, though.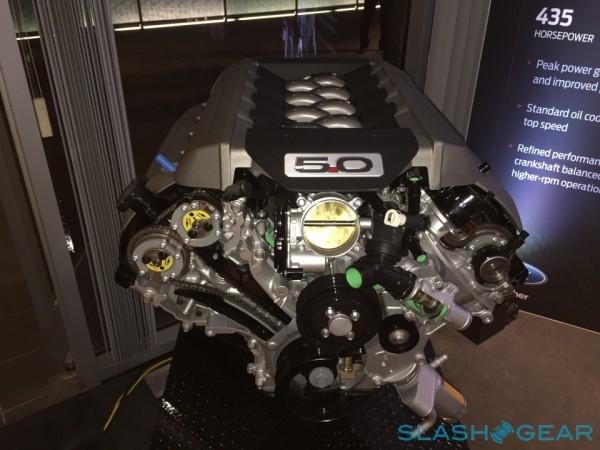 The fun happens when you're in between 2nd and 4th gears, with the extras on top of that feeling more like overdrive ratios for cruising. Not to be entirely sniffed at, however, since they leave the Mustang a capable day-to-day cruiser, though you then miss out on the snarl of the V8 as you push it to 6,500 and beyond.
It probably shouldn't come as a great surprise that a big engine in a well-planted muscle car holds up to scrutiny well. The shocker is how well-suited the EcoBoost is to the new Mustang.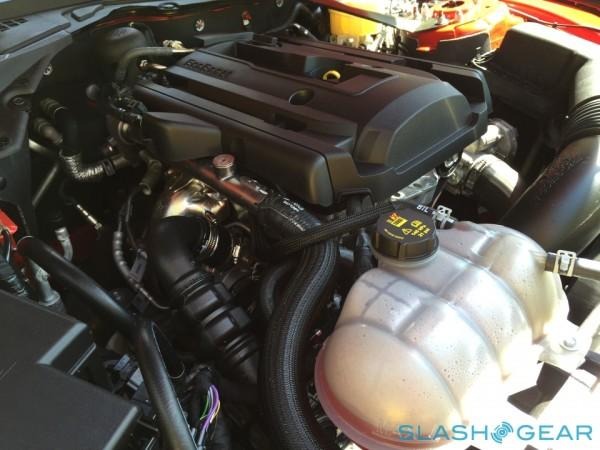 Don't let the "Eco" in the name fool you into thinking this isn't a performance-focused engine; in fact, with its twin-scroll turbocharger the power comes wide and strong. Plant your foot and there's little in the way of waiting for the turbo to spool up, and minimal whine to remind you things aren't naturally aspirated under the hood.
It's also lighter than the 5.0 liter, leaving turn-in feeling a little more poised. You can't rely so much on the bigger engine's surfeit of grunt to drag you out of the corners, but the eager driving style the EcoBoost pairs well with is nonetheless fun in its own way.
2015 Ford Mustang 2.3L EcoBoost first-drive:
No matter the engine, you get anti-lock 15-inch disc brakes with massive six-piston Brembos on the front, bringing the roaring beast to a complete stop from 60 mph in a quoted 107 feet. That's a whole yard shorter than the lighter model before it. Standard wheels are 17-inches, and the Mustang rides them well, though Ford will happily replace them with anything up to 20-inch alternatives.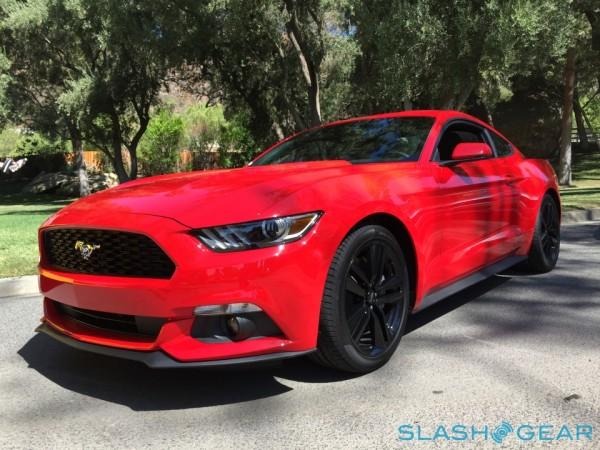 Ford is clearly pushing the manual gearbox, and it's a clean, sharp transmission. The stubby stick snicks between ratios neatly, while the clutch rides that sweet-spot between firm and light. Opt for the SelectShift automatic, meanwhile, and it's the paddle shifters that call out to you: sure, you can leave the transmission to do the work itself, but it started to fall behind on switchbacks. Flicking a paddle allowed for much more involvement.
Interior and Infotainment
Things have improved hugely inside the new Mustang. The cabin of the old car felt cheap and uninspiring; in contrast, the 2015 model is well constructed, has some great detailing, and finally updates the technology.
Ford claims its aircraft-inspired, but whether you see that or not, it's hard to ignore the more authentic materials – actual metal, rather than just plastic painted to look like it – and the higher quality touch-points. Dials that err just on the tasteful side of retro are paired with a big touchscreen in the center stack and plenty of physical buttons that mean you can reach out and control multimedia and heating/cooling without taking your eyes off the road.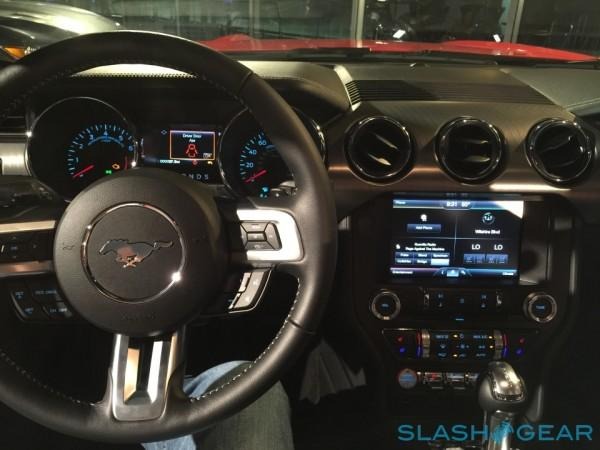 Some of the changes are just common-sense. The glovebox is bigger now, and has a dedicated space for the manual, while things like a sunglasses bin and cupholders built into the doors make for a more practical car day to day. The trunk is bigger – Ford says you can hold two golf bags now, if that's important to you – while inside there's plenty of legroom in the front while knee room has also increased.
Along with the regular front seats, Ford offers Recaro sports seats as an option. They miss out on heating/cooling, mind, and while they're somewhat more bolstered, I didn't notice too great a difference. The regular versions are more comfortable for cruising, too.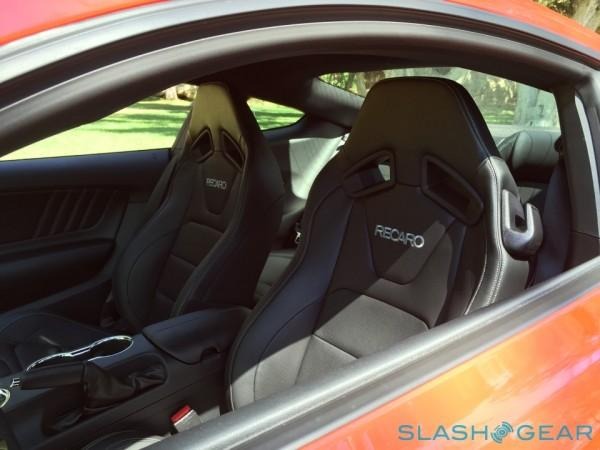 The back seats aren't somewhere anyone other than small children would want to spend time, unsurprisingly, but it's hard to criticize the Mustang too much for that: any muscle car worth its salt is going to suffer the same way.
Ford SYNC is an option, as is blind spot and cross-traffic warnings, adaptive cruise control, and voice controlled navigation. EcoBoost Premium and GT Premium models can be fitted with a Shaker Pro Audi System, with HD radio, a CD player, and twelve speakers sharing 390W of amplification (one of which is an eight-inch subwoofer). It's loud and meaty, though I had more fun listening to the Mustang's own soundtrack.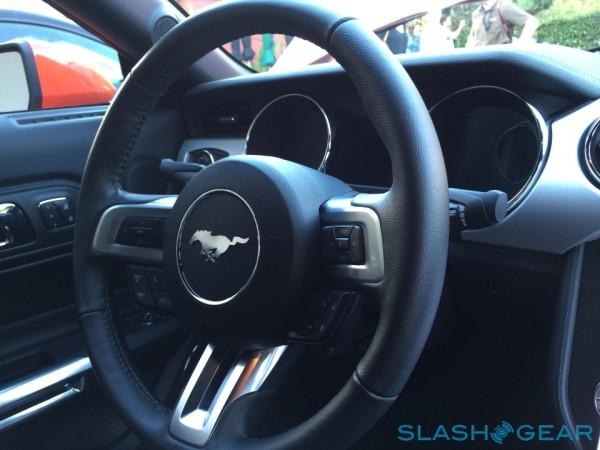 Meanwhile, Ford has created a companion app for the new Mustang, though unlike most car apps it's not for remote unlocking and locating it in a parking lot. Instead, it has digital versions of the owners manual and parts catalogs, along with an augmented reality tool that floats tips & tricks over the dashboard. Most useful, perhaps, is the ability to hunt down nearby race tracks should you feel the need to lay down some rubber in an area you're unfamiliar with.
Wrap-Up
The problem with being a legend is that it's all too easy to end up mired in the past. The old Mustang was a good example of that: excused its solid axle and mediocre interior in the name of tradition, it was an icon, sure, but not necessarily the best of the muscle cars.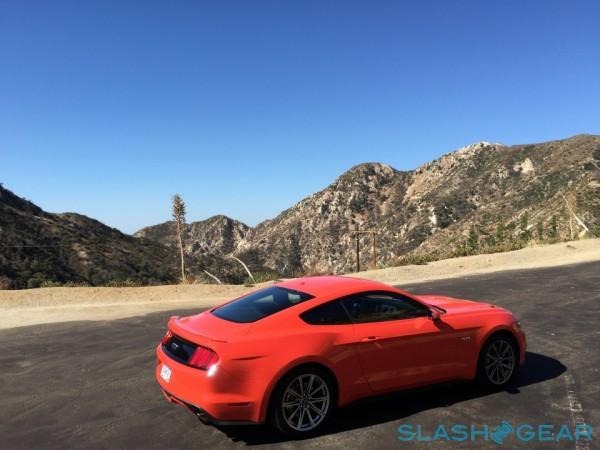 Ford has rectified that with the 2015 Mustang. Gone are the excuses, and the nostalgia, and the occasional sense that edges were left rougher than they could be simply because the badge would paper them over. Instead, there's a cutting-edge chassis, excellent suspension, and some engine choices which make the new Pony Car not only a straight line hero but a supply canyon carver too.
At $25,995, the entry-level EcoBoost is an engaging bargain. $32,925 and up gets you the meaty, responsive 5.0 liter GT, the Mustang that true Mustang fans would want. The personalities of each might differ, but one thing is clear: this is the best Mustang Ford has made.