2015 Corvette Z06 customer deliveries begin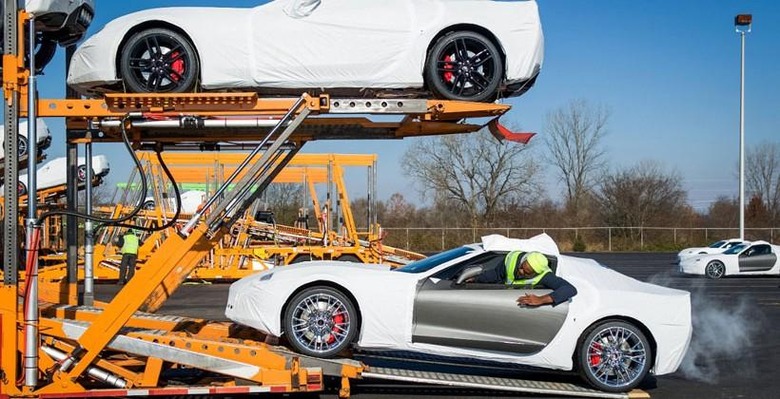 One of the coolest cars that Chevrolet has produced in a long time is the new 2015 Corvette Z06 sports car. The all-new Z06 is the most track capable Corvette ever made and buyers around the country who have ordered one have something to look forward to. Chevy has announced that deliveries of the 2015 Z06 to customers are now underway. Chevy says that some early customers could begin receiving their cars later this week.
The 2015 Z06 has a lot of firsts for the Corvette model includes an 8-speed automatic transmission with paddle shifters. The car also offers a stronger aluminum frame enabling the car to have a removable roof panel. It is also the first Z06 that will be offered as a convertible with that car hitting dealerships in early 2015.
Power for the Z06 comes from a LT4 supercharged 6.2L V8 producing 650hp at 6400rpm and 650 lb-ft of torque. Those numbers make the 2015 Z06 the most powerful production car that GM has ever produced.
Chevy also uses cylinder deactivation for fuel efficiency, continuously variable valve timing, and direct injection on the V8 engine. Performance numbers for the 2015 Z06 are very impressive with the car able to reach 60mph from a standstill in 2.95 seconds with the automatic and in 3.2 seconds for the manual version. The 8-speed version can do the quarter mile in 10.95 seconds at 127mph. The new Z06 starts at $78,995.