2015 Cadillac Escalade luxury SUV introduced with redesign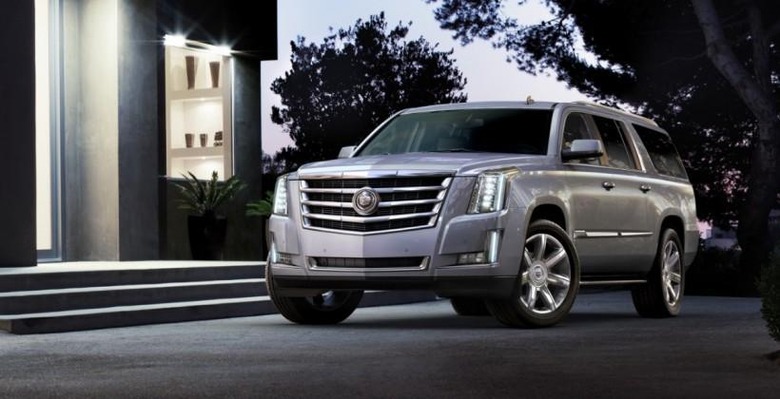 Cadillac has taken the wraps off its 2015 Escalade luxury SUV, showing off a new design — most of which takes place in the interior — as well as some changes to the body itself and a new engine under the hood. The vehicle is slated to go into production in spring of 2014 in Arlington, Texas, representing the fourth-generation of the SUV model.
The 2015 Escalade features seating for eight occupants, with the ESV extended edition being redesigned with a wheelbase that is 14-inches longer, giving it about a 20-inch longer length overall. With the space increase comes a boost in cargo space behind the third row seating, which is said to have maximized spacing for comfort. The Magnetic Ride Control is now standard, as well.
As mentioned, there's a new V8 6.2-liter engine, as well as both 2-wheel-drive and 4-wheel-drive drivetrain options. The exterior has LED lighting to accentuate the design, while the interior has wood trim options, new seat designs for increased comfort, and a mixture of body structure changes, Bose Active Noise Cancellation and acoustic material to minimize outside noises.
Front seating has 1.5-inches more headroom and 4-inches of increased legroom. The liftgate has programmable heights, and Front and Rear Automatic Braking that works in conjunction with a short-radar and ultra-sonic sensors for safety reasons. For drivers, a Front Seat Center-Mounted air bag has also been tossed into the mix. There's a Driver Awareness package with a variety of safety features, such as lane departure warnings, safety belt tightening when a crash is anticipated, and more.
Cadillac's Senior Vice President Bob Ferguson said: "Cadillac's growth provides the ideal stage for the all-new Escalade to take a major leap forward. The 2015 Escalade is completely new and elevated in design and technology, inside and out. The clear objective is to once again assume the leadership position among luxury SUVs."
Pricing not yet revealed.
SOURCE: GM