2015 Buick Avenir concept straddles the past and the future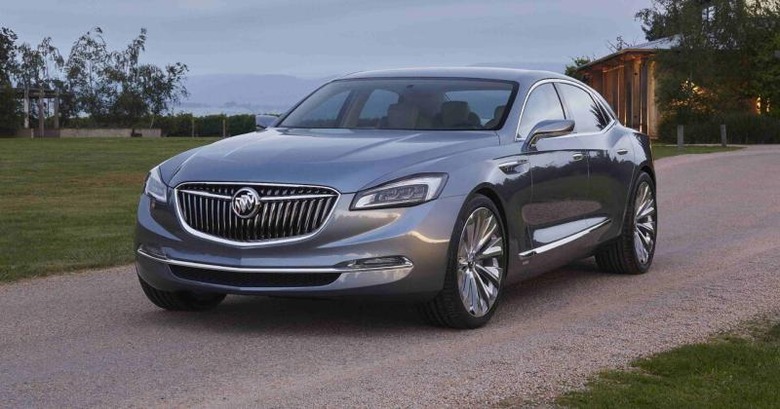 GM really wants the Buick luxury brand to come on strong and at the Detroit Auto Show 2015, it will be doing so by putting its best foot forward with the new 2015 Buick Avenir concept sedan. But while the car does integrate many driver and passenger technologies like other concept cars, its biggest attention grabbing feature will most probably be its design, a design that tries to give a nod to the luxury car's lineage but also tries to break free from tradition.
The Avenir is unmistakably a Buick, with the signature Buick spear sweep, boattail, long hood, and wheels-at-corners design. Where it tries to be different is in the face, sporting a new grille design. The very large opening as well as a return to the tri-color tri-shield Buick logo calls to mind the 1954 Wildcat concept, a Buick that tried to defy expectation and a somewhat fitting role model for the new Avenir.
But while the external of the Avenir inspires motion and speed, inside the concept sedan inspires calmness. The spacious interior of the four-seater employs a theme that uses design elements from nature, particularly from sea waves on the beach, a very soothing imagery if there ever was one. The rich and premium materials, the bas relief illusion, the layered and floating elements, all work together to convey a message of relaxation, even while Buick Avenir cruises both highway and traffic.
Of course, what concept car would be without the latest driver assistance technologies. And this day and age, it isn't enough to simply keep such technologies to the driver seat or to the car. Smartphone integration, especially via GM's new OnStar 4G LTE platform, is present. But even rear-seat passengers can have a bit of fun thanks to video screens and USB ports that allow them to bring their own multimedia experience. The Avenir's technology integration, however, goes beyond just your smart phone and into your smart home. One idea is to allow users to view home security cameras right from the car, turn on lights, or even close garage doors if needed.
The Buick Avenir concept sedan is lined up on the Detroit Auto Show 2015 floor along with GM's other brands.
SOURCE: Buick