2015 Audi TT Roadster unveiled at Paris Auto Show, ready for order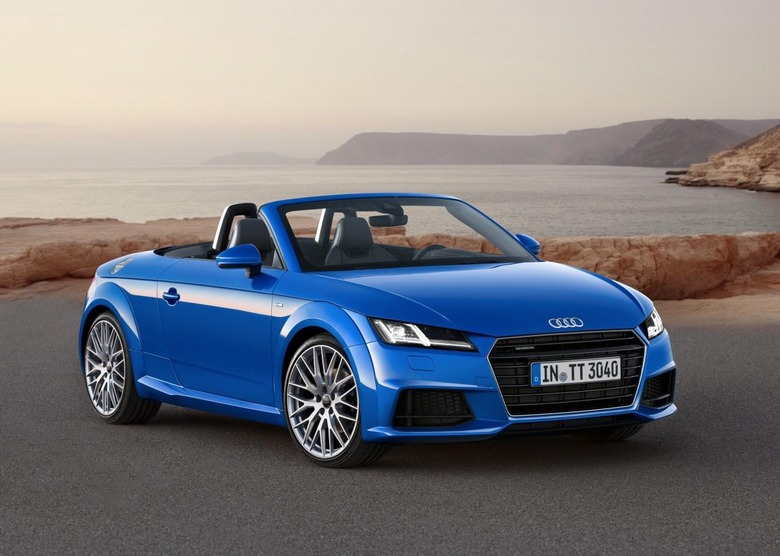 With the 2014 Paris Auto Show currently underway, Germany's Audi has chosen the event to announce its 2015 TT Roadster. Naturally, the new model maintains the iconic look of its hard top sibling, the 2015 TT, announced earlier this year; smooth curves and Audi's iconic wide trapezoidal front grill. Possibly taking a page from Apple's book of making their products available immediately after their debut, the new TT Roadster is even available for order starting today, assuming you live in Europe.
Audi's 2015 convertible will be available in two flavors, each with a four-cylinder turbocharged engine. The base model offers 180 horsepower and runs on diesel, providing a wallet-friendly 55 miles per gallon. Those looking for a bit more punch in their roadster will want the 310 horsepower gasoline model, will have you accelerating from 0 to 60 mph in 4.9 seconds, but at a cost of 31 mpg. Transmission, likewise, comes in two options: a six-speed manual, or a dual-clutch automatic. Audi has confirmed that a high performance TTS Roadster is on its way, but won't be available until sometime next year.
Now that you know which model you're getting, you'll want to know a bit more about that soft-top that you'll be folding back come next Spring. The retracting roof is electrically powered, and thanks to materials like aluminum and magnesium, this new TT Roadster is roughly 6 pounds (2.7 kilograms) lighter than the 2014 model. As usual with a convertible, it's important to note that it's about 200 pounds (91 kg) heavier than the standard two-door coupe, coming in at roughly 2,900 pounds (1,315 kg).
On the inside you'll find a 12.3 inch screen centered behind the steering wheel, offering you various display options, such as navigation and speedometer. Things like seats, switches, and vents are all similar to the 2015 TT. Sadly, Audi hasn't revealed the pricing or availability for the 2015 TT Roadster outside of Europe, but should you live there you can expect to pay €37,900 (approx. $47,400/£29,700 ) for the base model.
SOURCE Audi