2014 Toyota Corolla unveiled with new LE Eco grade offering 40MPG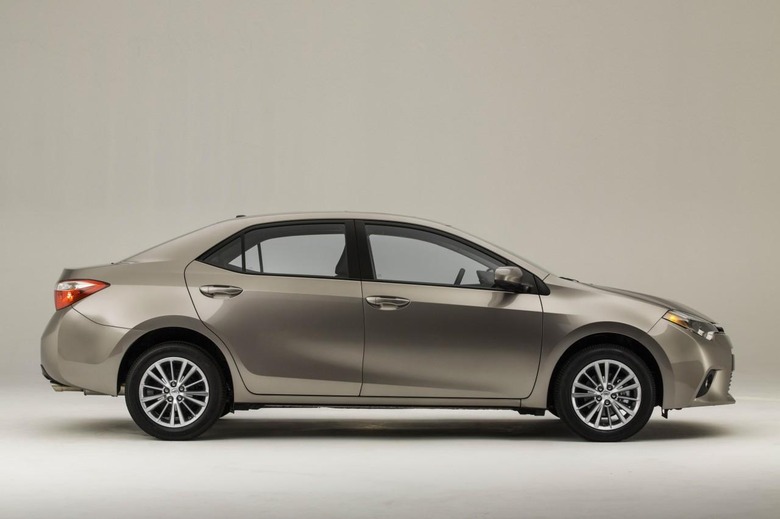 Toyota has announced the 2014 Corolla, the 11th generation in the line, bringing with it a new LE Eco trim line that offers 40+ MPG. The auto maker says the 2014 model features "dramatically amplified elements" in its overall design, while retaining the elements enthusiasts recognize and enjoy. The design is said to be the byproduct of consumer feedback, which showed that the vehicle's style was one of its most important factors, and as such Toyota says the 2014 design challenges "pre-conceptions" consumers have about the model.
The exterior design of the 2014 Toyota Corolla is said to be more athletic, with a longer wheelbase, wheels that are positioned nearer the corners of the vehicle, as well a greater taper on the rear and front ends. Despite being longer than the previous model, Toyota says the design was done in such a way to make the vehicle appear more compact, something mostly achieved by visual emphasis being put on the wheel position change and arches above the wheels.
As for the interior design, the next-generation Corolla features a refreshed dash design, which is oriented in such a way to both give the impression of having ample room while also providing a more "intuitively functional space." Consumers will find either amber, black, or blue pinstripes that are determined by the color option chosen. Passenger comfort is one area where Toyota put some extra focus, with the combination of design changes and longer wheelbase resulting in more leg room in the back.
Carpeting, acoustic glass, a fender insulator, and interior dashboard silencer pad have all been added and improved to create a quieter interior than previous offerings. The seats are available with either fabric or SofTex, and the movement controls have been simplified. There are three dials in the gauge cluster, one of which is a 3.5-inch TFT panel as part of the S-grade meter cluster.
There are four grades, the L, LE, S, and new LE Eco grade, which Toyota says targets a 40+ MPG rating. This is achieved in part via underbody covers that are aerodynamic, and the use of a 1.8-liter Valvematic engine, as well as an efficient CVT, low-rolling resistance tires (both 15- and 16-inch options available), and a drag coefficient of 0.28. The other grades, meanwhile, offer a 4-cylinder 1.8-liter with VVT-i and 132 horsepower.
SOURCE: Toyota