2014 Corvette Stingray edges toward market as model release detailed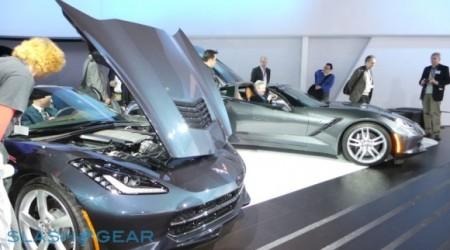 This week the 2014 Corvette Stingray has been announced with release details in both its upcoming Convertible and coup modles for the road within the year. With the 2014 Corvette Stingray lineup, it would appear that both the coup and the Convertible will be available at under a sixty thousand dollar starting point while Chevrolet marketing's vice president Chris Perry assured the public that at such a point, thre will be no competition from the vehicle line's opponents. This set of vehicles has been shown at auto shows earlier this year including the 2013 New York Auto Show where we got our own introduction to the design.
With the 2014 Corvette Stingray, Chevrolet has promised a carbon fiber hood, a carbon fiber removable roof panel on coupe models, and an aluminum frame all around. These vehicles work with a five-position Drive Mode Selector able to work with 12 vehicle attributes, seven-speed manual transmission with Acrive Rev Matching, and seating that's made with magnesium frames – also bringing eight-way power adjustment.
These vehicles are aiming to be a perfomance set of cars with a price point that allows them to stand alone, with the coup coming in at $51,995 suggested retail and the Convertible coming in at $56,995. Both vehicles include a $995 destination fee and exclude the cost of tax, title, and licenses. Drivers will also be able to purchase a Stingray coupe with a collection of top-tier options that'll cost $73,360, this vehicle including such features as a 3LT interior package with leather-wrapped interior.
This 3LT interior package also works with a Bose 10-speaker surround-sound audio system, SiriusXM Satellite radio, and a color heads-up display. This top-tier package also includes the Z51 Performance Package which works with "high performance gear ratios," transmission-cooling system, larger wheels, upgraded "unique" chassis tuning, and the ability to accelerate from 0-60 mph in under four seconds.
Be sure to check out SlashGear's Car Hub for more information on all of the high-tech next-level releases coming to a road near you soon, and very soon!