2014 Chevrolet Camaro Z28 unveiled with lightweight body and hard power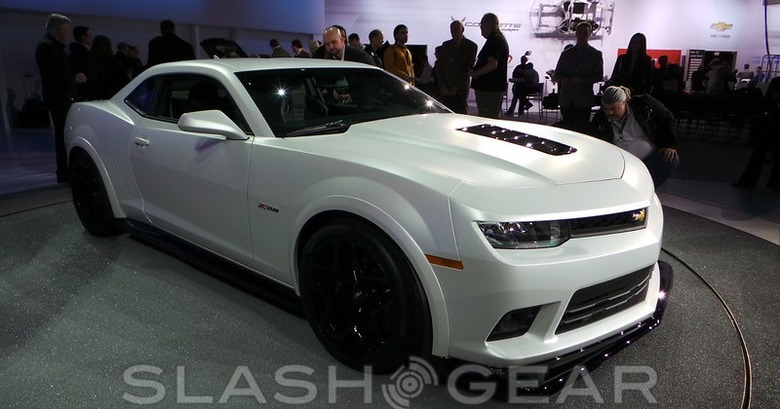 This week the folks at Chevrolet have revealed the 2014 Camaro Z28 (or Z/28 if you prefer), a beast of a vehicle with a 7.0L LS7 V8 engine with no less than 500 horsepower ready for road-thrashing action. This machine works with 470 pounds-feet of torque under the hood paired with a six-speed Tremec TR6060 manual transmission. The look of the vehicle is all classic Camaro with a smooth-yet-sharp set of aesthetics for this years battle with the best.
Inside this next-generation automobile you've got a set of hardware that's ready and willing to be compared to the more powerful Camaro ZL1. As Chevrolet let us know this week, you'll find that the Z/28 is 300 pounds lighter than the ZL1, this thanks to a series of changes in the makeup of the car. From its lighter wheels to the thinness of the rear window glass panel, this car has been polished to perfection. Even the air conditioning has been made available only as a stand-alone option for your ability to keep the weight low.
Chevrolet has also noted that this 2014 model has averaged three seconds faster than the ZL1 in tests they've conducted thus far.
While the new Camaro Z/28 is not intended to compete in a specific race series, it is solely focused on track capability. In initial testing, the Camaro Z/28 is three seconds faster per lap than the Camaro ZL1. That extra speed comes from three areas:

• Increased grip: The Z/28 is capable of 1.05 g in cornering acceleration, due to comprehensive chassis revisions

• Increased stopping power: the Z/28 features Brembo carbon-ceramic brakes capable of 1.5 g in deceleration, and consistent brake feel, lap after lap

• Reduced curb weight: The naturally aspirated Z/28 weighs 300 pounds less than the supercharged Camaro ZL1, with changes ranging from lightweight wheels to thinner rear-window glass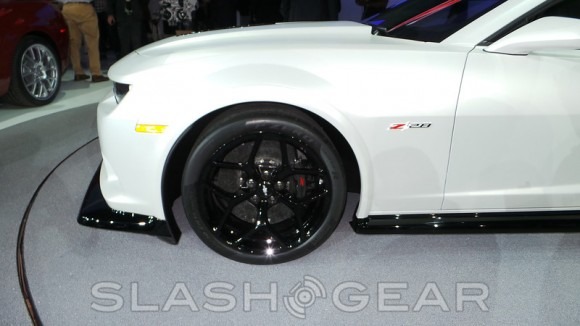 Once you're past the tweaks and pushes, you've got a fabulous set of Recaro racing seats inside that complement a set of aesthetics across the entire vehicle that make it appear ready for any of your most race-ready road-blasting adventures. You've got a flat-bottom steering wheel, blacks and grays with bright red accents – mostly in the stereo and speedometer areas – and an overall look that reads: SPEED.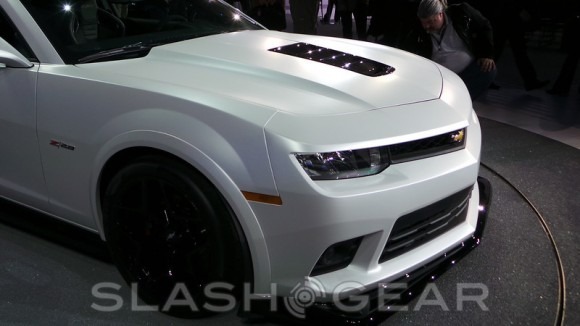 The engine, again, is of course the monstrous heart of this amalgamation of Camaro bits and pieces – here you've got your hand-assembled 7.0L (427 cid) V-8 made from top-end parts as follows:
• Titanium intake valves and connecting rods, and sodium-filled exhaust valves

• CNC-ported aluminum cylinder heads

• Forged-steel crankshaft and main bearing caps

• High-lift camshaft

• Hydroformed exhaust headers

• 11.0:1 compression ratio, and a 7,000 rpm redline.

• 10.5-quart, dry-sump oiling system
You've got what Camaro engineers describe as "the very best components in the industry" used here in the chassis of this high-performance vehicle, including 19-inch diameter wheels and tires, forged aluminum wheels that is, wrapped with "massive" 305/30ZR19 tires. This vehicle uses the ultra-high performance Pirelli PZero Trofeo R tire, the first production implementation of said technology – one that they say they believe is now the widest front tire on any production car – hot and large!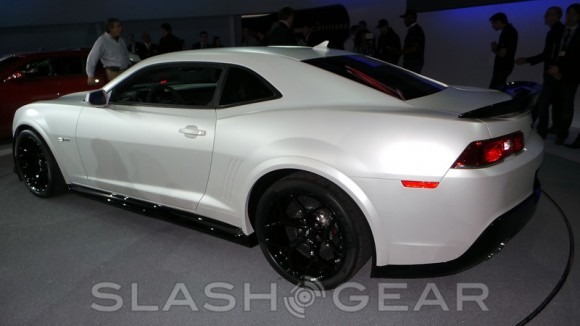 You've got Brembo Carbon Ceramic Matrix™ rotors as well as fixed, monoblock calipers. You've got 394 x 36 mm front rotors matched with six-piston calipers up front and 390 x 32 mm rear rotor paired with four-piston calipers. This setup saves another 28 pounds (12.5 kilograms) compared to comparable two-piece steel rotors.
And that's not all! We'll continue to run down the full layout of this lovely vehicle as it hits the road later this year. Chevrolet dealers will be getting the Camaro Z/28 "later in 2013" while the vehicle will be appearing in track events throughout the USA in Spring of 2014.
Keep tuned to the whole industry in SlashGear's Car hub and don't forget to catch the rest of our show coverage in our New York Auto Show 2013 tag portal, too!