2014 BMW i8 on the road in extended highway mix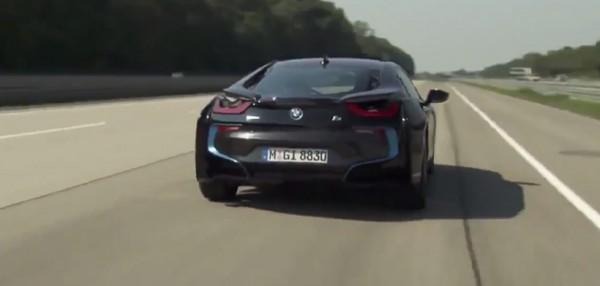 Today it's time to get a vision of what it'll be like to be rolling alongside a 2014 BMW i8 on the road. This machine has been subject to countless videos and in-car test drives thus far, but today a group by the name of FrequenShowss have dropped a bunch of B-roll video from a slightly more unique perspective. This is what it'll feel like for everyone else around you when you drive the 2014 BTW i8.
This vehicle world with a 1.5 turbocharged three-cylinder right out the gate, riding carbon fiber wheels for good measure. Inside you'll find a 131 HP electric motor able to push up to 155 MPH on the highway. Of course you'll not want to be driving that fast here in the United States, but just supposing you want to cruse die Autobahn, you'll be good to go.
Right before the video hits the 5-minute mark you'll be able to see this vehicle transform from a rather simple, relaxing experience to a real sport machine. This is what it looks like to be inside the vehicle while you're passing someone.
Have a peek at the lights, the action, and the passing, and drop down to the timeline below for additional details. This vehicle is ready to take the streets worldwide with its combination of next-generation technology and green thinking. Let us know if you see one on the road this summer!
Update: Looks like the original video was taken down; we've replaced it with a different version.