Aston Martin has taken the wraps – and the roof – off its latest sportscar, the Aston Martin Vanquish Volante, dubbed the ultimate grand tourer and the first of the British marque's drop-tops to feature a fully carbon-fiber skin. Packing the same AM11 V12 565HP engine as the Vanquish Coupe – good for a hair-messing 4.1s dash from 0-62mph – the Vanquish Volante has a soft roof, unlike some hard roof rivals, which drops in 14 seconds.
That reveals a leather and aluminum-clad cabin and a roof-adaptive Bang & Olufsen BeoSound audio system, which tunes its 1,000W output depending on whether the Vanquish has its hood down or not. There's also a new center console, borrowing elements from Aston Martin's ridiculously expensive One-77, and which can be finished in a variety of colors and treatments from the traditionally restrained to the sort of eye-burning blue you see here.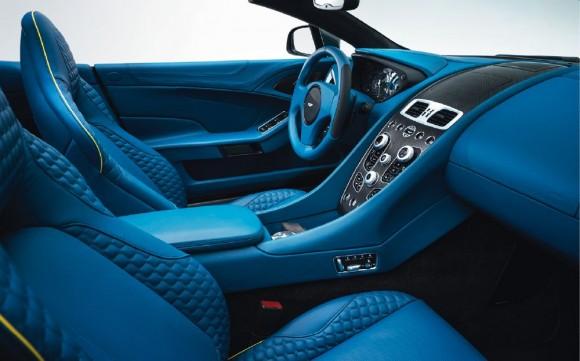 Although the resemblance to the Vanquish Coupe is clear, there are some new tweaks to suit open-top motoring. The rear aero-duct, made out of a single molded piece of carbon-fiber, is slightly redesigned to improve aerodynamics, and now integrates with the rear brake lights. In fact, tweaks to the whole body mean the aerodynamics overall are said to be the same as with the Coupe.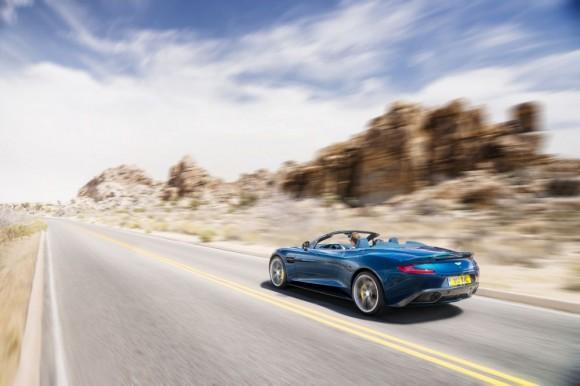 It's not the only visual flourish. The glass of the windshield now extends all the way up to the top of the screen, meeting the front edge of the hood, and parts of the carbon-fiber have been left unpainted to highlight the expensive material. Even the roof uses unusual materials, including Thinsulate sandwiched in-between for more comfortable accommodation.
All that style and performance won't come cheap, of course. No Aston Martin is particularly affordable, but showing off your face in one of the more appealing convertibles around carries a tag of $297,995. That's before extras and customizations, mind, when the Aston Martin Vanquish Volante hits forecourts in early 2014.