2014 Apple Mac Mini Confirmed With Non-User Replaceable RAM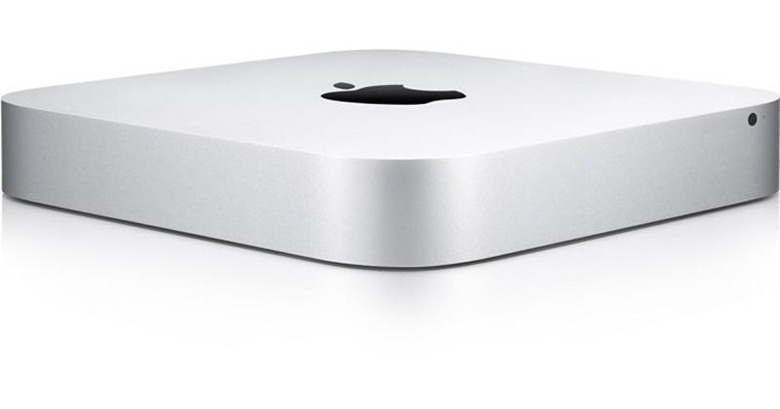 Apple announced, and subsequently began selling, its new Mac Mini on Thursday, marking the desktop's first update in two years. While fans of the small machine are all-around pleased Apple hasn't abandoned the Mac Mini, this year's model doesn't come without a few disappointments. Alongside discontinuing the upgrade options of a quad-core processor, as well as storage options beyond 1TB, the new Mac Mini has soldered RAM, meaning users will not be able to change or upgrade the memory after purchase.
This discovery was revealed by Brian Stucki of Macminicolo, who wrote on the company's blog that the Mac Mini's memory is "not user accessible." The entry-level model of the monitor-less computer comes with 4GB of RAM and is priced at $499, while the mid- and high-end models come with 8GB standard. All three models can be upgraded to a max of 16GB of RAM, at a cost of $300 on top of the low-end, and $200 more for the other two variants.
As for the processors and hard drives, the three configurations are as follows: 1.4Ghz dual-core Core i5 with 500GB of storage, 2.6Ghz dual-core Core i5 and a 1TB hard drive, and lastly 2.8Ghz dual-core Core i5 with a 1TB Fusion Drive. While not being able to replace the Mac Mini's memory is certainly a bummer, Stucki did have some positive info about the hard drives, writing that it appears they can be accessed and replaced by the user, unfortunately voiding Apple's warranty in the process.
Apple's new Mac Minis will come with OS X Yosemite installed, and have four USB 3 ports, one HDMI port, and two Thunderbolt 2 ports. They are currently available for purchase on Apple's online store, all with a shipping estimate of 1-3 days. Stay tuned for SlashGear's hands-on review coming shortly!
SOURCE Macminicolo