2013 Shelby GT500 racetrack durability car sells for $350k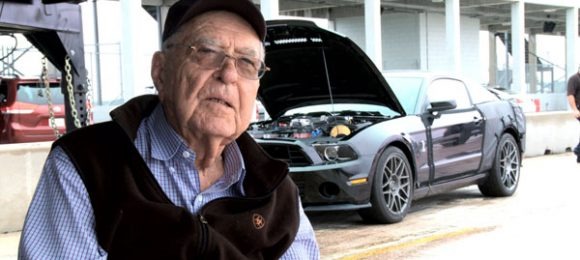 When it comes to Ford Mustangs, Carol Shelby is closely tied to the muscle car. Shelby has been hopping up the already fast and powerful Mustang line since the 60s to provide even more power. Shelby was also a racing driver who was very successful with his own car, the Cobra in the 60s as well. When it came time to build up the new 650hp 2013 GT500 Shelby and Ford needed a test mule for the racetrack.
The car that filled that need is a one-of-a-kind GT500 test car that was constructed to be rung out at the Sebring International Raceway by the Ford SVT development Team and Carroll Shelby himself. The car used already had a long history with Ford and had started as one of the first 2007 GT500's built; the body was later updated to the new 2010 body style.
The test car was put up for auction with the proceeds being donated to the JDRF, which is a research firm that seeks a cure for type 1 juvenile diabetes. The car was run through the auction at Barrett-Jackson last weekend, and the winning bidder paid $350,000 for the car. This special test car has a full roll cage, six-point harnesses, and Recaro racing seats inside.
"I raced on the Sebring International racetrack for many years, but my ambition was always to build my own car," said Carroll Shelby. "It was exciting to be back to collaborate on this GT500 durability car with the SVT guys. I'm really proud to have my name on this car. They took my dreams of what a car should be and made it a reality."