2012 MacBook Pro Leak Tips Unchanged Design Plus Kepler Graphics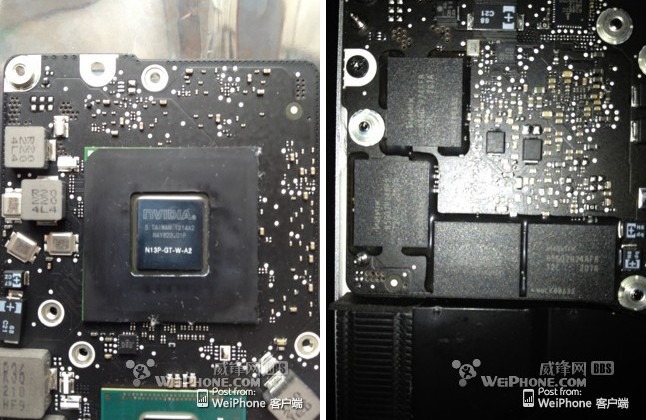 Apple's 2012 MacBook Pro refresh may not introduce the much-anticipated design changes many rumors had suggested, with purportedly leaked internal components suggesting Apple has plans for a near-identical chassis. Images supposedly showing the new NVIDIA GeForce 650M Kepler GPU and graphics memory shared on Chinese forum WeiPhone indicate a mainboard design that matches up with the screwholes and shapes of the current-gen MacBook Pro mainboard.
That would suggest that the mounting options inside of the new notebook are the same between generations, rather than the 2012 model bringing a dramatically changed aesthetic. Rumors ahead of the refresh had claimed Apple would look to the MacBook Air for its new style, ditching the optical drive so as to save space and using that reduction to slim down the Pro as a whole.
Unfortunately for those hoping to save some weight in their bag, that may not actually be happening. It's obviously impossible to draw any final conclusions from the leaked shots, but with the mounting holes being identical to the last-gen model it does hint at an unchanged casing.
Of course, this could also be an Apple test board, trialing NVIDIA's Kepler GPU with OS X and intended for use by Apple's engineers but not for actual release. Or, Apple could keep the primary external design of the MacBook Pro and simply leave out the optical drive, blanking the slot on the right edge of the machine and using that space to accommodate a second HDD/SSD or bigger battery.
We'll know for sure later on today, with Apple expected to launch the 2012 MacBook Pro – among other things – at WWDC 2012. SlashGear will be liveblogging the keynote from 10AM PST (1PM EST; 6PM BST) at http://live.slashgear.com/ so join us there for all the news!