Apple has revealed details on an early iPhone prototype device, codenamed "Purple", which the company says destroys Samsung's argument that it hypocritically copied Sony hardware. According to Apple's filing, its designers captured what went on to be the ethos of the iPhone aesthetic back in 2005 – with Purple looking strikingly similar to the iPhone 4 launched several years later, in fact – ahead of a "design exercise" where Apple designer Shin Nishibori was tasked to take one of those concepts and give it a Sony spin. This, Apple argues, was a "role-playing" game questioning "what would Sony do if they were us?"
The result of that exercise was the so-called Nishibori Design of March 2006, with an enlarged and protruding earpiece speaker, offset menu key and distinctive "Sony-style" asymmetrical buttons. It also had a side-mounted jog-wheel, of the sort Sony had been putting on its cellphones and media players.
"During development of the iPhone, Apple's industrial designers created numerous concepts, including this one dated August 2005 – a rectangular shaped phone with evenly rounded corners, a band running around the midpoint of its body, a centered display on the front fact, a menu button centered below the screen, and a speaker slot centered above the screen.

This design (code-named "purple") predates by many months Mr. Fadell's 2006 e-mail forwarding an article about Sony design and Sony's new Walkman … The existence of this design conclusively rebuts Samsung's suggestion that Apple looked to Sony for a portable electronic device that is "square with a screen," has "corners [which have been rounded," and lacks "excessive ornamentation" or buttons." Apple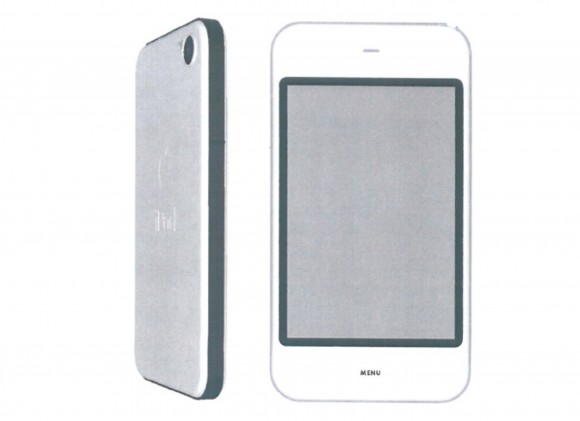 The August 2005 Purple design came ahead of Nishibori's exercise, however, and Apple says that "nothing came" of the project to imagine what Sony might have done instead. In fact, designs both before an after the Nishibori design bore the same symmetrical hallmarks, among other elements, Apple points out.
That, the company argues, means that the rectangle-with-rounded-corners style wasn't one inspired by Sony, but in fact something it had already been working on. A later testimony by Nishibori himself should be excluded because it is internally inconsistent, among other things, with the industrial designer admitting he did not know whether he contributed to the original iPhone exterior, and saying that the Sony-styled details he added as part of the exercise were "not in the final product."
"Samsung no doubt intends to distract the jury from its own copying by suggesting that Apple, too, has copied a competitor" Apple concludes, and asks that the court prevent any of the evidence around Sony design language being admitted. It also wants to see the Nishibori design removed from the evidence list "Because this evidence is not admissible to prove the invalidity of Apple's patents."
[via The Verge]