20 automakers commit to auto-braking cars by 2022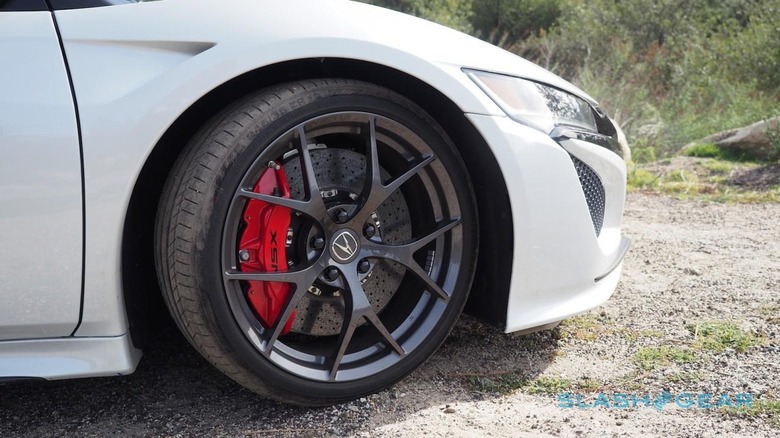 Cars that can brake themselves in the case of an emergency will be standard on forecourts by 2022, with twenty automakers agreeing to fit the technology by default on their US models. The voluntary commitment to Automatic Emergency Braking (AEB) could prevent an extra 28,000 crashes and 12,000 injuries, the National Highway Traffic Safety Administration (NHTSA) said today.
Those eye-watering numbers are based on the idea that it would have taken at least three years longer for the NHTSA to formally regulate on AEB and insist that vehicle manufacturers include it as a standard feature.
Instead of waiting for that, a list of twenty automakers – who together account for around 99-percent of car sales in the US – have agreed to fast-track the process.
Cars from Audi, BMW, Fiat Chrysler Automobiles US, Ford, General Motors, Honda, Hyundai, Jaguar Land Rover, Kia, Maserati, Mazda, Mercedes-Benz, Mitsubishi Motors, Nissan, Porsche, Subaru, Tesla Motors, Toyota, Volkswagen, and Volvo Car USA have said that, just as with seat belts, the braking technology should be fitted as a matter of course.
Exactly how each manufacturer chooses to implement AEB will vary, potentially using radar, lasers, or cameras to spot potentially imminent crashes. Whatever the system, it'll then flash up a warning to the driver and, should they not react in time, automatically apply the brakes in the hope of avoiding an accident.
AEB technology isn't guaranteed to prevent every crash, but by at least shedding some of the speed it can help mitigate both damage and injury.
More advanced systems, meanwhile, are next on the NHTSA's agenda. That will include extending the technology to include pedestrian spotting in addition to other vehicles.
As of 2017, the government safety agency will begin rating AEB and other safety technologies as part of its 5-Star Safety Ratings, beginning with model year 2018 cars.
For this agreement, AEB will be fitted as standard on "virtual all" cars and trucks that have a gross vehicle weight of 8,500 lbs. or less, as of September 1, 2022 at the latest. Following on from that, AEB will be rolled out to the vast majority of trucks with a gross vehicle weight between 8,501 lbs. and 10,000 lbs., though the deadline for that will be September 1, 2025.
It's quite the coup for the NHTSA in all, which began talks with just ten automakers late last year to encourage voluntary adoption.
Meanwhile, other safety technology is also being mandated. By mid-2018, for instance, all new cars sold in the US must have a reversing camera, the Administration announced back in 2014, beaming a view from behind the car to a display on the dashboard.
MORE NHTSA