17-inch Unibody MacBook Pro with fixed high-capacity battery at Macworld?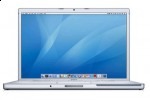 It'll come as no great surprise when Apple update their largest MacBook Pro, the 17-inch version, with a new unibody design similar to last year's 15-inch refresh; however, according to the latest rumors, what will be a surprise is the new 17-inch Pro's power options.  9to5mac claim that their Asian manufacturing sources are talking about a new, higher-capacity and super-slim battery for the big Pro, the downside of which will be that it's non-user-removable.
That means along with the expected increase in battery life – no estimates are given, but the tipsters are saying "much longer" - there's also the headache of replacing the pack after it begins to lose performance.  It's a familiar issue to those with iPods, iPhones and the MacBook Air, all of which have internal batteries that Apple have to replace, not the owner.
The prediction is that the new 17-inch unibody MacBook Pro will get its unveil at Macworld 2009 on Tuesday morning, complete with a gloss-finish display (and the retirement of the plastic 13-inch MacBook).  SlashGear will be liveblogging the whole event, so join us at 9am PST at http://live.slashgear.com/ for all the details!