16-inch MacBook Pro official - Big power boost and scissor keys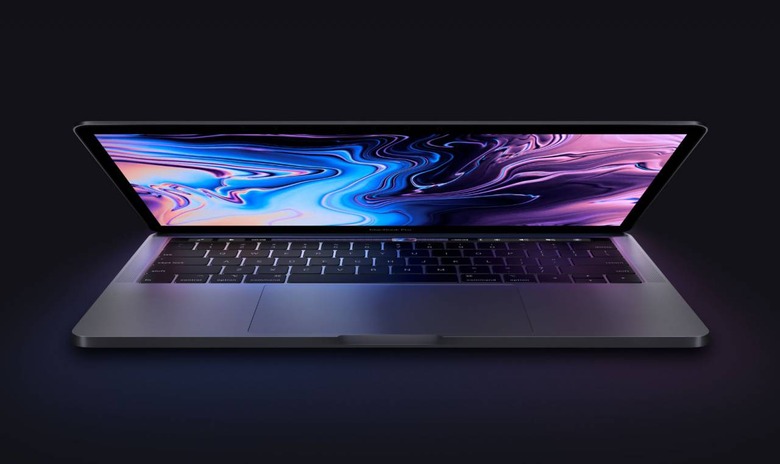 The new 16-inch MacBook Pro is here, and Apple says it's everything it has heard from pro-users that they want – including a new keyboard. The new laptop replaces the 15-inch MacBook Pro completely, kicking off at the same price as its predecessor and marks a return to the scissor-switch key mechanism that Apple calls its new Magic Keyboard.
It's been a rough couple of years for the MacBook Pro. What should've been the mainstay of Apple's range for designers, programmers, and other pro-users has turned out to be far more controversial, not least because of the Touch Bar and the "butterfly" key mechanism.
16-inch MacBook Pro Magic Keyboard
Broken keyboards ensued, and that's something Apple wants to put behind it. The new Magic Keyboard switches back to scissor switch keys, albeit with a redesigned mechanism. They get 1mm of travel for what Apple says is a more satisfying key feel, as well as a more stable key-top.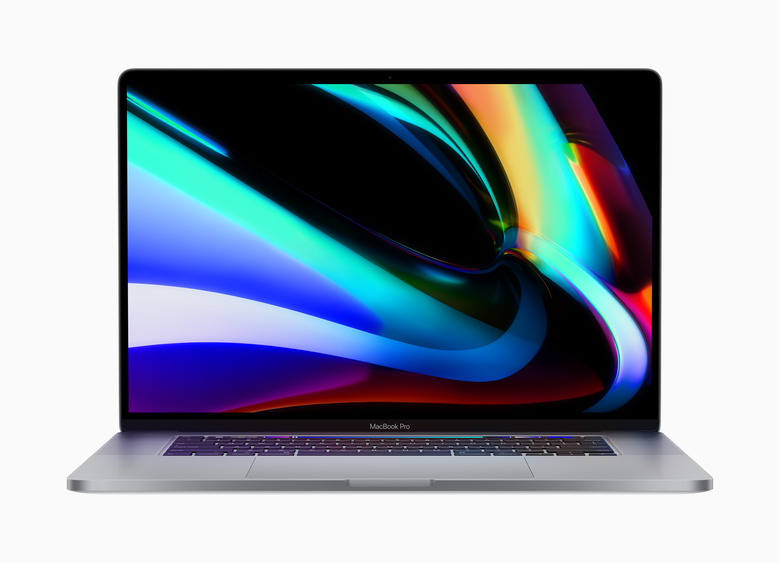 There's an Apple-designed rubber dome inside, which the company claims will store more potential energy for "a responsive key press." It should also be quieter, too, which will please typists – and their companions – in co-working spaces. The physical Escape key is back, its previous absence a common complaint among programmers, while the arrow keys now adopt an inverted-"T" layout which should be easier to use by feel.
The Touch Bar remains, and the 16-inch MacBook Pro's display still isn't a full touchscreen. However the Touch Bar strip now separates out the Touch ID sensor at the other end from the Escape key.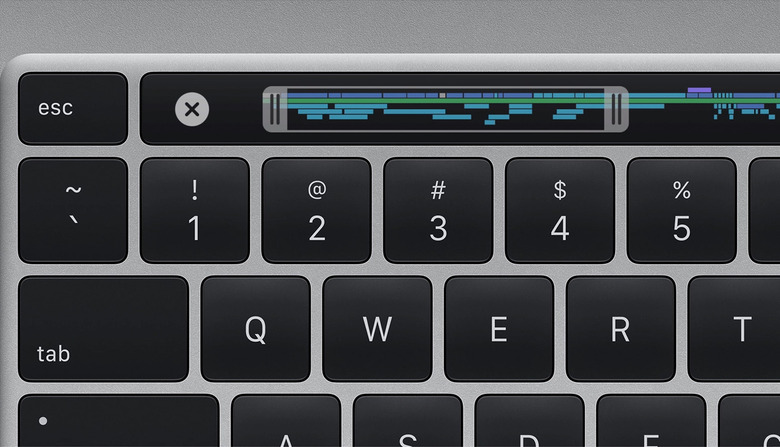 16-inch MacBook Pro Display
What you're likely to first notice is the new screen, of course. It's Apple's largest Retina display on a notebook so far, slimming the bezels so as to fit a 16-inch panel into what previously accommodated a 15-inch screen. That runs at 3072 x 1920 resolution, for a pixel density of 226 ppi.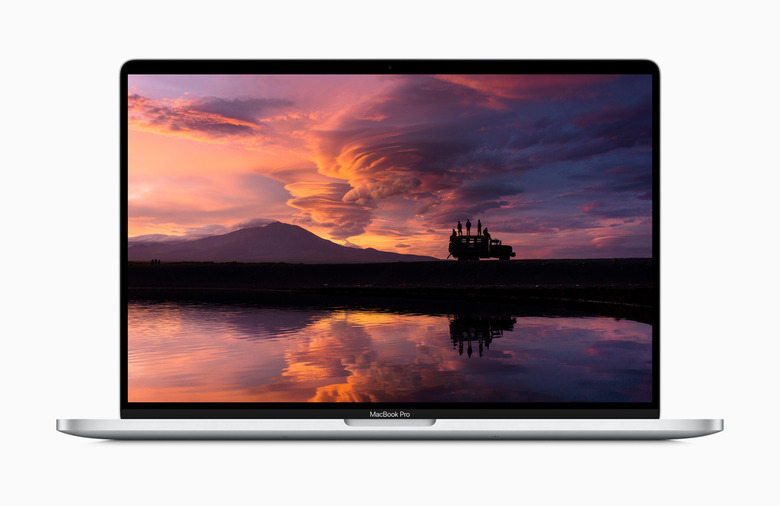 There's 500 nits of brightness, along with P3 wide color gamut support. Apple says it individually calibrates each panel at the factory, too, for gamma, white point, and primary colors. It's already leaving 13-inch MacBook Pro users wondering whether they can expect a 14-inch upgrade to their more portable machine next year.
16-inch MacBook Pro Performance
As you'd expect, there's no shortage of grunt inside. Apple is offering 6- and 8-core Intel 9th Generation processors, with Turbo Boost speeds of up to 5.0 GHz. It's enough, the company says, to deliver 2.1 times the performance of the old quad-core 15-inch MacBook Pro.
Logic Pro X can have up to 2.1 times the Amp Designer plug-ins, while developers using Xcode can compile their code up to 1.8 times faster. Photoshop should apply complex edits up to 1.7 times faster, Apple claims.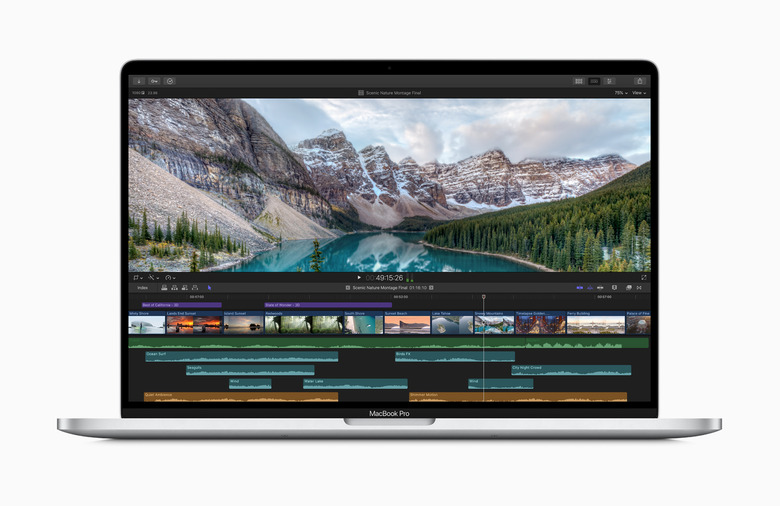 Now, you can have up to 64GB of memory, too, and the standard configurations get 16GB of RAM and either 512GB or 1TB of storage. If you want, you can have up to an 8TB SSD, too.
On the GPU side, there are new AMD Radeon Pro 5000M series graphics. They're combined with GDDR6 video memory and an 8GB VRAM option. Even in the standard configuration, Apple says you should see up to 2.1 times the graphics performance than the old standard configuration; max out the GPU on the 16-inch MacBook Pro, and that could boost performance by up to 80-percent over the old high-end configuration.
16-inch MacBook Pro Battery, Ports, and Thermal
All that power needs a big battery to keep it running, and Apple says it can deliver on that with a 100Wh pack. It's enough, the company suggests, for up to 11 hours of use – albeit browsing over WiFi or playing video, rather than anything more system-intense.
It's a slightly thicker notebook than the outgoing model, and that's partly down to the new thermal architecture. Apple has used a larger impeller with extended blades, together with bigger vents. The result is a 28-percent increase in airflow, plus a 35-percent larger heat sink. As a result, Apple says the notebook can sustain up to 12 more watts during intensive workloads, compared to the old model.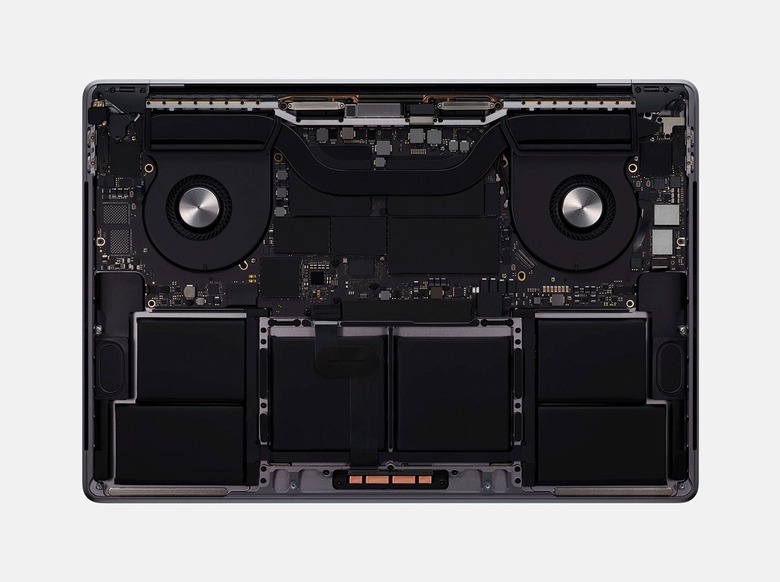 Some things don't change, and that's the ports. Apple still opts for Thunderbolt 3, with two on each side, plus a 3.5 mm headphone jack. Inside there's 802.11ac WiFi – though not WiFi 6, unlike in the iPhone 11 Pro – and Bluetooth 5.0. You get a 720p FaceTime HD camera, too, and a new six-speaker system with force-cancelling woofers and Dolby Atmos playback support. Apple has squeezed in a three-mic array with directional beam forming, too.
16-inch MacBook Pro Pricing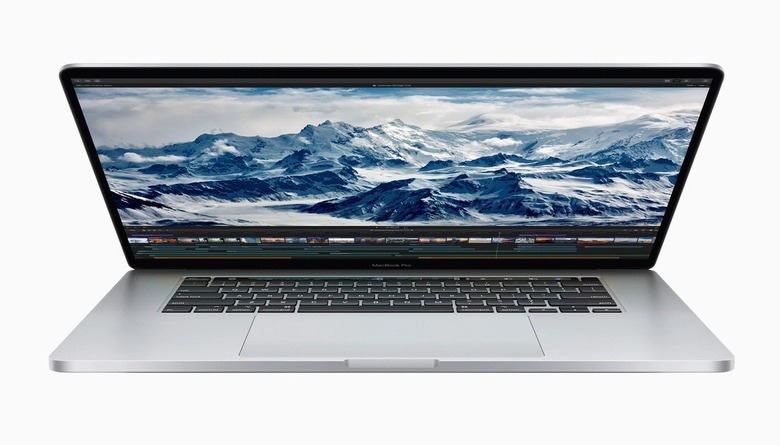 Apple is taking orders for the new MacBook Pro today. The entry model is $2,399, with a 2.6GHz 6‑core Intel Core i7, 16GB of RAM, and 512GB of SSD storage. It has AMD Radeon Pro 5300M graphics with 4GB of GDDR6 memory.
The $2,799 configuration, meanwhile, gets a 2.3GHz 8‑core Intel Core i9 and 1TB of SSD storage. It has AMD Radeon Pro 5500M graphics, also with 4GB of GDDR6 memory. Both they, and custom configurations, are shipping from today.